In late February we learned about major changes coming to the Qatar Airways Privilege Club loyalty program. With this, Qatar Airways is adopting Avois as its rewards currency, which I'd consider to be pretty exciting. These changes are now live, and we've also learned all the details, so I wanted to recap all of that in this post.
Qatar Airways replaces Qmiles with Avios
As of March 2022, Qatar Airways Privilege Club has adopted Avios as its points currency. This replaces Qmiles, which has historically been the program's rewards currency, and can be used to redeem for flights, upgrades, and other experiences.
For those not familiar, Avios is the points currency of International Airlines Group (IAG) carriers, including British Airways, Iberia, Aer Lingus, and Vueling. With this transition, Qatar Airways Qmiles have converted at a 1:1 ratio into Qatar Airways Avios. When you go to Qatar Airways' website, you should now exclusively see references to Avios rather than Qmiles.
While each airline loyalty program maintains its own "flavor" of Avios, there are hundreds of Avios partners for earning and redeeming rewards, including in travel, leisure, shopping, and financial services. With this change, not only does Qatar Airways have its own Avois currency, but Avios can also be transferred between accounts at a 1:1 ratio if some basic requirements are met.
Note that nothing has changed to how Qatar Airways Privilege Club status is earned. Status is still earned based on how many Qpoints you earn. Furthermore, redemption rates on Qatar Airways remain unchanged, and continue to follow current pricing.
For that matter, British Airways Executive Club and Qatar Airways Privilege Club are aligning redemption rates for travel on Qatar Airways, which is for the most part good news for British Airways Executive Club members. The only catch is that fees may differ between programs, and you'll generally find lower fees with Privilege Club.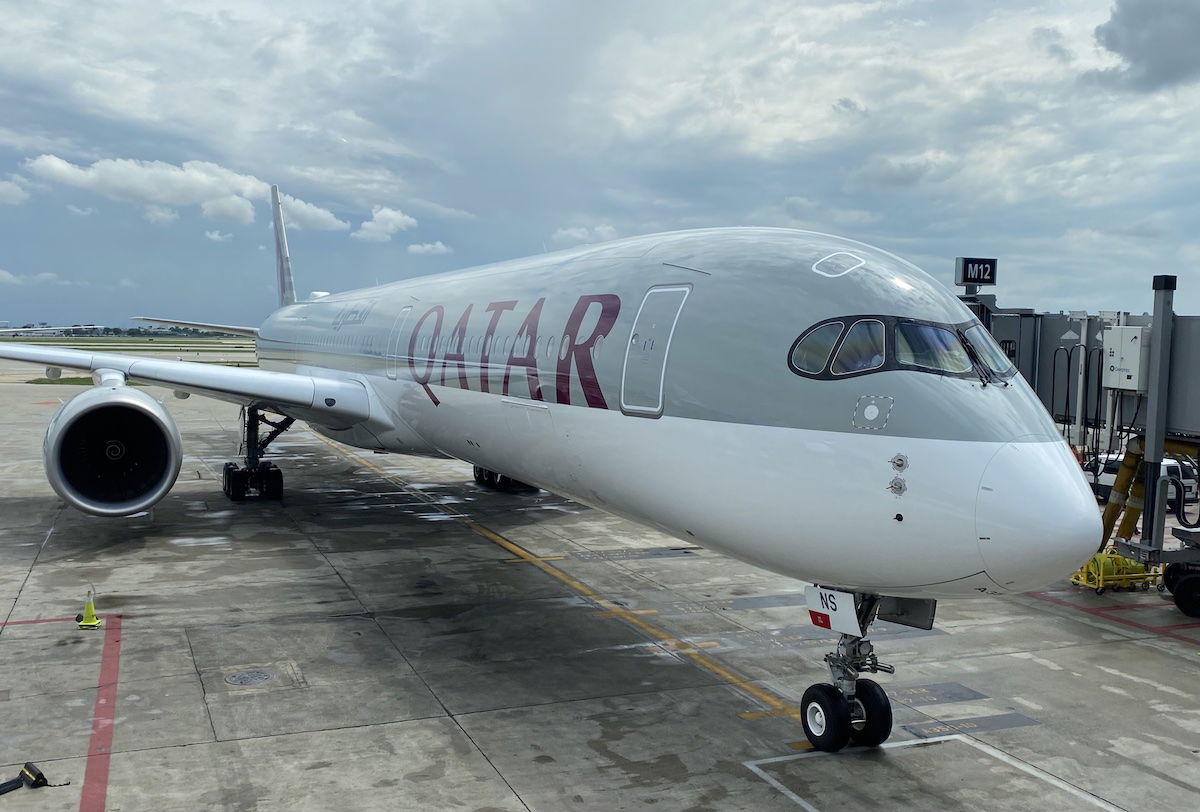 Qatar Airways adds award seat guarantee
Here's another exciting development with this change — Qatar Airways has introduced an award seat guarantee, as there will now be at least two business class and two economy class award seats per flight.
This is a policy that British Airways has had for quite some time, so it's nice to see Qatar Airways adopting this. It's exciting to think that you could potentially redeem rewards for travel on any Qatar Airways flight, if you're quick enough. You can expect that these award seats will be loaded in the coming days.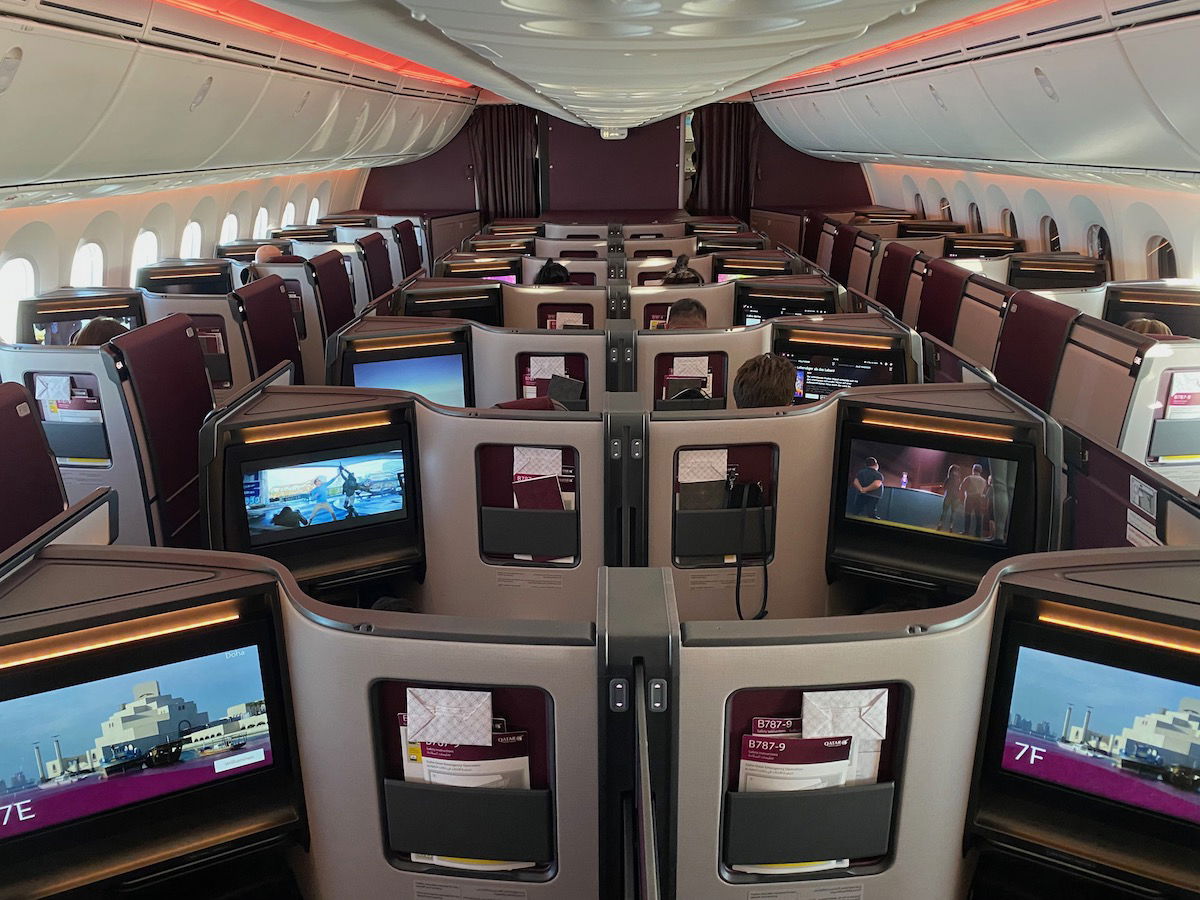 How to link your BA & QR loyalty accounts
Want to link your Qatar Airways Privilege Club and British Airways Executive Club accounts? Fortunately the process is pretty easy. First of all, keep in mind that Qatar Airways Privilege Club currently has a new member bonus, which is worth taking advantage of if you're not yet a member.
To link your accounts, first log into your Qatar Airways Privilege Club account. On your account dashboard you should see a button that says "View my Avios balance."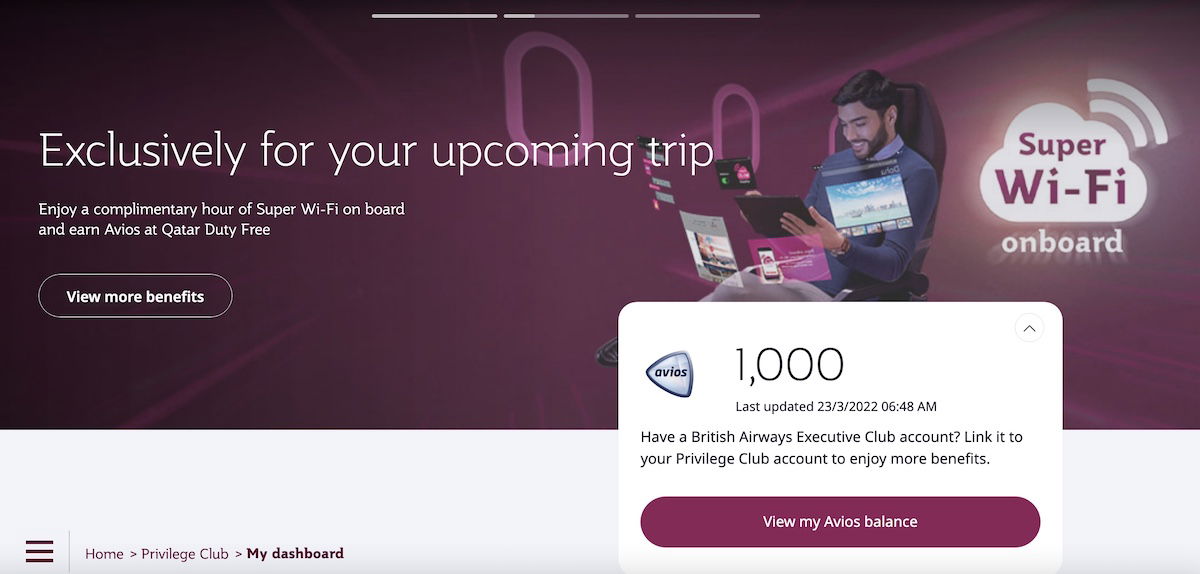 On the next page you'll see a section that reads "Link your accounts," so click that.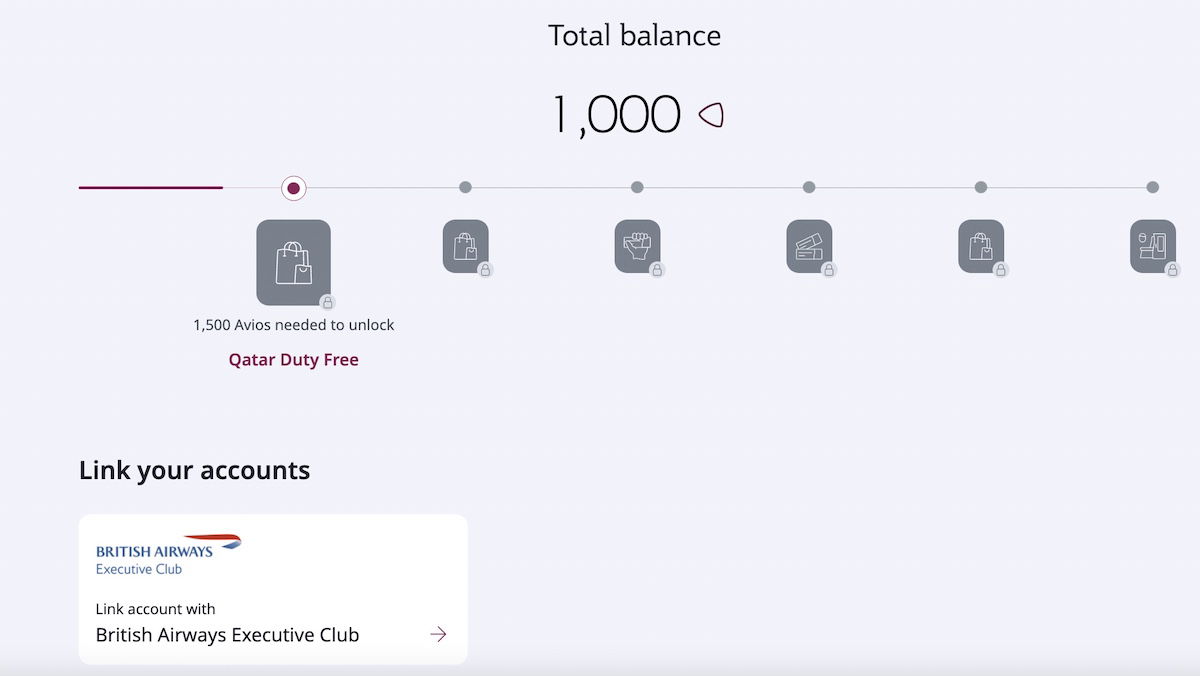 You'll then see a pop-up, and at the bottom you'll want to click "Link accounts."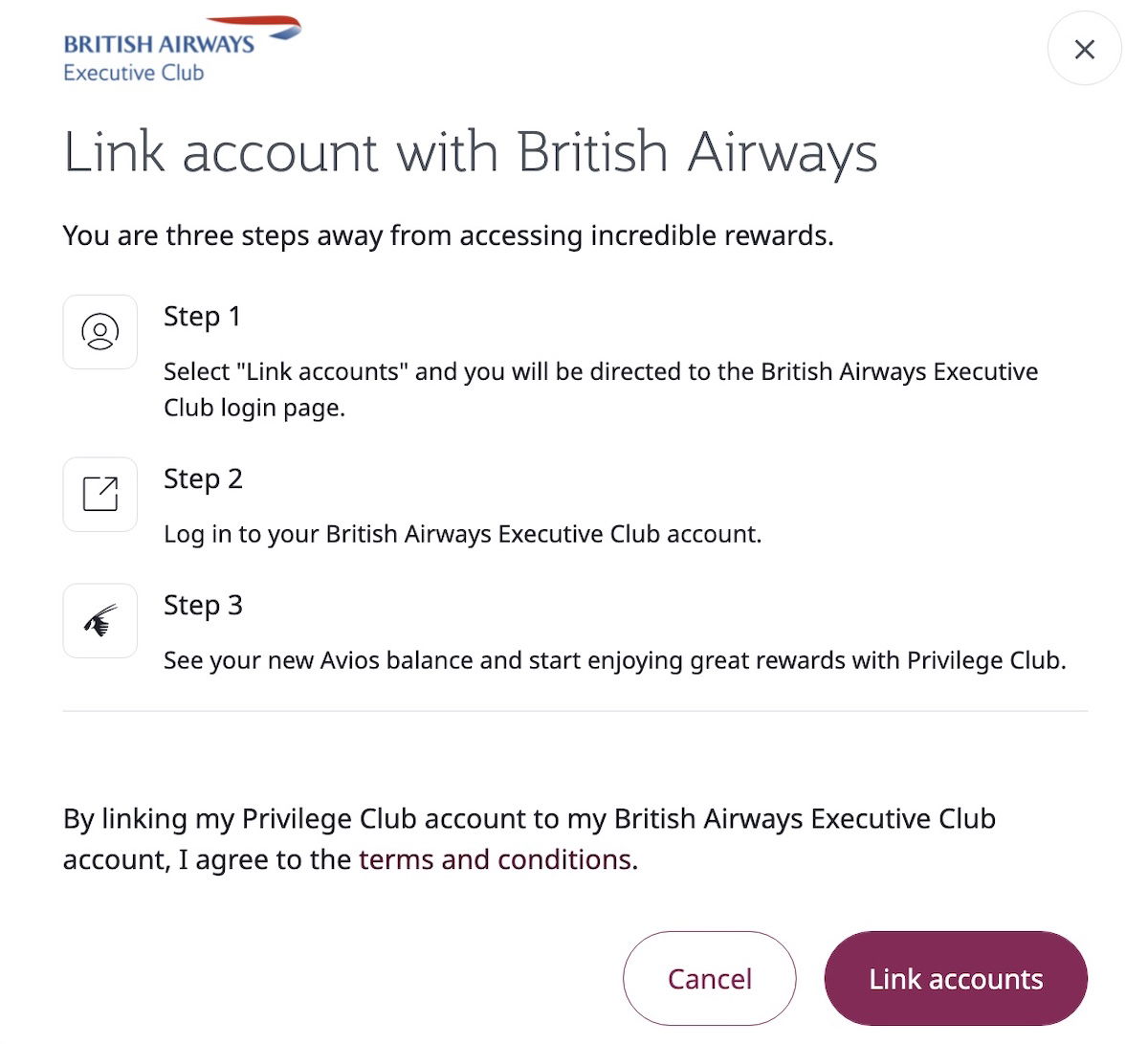 You'll then be prompted to log into your British Airways Executive Club account. As an added security measure you'll have to enter your phone number, and then you'll be sent a text with a six digit code. At this point you'll be given a recovery code that you can keep in the event that you ever can't log into your account.
It's that simple — at that point you'll receive a message confirming that your accounts are linked.

Your dashboard should now list your total of Qatar Airways Privilege Club Avios plus British Airways Executive Club Avios. If you want to actually combine Avios, you'll have to click on the "Combine Avios" button under the "More to explore" section.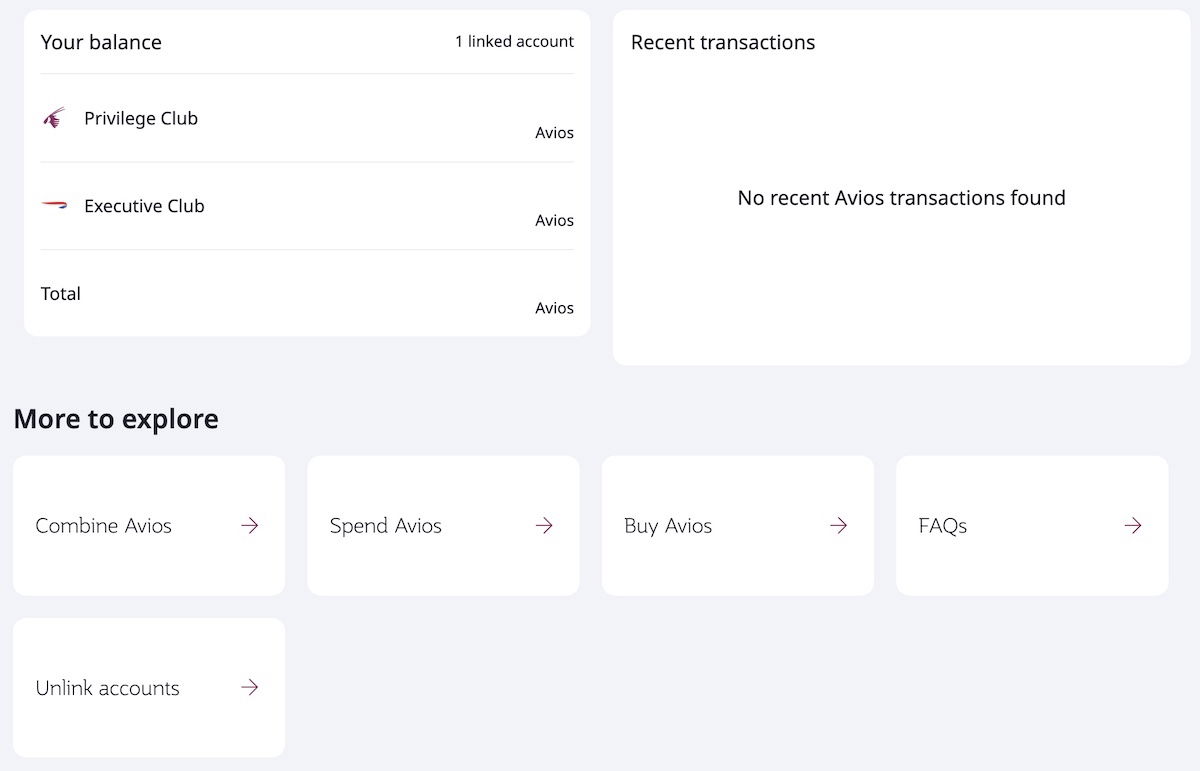 There you can easily transfer Avios between your accounts. Your Avios balances for both programs will be displayed, and you can enter how many Avios you'd like to move, and in which direction. The process is free and instant.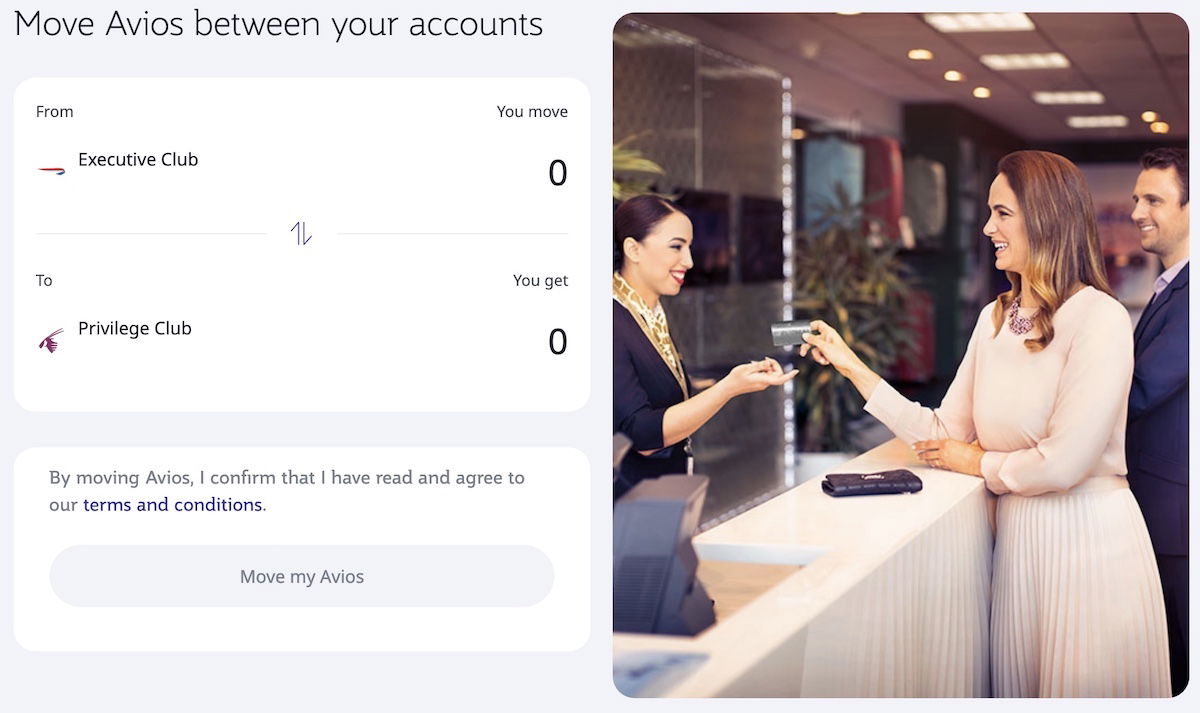 What's the logic for Qatar Airways adopting Avios?
What's the logic of Qatar Airways adopting Avios as its points currency? A few general thoughts:
Qatar Airways is the single largest shareholder of IAG, so while Qatar Airways isn't an IAG airline, the Doha-based carrier does have a real connection to these airlines
Avios is a much larger points program than Qatar Airways Privilege Club, so there's something to be said for the efficiency and existing infrastructure that Qatar Airways can benefit from by joining the program, rather than forming all kinds of individual partnerships
Many of IAG's biggest markets are also huge markets for Qatar Airways, so this could create more loyalty and brand awareness in places like the UK and Spain, and even the United States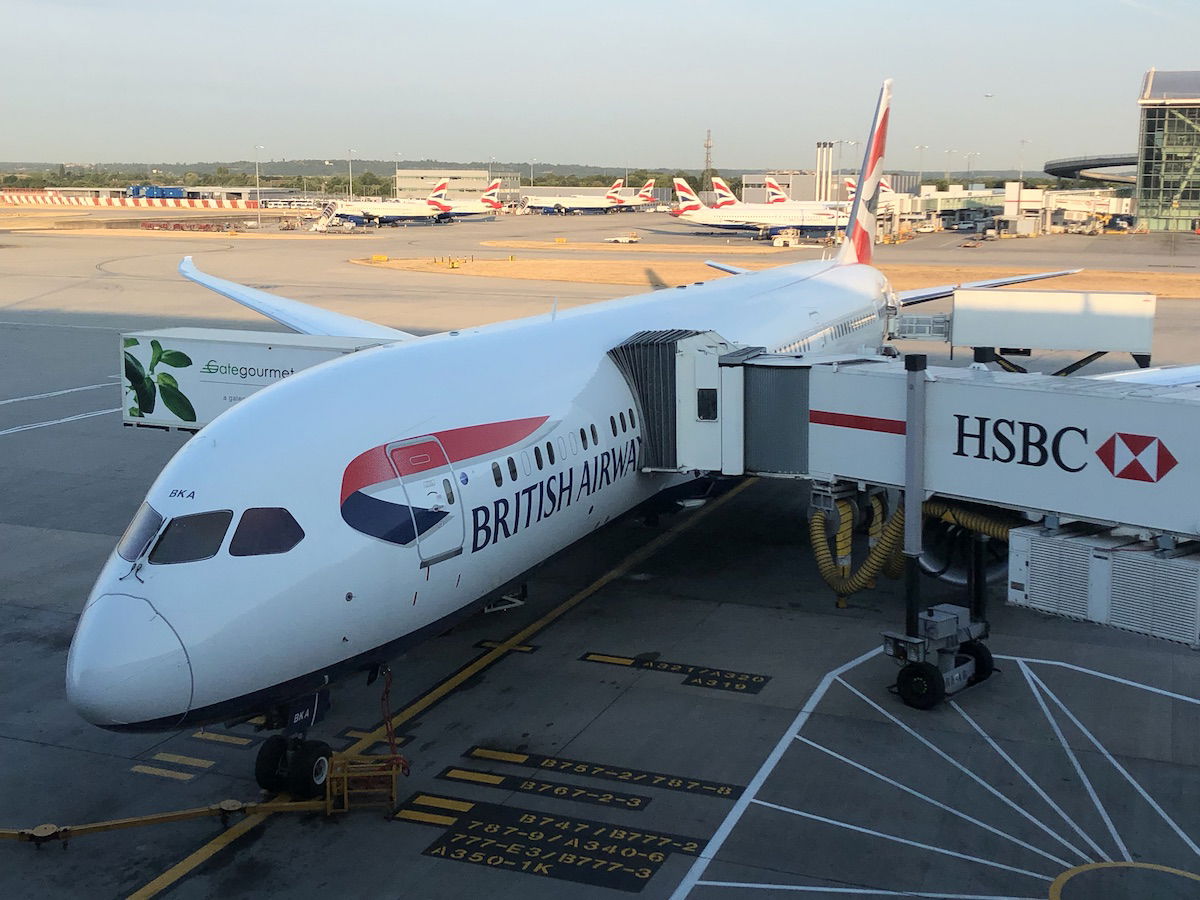 Is Qatar Airways adopting Avios good news?
I've long said that I thought Qatar Airways Privilege Club had a lot of potential, given that Qatar Airways is such a phenomenal airline, but historically the loyalty program has been pretty lackluster. Where does that leave us with this major change?
From an efficiency standpoint this makes sense
The fact that you can now transfer Avios 1:1 between Aer Lingus, British Airways, Iberia, and Qatar Airways, is pretty awesome
I love that Qatar Airways now has an award seat guarantee, so that each flight will have at least two business class awards available
For now Qatar Airways redemption rates remain unchanged, but you have the flexibility to transfer to another Avios currency and book through there if the pricing is better, including for travel on partner airlines
This is an incredibly innovative concept, as it's not often you see an airline adopt another carrier's points currency (though in this case there is an ownership stake)
Personally I'm really excited about this. It's great that you can now transfer Avios between Qatar Airways and IAG airlines, especially when you consider that Qatar Airways' redemption rates are remaining unchanged. Qatar Airways' rewards currency suddenly has so much more flexibility.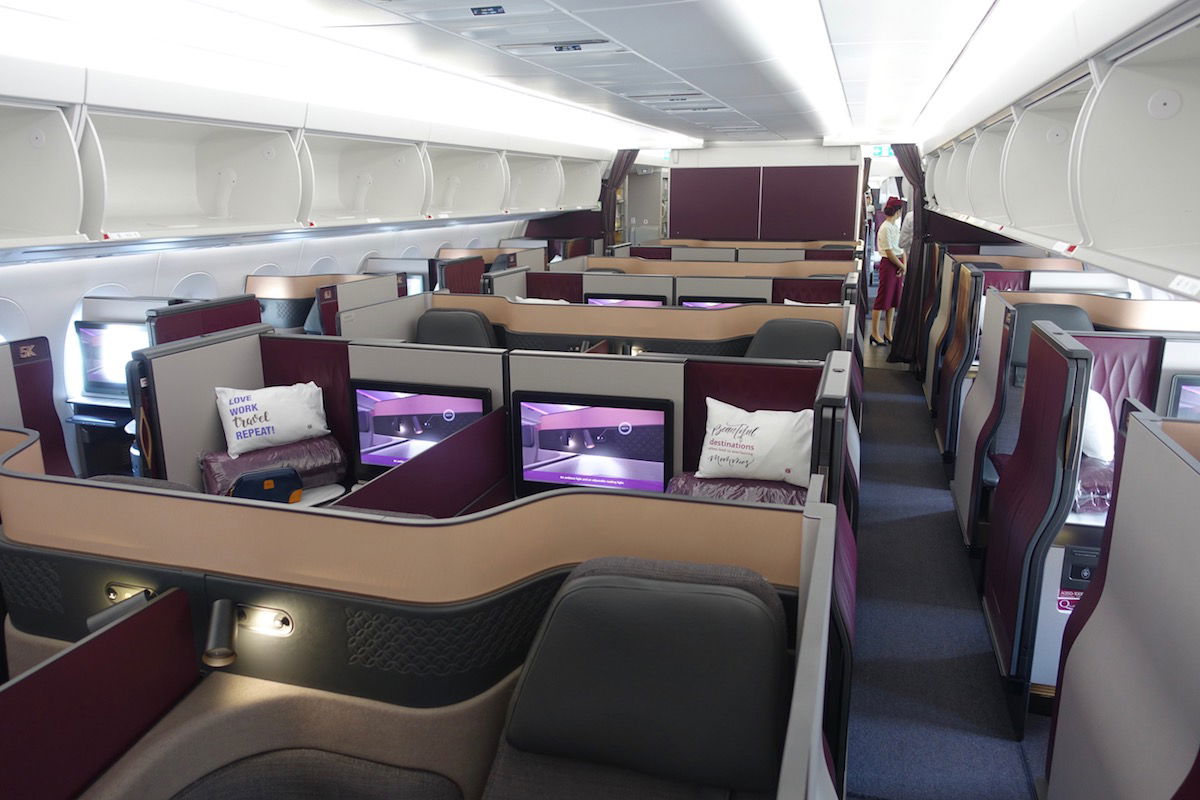 Bottom line
Major changes have been made to Qatar Airways Privilege Club. The program now uses Avios as its rewards currency, rather than Qmiles. The way that status is earned remains unchanged, and redemption rates are mostly remaining the same. Furthermore, there's now an award seat guarantee, so that there are a minimum number of award seats per flight.
I'd say this is a big win for consumers, who can now easily transfer Avios between programs, to take advantage of the best opportunities with each program. This also gives Qatar Airways Privilege Club members lots more ways to rack up rewards.
What do you make of Qatar Airways adopting Avios as its points currency?