If you're going to fake a vaccine card (please don't), at least learn how to spell the name of the vaccine…
Woman violates Hawaii quarantine with fake vaccine card
Hawaii is the US state with the strictest entry requirements. With the Hawaii Safe Travels program, all visitors to Hawaii either need to be fully vaccinated or get tested prior to travel. Those who aren't vaccinated or tested need to undergo a 10-day quarantine upon arrival in Hawaii.
There have been quite a few stories of people trying to violate Hawaii's travel policies, and the state does a pretty job of tracking down these people and charging them (though who knows how many people get away with it).
24-year-old Chloe Mrozak from Illinois entered Hawaii on Monday, August 23, 2021. In her pre-travel forms, Mrozak indicated that she was vaccinated, and uploaded a copy of her vaccine card, allowing her to skip the quarantine.
Upon arrival at Honolulu's Daniel K. Inouye International Airport (HNL), the Safe Travels administrator flagged the vaccine card as possibly being fraudulent. The reason? Among other things, the handwritten vaccine card listed her vaccine as being "Maderna," rather than "Moderna."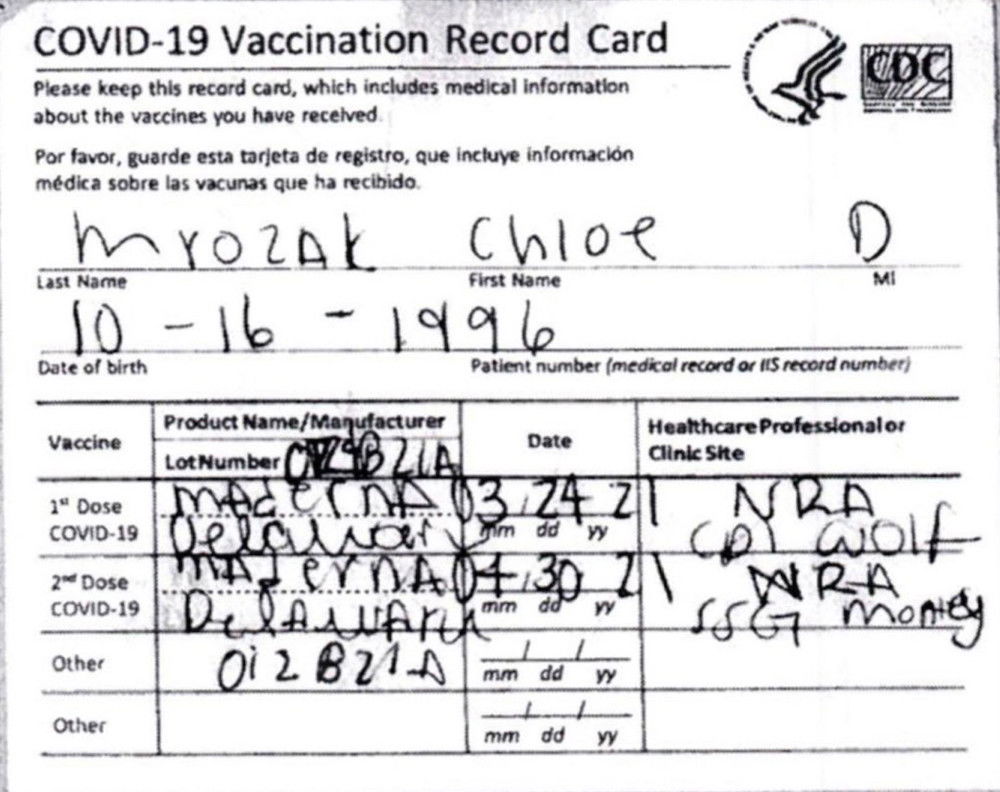 She was still allowed to enter the state, since typically any verification of legitimacy of documents is done after the fact and on the back-end. Unfortunately the screener also failed to confirm that the hotel reservation that Mrozak listed in her Safe Travels profile was legitimate.
Mrozakn stated in her paperwork that she would be staying at the Holiday Inn Express Waikiki, but when officials called the hotel, they learned that she didn't have a reservation there.
So, how was the traveler caught?
This is perhaps where it gets even more interesting. Investigators knew that the traveler was using a fake vaccine card, but had no easy way to get ahold of her, given that she didn't list where she was actually staying.
Mrozakn stated in her paperwork she was returning on American Airlines, but investigators believed she was actually flying Southwest Airlines. The reason? She flew to Hawaii on Southwest, and a majority of flights to Hawaii are purchased as roundtrips.
Investigators looked at her Facebook profile, and noticed she had a distinctive tattoo on her left leg. So airport officials were made aware of this. Sure enough, on Saturday, August 28 the woman was spotted at a Southwest Airlines check-in counter, getting ready to return to the mainland.
Mrozakn was taken into custody, and first screened for coronavirus, and then transferred to the Honolulu Police Department. She's accused of falsifying vaccination documents, which is a misdemeanor offense. Her bail has been set at $2,000.
Bottom line
A traveler to Hawaii was caught using a fake vaccine card — talk about being both reckless and dumb. Hawaii isn't asking a lot by requesting visitors get tested or vaccinated. The fact that someone would go through the effort to get a fake vaccine card sure is deplorable. I'm curious to see what kind of punishment she's subjected to.
This traveler is far from the first to try to sneak their way into Hawaii. We've seen travelers arrested for trying to bribe their way into the state, and we've also seen people try to fly to Hawaii after testing positive for coronavirus.