Honestly, at this point I'm just writing about the airline because I find this all to be so ridiculously amusing…
Global Airlines & Laurent Perrier announce partnership
I've written before about Global Airlines, the "airline startup" that has acquired Airbus A380s, and plans to launch long haul flights in 2024. Recently Global Airlines and American Express announced a "partnership" (I'm not sure Amex realized what it was associating itself with), and now Global Airlines and Laurent Perrier have announced a partnership.
With this, Laurent Perrier champagne will be the sparkling wine served on all Global Airlines transatlantic flights. Furthermore, as Global Airlines recruits flight attendants, "the two organisations will collaborate to ensure that each glass is poured to perfection and accompanied by complimentary canapes."
Here's how Global Airline CEO James Asquith describes this partnership:
"A great champagne is a huge part of an amazing onboard experience and I am delighted that Laurent Perrier have agreed to be our partners. It is a brand that is known the world over, and our intention is to offer LP brands to passengers across our 3 cabins, and, if we can make it work, that absolutely includes in economy."
I mean, what an announcement. They'll "absolutely" serve Laurent Perrier in economy "if [they] can make it work." I mean, can you make it work or not? It's a question of economics, so that's something you should be able to answer.
Meanwhile here's what (presumably confused) Laurent Perrier Travel Retail Director Jean-Christian de la Chevalerie said about this partnership:
"In the months ahead, we look forward to working with James and his team on selecting a range of our award winning champagnes, but not only that, exploring how we can make this a really unique, meaningful, partnership that excites our customers."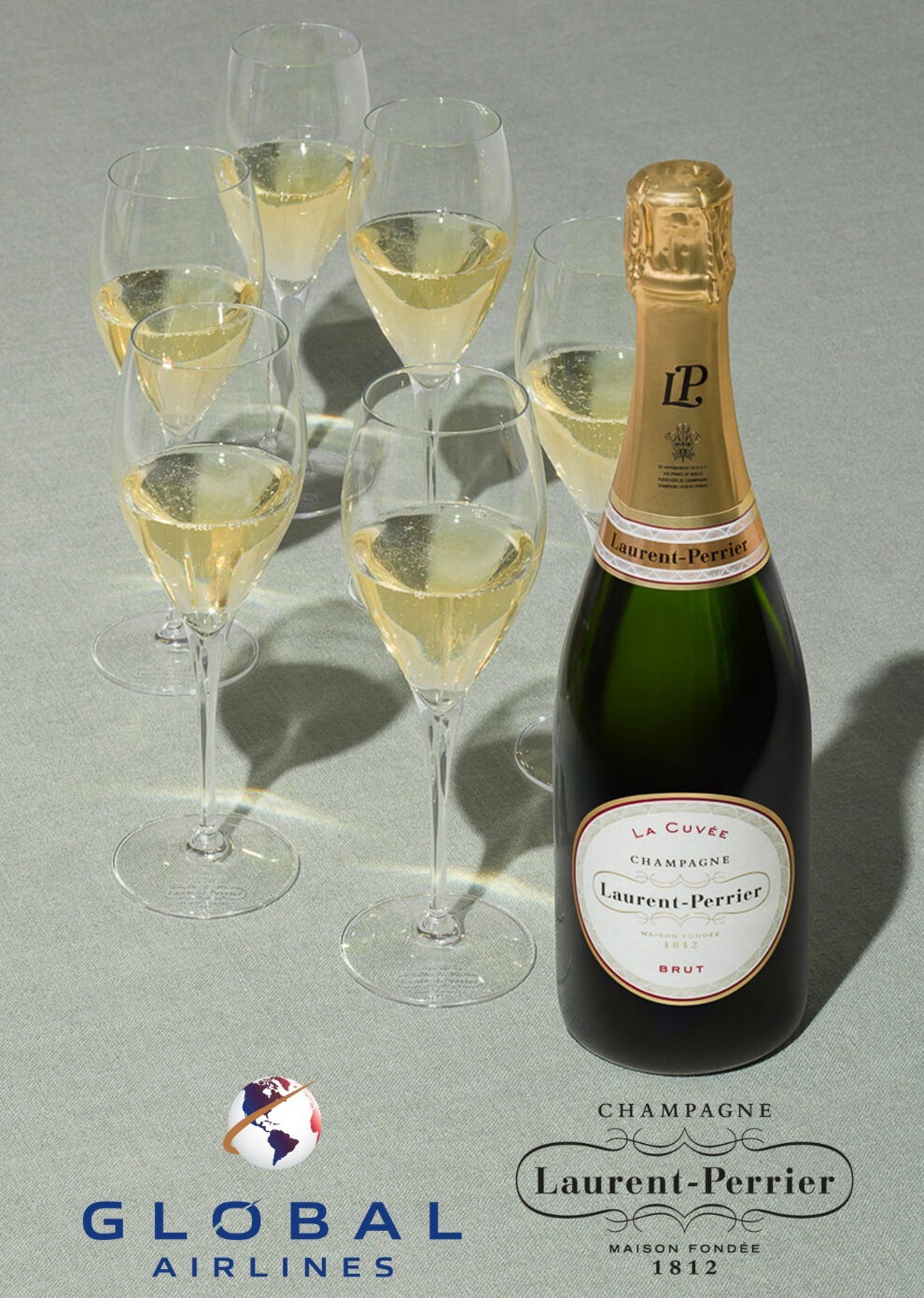 Global Airlines is becoming more of a joke by the day
To Global Airlines' credit, the airline has gotten a lot further than many "airline startups" we've seen, as Global Airlines has acquired at least one Airbus A380, which it reportedly paid a few million dollars for. In fairness, the plane would've otherwise gone to the scrapper.
However, everything else that this "airline" does takes away from its credibility, rather than adding to it. Oh, how nice that you've selected an onboard champagne, which will even be served in economy, if you can "make it work." How nice that you've shown us what elite status cards will look like.
Here's another idea — how about working on getting your air operator certificate, and showing the progress being done there? Or how about sharing the details of what cabins will be like, since the business class seats currently installed on these planes aren't certified by regulators anymore?
If you're going to launch before the summer of 2024, that's what the focus should be. And frankly given the lack of progress, the timeline is woefully unrealistic.
Now, before anyone thinks I'm just being too harsh, Seth Miller had a fascinating look at the company's pitch deck from 2021, which contains lie after lie after lie. And that's on top of being incredibly sloppy.
I'm not suggesting that the people behind this airline are running a scam. I'll give them the benefit of the doubt, and just assume that they're way overly optimistic, and can't see the forest from the trees, and think that the way you start an airline is to first pick champagne and elite cards, and then focus on actually launching operations.
As I've said before, I think the odds of this airline actually ever operating a commercial flight are just a smidge above zero. But I'd sure love to be proven wrong. Regardless, it'll make a great Netflix documentary one day.
Bottom line
Global Airlines and Laurent Perrier have launched a partnership, whereby Laurent Perrier will supply the champagne for all Global Airlines flights, possibly even including in economy.
There's only one small detail — in order for this partnership to mean anything, Global Airlines has to launch flights. And given that the airline is more focused on champagne and elite cards than certification and cabins, I'm going to take the "under" on this one.
Who's excited to have some Laurent Perrier in Global Airlines economy?!