I've written before about Global Airlines, the "airline startup" that has acquired four Airbus A380s, and plans to launch long haul flights in 2024. Well, there's an interesting update about a partnership…
Global Airlines & Amex announce partnership
Global Airlines and American Express (seemingly specifically Amex in the UK) have signed an agreement to partner on payments processing and exclusive cardmember offers. The announcement is light on details, though here's how the press release describes the partnership:
Ahead of the first flight in 2024, American Express and Global will collaborate on bespoke offers for Amex Cardmembers on the inaugural services between London Gatwick and New York's JFK. The agreement will also see a range of exclusive fly-drive offers, hotel stays, and restaurant bookings made available to Cardmembers.

Through the new partnership, American Express Cardmembers will be among the first to be able to purchase tickets across all three cabins onboard the Global Airlines A380 aircraft; First, Business and Economy.
I mean, I guess I'm happy that Global Airlines thinks there will be so much demand for its flights that Amex cardmembers will get first access to seats, as if the public won't move fast enough to book seats.
Here's how Global Airlines CEO James Asquith describes this partnership:
"I'm delighted to announce our latest major partnership with one of the world's leading brands. Teaming up with American Express to provide its Cardmembers with exclusive offers and promotions and the chance to join us on some of our very first flights, alongside delivering a best-in-class payments experience, is a really important step for the airline.

"Both Global Airlines and Amex are united by a desire to offer the best possible customer service and experience, and I can't wait to encourage as many of its Cardmembers as possible to go Global when flying transatlantic."

When I first saw this announcement I wondered if Amex was actually officially onboard with this, or if this was another case of Global Airlines making a demonstrably false claim. But indeed, Amex's General Manager of UK Merchant Services issued the following statement:
"We're committed to ensuring that Amex is accepted wherever our Cardmembers want to spend, so are delighted to bring them the opportunity to be among the first passengers on Global Airlines. With our long history in travel, this new partnership is hugely exciting for us."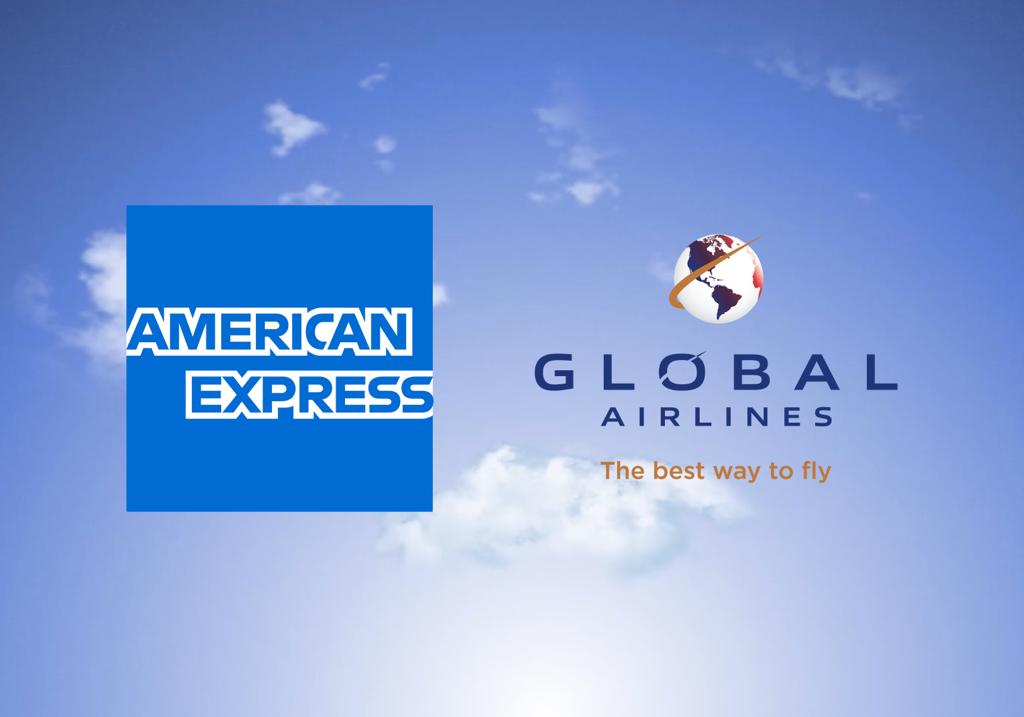 Global Airlines' strange press event
Global Airlines is promoting how this Amex partnership was announced last night at a press event held at Kettner's Soho House in London, described as a "Welcome Onboard" event. The airline reports that over 200 guests were in attendance, including media, investors, and aviation and brand partners.
Interestingly the biggest takeaway from the event among some guests is that the "airline" was openly hostile toward media, and didn't answer any questions.
It's lovely that Global Airlines has figured out what its elite cards will look like. How about now going the regulatory process of filing for an air operator certificate, figuring out how you're going to secure JFK slots, and announcing details of how the airline plans to reconfigure these jets, and where that money will come from?
For those curious about the skepticism about the airline, little that this airline has announced has been in good faith. Seth Miller had a fascinating look at the company's pitch deck from 2021, which contains lie after lie after lie. And that's on top of being incredibly sloppy.
Bottom line
Global Airlines and American Express now have a partnership, though I'm not sure American Express fully realizes what it got itself into.
I'd like to think I have a pretty good record with predicting which airline startups will be successful, and which won't. In this case, I think the most likely way this airline will be monetized (by someone) is in the form of a Netflix documentary. Who needs "FYRE: The Greatest Party That Never Happened," when you can have "Global Airlines: The Greatest Airline That Never Happened?"
Honestly, though, if there are any filmmakers out there, get onboard with Global Airlines right now, and follow the company's "launch." I'm sure it'll be quite something…