Emirates recently repeated a stunt that went viral several months back, except this one is even more impressive. I first wrote about this a few days ago, and now Emirates has shared a behind the scenes video that sheds light on how exactly this was pulled off.
Stuntwoman climbs Burj Khalifa as A380 flies by
In August 2021, an Emirates marketing video went viral, which depicted a woman in an Emirates uniform standing on top of the Burj Khalifa (the world's tallest building) holding signs. At first I thought the ad was lame, because I assumed this was a green screen stunt. Holding signs in front of a green screen isn't exactly impressive.
But when it came out that this was in fact real, my jaw dropped to the floor. You can see the initial stunt below.
Given how viral the first video went, Emirates decided to repeat it. The same stuntwoman, Nicole Smith-Ludvik, once again climbed to the top of the Burj Khalifa, in an even more impressive stunt. Not only was she holding up signs, but she was doing it as an Airbus A380 flew by. And it wasn't just any old Airbus A380, but rather it was an Airbus A380 in the Dubai Expo 2020 livery (specifically A6-EEU) featuring a picture of her on the side. AMAZING.
The whole ad is intended to promote Expo 2020, and Smith-Ludvik is seen holding up the following signs:
"I'm still here!"
"Wow! I can see Dubai Expo"
"Finally, here come my friends"
"Fly the iconic Emirates A380"
"To the world's greatest show"
How is this stunt possible?
When Emirates did this stunt the first time around, a behind the scenes video was released explaining how Smith-Ludvik got to the top of a 2,720-foot building, and the precautions that were taken. Here's how it worked last time:
The crew took the elevator to the 160th floor of the Burj Khalifa, and then spent an hour climbing a (mostly narrow) staircase to get to the very top of the building
Someone went up there with Smith-Ludvik to help her get situated, presumably including carrying the signs
While up there, Smith Ludvik was "harnessed," as there was a pole behind her, and her uniform "clipped" into that
Now a behind the scenes video has been released about the latest stunt, which answers some questions that many of us probably had:
This latest video was recorded on October 14, 2021, so this was released around three months after the fact
The Emirates A380 had to fly past the Burj Khalifa 11 times in order to capture the perfect shot for the ad
The plane was flying at a speed of 145 knots (which is very slow)
The plane was roughly half a mile from the Burj Khalifa (and at the same altitude), so it looking closer is an optical illusion
The plane spent a total of 3hr12min in the air on October 14, and as you can see in the below Flightradar24 map, it had quite a route…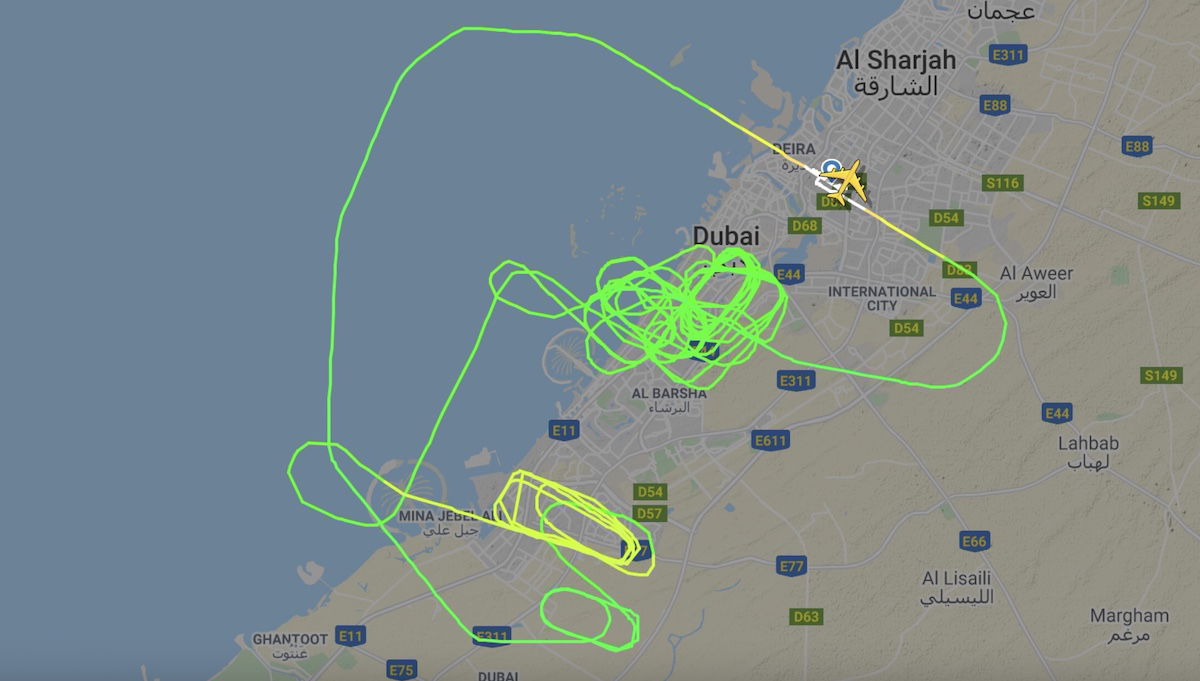 I think most of our questions about this impressive stunt have been answered. I guess the only thing I'm still curious about is how close you'd need to be to an A380 at the altitude of this stunt to get some gusts or wake from the plane? I guess the answer is less than half a mile, though I'm curious what the margin was here.
Bottom line
Emirates has repeated its unbelievable Burj Khalifa stunt, whereby a stuntwoman stood on top of the world's tallest building. While there's perhaps not as much of a shock factor this time (since it was done before), the added feature here is that an A380 flew by while this happened.
What do you make of this Emirates A380 Burj Khalifa stunt?