In June 2021 we learned how Chase will be getting into the airport lounge game, which was previously dominated by American Express with its Centurion Lounges (and for that matter, Capital One is also getting into the airport lounge business).
We've progressively seen more locations revealed for future Chase lounges. Up until now we've known that Chase will open lounges at a minimum of nine airports, though only six locations had been revealed. That has changed, as the seventh lounge location has been revealed — it'll be Washington Dulles.
Let's cover everything we know about these lounges so far.
Basics of Chase Sapphire Lounge by The Club
JPMorgan Chase has announced plans to introduce airport lounges, which will be known as Chase Sapphire Lounge by The Club. Chase describes this as offering a "fresh approach to the lounge experience." Chase's entry into the lounge space is being done in collaboration with Airport Dimensions, which operates existing airport lounge group "The Club" (which are perfectly fine, but aren't particularly remarkable).
We have some details about where the first lounges will be located, when they should open, and who will get access.
Chase Sapphire Lounge locations & sizes
Chase has formally announced that it has plans to open nine airport lounges. The first seven Chase Sapphire Lounge by The Club locations have been revealed, with six being in the United States, and one being outside the United States. Specifically, there will be lounges in:
Boston (BOS), in the connector between Terminal B & Terminal C
Hong Kong (HKG), in Terminal 1
Las Vegas (LAS), in Terminal C
New York (LGA), in Terminal B
Phoenix (PHX), in Terminal 4 South 1
San Diego (SAN), in Terminal 2 West
Washington (IAD), in Terminal A
We don't yet know where the other two planned lounges are located, though I'm sure we'll find out soon, based on filings with airports, if nothing else.
While no exact opening dates have been given yet, it's expected that at least a couple of these lounges should open in the coming months. Boston and Phoenix seem most likely to open this year (in 2022), while San Diego is expected to open in late 2023. It remains to be seen when the Las Vegas, New York, Washington, and Hong Kong lounges will open (and in the case of the Hong Kong lounge, I can't help but wonder if it's even happening at all anymore).
In terms of lounge sizes, we do have a sense of the size of four of these lounges:
The BOS Chase Sapphire Lounge is expected to be 12,000 square feet
The IAD Chase Sapphire Lounge is expected to be 5,200 square feet
The LAS Chase Sapphire Lounge is expected to be 4,500 square feet
The PHX Chase Sapphire Lounge is expected to be 3,500 square feet
The SAN Chase Sapphire Lounge is expected to be 11,000 square feet
Interestingly Hong Kong, Las Vegas, New York, and Phoenix, already have Centurion Lounges, while Boston, San Diego, and Washington don't (though Washington has a Capital One Lounge coming in 2023).
Chase Sapphire Lounge entry requirements
The Chase Sapphire Lounge by The Club will be accessible by Priority Pass members. That means that Chase Sapphire Reserve cardmembers get access, since the card also comes with a Priority Pass membership (though it's possible you won't even need to use the membership to access these lounges).
Further access requirements haven't been revealed. For example, will day passes be sold? Will Chase Sapphire Preferred cardmembers be able to get access at a discounted rate?
It's kind of funny that this will be branded as a Chase lounge, but the Amex Platinum and Capital One Venture X should get access as well, since they also offer a Priority Pass membership.
What should we really expect from Chase Sapphire Lounges?
Even as we learn more details, this lounge concept is still kind of confusing to me:
It doesn't sound like Chase is going as premium as Amex or Capital One with airport lounges
Since these lounges will have "The Club" in the branding, it's not entirely clear how different they'll be than typical "The Club" lounges
Is this just a mutual marketing opportunity of sorts between "The Club" and Chase, or is there more to this?
Since these lounges will be open to everyone with a Priority Pass membership, that more or less opens the floodgates, and I imagine these lounges will get busy; I wonder if any capacity controls will be put in place, especially for the 3,500-5,200 square foot lounges
It's awesome to see Chase get into the airport lounge game, though at the end of the day I think you can only get so excited about credit card lounges in the United States, given how many people have access. The broad access requirements — and opening them up to all Priority Pass members — realistically limits how nice these will be.
Personally I think the only really exceptional credit card lounge in the United States is the Capital One Lounge DFW, which has some pretty awesome amenities.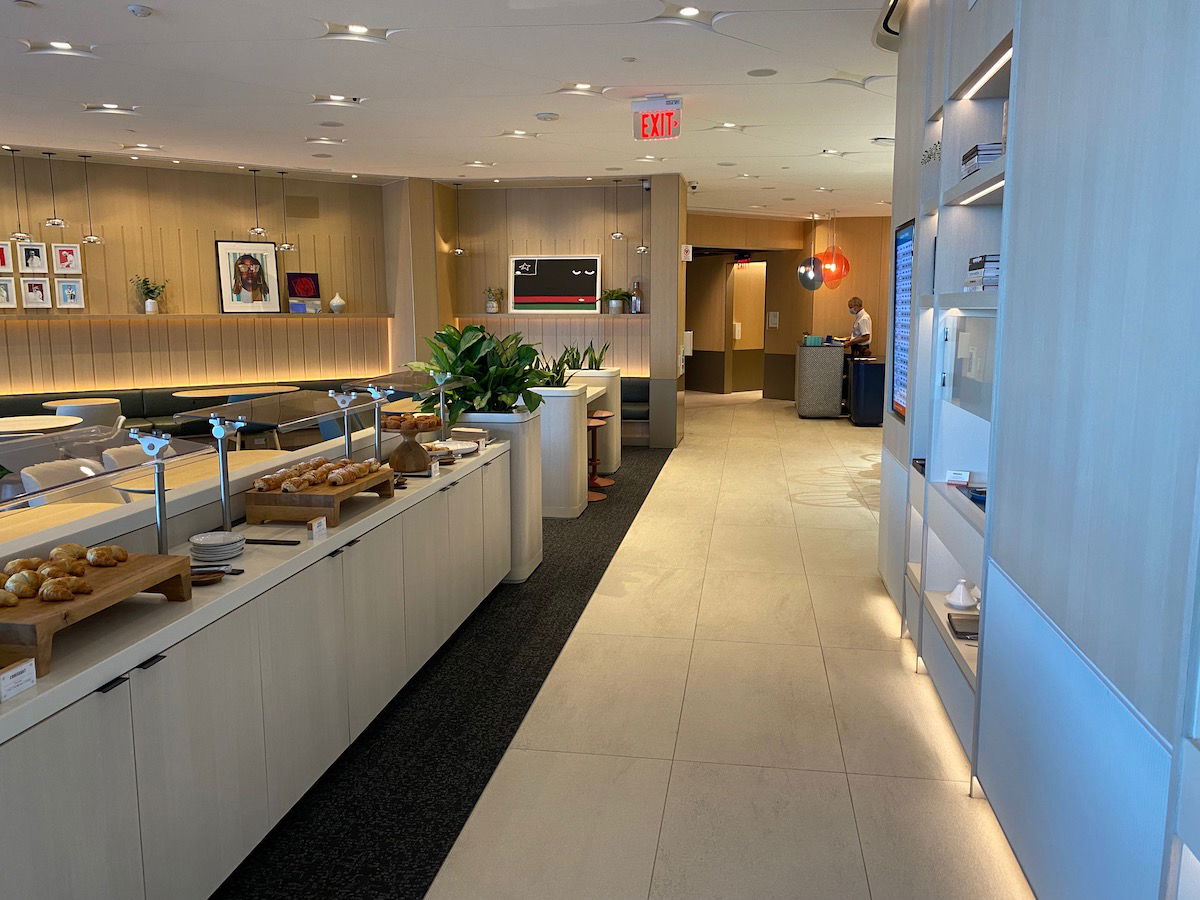 Bottom line
A new lounge concept will be debuting in 2022, in the form of Chase Sapphire Lounge by The Club. Chase has revealed that nine lounges are planned, and so far we know of seven of those locations, including in BOS, HKG, IAD, LAS, LGA, PHX, and SAN. We should expect them to be accessible by all Priority Pass members, which would include those with the Chase Sapphire Reserve.
I wouldn't get too excited here. Ultimately this just seems like a branding opportunity, and I wouldn't expect these to be competitive with Centurion Lounges or Capital One Lounges in terms of the experience. Still, more lounge capacity is always a good thing.
What do you make of Chase's new airport lounge concept?
(Tip of the hat to View from the Wing)