Well this is kind of coming out of nowhere…
New American Airlines & JetSMART partnership
American Airlines and JetSMART have signed a letter of intent to create "the broadest and most rewarding network in the Americas."
Before we get into the details, perhaps some context is important. JetSMART is an ultra low cost carrier in South America, that operates primarily out of Argentina and Chile, currently serving 33 destinations. The company was founded in 2016, and is owned by Indigo Partners, which also owns ultra low cost carrier Frontier Airlines. JetSMART operates a fleet of 20 Airbus A320 family aircraft, with an additional 79 A320 family aircraft on order.
So, what does this new partnership between American Airlines and JetSMART look like? Subject to regulatory approval, here are the plans:
American will acquire a minority ownership stake in JetSMART, and will provide the airline with more capital, to allow for the ultra low cost carrier to grow rapidly, and become "the leading South American low cost carrier"
Customers will be able to earn and redeem AAdvantage miles on JetSMART flights, and the two airlines will codeshare on routes
American believes this will create "a compelling customer offering in Latin America," and also claims that this will "create the broadest network and most rewarding customer offering in the Americas" (which seems… subjective)
Here's a map of the potential connecting opportunities between the two airlines: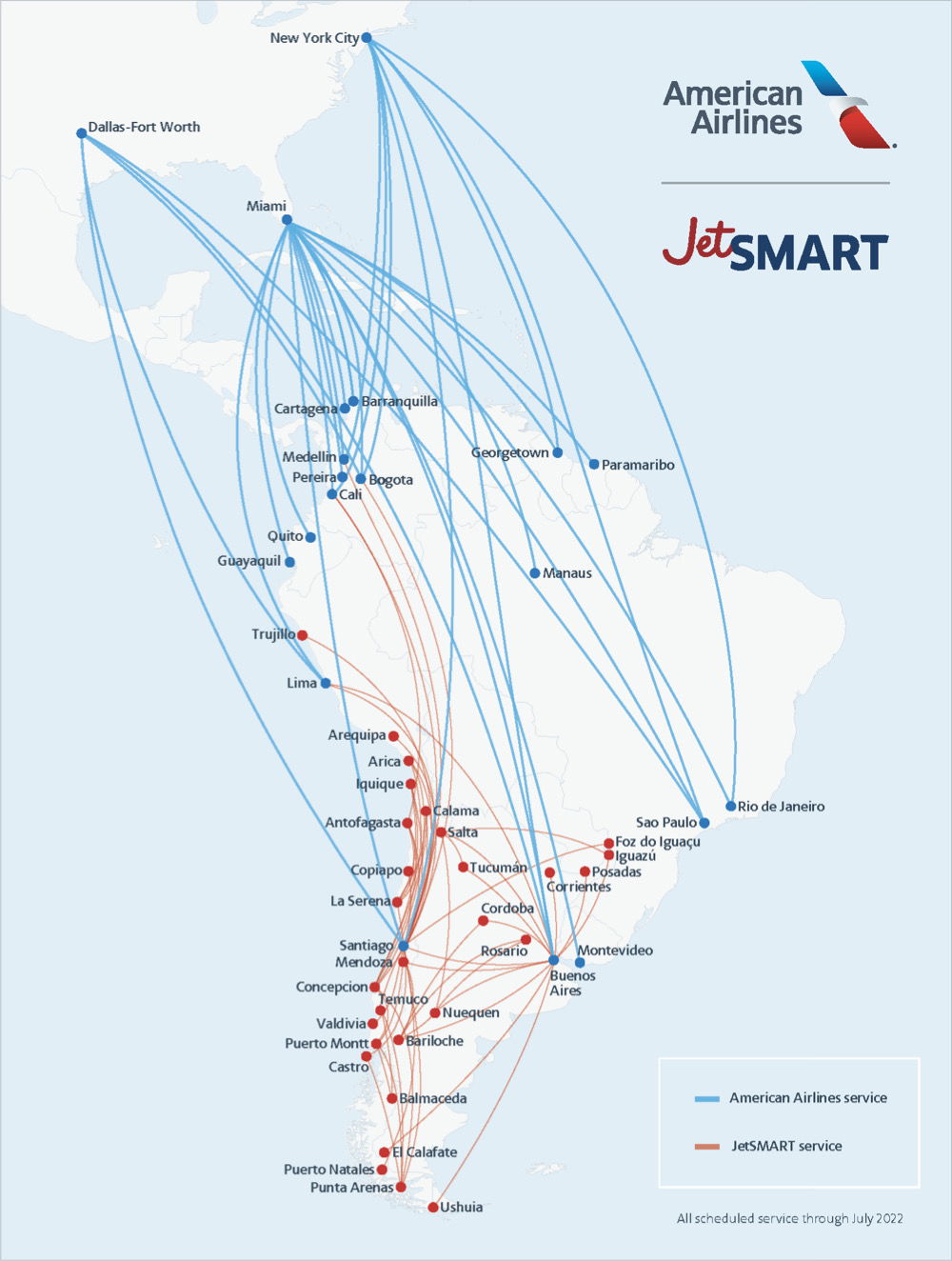 Here's how American Airlines Chief Revenue Officer Vasu Raja describes this strategy:
"This proposed investment in JetSMART would give customers access to the largest network, lowest fares, and best travel loyalty program in the Americas. This would enable JetSMART and American to grow aggressively and profitably across Latin America as demand recovers, while preserving the best aspects of each carrier's business model. This partnership would also make AAdvantage the largest travel loyalty program in the Americas, creating more ways for customers to earn travel rewards and use their miles to access new destinations and elite benefits globally, no matter whether they earn in Latin or North America."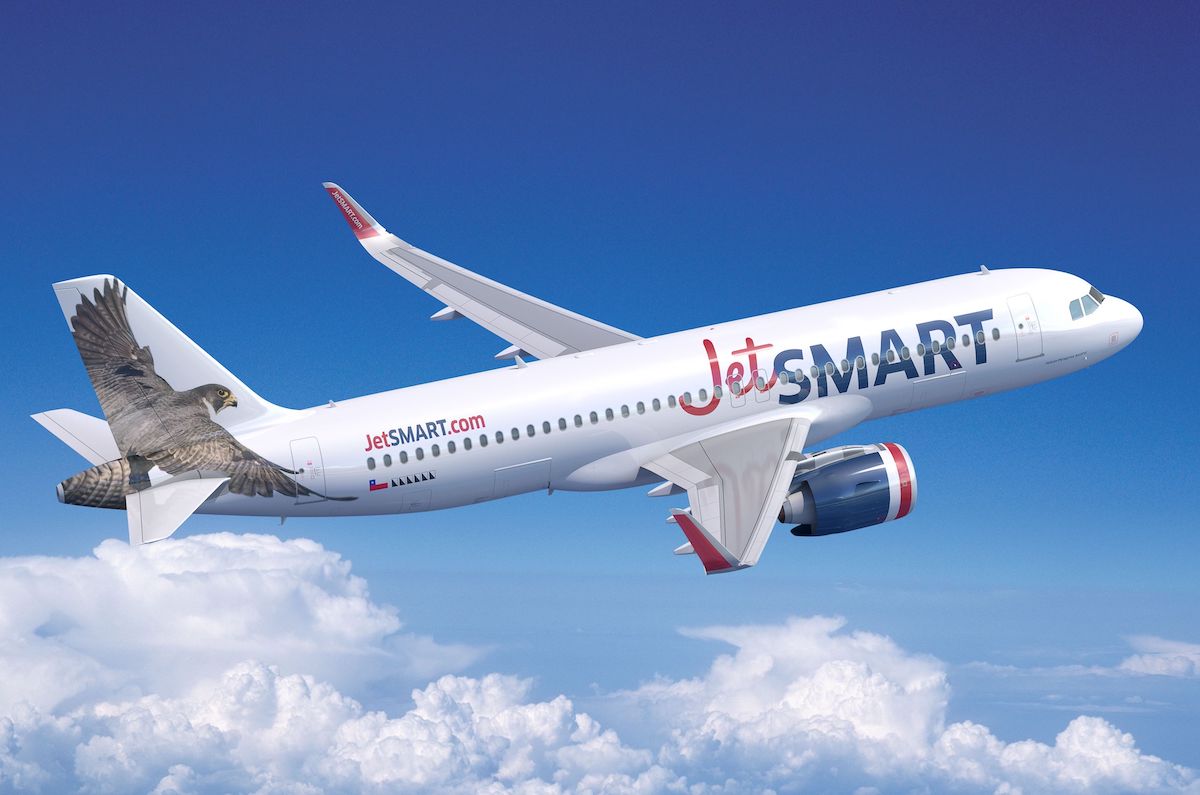 My take on this investment & partnership
American Airlines has long been the leading global US airline in Latin America. American operated many routes to Latin America, and then had plenty of connectivity thanks to its oneworld partner LATAM. All of that changed in 2019, when Delta bought a 20% stake in LATAM. With this, LATAM left oneworld, and ended its partnership with American.
American has been trying to rebuild its connectivity within Latin America. First American announced it was forming a closer relationship with Brazilian low cost carrier GOL, and now American is partnering with JetSMART.
Here's my general take:
Obviously more connectivity is good, and this is better than nothing, but it's still kind of hard to get excited about this, especially for premium traffic; JetSMART planes are in a one class configuration, and A320neos have a staggering 186 seats
American sure is trying just about everything when it comes to partnerships, and I suppose that's to be commended; if this all happens, on a single ticket you could eventually fly JetBlue, American, and JetSMART, all traveling between North America and South America
While it makes sense, there's something funny about American investing in an airline owned by Frontier's parent company
It seems like the upside to this loyalty program collaboration is limited; the first fare I pulled up on JetSMART's website was $12, so it's not like I'm going to redeem miles for that, and if I pay I doubt it'll enrich my AAdvantage account all that much 😉

Bottom line
American Airlines intends to invest in JetSMART, in order to help the South American ultra low cost carrier grow quickly. The two airlines also intend to form a partnership, which would include a codeshare agreement, as well as the ability for AAdvantage members to earn and redeem miles for JetSMART flights.
With American having lost the LATAM partnership, it's now looking to GOL and JetSMART to fill that void. American is doing the best it can given the circumstances, but I still have a hard time getting excited about this.
What do you make of this new American & JetSMART partnership?