Allegiant and Viva Aerobus have announced a new commercial alliance agreement that has the potential to disrupt travel between the United States and Mexico.
Allegiant invests in Viva Aerobus, plans Mexico service
As most of you probably know, Allegiant is an ultra low cost carrier in the United States that operates point-to-point flights with low fares. The airline has carved out an awesome niche, and adds a ton of value for consumers, given on how many routes Allegiant doesn't have competition. Allegiant doesn't currently fly to Mexico.
Viva Aerobus is a Mexican ultra low cost carrier with a fleet of roughly 50 Airbus A320-family aircraft, and the carrier has big growth plans. The airline operates flights within Mexico, as well as flights to the United States.
The two airlines are now planning a fully integrated commercial alliance agreement, intended to dramatically expand options for nonstop leisure travel between the United States and Mexico. This would be a first-of-its-kind arrangement between two ultra low cost carriers. Here's what we know so far:
Allegiant and Viva Aerobus have filed a joint application with the US Department of Transportation (DOT) requesting antitrust immunity; this would be similar to the joint venture between Delta and Aeromexico, allowing the airlines to codeshare, and coordinate schedules, marketing, pricing, and more
Allegiant will make an equity investment of $50 million in Viva Aerobus, and Allegiant's CEO will join Viva Aerobus' board of directors
The plan is for Allegiant to fly to destinations like Cancun, Los Cabos, and Puerto Vallarta, and for Viva Aerobus to add routes to underserved destinations in the United States, like Las Vegas, several cities in Florida, etc.
Viva Aerobus will gain access to Allegiant's distribution network and point-of-sale process, to grow its customer base in the United States
The plan is for the alliance to launch in the first quarter of 2023, pending government approval
Here's how Allegiant Airlines CEO Maurice Gallagher describes the concept:
"Allegiant and Viva Aerobus operating together will be a tremendous win for consumers seeking affordable, nonstop travel between the U.S. and Mexico, and will create rippling economic benefits for hospitality sector business across both nations. This groundbreaking alliance should reduce fares, stimulate traffic, and ultimately link many new transborder cities with nonstop service. In short, it will bring meaningful ULCC competition to the U.S.-Mexico market for the first time in history."
Here's how Viva Aerobus CEO Juan Carlos Zuazua describes the concept:
"The U.S. – Mexico market is currently the largest international air travel market in the world; during the pandemic it has outperformed any other market due to a strong leisure and VFR (Visiting Friends & Relatives) recovery where both Viva Aerobus and Allegiant have excelled. This unique ULCC alliance will create new non-stop connectivity and more competition, strengthening the immense Hispanic VFR market and offering amazing holiday get-aways for residents of both nations."
In the filing about the new alliance, there are maps showing Allegiant's two, five, and 10 year Mexico plans without an alliance, and then the alliance's combined two, five, and 10 year Mexico plans. The potential here is massive.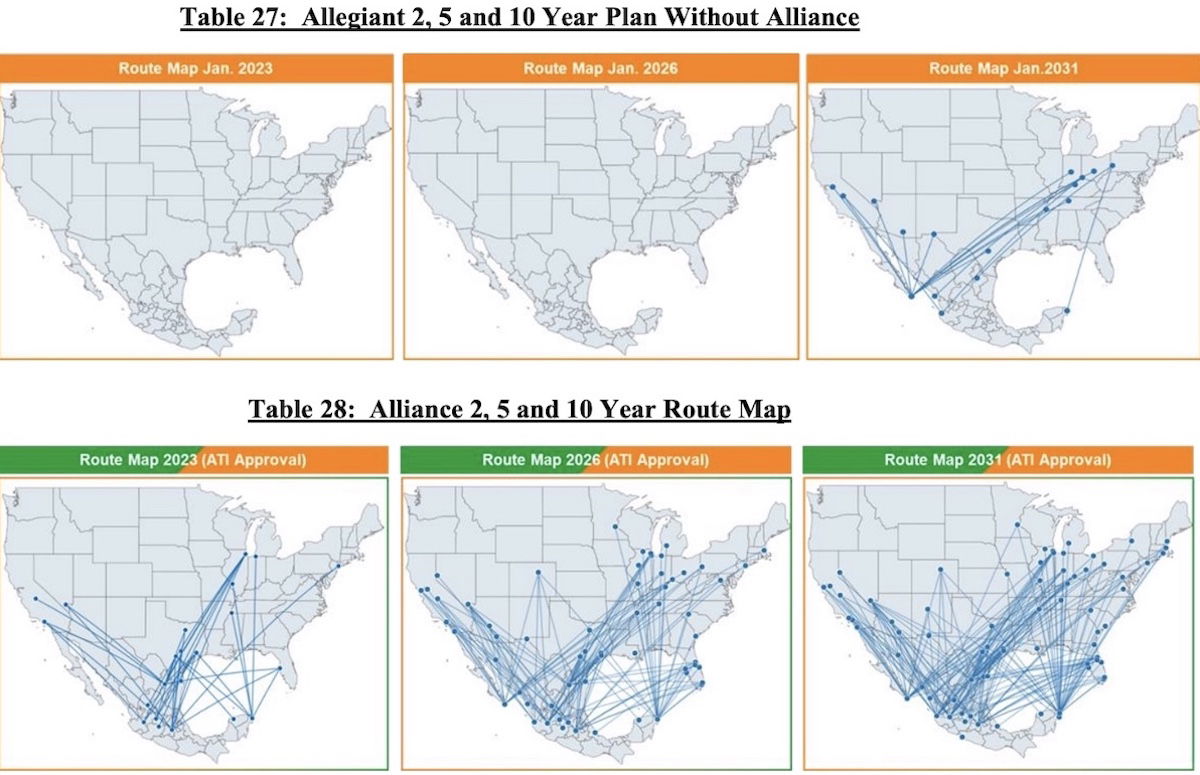 This is a brilliant alliance, great for consumers
When joint ventures are proposed, there's always the question of whether they're good or bad for consumers. Since airlines belonging to a joint venture have anti-trust immunity, they can coordinate fares, schedules, pricing, etc., and it's the equivalent of eliminating a competitor in a particular market. This very concept is being challenged by the Department of Justice (DOJ) right now for the American & JetBlue strategic alliance.
In this case I think it goes without saying that the consumer benefit would be huge, since Allegiant doesn't currently fly to Mexico, and without the alliance, the airline didn't have plans to fly to Mexico in the coming years. Allegiant is incredibly good at what it does, and the potential here seems endless.
Viva Aerobus has also struggled to grow in the United States, due to lack of name recognition and partnerships. Allegiant has a large customer base and is incredibly smart with route planning, and there are so many potential point-to-point low fare markets.
Bottom line
Allegiant and Viva Aerobus are launching an innovative new partnership for travel between the United States and Mexico. The plan is for Allegiant to invest $50 million in Vivo Aerobus, and then the two airlines would launch an alliance between the United States and Mexico, allowing the airlines to coordinate routes, schedules, fares, and more.
Since Allegiant hasn't historically flown to Mexico, there's significant potential for new low fare, point-to-point routes between the two countries.
What do you make of this new Allegiant & Viva Aerobus partnership?