One of the most interesting transatlantic flights will be returning in 2023. Tickets are on sale, and are even bookable online.
Air Saint-Pierre's Paris flights
In the summer of 2018 a fascinating domestic transatlantic route launched — it operated seasonally once weekly. Specifically, ASL Airlines operated a Boeing 737-700 that was marketed by Air Saint-Pierre between Paris (CDG) and Saint Pierre and Miquelon (FSP).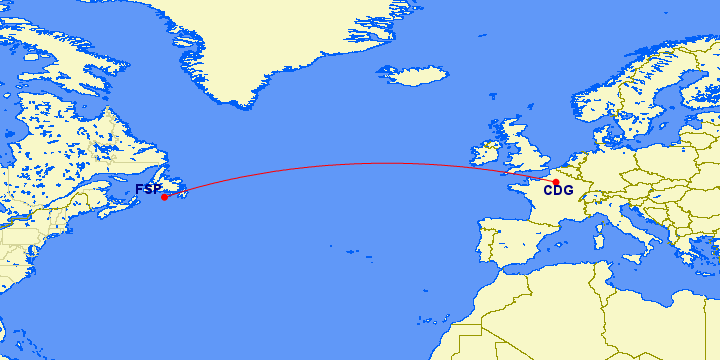 What's Saint Pierre and Miquelon? It's a self-governing territory of France, situated in the northwestern Atlantic Ocean, near Newfoundland and Labrador. The islands cover an area of about 93 square miles, and have a population of just about 6,000 people.
The territory's airline, Air Saint-Pierre, only has turboprops, which aren't capable of operating the route. So the airline leased a Boeing 737 for the once weekly flight.
This was the first time ever that we saw a nonstop link between these territories and mainland France. There were some other things that made this route interesting:
The runway in Saint Pierre is only 5,900 feet long, so the plane had to be weight restricted, meaning the flight could only transport at most 100 passengers (that means most passengers get an empty middle seat)
I had intended to take this flight in 2018, but was shocked to find out that the flight was sold out on almost every single date that it operated; I wasn't expecting that, especially given that the route was subsidized
The route ended up returning in 2019, was then paused in 2020 and 2021 due to the pandemic, and then returned in 2022. The route will now be returning yet again, for the 2023 season.
Paris to Saint Pierre flights return in 2023
The once weekly flight between Saint Pierre and Miquelon and Paris will be returning in 2023, between June 19 and September 4, 2023.
The route will once again be operated by an ASL Airlines France Boeing 737-700, and the flight will be marketed and sold by Air Saint-Pierre. The flight will operate westbound on Mondays and eastbound on Tuesdays, as follows:
Paris to Saint Pierre and Miquelon departing 4:30PM arriving 6:30PM
Saint Pierre and Miquelon to Paris departing 10:30AM arriving 8:05PM
As you can see, the plane sits on the ground in Saint Pierre for quite a while. This is so that the crew can get their rest and operate the flight back the next day, rather than making them stay there for over a week.
I imagine the airline was able to get a decent deal on parking at the airport for 16 hours. 😉 It's also interesting since this is an eastbound daytime transatlantic flight, which is fairly rare.
Air Saint-Pierre fares to & from Paris
If you want to book a seat on this flight, below is the pricing for travel originating in Paris (a one-way ticket costs 622.62 EUR).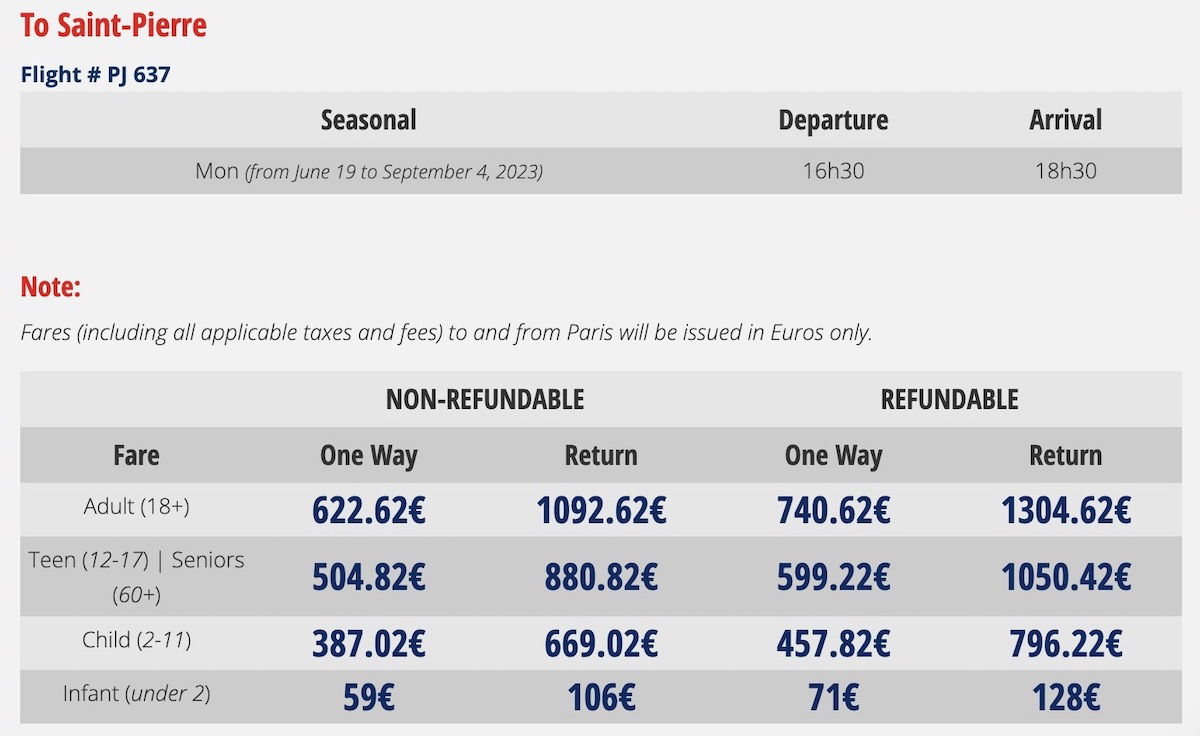 Then below is the pricing from Saint-Pierre (a one-way ticket costs 589 EUR).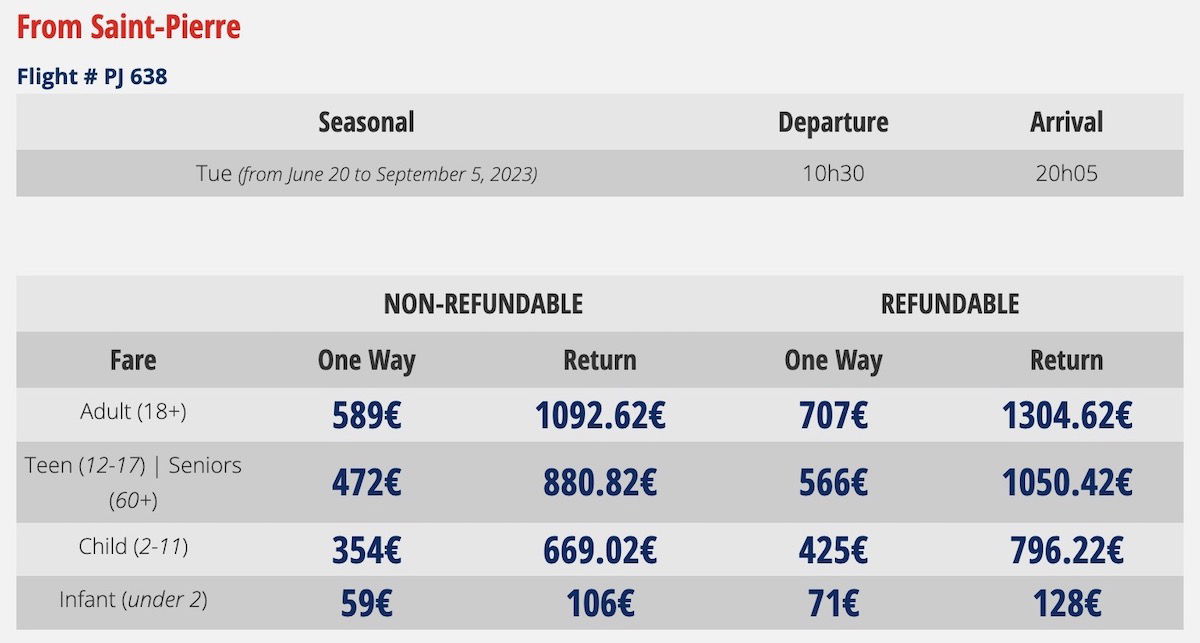 The plane is in an all-economy configuration, as there's no premium cabin.
This flight is even bookable online, which has only been possible since last year (initially you had to call or email). The flight just went on sale, so availability is still excellent, for those who might be interested in taking this journey.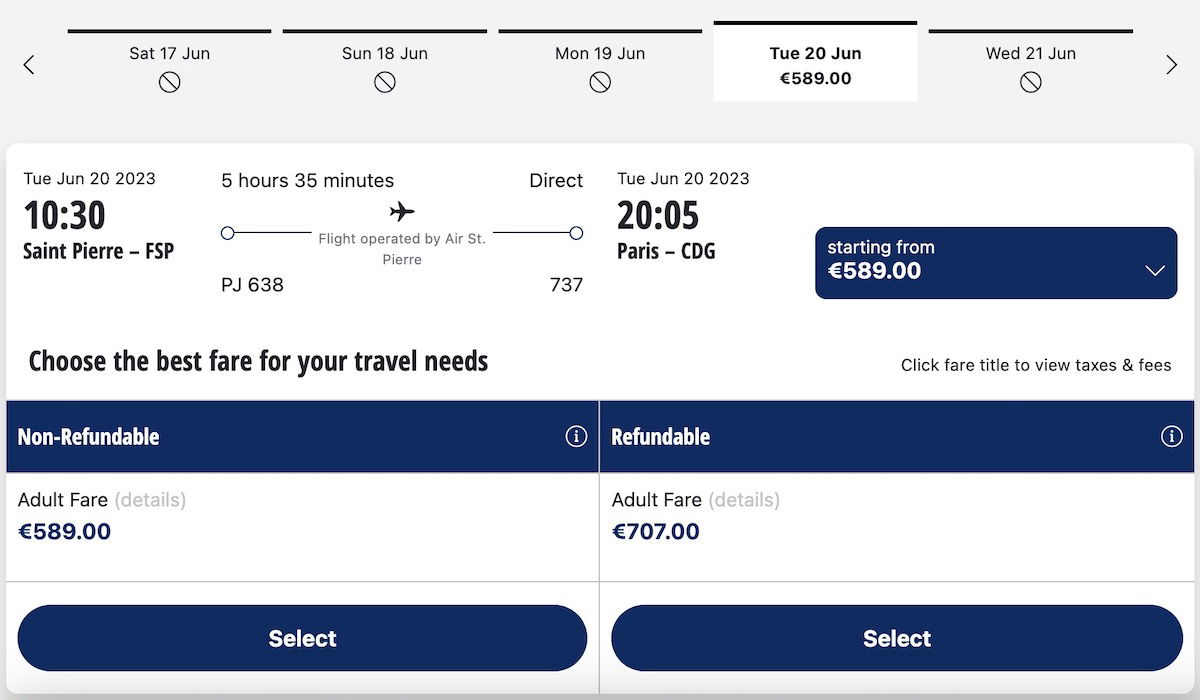 Bottom line
I find this Air Saint-Pierre flight to be absolutely fascinating. It's so cool when airlines not only try a route like this, but it actually succeeds and returns year after year.
While the link between Paris and this French territory is obvious, it's still kind of awesome that such a small territory can support a flight like this. But I guess the downside was fairly limited, since the route was subsidized from the beginning.
Personally I find this to be the most intriguing transatlantic route, with Condor's Frankfurt to Whitehorse flight being a close second (I took this in the summer of 2018).
Anyone else love this Air Saint-Pierre flight as much as I do?
(Featured image courtesy of Anna Zvereva)