Over the years we've seen a lot more "long and thin" routes become possible thanks to smaller, more fuel efficient planes. For example, the 787 has made it possible for JAL to start service between Tokyo and San Diego, while the 737 MAX has made it possible for Norwegian to start service between Stewart (in New York) and Europe.
We've seen a lot of creative new routes lately, though the one that was just announced might just be the most interesting yet. I don't want to call it "random" since the link between the cities is clear, but it's fascinating nonetheless.
Saint Pierre and Miquelon is a self-governing territory of France, situated in the northwestern Atlantic Ocean, near Newfoundland and Labrador. The islands cover an area of about 93 square miles, and have a population of just about 6,000 people. This is quite a small territory.
While Saint Pierre and Miquelon is close to Newfoundland and Labrador, it has very limited air service. No Canadian airlines fly there, but rather just Air Saint-Pierre. The airline has a fleet consisting of a single aircraft, which is an ATR42.
Well, Saint Pierre and Miquelon is about to get a lot more access, as the airport is getting a seasonal nonstop link to Paris.
In the summer of 2018 (between July 2 and August 21), there will be a once weekly nonstop flight between Saint Pierre and Miquelon and Paris Charles de Gaulle. The route will be operated by an ASL Airlines France Boeing 737-700, though the flight will be marketed and sold by Air Saint-Pierre. The flight will operate westbound on Mondays and eastbound on Tuesdays, as follows:
Paris to Saint Pierre and Miquelon departing 6:00PM arriving 8:30PM
Saint Pierre and Miquelon to Paris departing 12:30PM arriving 10:05PM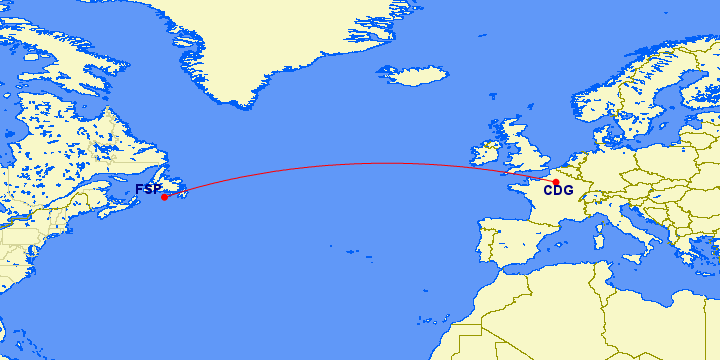 As you can see, the plane sits on the ground in Saint Pierre for quite a while. This is clearly so that the crew can get their rest and operate the flight back the next day, rather than making them stay there for over a week. I imagine the airline was able to get a decent deal on parking at the airport for 16 hours. 😉 It's also interesting since this is an eastbound daytime flight, which is fairly rare.
The flight covers a distance of ~2,700 miles in each direction, and the runway is only about 5,900 feet long, so I imagine this flight is right at the limit in terms of being able to takeoff from there for such a long flight.
Tickets for this flight will go on sale on January 2, 2018, and the price will be 1,025EUR roundtrip. That's really expensive for such a short transatlantic flight, but I guess in reality it's still cheaper than any other option to fly between the two places, and that's not even factoring in the massive time savings.
The plane seats about 150 people, and the flight will operate about eight times over the summer, meaning up to 1,200 people will be able to take this flight in each direction. That represents about 20% of the population of the islands, though I guess that doesn't factor in people who may be visiting from Europe.
Anyone find this route as cool as I do?
(Featured image photo credit: Anna Zvereva)