While most readers know me as the lone (consistently) pro-Delta voice on the blog, I recently flew United Airlines out of Los Angeles. (In truth, I've long since requalified for Diamond Medallion, Delta doesn't offer a nonstop from Los Angeles to Washington just yet, and during the holiday season United flies internationally-configured 777s between Washington Dulles and Los Angeles/San Francisco, so using miles I was able to score a "Polaris First" seat for the four-hour flight.)
Given the new United Club lounge that just opened at LAX's Terminal 7 (which is in the midst of a remodel, if a rather generic one), I took this as an opportunity to review the new space. Tiffany generously offered one of her United Club passes that come as part of her perks as a Hyatt Diamond.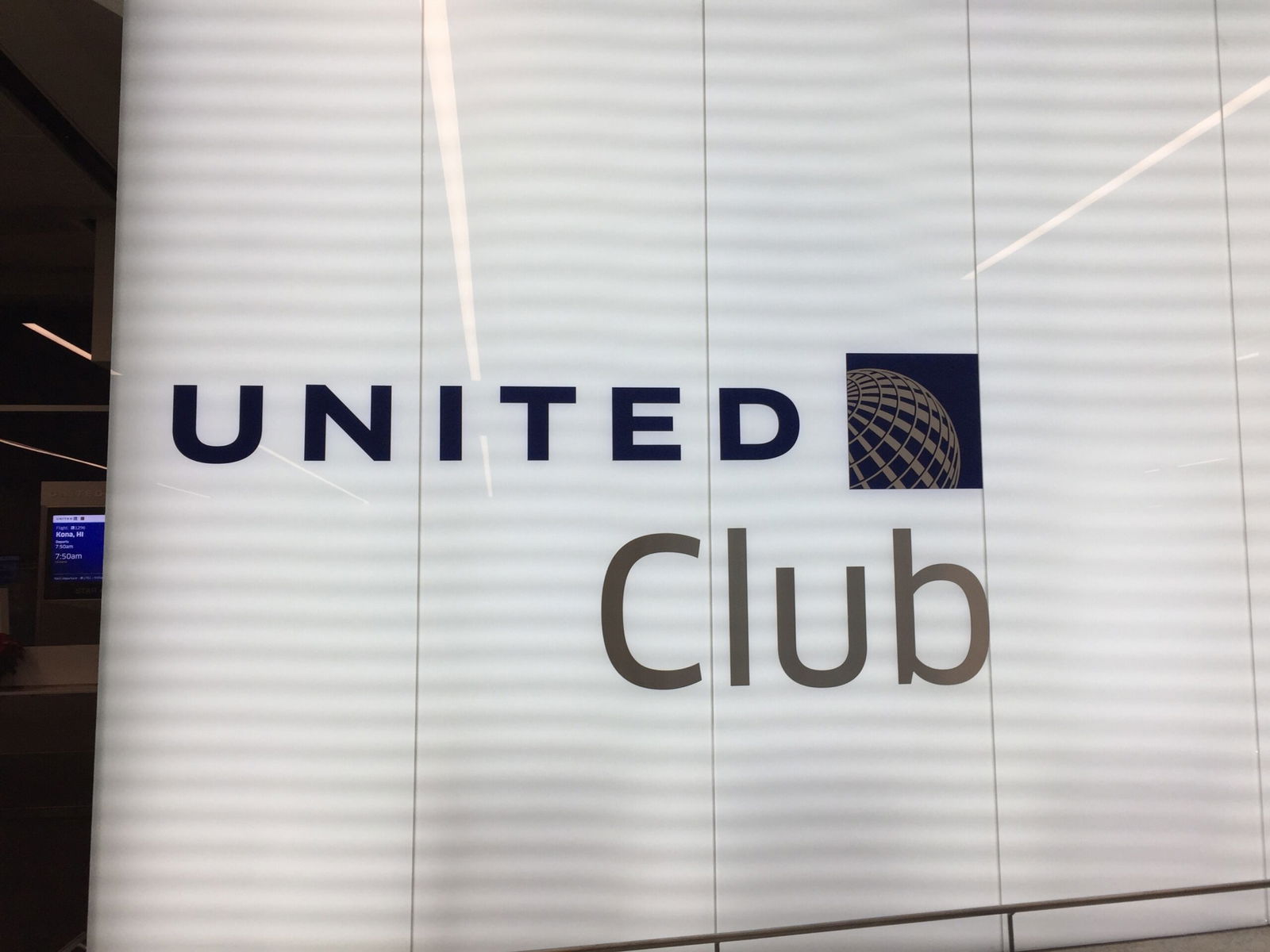 The entrance to the United Club is directly after clearing security at Terminal 7, making it equally convenient for travelers flying out of Terminal 7 or Terminal 8, since United's flights out of Terminal 8 are easily reachable from that point. It's simply an enormous entrance, quite unmissable from the rest of the terminal and very brightly lit.
Check-in on the ground level is easy, and you're directed up a long escalator to get to the main floor (you also can, of course, take an elevator, which I did since I was traveling with my canine companion).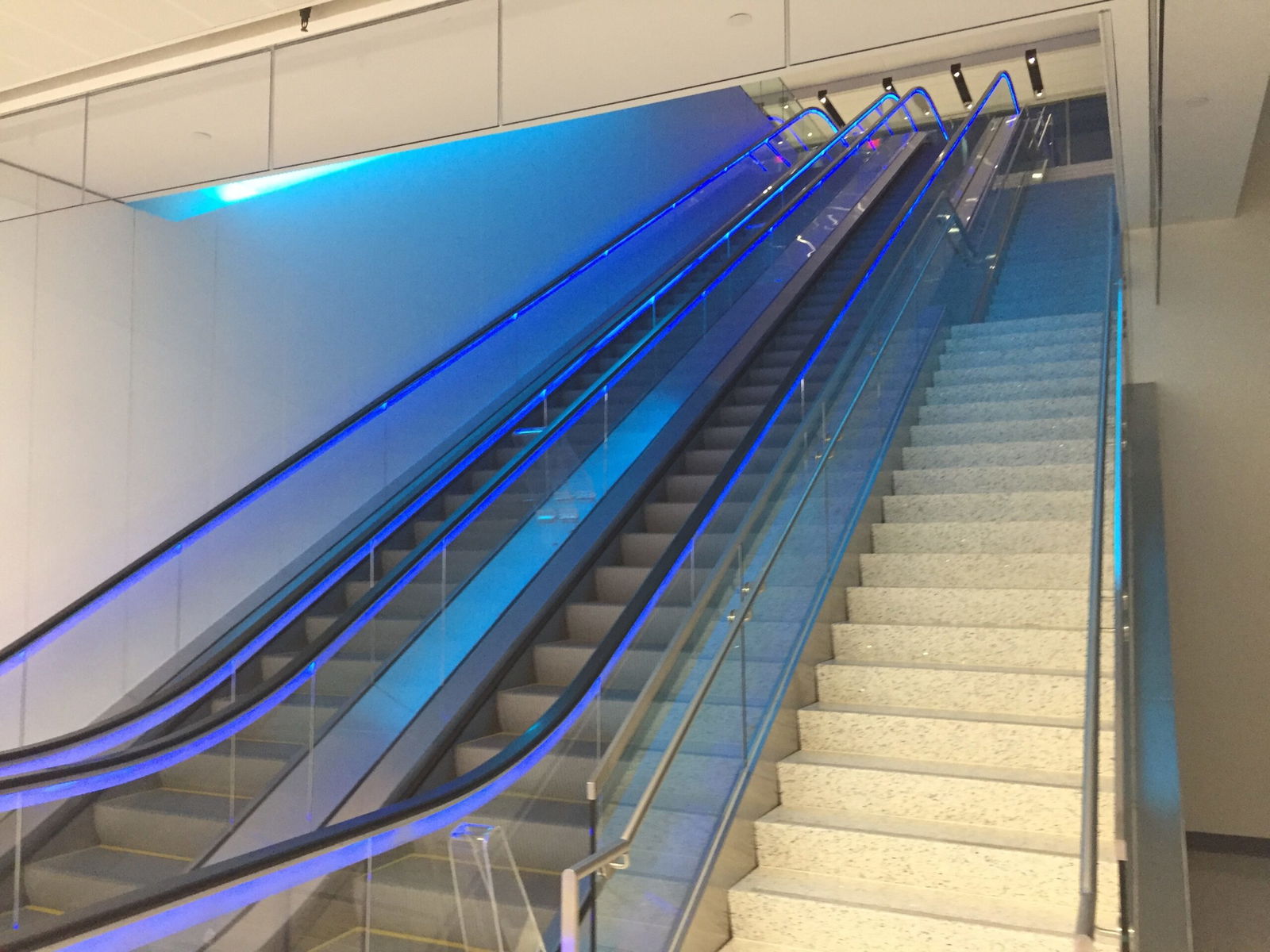 It's hard to overstate just how huge the new United Club is, and it's almost quite overwhelming. Physically, the space is very attractive. It certainly helped that I was there just at sunrise, and that the lounge has ample windows offering a drop-dead gorgeous view.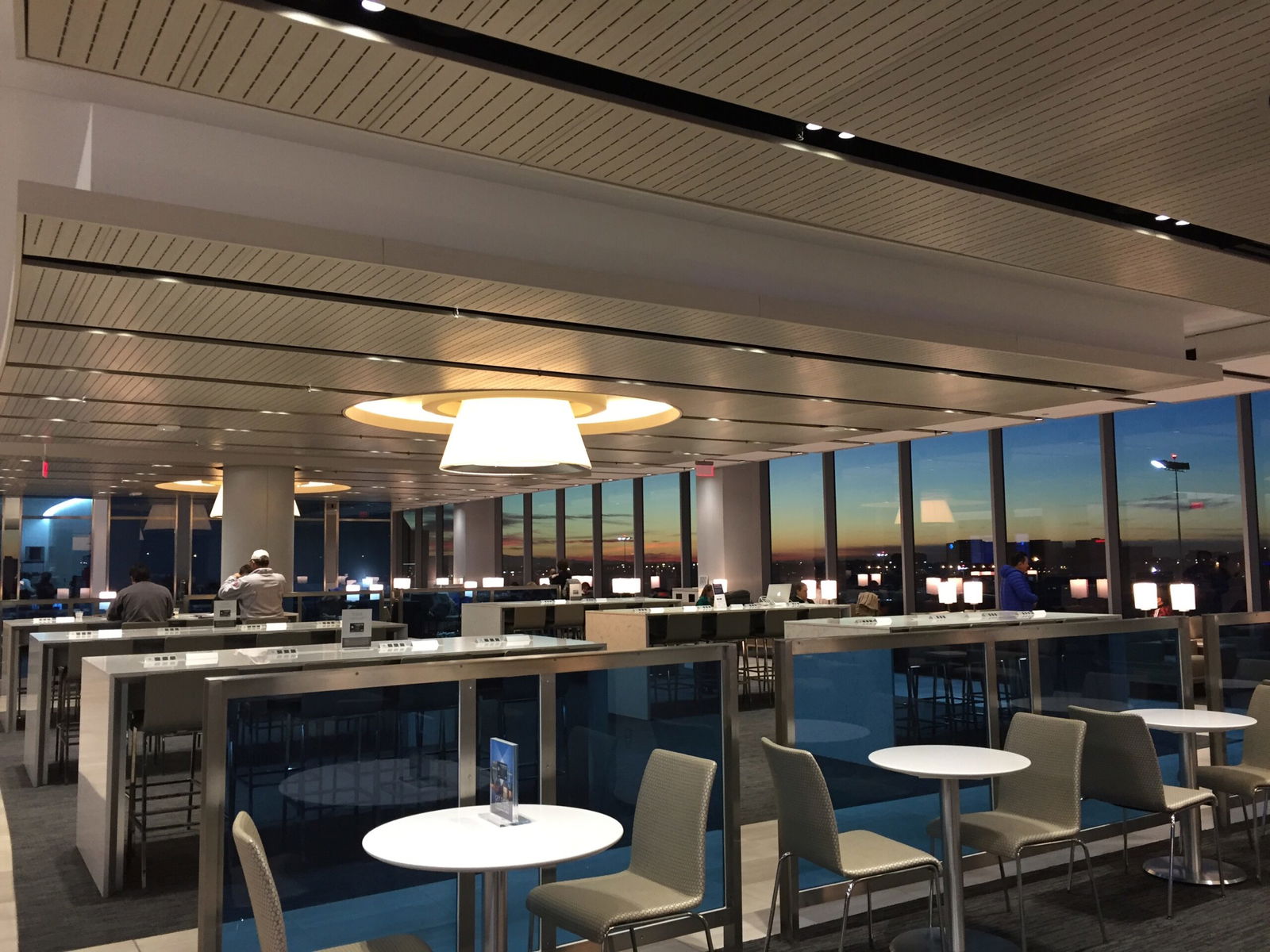 As I was snapping this photo, it's worth noting that one of the main-level agents came rushing over to me to admonish me for not paying attention to my (extremely well-behaved) dog. "If you aren't looking, your dog could be peeing on this brand-new carpet, and that would be very expensive to clean." Um, okay, lady. It's hard to not be put off by what can only be categorized as aggressive unfriendliness. Some things about United Airlines don't change, I guess!
I headed straight for the outdoor terrace, which was stunning, and I would imagine would be lovely on a warm day. Even in Los Angeles, 6:30 on a December morning is too chilly to linger outside.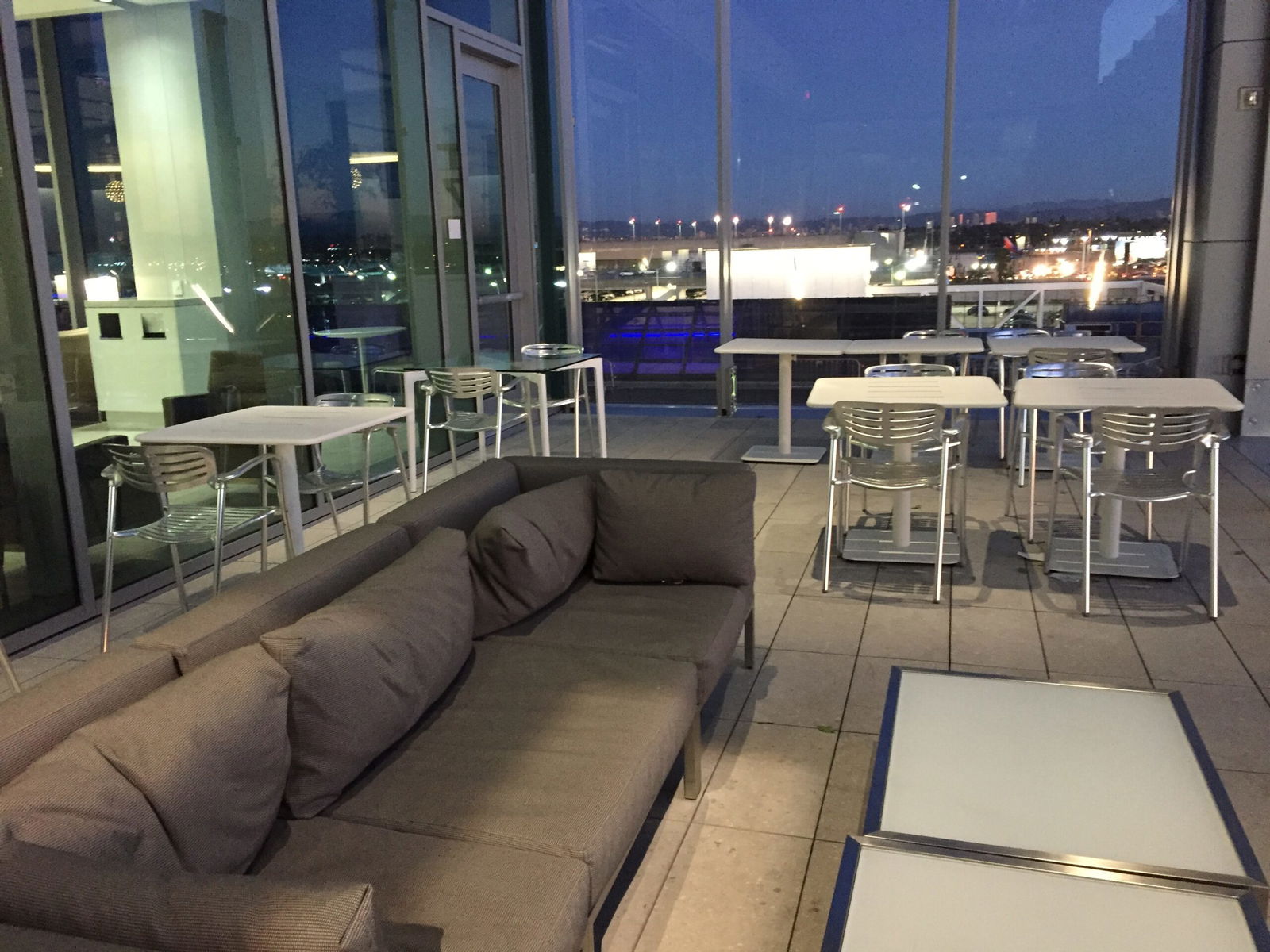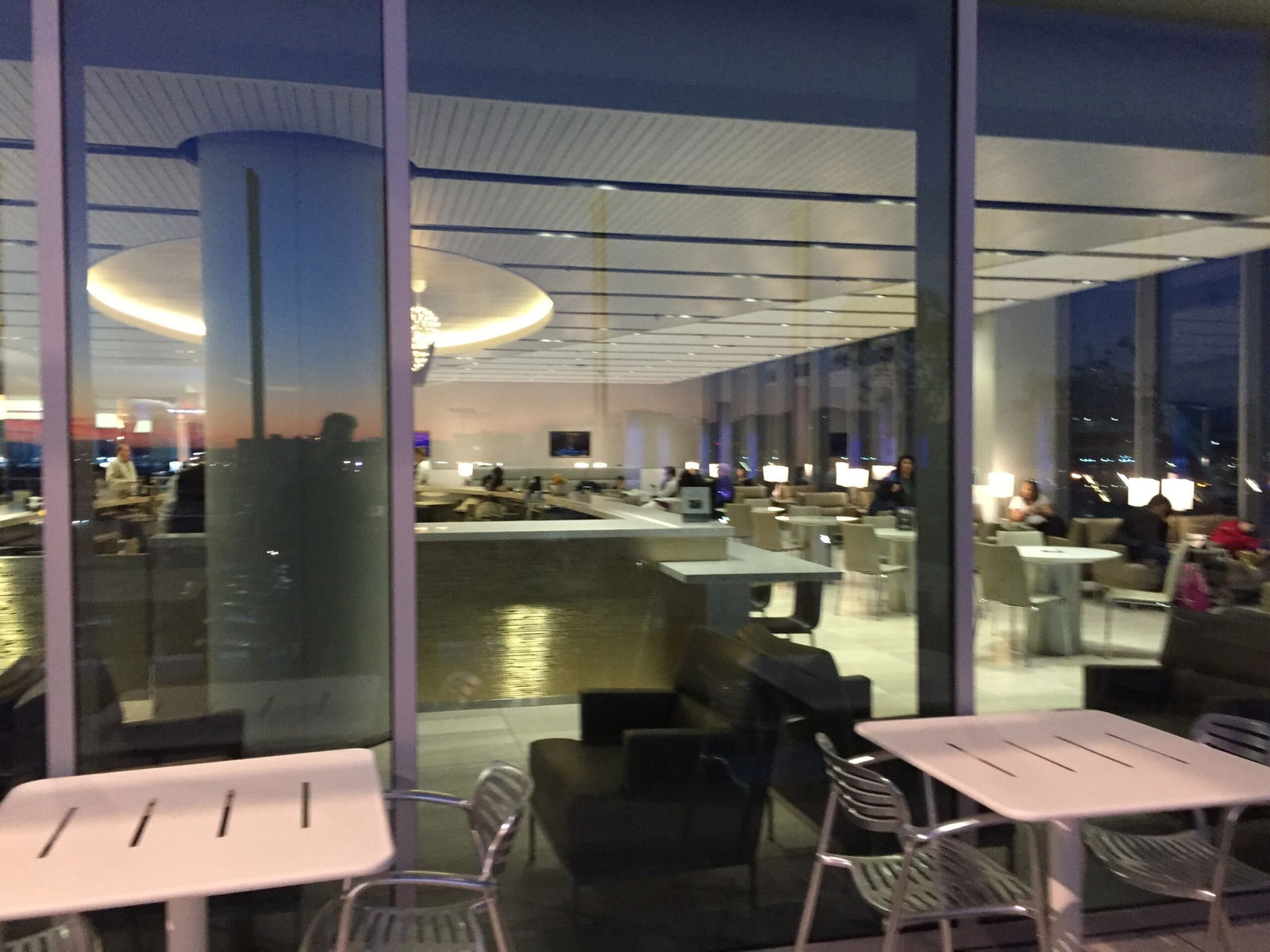 Back inside, there was a long counter to display the food and coffee options. Despite the gorgeous new space, the offerings were underwhelming, to say the least — fresh fruit and miniature pastries. Coffee was unbranded (and not very good). If United wants to compete with Delta on the club front, it needs to up its food and beverage game very quickly.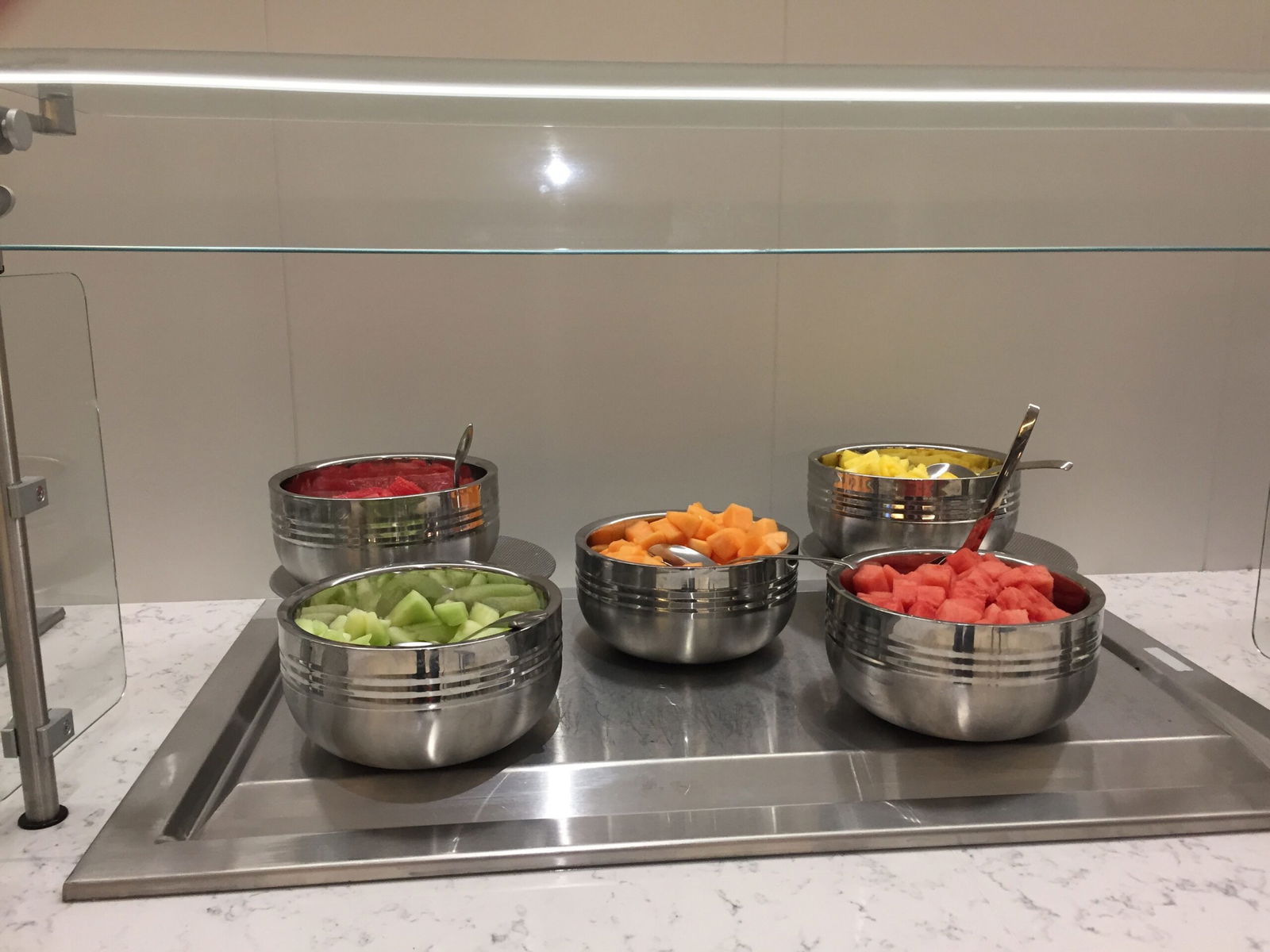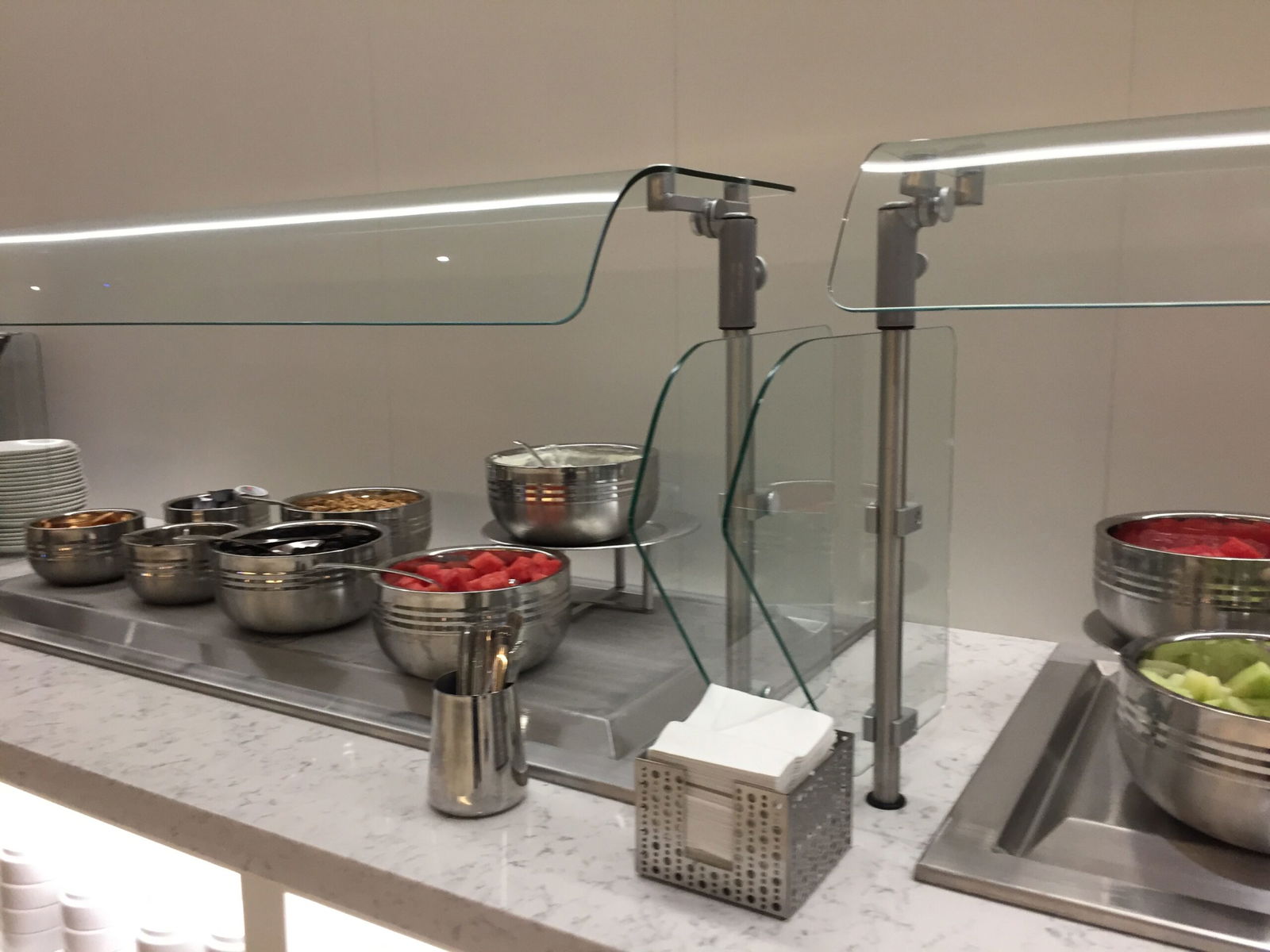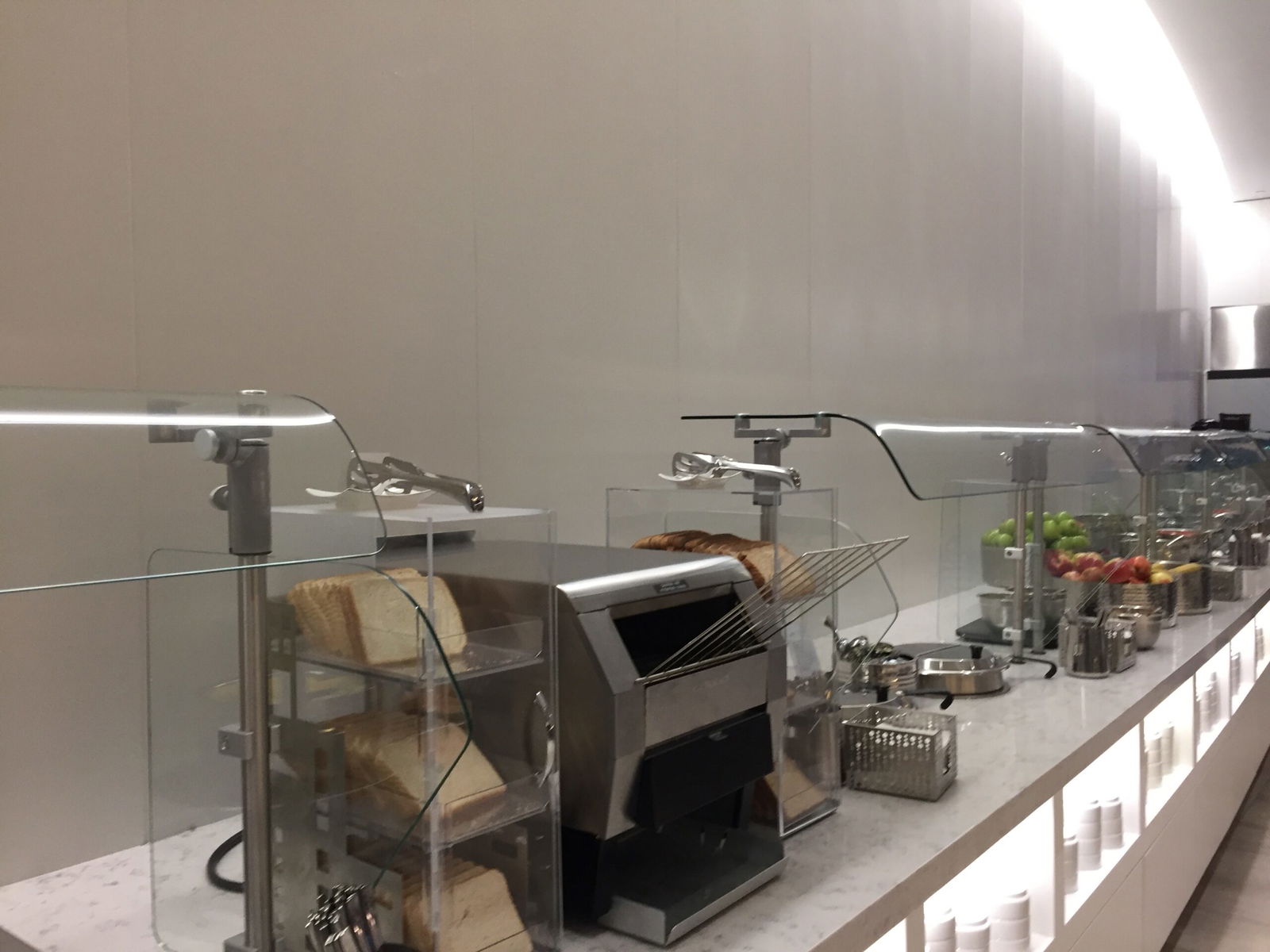 What's more, as you can see, the presentation was simply dreary.
The bar area of the lounge is also enormous, and visually impressive. The bartender on duty was hugely friendly, and poured me a glass of water (it's worth noting there is no self-serve water station that I saw).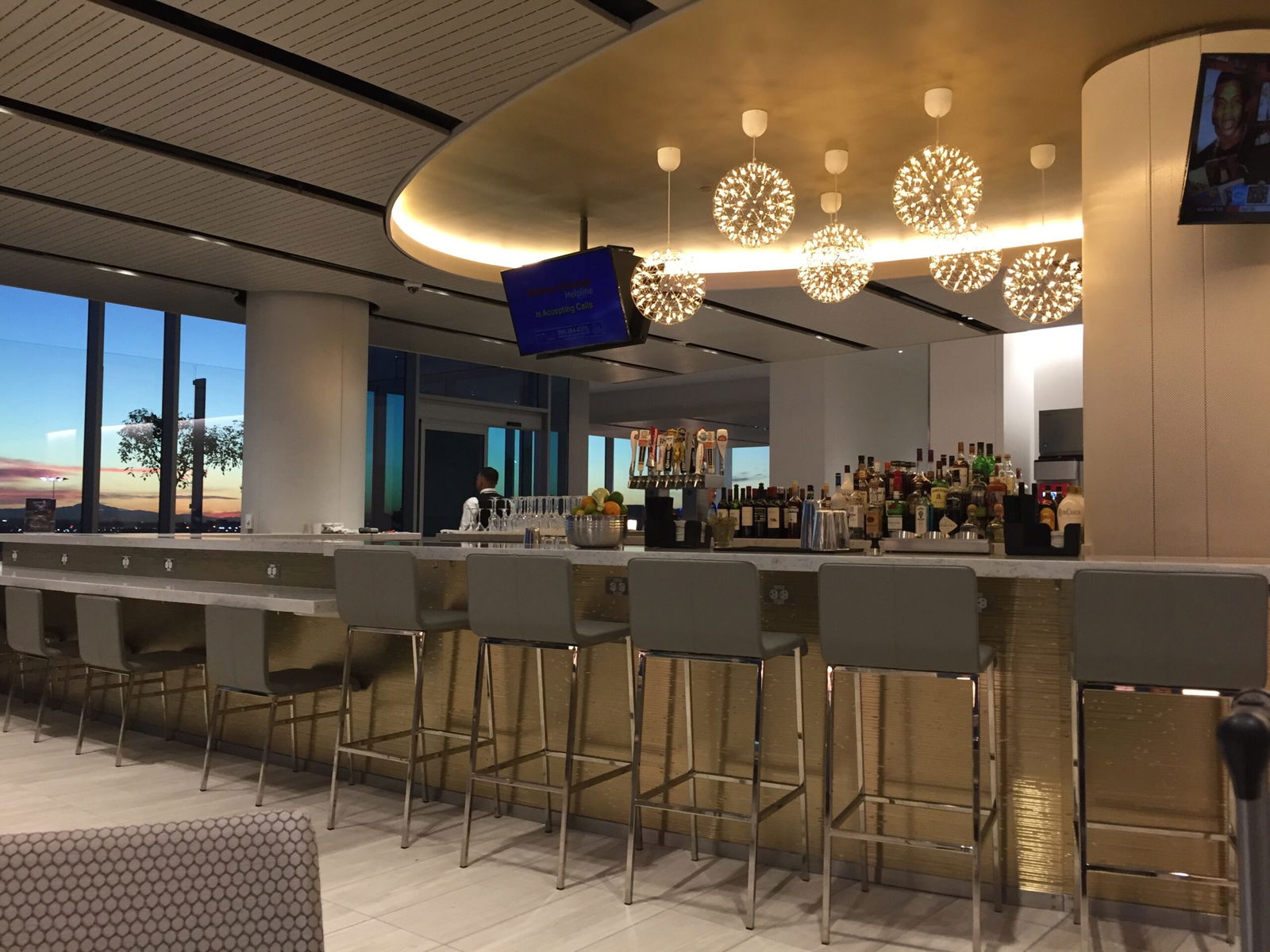 I sat at a table by the bar for a few minutes before I headed back down toward the gate.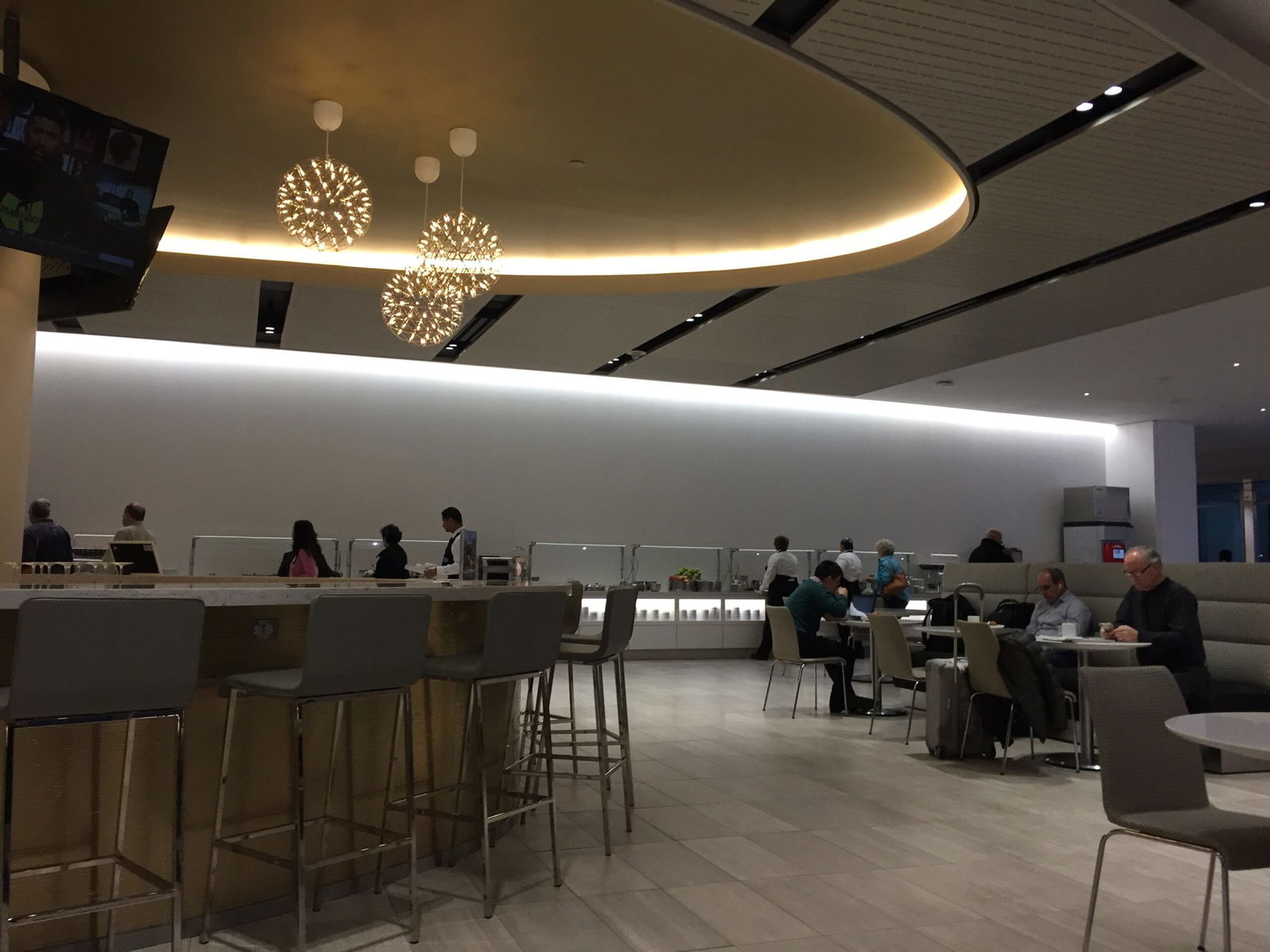 United Club LAX Bottom Line
The true bottom line is that the new United Club at LAX is visually stunning, incredibly spacious, and offers an outdoor terrace that at LAX is a unique amenity.
However, on the "soft product" side, it seems not much has changed: the food displays were unappealing and offered little variety, and I had a mixed experience on the customer service front to say the least.
This is certainly an improvement over the United Club that was at Terminal 7 previously (which was dark, and a little cramped) but United needs to put in more work to offer food and beverage offerings and other "soft" amenities to compete with a new crop of domestic airline lounges by the likes of Delta and American. Thankfully, it has never been easier to get airport lounge benefits thanks to several credit cards, but it is hard to differentiate between some of these domestic lounges.