On Monday we learned that several countries cut ties with Qatar, including nearby Bahrain, Saudi Arabia, and the UAE. The implications of this are far-reaching, though since this is a travel blog, I've been focusing on the impact it has on aviation.
Qatar Airways is no longer allowed to fly to the UAE, Saudi Arabia, etc., and those countries have blocked off their airspace to Qatar Airways. That means flights have to reroute, and in some cases it's fairly significant. For example, Qatar Airways had to route some of their Doha to Sao Paulo flights via Athens due to these new restrictions.
When this move was first announced, it didn't impact other airlines flying to/from Doha. However, the General Civil Aviation Authority of the UAE has just taken this to the next level, at least as far as aviation policy goes. It has been announced that until further notice, UAE airspace is closed to all flights operating to or from Doha, including flights not operated by Qatar Airways.
We at the General Civil Aviation Authority have closed the airspace for all Air Traffic to and from Doha until further notice. #GCAA #UAE

— GCAA UAE (@gcaauae) June 8, 2017
For example, per FlightAware, here's the route for Oman Air's flight from Muscat to Doha before the change was implemented: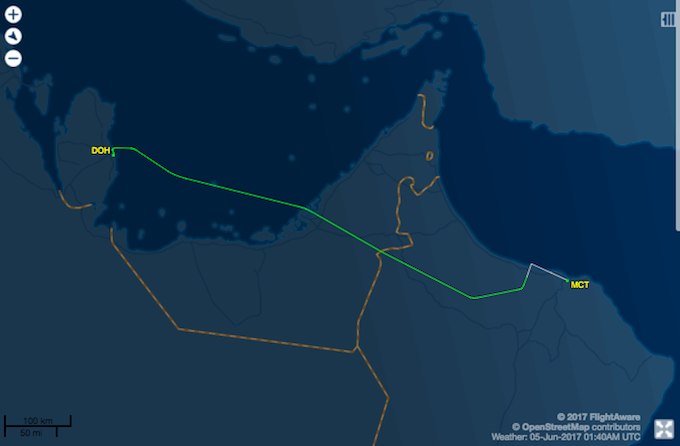 And here's the route after it was implemented: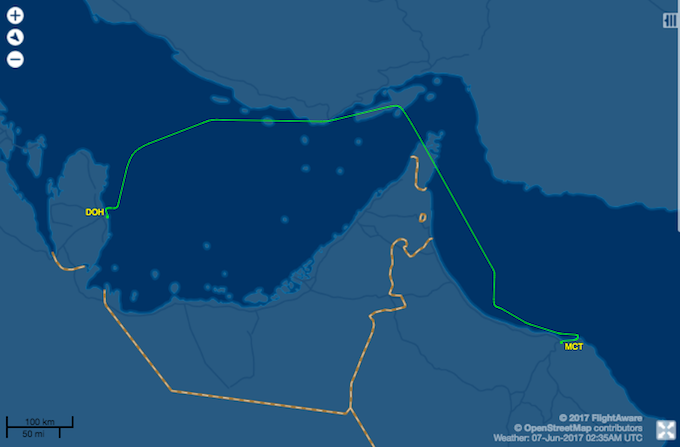 So while this issue was previously something between Qatar and the countries that cut ties with them, the aviation implications of this now involve other countries as well. Now, only UAE airspace is blocked off (I don't believe Saudi Arabia has put a similar restriction in place), so this shouldn't require too much of a detour, since the country isn't that big.
However, politically it's an interesting move. I don't think anyone would argue there's a safety risk of a flight that's Doha bound and operated by a non-Qatari plane, so clearly the UAE is trying to send a message here.
It'll be interesting to see if this policy spreads, and if we see other countries invoke reciprocal policies ("if the UAE is blocking us from their airspace, we'll block them from our airspace").