The past six weeks has been an incredible chapter for One Mile at a Time. After sharing that we were seeking a new contributor to the blog we received a stunning and humbling number of applications.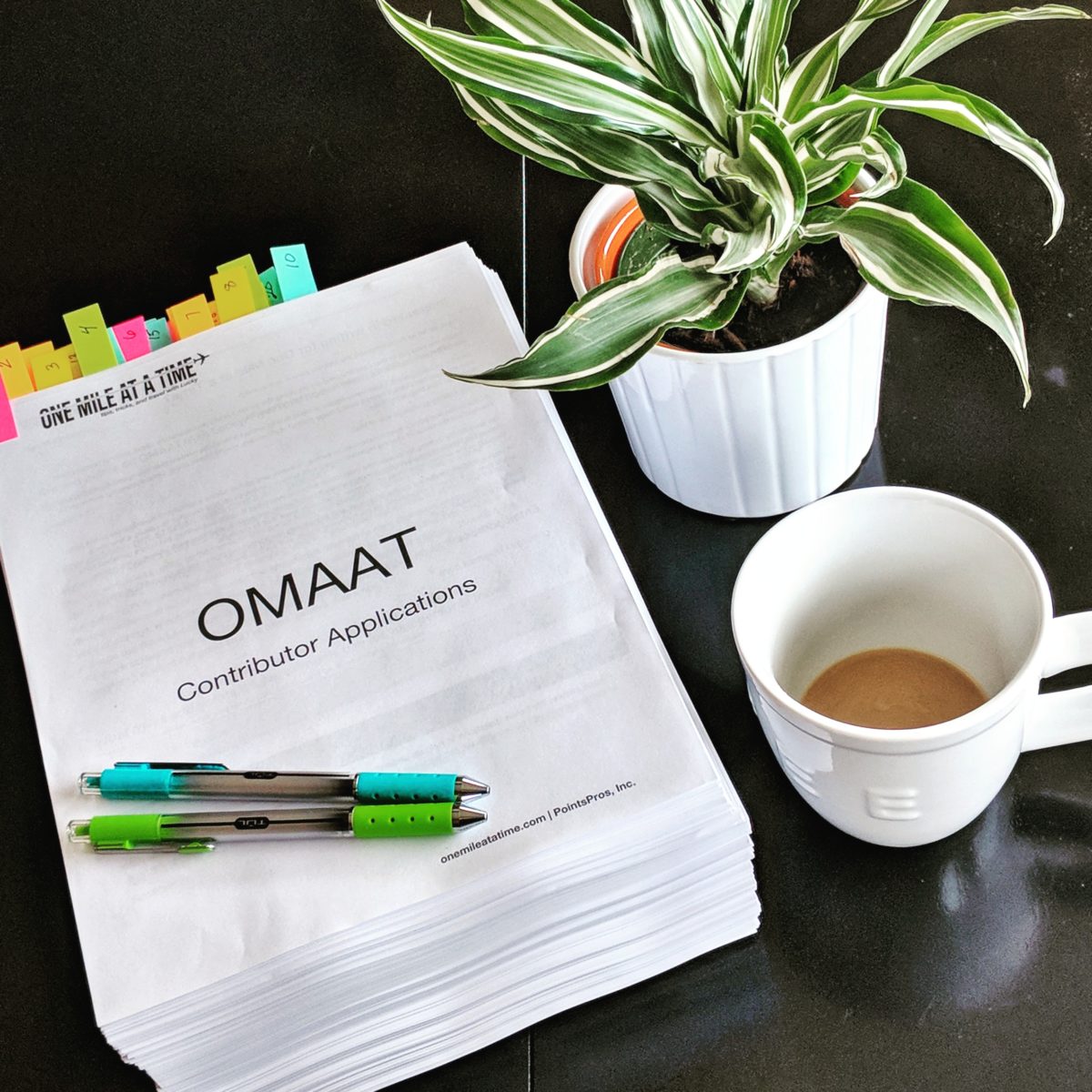 From there, we worked with a small group to create and write posts for the blog. That has been an incredible experience for us, and hopefully a pleasant one for the writers as well.
After a great deal of deliberation, we've made some decisions, so we wanted to provide an update.
What was the decision process?
Since we started reviewing applications, Ben and I have spent at least an hour per day on the phone discussing. There was a day last week where we were on the phone for five consecutive hours. Which is all the more notable when you consider that we generally manage things around here with iMessages and emails.
The challenge has been that everyone is wonderful. Sincerely, there's not a single application we received where we thought "oy, this could never work."
OMAAT readers have an incredible range of experiences and talents, and we are so appreciative of that.
Once we started working with the group doing sample posts those feelings were amplified tenfold. I know that not everyone loved the topics covered by some of the authors, which is fair — though we don't expect all 60-70 posts each week to resonate with every individual reader — but everyone we worked with had tremendous background knowledge of miles and points.
Truly, each and every one of them would make for a fabulous contributor to One Mile at a Time.
So we've had to spend a lot of time thinking about nuances and the distinct perspectives another person could bring. We tried to factor in individual areas of expertise, and what aspects of miles and points folks were most passionate about, and how that would fit into what we already have going. We considered the post development and editing processes — both how people received feedback and edits (though everyone was delightfully gracious where those things were concerned), along with how much tweaking and editing was required on our part before publication.
Blogging, it turns out, is a very different skillset than writing.
And what we realized is that given our situation right now, and the incredible pool of talent, that limiting things to one person who could upend their lives to write 10 posts a week (which, again, we've come to appreciate is not practical from a time perspective for someone who is new to blogging), was going to be complicated.
We've decided the best approach (for now) is to add a few contributors who will collectively be adding those ~10 posts a week (and possibly more in the future).
As we don't want to overwhelm you (or ourselves), we'll be adding these voices individually over the next month or so. Our hope is that will let everyone acclimate without it seeming like too dramatic of an adjustment. These are some amazing, talented, engaging folks, with very niche perspectives and skillsets. We are so excited for you to meet them.
New faces, but not big changes
This is scary and exciting, and we're so grateful to you guys for the readership and support that makes having this option possible. I mentioned when we first posted that we aren't looking to change the key things that make this site what it is, and I just want to reassure you all that that is still the case.
One Mile at a Time is always going to be Ben's baby, and we promise that isn't changing. He's still going to write a vast majority of the content, and will probably continue to refuse to take a day off ever.
The goal of adding some consistency with other contributors is to take a bit of the daily load off him, and also allow us to add more of the detailed and time-consuming content that sometimes falls by the wayside currently. Having OMAAT be the first and last spot you need to look to learn about using your miles is important to us, and this seems like the best way to open up more bandwidth. But the fundamental nature of the site and content won't be changing.
Thank you thank you thank you
The best thing about One Mile at a Time, truly, is the sense of community and the passionate readers. We can't express enough how appreciative we are of your support and patience as we've gone through this process, and the constructive thoughts many of you have shared.
We're a little nervous, and a lot excited. Thanks for being along for the adventure.
Thank you again to everyone who applied!