With Alaska's takeover of Virgin America having closed late last year, it's interesting to see what the expansion efforts of the combined airline look like. Just a couple of weeks ago we learned about the future of the "new" Alaska's branding, and about how it's basically going to be business as usual for Alaska.
Well, Alaska has just announced their three newest routes, all of which are either midcons or transcons, and all of which are redeyes on the eastbound flight (ouch!).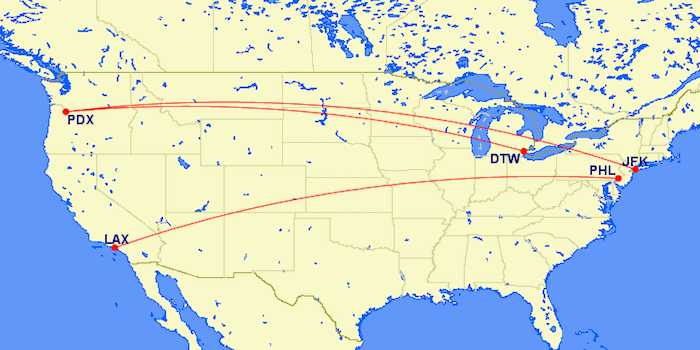 Portland to Detroit starting August 30, 2017
The flight will operate using an Alaska 737, with the following schedule:
Portland to Detroit departing 10:30PM arriving 5:30AM (+1 day)
Detroit to Portland departing 7:00AM arriving 8:45AM
Los Angeles to Philadelphia starting September 1, 2017
The flight will operate using a Virgin America A320, with the following schedule:
Los Angeles to Philadelphia departing 8:45PM arriving 5:00AM (+1 day)
Philadelphia to Los Angeles departing 6:30AM arriving 9:26AM
Portland to New York JFK starting November 6, 2017
The flight will operate using an Alaska 737, with the following schedule:
Portland to New York JFK departing 11:05PM arriving 7:30AM (+1 day)
New York JFK to Portland departing 9:30AM arriving 12:55PM
My thoughts on this expansion
I think the Portland to Detroit route is the least interesting. Keep in mind that Alaska is cutting ties completely with Delta, so it seems that they're adding this route solely for those looking to travel to Detroit (or those in Detroit looking to travel to the Pacific Northwest), since there won't be many onward connection opportunities.
The New York JFK flight is only Alaska's second route to JFK (excluding Virgin America routes), as they started flights from Seattle to New York in September 2015. This makes sense given how many partners they have flying out of JFK, though I find the schedule a bit frustrating, with a redeye to New York, and a morning departure out of New York. This makes it tough to connect passengers traveling to/from Europe. However, I suspect Alaska could only get a gate in the morning.
The Philadelphia route is clearly intended more for the Virgin America customer base than the Alaska customer base, given that most of Alaska's California growth has been out of San Jose, Oakland, and San Diego. This flight will be operated by a Virgin America plane, meaning that it will feature a superior first class product, though elite members also won't get free upgrades on the route for the time being (this will change in late 2018, though the planes should also feature inferior seats by then).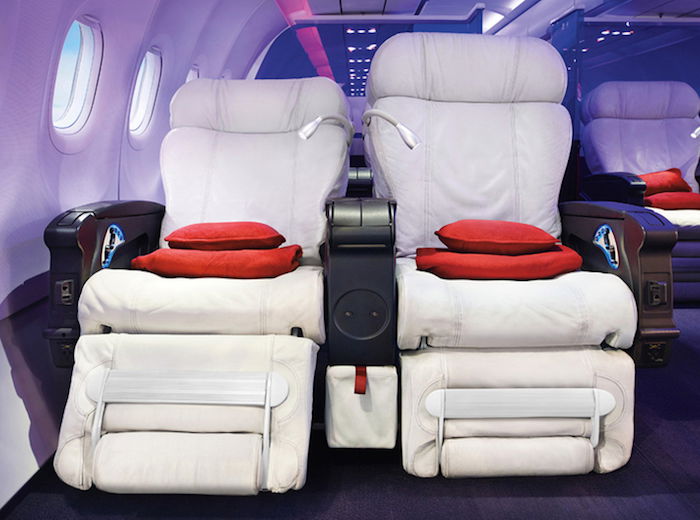 Alaska's long term transcon strategy
This expansion is rational enough, though long term I'm still curious to see what Alaska's transcon strategy is, especially on the "premium" routes. Alaska has said that they eventually plan on putting their 737s on their routes from New York to Los Angeles/San Francisco, which will just feature standard domestic first class seats with marginally better legroom than what other airlines offer.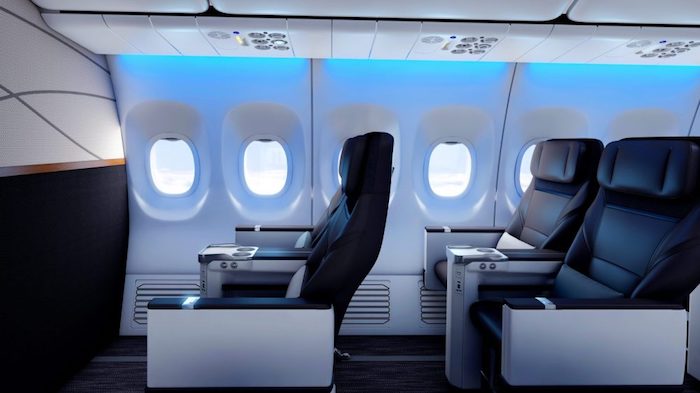 This can't compete with the other products in the market, though maybe they're fine with that, given how much premium transcon fares have been driven down the past few years, due to JetBlue Mint.
Bottom line
These are some logical new routes on Alaska's part, especially the new Portland to New York flight. I look forward to seeing Alaska's continued growth post-merger, as much as I'm a bit puzzled by their product choice.
What do you make of Alaska's three new routes?