Holy moly. It's not uncommon to see stories of flights diverting due to safety concerns over unruly passengers. However, it's not usually a person in the cockpit who is the cause of concern. That's what makes this story from yesterday so wild.
Flight diverts after "credible security threat" in cockpit
This incident happened on Sunday, October 22, 2023, and involves Alaska Airlines flight AS2059, scheduled to fly from Everett (PAE) to San Francisco (SFO). The 710-mile flight was operated by Alaska's regional subsidiary, Horizon Air, using an almost new Embraer E175 with the registration code N660QX. Long story short, the flight ended up diverting to Portland while enroute.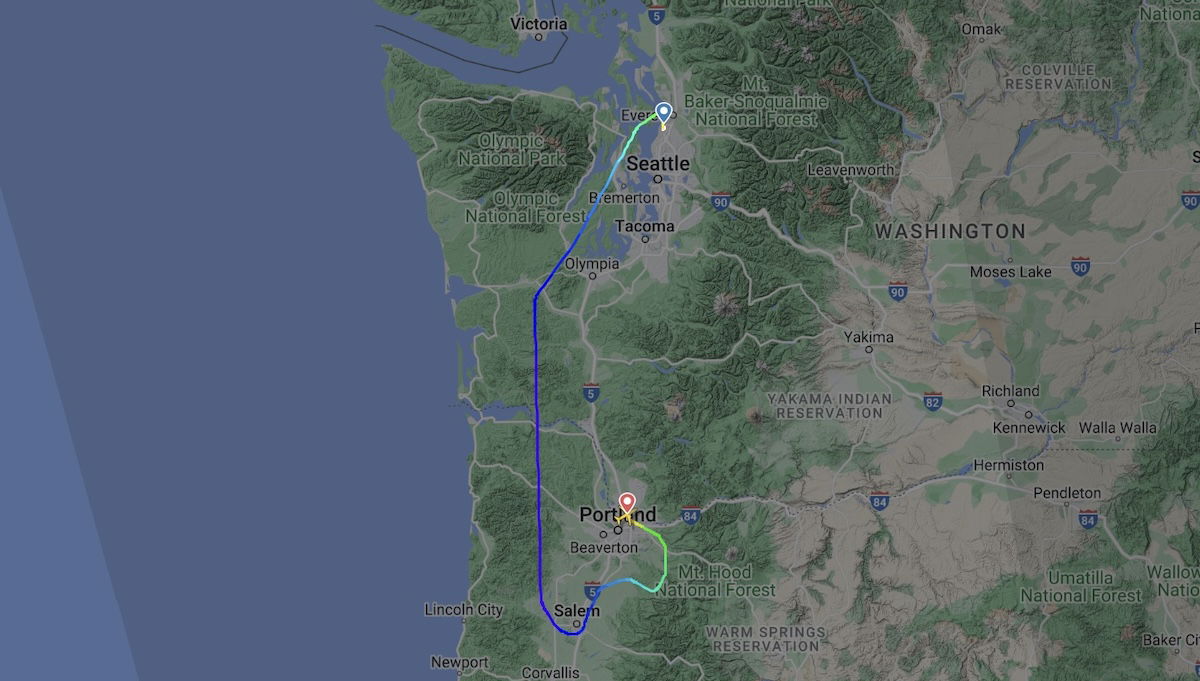 Let me just directly quote the internal memo that Alaska Airlines has sent employees regarding this incident, because wow:
On October 22, Alaska Airlines Flight 2059 operated by Horizon Air from Everett, WA (PAE) to San Francisco, CA (SFO) reported a credible security threat related to an authorized occupant in the flight deck jump seat. No weapons were involved, and the crew was able to secure the cabin without incident. Following appropriate FAA procedures and guidance from air traffic control, the flight safely diverted to Portland International Airport (PDX). the incident is being investigated by law enforcement authorities. All passengers onboard were reaccommodated on a later flight with a new crew and new aircraft. We recognize how concerning this incident must have been and we are deeply grateful to our crew for everyone's professionalism throughout this experience.

This is an active investigation. We will share details as we are able. In the meantime, we ask that you respect the privacy of the crew involved and do not share crew lists or contact those involved.
What exactly was this security threat? VASAviation has already published a video about what happened, with the air traffic control audio. It would appear that the person in the jump seat tried to shut down both of the plane's engines. He was then removed from the cockpit and placed in the cabin, where he reportedly calmed down.
Off-duty pilot charged with 83 counts of attempted murder
The man who caused this incident is a 44-year-old California resident who is a mainline pilot at Alaska Airlines. He was arrested upon arrival in Portland, and has been charged with 83 counts of attempted murder (reflecting the number of people onboard the aircraft).
This pilot first worked for Virgin America, before moving to Alaska Airlines when the two carriers merged. He was trying to commute in the jump seat, as it was a full flight, so he couldn't get a seat in the cabin.
What a bizarre and terrifying incident
For those not familiar with the jump seat, this is the seat in the cockpit behind the two seats for the pilots who are flying.
Jump seats are used for a variety of reasons — they're sometimes used during training, and if the passenger cabin of a plane is full, they can also be used by select airline employees looking to hitch a ride. Airlines are really selective with who can sit in jump seats, as they're reserved for pilots, select mechanics, etc. Cockpit security is taken really seriously, for obvious reasons — you don't want anyone who hasn't been vetted in the cockpit during critical phases of flight.
Yet for whatever reason, an Alaska Airlines mainline pilot who has been at the airline for many years is accused of trying to shut down both of the aircraft's engines while inflight. It goes without saying that this is really dark. Was the person under the influence of some substance? What were his intentions with doing this?
If there's any silver lining, I guess we should be happy this happened when he was in the jump seat, and not while he was one of the pilots flying. Imagine if he tried this while he was at the controls, and the other pilot was on a bathroom break (with only a flight attendant standing in the cockpit).
I'm sure there will be transparency in this investigation, so I'm really curious to see what comes of this.
Bottom line
A Horizon Air jet diverted last night after an Alaska Airlines pilot seated in the jump seat caused a "credible security threat" in the cockpit, as he apparently tried to shut down both of the engines. The man has now been charged with 83 counts of attempted murder, which shows just how serious of an incident this was. Wow.
What do you make of this bizarre incident?