I've just wrapped up a four night stay at Mystique in Santorini, which is a Starwood Luxury Collection property. I've been wanting to stay at this hotel for years, as it has been prominently featured on the spg.com homepage, and always looked so beautiful.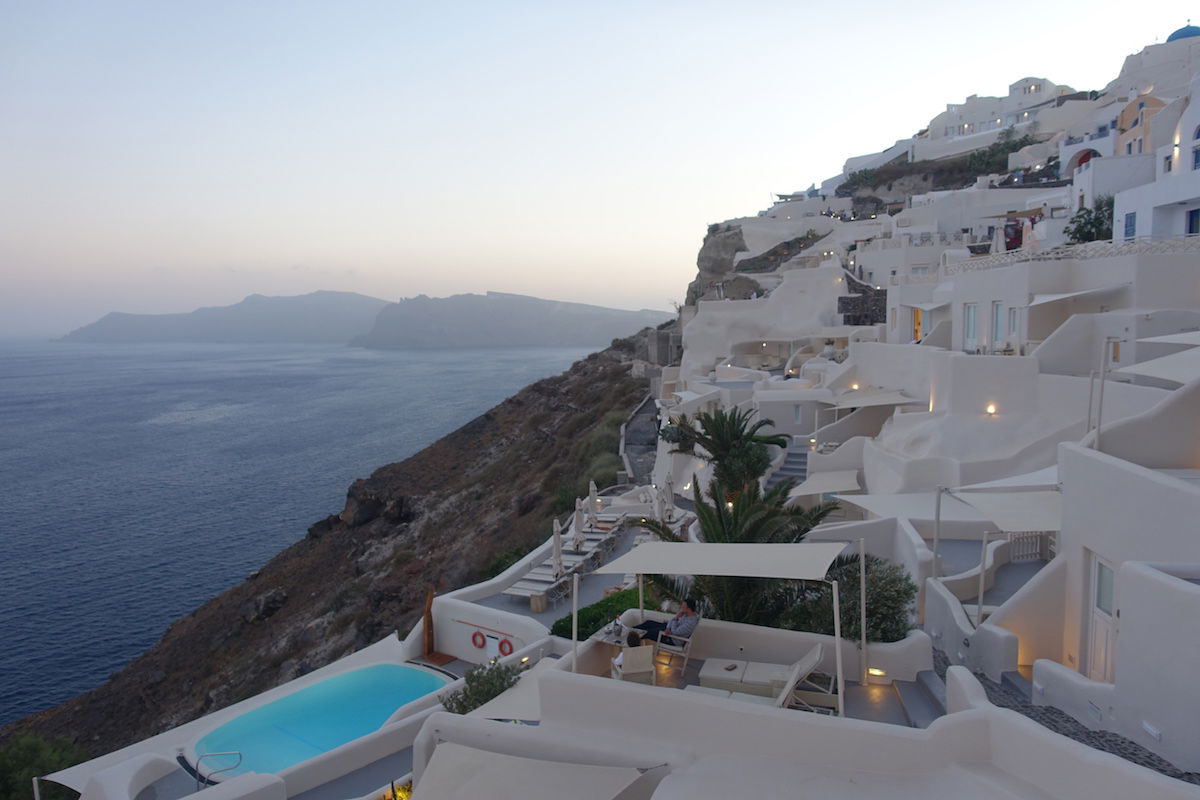 I've shared my general thoughts on visiting Santorini, and while I'll have a full review of the hotel, several of you have asked if I could share my initial thoughts, so I wanted to do that in this post.
Redeeming points at Mystique is expensive
Mystique is considered a specialty property, and as a result redeeming points here is outrageously expensive. That's because the hotel technically doesn't have any standard rooms, meaning that you'll be charged twice as many points as usual. The cheapest rooms here go for 60,000 Starpoints per night, and you can get a fifth night free on award redemptions. We'll have to see how those rates change in August, when Marriott's new loyalty program kicks in.
I value Starpoints at 2.2 cents each, so to me 60,000 Starpoints are worth ~$1,320. Redeeming points here will rarely be a great value, but that doesn't mean you shouldn't — a lot of people want to stay here but can't justify spending the cash, and in those cases it could make sense to redeem points.
Personally I booked using the Citi Prestige fourth night free benefit.
The hotel is open seasonally, and rates vary greatly
Most of the Greek Islands are seasonal, and that's also true of Mystique. For example, this year the resort closes on November 4, and then it won't open again until the late spring. Obviously July and August are going to be the busiest periods at the hotel, and the rates reflect that.
So rates here are never cheap, but base rooms range from under 400EUR per night to over 1,000EUR per night, so there's a huge variance.
Perhaps I'm crazy, but personally I'd love to return in the off season. I'm sure the island in general will be much quieter, and the temperatures during the day are probably better as well. The downside is that not everywhere will be open, and it will probably get quite cold in the mornings and at night.
You don't stay here for the rooms
You don't stay at Mystique for the rooms. They're… fine. The smallest room is like a junior suite, and the decor is very basic. There are some charming Greek design elements, but overall I think they could do a bit more with the rooms.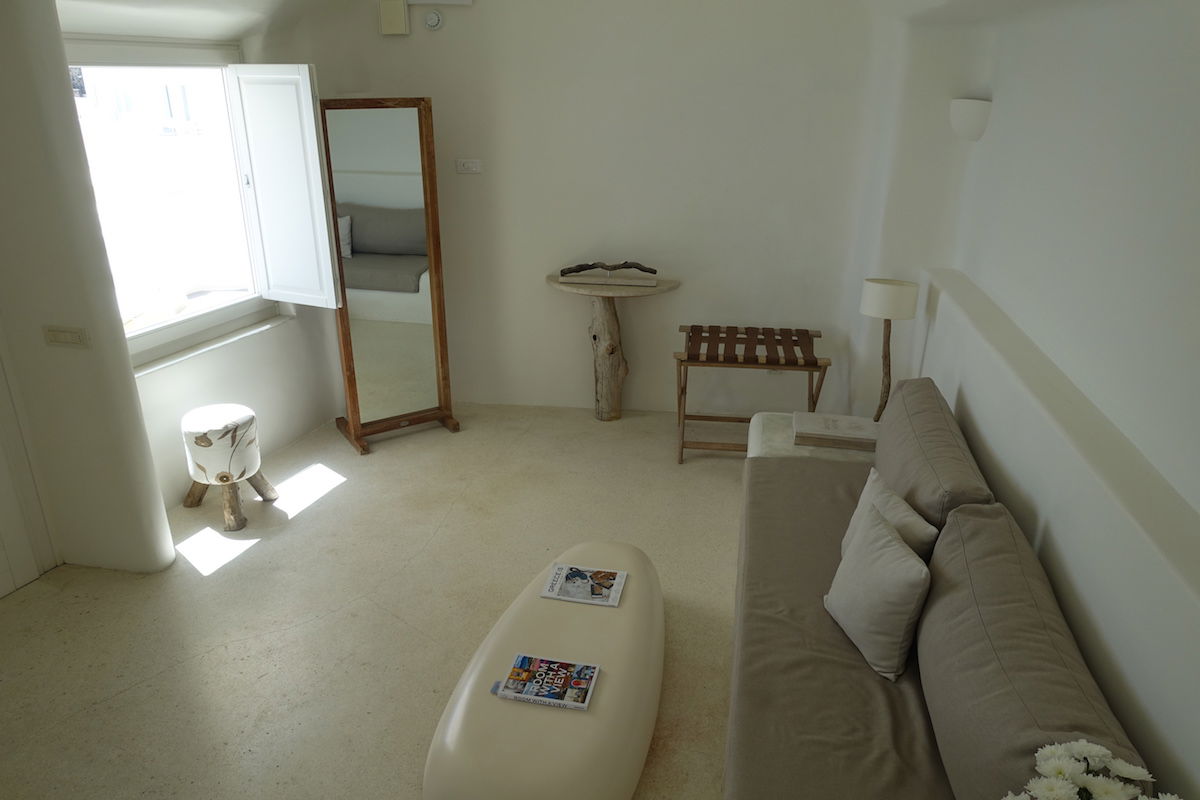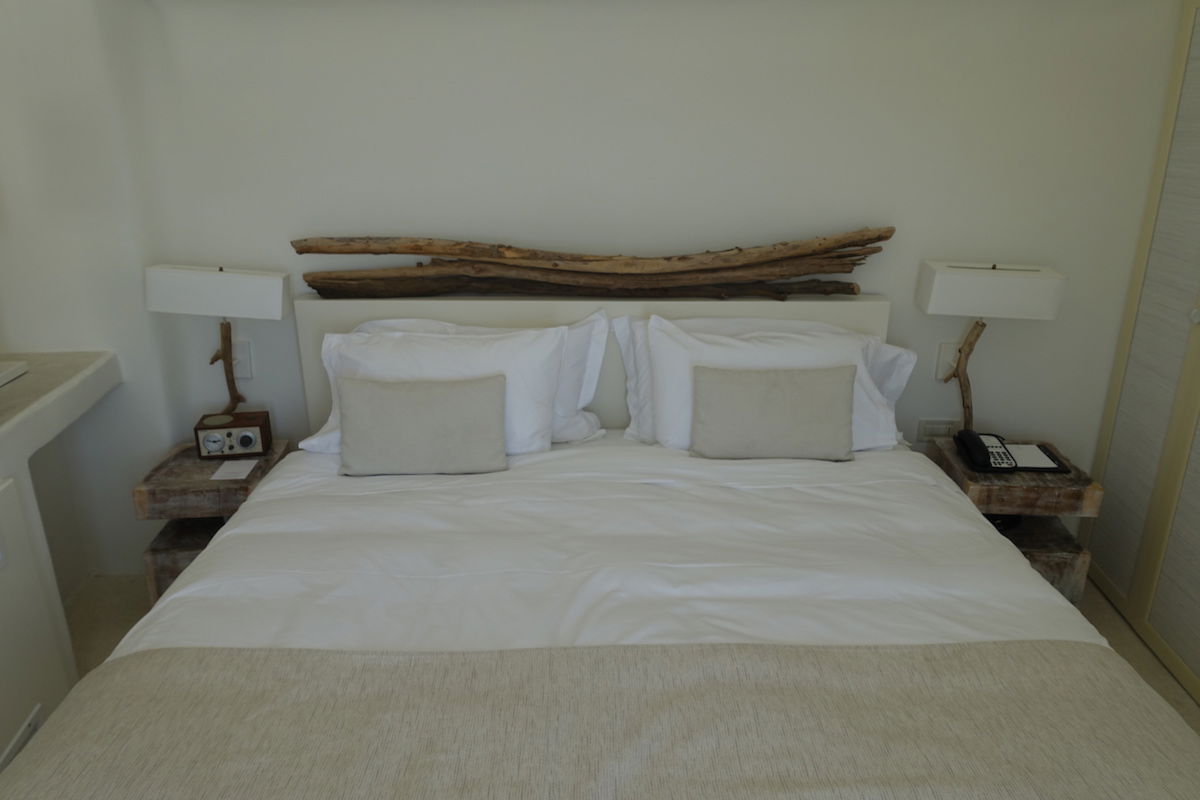 However, they're also built into the side of what's possibly Greece's most recognizable and picturesque hill, so they can get away with it. Each room does have a beautiful balcony looking out over the water, which is the main draw of these rooms.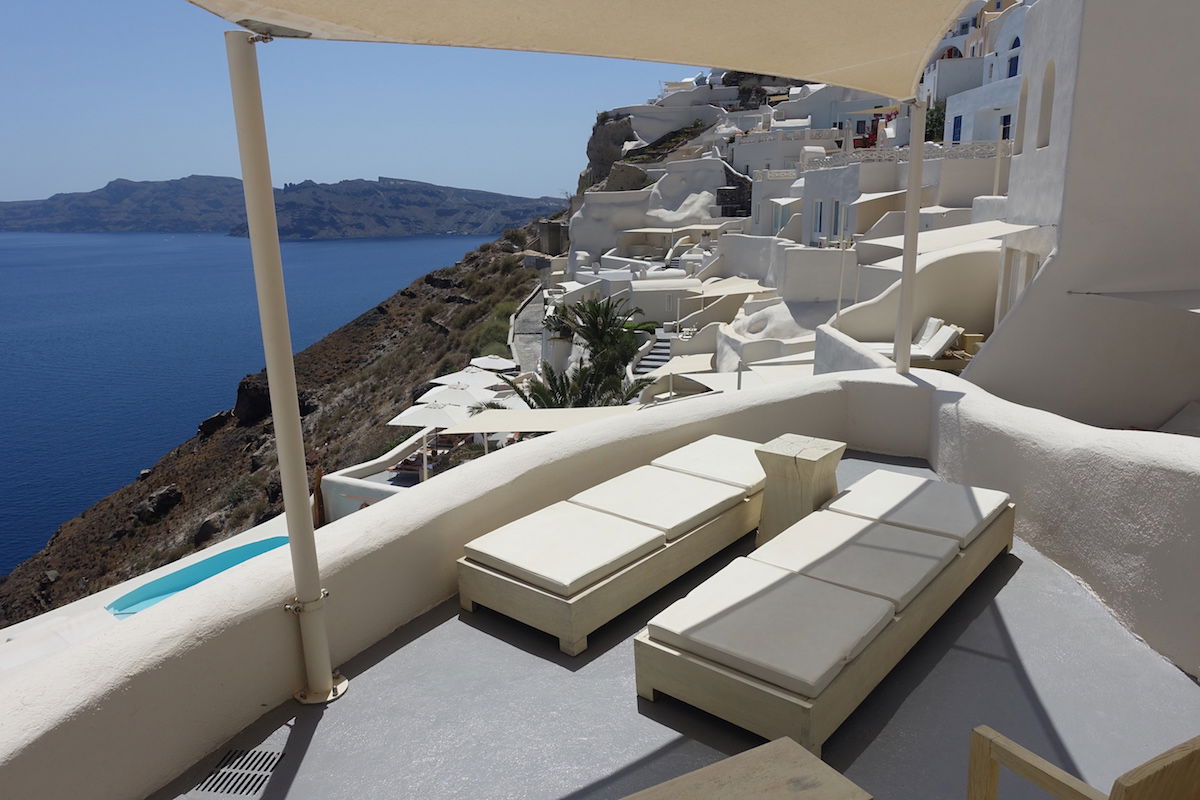 Just be aware that they don't have much privacy, given they're all in close proximity and on top of one another (in the case of our room, we had to hear all the dirty talk the people on the balcony below us had prior to going inside to do the deed).
A bathroom designed by Satan himself
While I thought the room itself was fine, the bathroom was hands down the worst bathroom I've ever had in a hotel room. Period. We were in an Allure Suite, which the website said had a "private jacuzzi." Best case scenario I figured we'd have a nice jacuzzi on our balcony, worst case scenario I figured we'd have a big soaking tub that they were calling a jacuzzi.
As it turns out, that wasn't actually the worst case scenario. The worst case scenario is actually that they have something that looks like it should be an outdoor hot tub in your bathroom.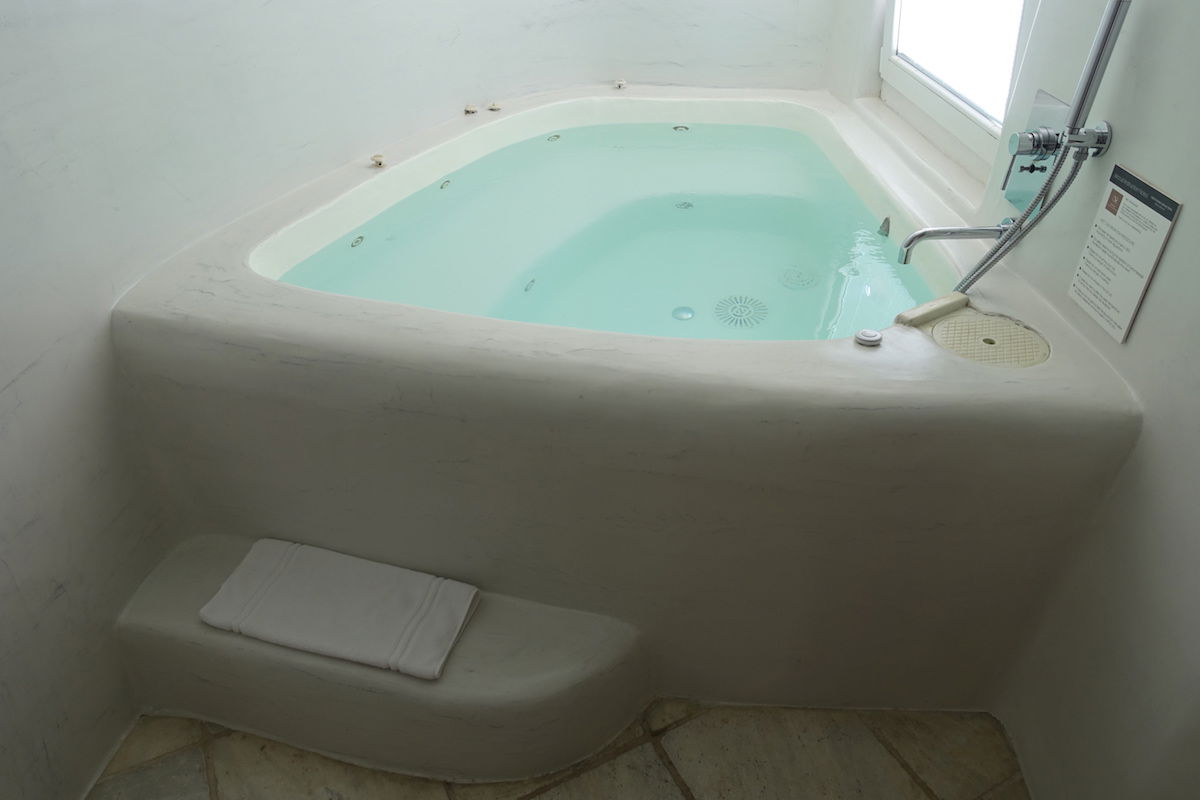 Why is this so bad? Because your bathroom is always 100 degrees. When we arrived in the room they informed us the door had just been painted, and I imagine that has to be done after every stay.
This is what the bathroom door handle always looked like: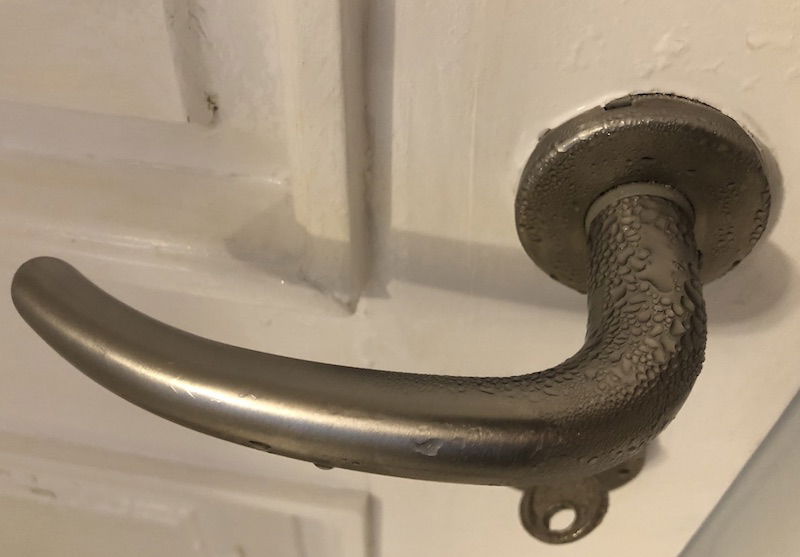 And this is what the shower always looked like, even when not showering: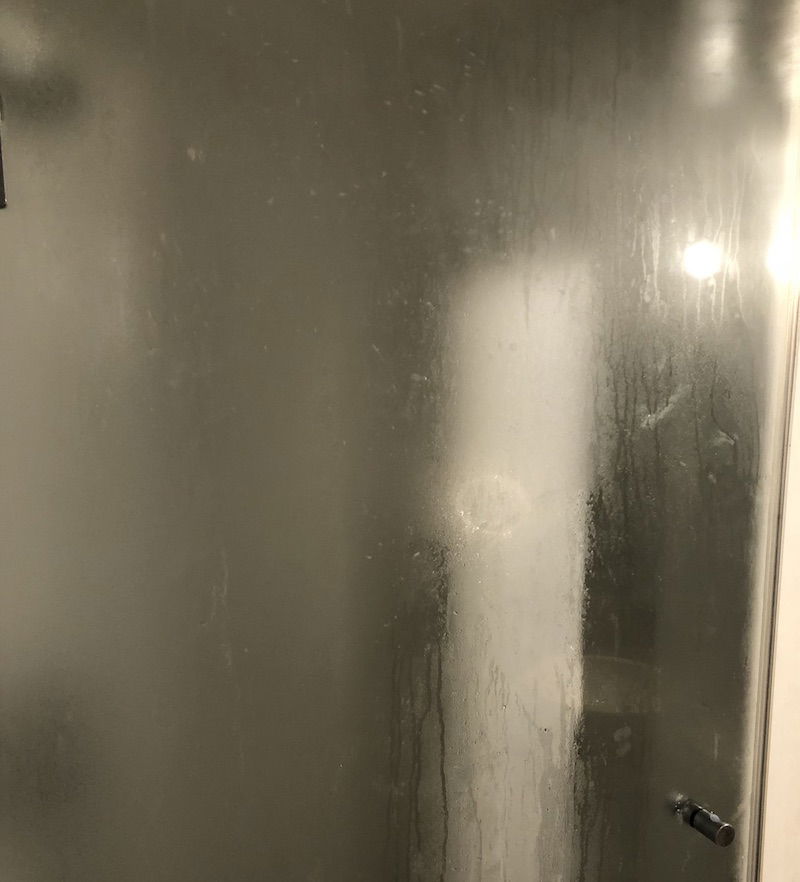 It's very tough to put cream on your face (or anything) when it's literally a moist 100 degrees in the bathroom. It's tough to even dry off in the bathroom, because it's so damn hot. Maybe I'm way off base here, but I just thought this was awful.
In fairness, in retrospect I realize we could have probably requested that they drain the jacuzzi, but that didn't occur to me till the end of the stay.
Service is spectacular (especially from Alexandra)
This is what impressed me most about the hotel. This hotel has a pretty captive audience, and given that they have seasonal labor, I was expecting service would just be alright. Nope. Service was absolutely top notch. This was especially true at the restaurants. They remembered preferences, and couldn't have been kinder and more attentive.
A special shout out to Alexandra in the restaurant. The way she interacted with every guest and made them feel special really isn't something you see very often in hospitality.
On our last morning I said to Ford "she is providing Aman levels of service" (which is the highest compliment I could possibly give for hotel customer service), and literally an hour later we found out that she actually worked at Amanzoe in the past. Makes sense!
But seriously, service here not only won't disappoint, but will delight.
Breakfast is incredible
I love a good hotel breakfast, but this hotel has the best breakfast I've had in recent memory. Breakfast is completely a la carte, and can be had via room service or in the hotel's beautiful outdoor restaurant (either is included — personally we always went to the restaurant).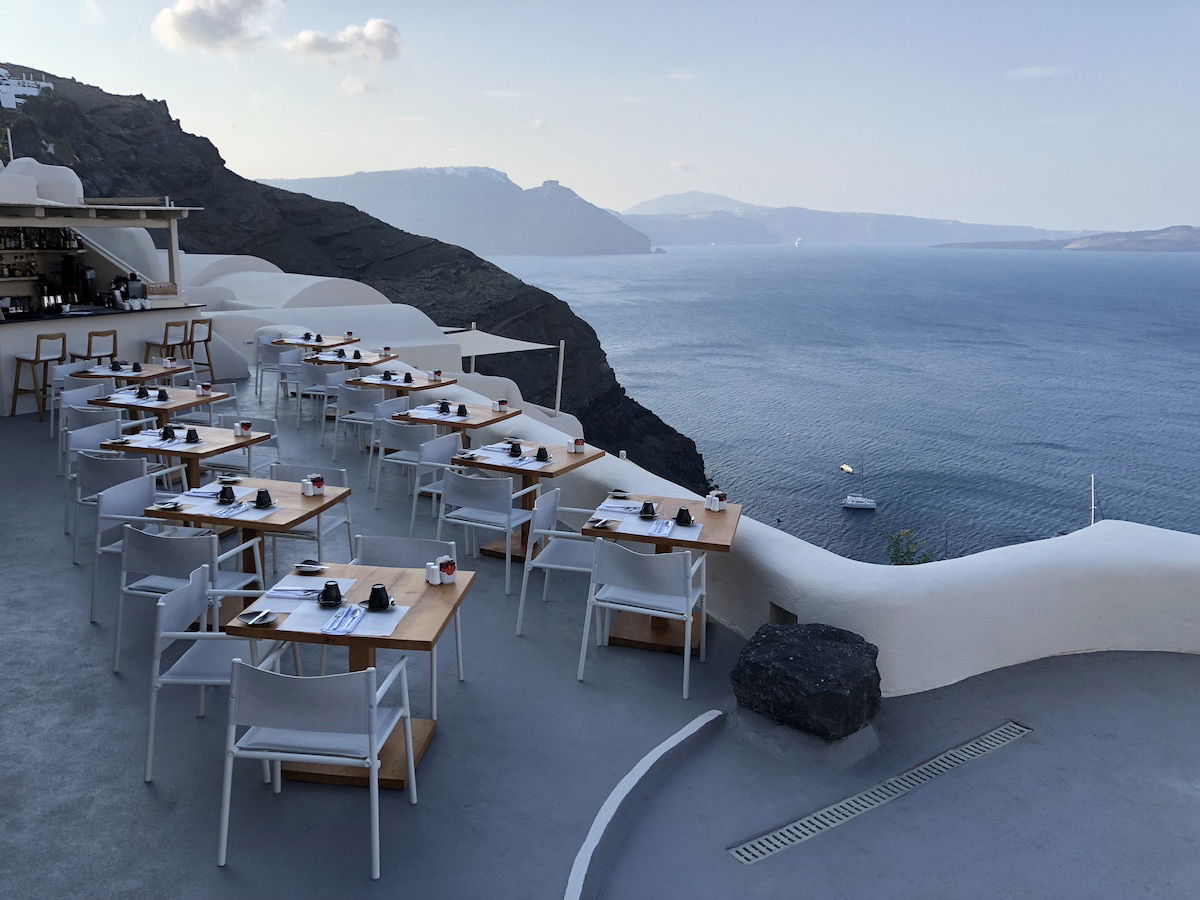 Everything on the menu was excellent, and I especially loved the Greek options, ranging from a Greek omelet to Greek pancakes to all kinds of other things. Breakfast was a feast, and they always encouraged us to order more and more and more.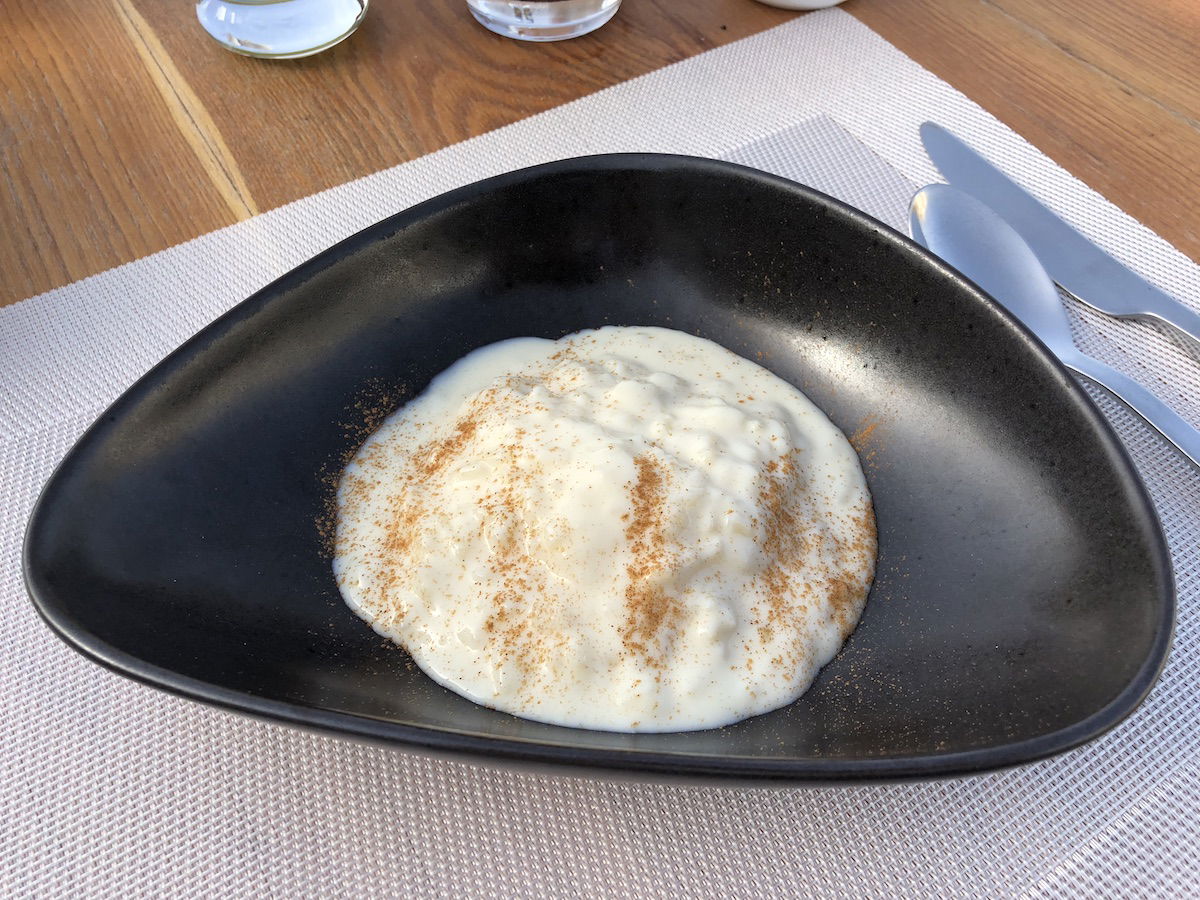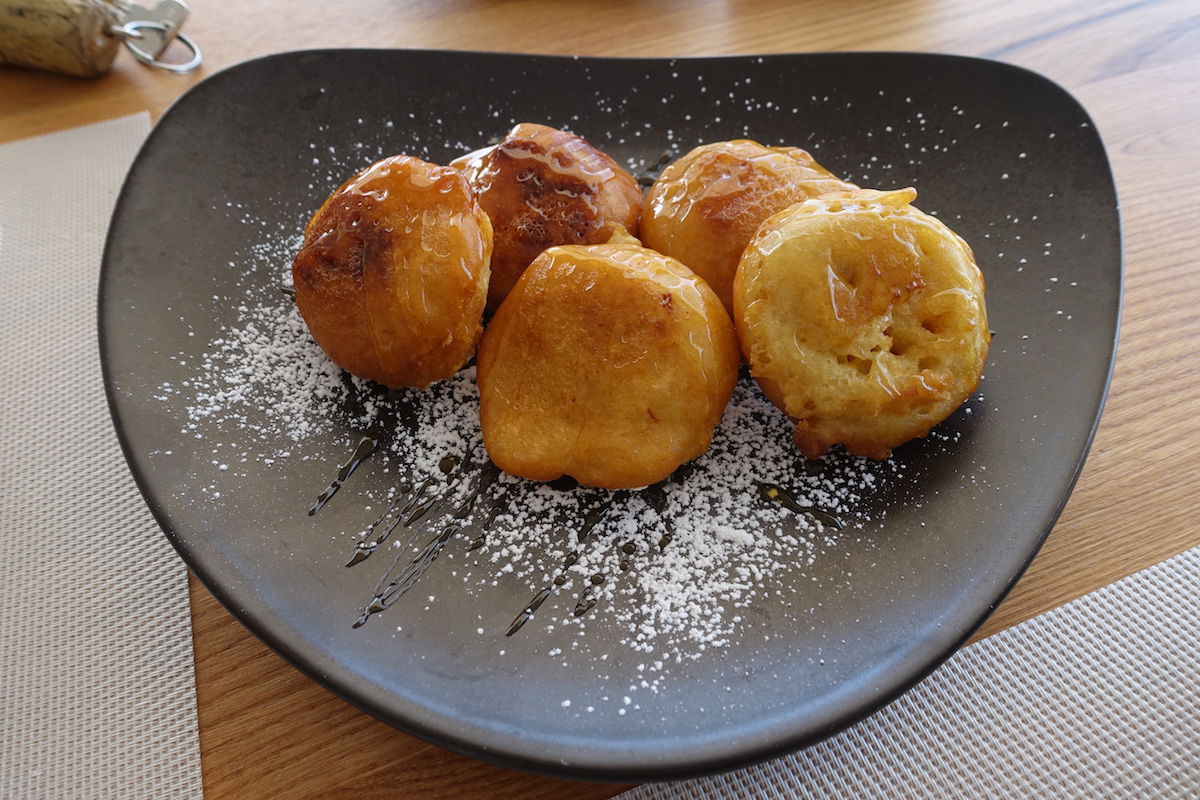 The drinks were amazing as well, ranging from iced cappuccinos to freshly squeezed juices.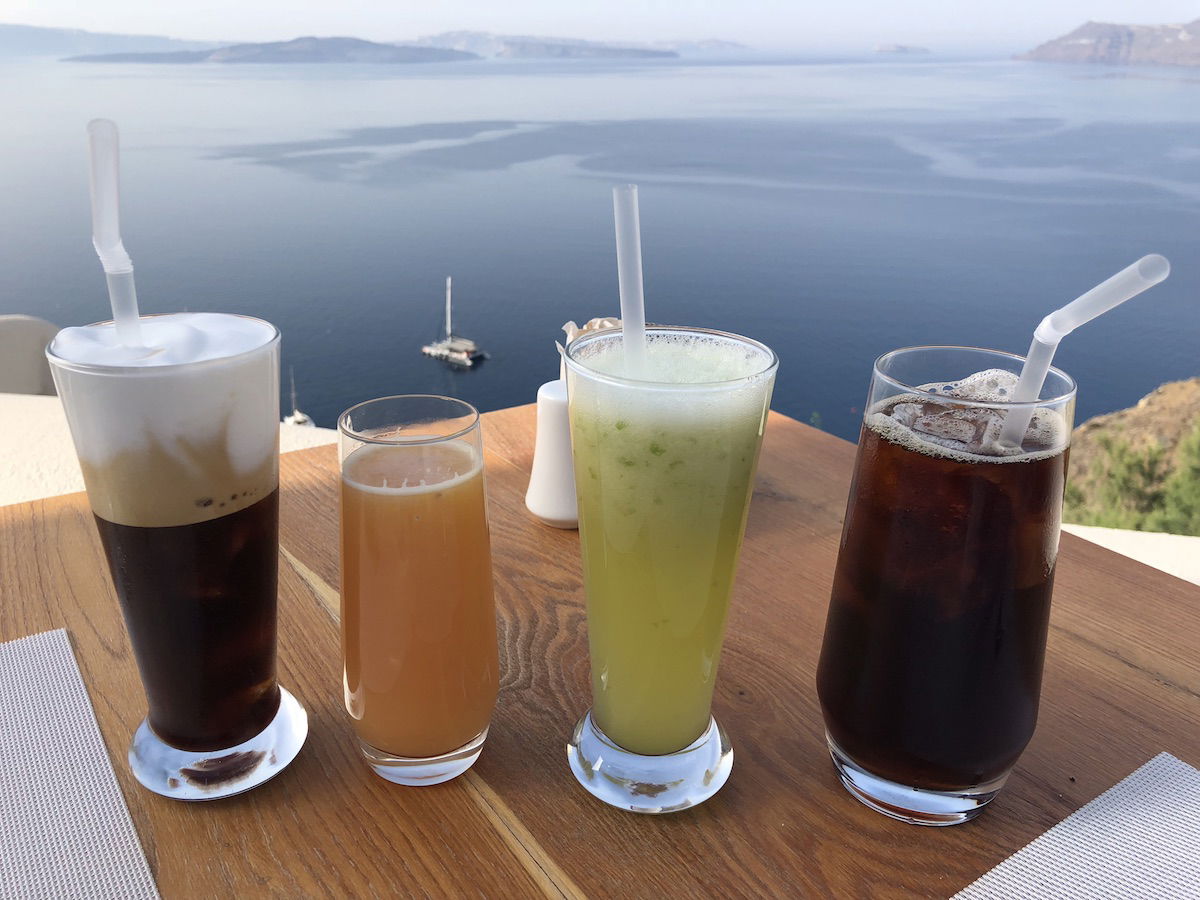 Having spent thousands of nights in hotels I've become pretty jaded when it comes to hotel breakfasts, but this is my favorites in recent memory.
Food & beverage prices are reasonable
Not only does the hotel have excellent food, but I found the prices to be reasonable as well. Don't get me wrong, they're not cheap, but many hotels that charge 1,000EUR per night also charge obscene amounts for food and drinks (I'm looking at you Cala di Volpe, and your 100EUR+ per person lunches, not including drinks).
But expect 10-15EUR appetizers, 15-30EUR main courses, etc., and that includes Greece's hefty 24% VAT.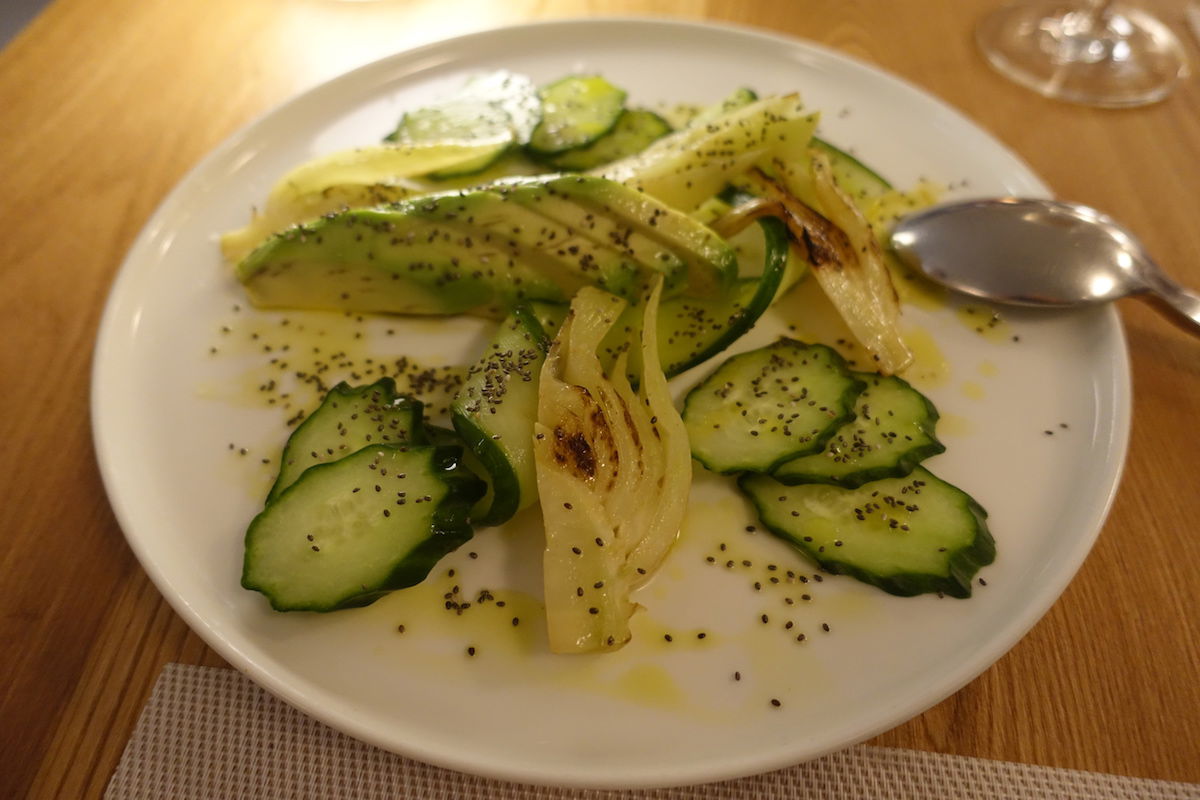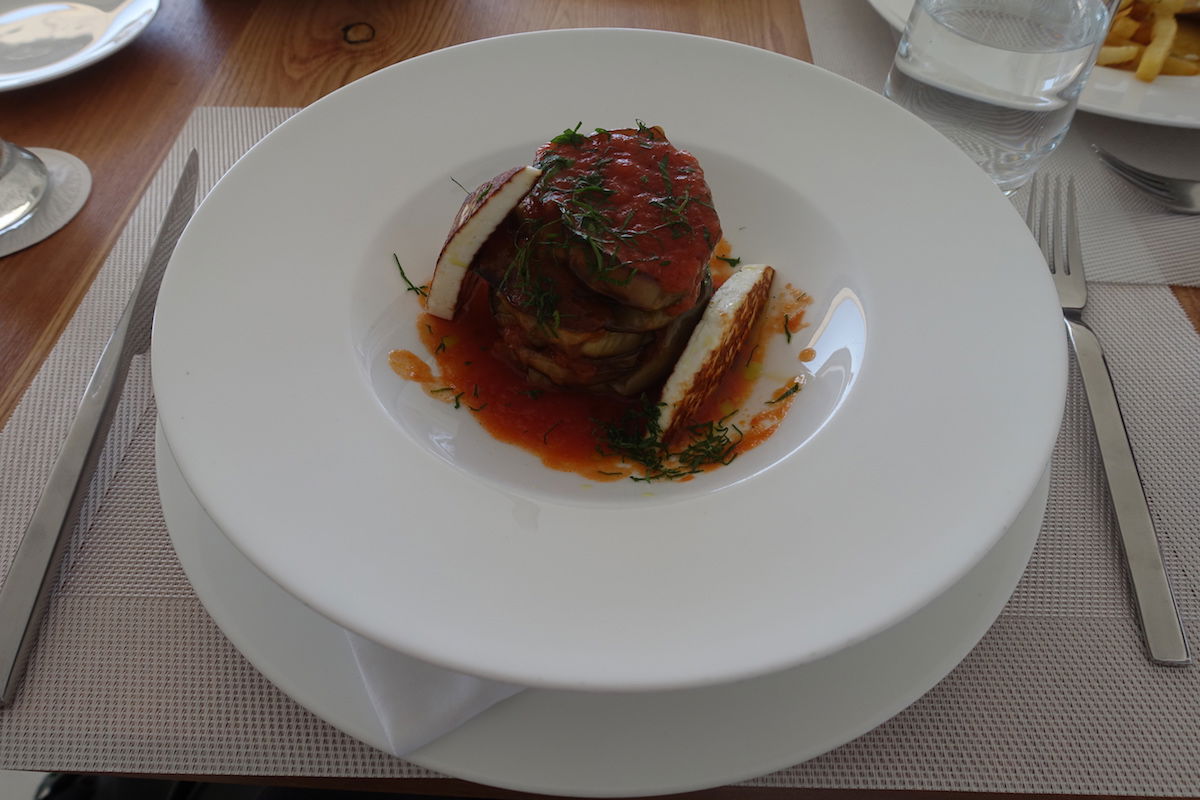 The hotel is in the most beautiful (and touristy) part of Santorini
I hinted at this in my previous post. Mystique is in Oia, the most picturesque part of Santorini. On one hand it's really cool to stay right in the heart of that, while on the other hand it also means you're in one of the most touristy areas, and it won't feel terribly relaxing or secluded.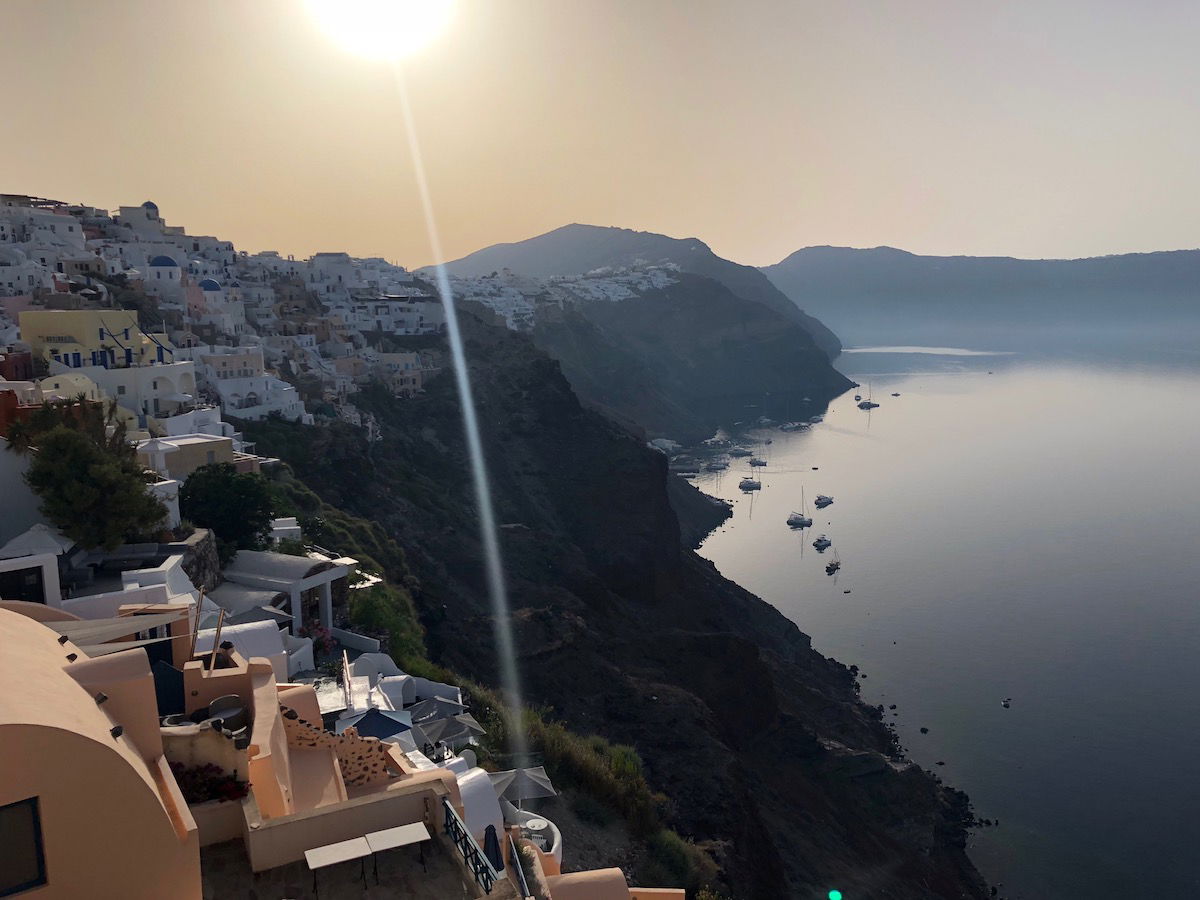 So you want to see this area for sure, but by my fourth day I was ready to get out of there and stay somewhere else quieter.
I'd say the ideal solution is to maybe spend a couple of nights here, and then spend the rest of your time at Vedema, the other Starwood property on the other side of the island. This is a much quieter area, and the hotel is also quite a bit cheaper.
At the same time, the issue is that many of us score the best deals by staying 4-5 nights. I made a Citi Prestige fourth night free booking. So if my preference were otherwise to stay just two nights, the reality is that I'm getting a "buy one get one free" on the third and fourth night, and that's a deal.
Bottom line
While I'll have a full trip report soon, I think the above sums up my basic thoughts on Mystique. The hotel has an iconic location, but that also comes with the downside of having tons of tourists. The rooms at the hotel aren't impressive, while the views are great, the food is excellent, and the service is exceptional.
I'm really happy to have stayed here, and would recommend the hotel, but I'm not sure I'd return. That's simply because I think staying in Oia is a "been there, done that" thing. It's beautiful, it's touristy, and I don't need to return. I just hope I run into Alexandra again at another hotel in Greece at some point, because she was such a gem.