As many of you know, my mom and I have been traveling together for almost two weeks. We spent most of it in the Middle East (Abu Dhabi, Muscat, and Dubai), and yesterday we flew the Emirates A380 from Dubai to Barcelona.
The flight was incredible, and it was a gorgeous day when we landed shortly after noon.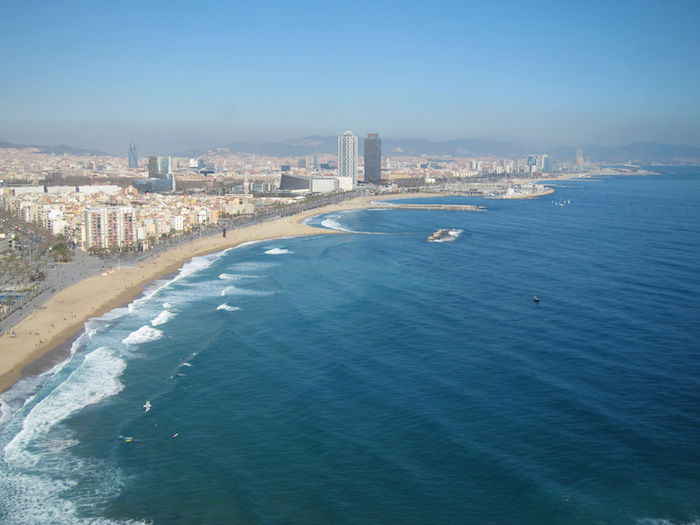 We took a taxi to the W Barcelona, where we'd be staying for one night. We got a suite upgrade, and the staff were top notch (or so we thought). At first this was definitely one of my favorite W properties, along with the ones in Taipei, Guangzhou, etc.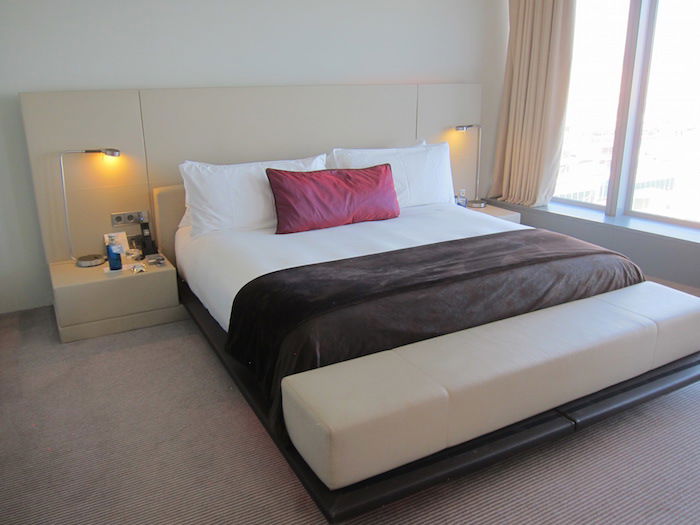 Unfortunately it all went downhill from there. Here's a video my mom made this morning explaining the situation:
I realize not everyone likes videos, so I figured I'd share a bit more detailed description below.
To start, before coming to Barcelona I warned my mom a handful of times that the city is littered with pick pocketers. It's a safe city (in the sense that you don't have to fear for your life), but you do have to watch your pockets at all times. My mom is also a very trusting person that assumes the best in everyone.
Basically I had a bit of work to get done when we got to the hotel, so I worked on my laptop for about an hour, while my mom sat in front of the hotel (still on the hotel's premises).
She was gone for a bit longer than I expected, and when she returned she explained that she met a guy in front of the hotel who she had a coffee with at the hotel bar. He claimed to have been a Singapore Airlines pilot, though was apparently now in the convention business with Starwood… or so he claimed. He also said he just flew Emirates from Dubai and was in seat 2A, which obviously wasn't the case, since we were in row one (that being said, mom was seated on the other side of the cabin, so wouldn't have necessarily known).
They had coffee, and he offered to show my mom around. She explained that she was here with me and that she was cold and didn't have a jacket, so he offered to buy her one.
When she came back to the room and told me the situation, I immediately figured he was a creep. I didn't necessarily assume he had bad intentions, but I figured he was hitting on her at a minimum, so suggested my mom stay away.
At 7:30PM I left the hotel to have dinner with my friends (for the record, I invited my mom, but she was too tired and preferred staying in).
Shortly after I left the same guy showed up at her door, apparently. My mom assumed it was turndown service, which is why she opened the door, and he was apparently there to pick her up for dinner, which she had never agreed to. He asked if he could use the restroom in our room. At this point my mom was totally creeped out, so she let him use the guest bathroom since the door was already open, and she held the hotel room door open as well. She then immediately suggested they go downstairs, because she wanted to get him out of the room.
From there he hopped in a taxi and said he'd be right back after he bought a jacket for her. He apparently called the room a handful of times, though she never answered. My mom felt so unsafe that she stayed locked in the room until I got back.
I got back to the hotel at around midnight, and tried to open the door to the room. It wouldn't open, as the "red" light sensor went on. I figured I had my phone too close to my key, and assumed it was deactivated. I went down and had the front office associate make me a new one. I tried again with no luck. He tried one more time, with the same result.
They sent an associate up with me to use the master key, and that didn't work either. Then I figured I'd try calling the room. So I called the room six times, and no one answered.
At this point I was freaked the f*ck out. since the previous texts I had received from mom read as follows (I didn't have data on my phone, so I only got these texts upon returning to the room):
"The guy came to the room, is on his way to buy me a jacket."

"Told me that he likes me very much and wants to go out with me to find out more about him!"

"Wants to live wherever I am!"
Not properly conveyed is that this was intended in an "I'm creeped the hell out" way and not in a "yay how exciting" way.
After that I was escorted to the room by a front office associate and security guard, and we rang the bell repeatedly. After a few minutes my mom answered.
I had the hardest time not yelling, not because I was angry at her, but because I was so worried. Given all the information I had up until that point, I assumed the worst.
In the middle of the night my mom woke me up and said "hmmm, I wonder where my purse is. I haven't seen it in a while."
And go figure after digging through the bag this morning, it was missing. It also had her Green Card in it.
I know this all sounds very stupid…
Of course in retrospect my mom feels incredibly stupid about the whole situation. That being said, I think if we're honest, we've all been in situations where we've done something outrageously stupid and not realized it until after the fact. So it's easy to say "how could she have fallen for it?" But I do genuinely think we all screw up and learn things the hard way. At least she wasn't hurt…
Questions, questions, questions…
When I left to dinner last night I assumed the guy was just a creep that was maybe hitting on her or something. I didn't rule out the possibility of him being a pick pocketer, but also didn't necessarily assume it.
Once I got back to the room, though, it all made sense to me. Well, sort of. There are still a few things I can't figure out:
How did he get our room number? He didn't follow my mom into the elevator and I assume the hotel isn't giving out guests' room numbers (and I assume him claiming he works for/with Starwood was a lie)?
What was his motive to call my mom several times after he saw her for the last time (presumably he had already stolen whatever he planned on taking, so I don't get why he'd want to draw any further attention to things — or maybe he was hoping to steal even more)?
At what point did he actually rob her?
There's more…
I'm about to board a flight to get out of Spain so we can get to a consulate and back to the US, but suffice to say the story gets a whole lot weirder, so stay tuned for that. Not only did he rob my mom, but he charged stuff to our room in my name (mind you, my mom never gave him my name).
Perhaps the most offensive part of all this is how indifferent the hotel was about the whole situation. I absolutely loved the hotel at first and was already excited about returning, but based on the way they handled this situation I'm putting them on my "never again" list. But I'll have more on that later…
Bottom line
Be careful out there, folks! While my mom is of course embarrassed to share this story, at the end of the day hopefully some others can learn from it. Always assume the worst in people when traveling, sad as it may be to have to take that approach. At least she wasn't hurt, which is most important.
But the way the hotel handled this situation… wow!
More shortly!