Update: A Federal judge has issued a stay on part of this order, ruling that the 100-200 people currently being detained at U.S. airports cannot be sent back to their home countries. The ruling stopped short of saying travelers had to be allowed in, however, and thus effectively only applies to people currently in the U.S. As best as I can tell, travelers in transit from other countries may still be denied boarding.
Yesterday afternoon, President Trump issued an executive order immediately banning nationals of Iran, Iraq, Sudan, Somalia, Syria, Yemen and Libya from entering or transiting the United States. This is a sweeping ban, and includes not just tourists, but students, guest workers, legal immigrants, refugees, and potentially U.S. green card holders who originally came from one of these seven countries.
As there was no grace period, there are many people who boarded flights with valid documents only to be told upon landing that the law had changed and their paperwork was no longer valid. Others were denied boarding despite having valid visas when they checked in even an hour prior. U.S. lawful permanent residents with long-term visas and green cards are being detained for hours upon arrival, or are stuck in transit.
Leaving politics aside, this is a mess from a travel perspective.
Horribly, refugees who have completed the (lengthy and pervasive) vetting process are being turned away or detained. These are people who have gone through years of investigations and paperwork, and already have housing and jobs lined up in the U.S., and in some cases had family members who traveled earlier in the week that they are now separated from.
Beyond refugees, this order also impacts students and workers on visas, who may now be stranded in another country if they were outside the U.S. or in transit when this order was signed. Universities are advising their foreign students not to leave the country, and Google has recalled their staff from overseas trips.
The Wall Street Journal is reporting the immigration ban "also applies to people who originally hail from those countries but are traveling on a passport issued by any other nation." In practice, this means if someone is a dual Canadian-Iranian citizen, and was intending to travel to or transit the U.S. on their Canadian passport, they will not be allowed entry.
As written, the ban also blocks legal U.S. residents and even green card holders from re-entering the U.S. if they originated from one of the seven listed countries. There are, however, reports of green card holders being allowed entry after lengthy interrogations, so it seems authorities are scrambling with how to implement this, and experiences have been mixed. NBC reports:
The State Department and Customs and Border Patrol on Saturday were still devising the formal rules for who is eligible for waivers — such rules were not written up before the executive order was implemented.

The Trump administration also has yet to issue guidance to airports and airlines on how to implement the executive order. "Nobody has any idea what is going on," a senior Homeland Security official told NBC News.

In addition, the order applies to both refugees who are still "in transit" and U.S. green card holders from the affected Muslim-majority countries currently overseas, a senior administration official said. Those people would also need to apply for a waiver if they want to return to America, the official added.
So you have a lot of confusion, and the fact that this was implemented on a Friday night with no notice is creating a lot of pain for travelers.
Canadian airline WestJet has issued a waiver with the following advisory:
Effective January 27, 2017, guests traveling with a passport issued from Iran, Iraq, Sudan, Somalia, Syria, Yemen or Libya are prohibited from entering or transiting the United States for at least 90 days. Immigrant and Non-immigration visas issued in these passports have been revoked.

Please contact your local U.S. Embassy if you require any additional information.

WestJet is temporarily waiving the change and cancellation fee for guests who are impacted by this travel advisory:

Cancel your reservation – we'll offer a refund for the full amount paid.
Change your destination – just pay any difference in fare. If your new itinerary costs less, we'll give you a travel bank credit for the difference.
Air Canada is waiving change fees, but not allowing free cancellations yet: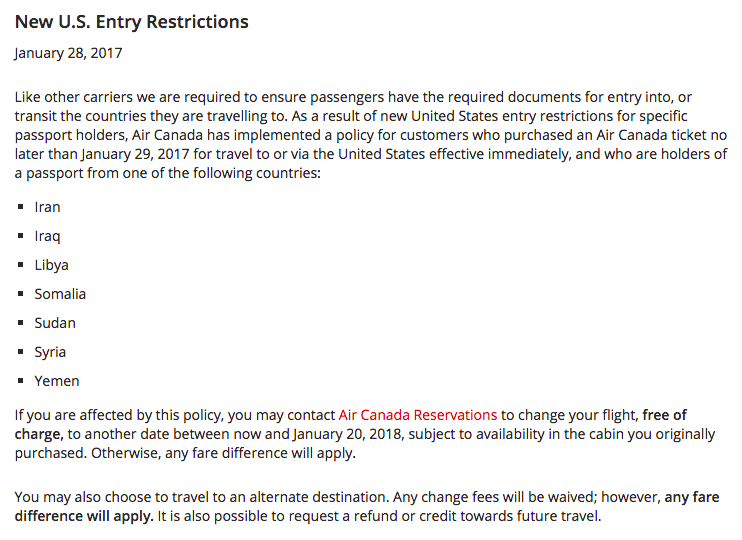 Other airlines will likely follow, but in the meantime if you are a national of any of the seven banned countries and have upcoming travel I would start evaluating options.
Reciprocal actions
Iran has already announced it will bar entry to U.S. citizens until such time as Trump lifts his ban. This is unfortunate, as relations between Iran and the U.S. have been steadily improving, and there has even been discussion of resuming commercial flights between the two countries.
The other six countries may reciprocate as well (though I realize there isn't a high demand for leisure travel to some of these places right now). If history is any indicator, this will only escalate and spread.
Other countries, such as those in the European Union, may also take a stand when it comes to visa reciprocity. The EU has highlighted the disparity in policies between the EU and the US before, and as this ban applies to dual-citizens of the EU and the seven countries there may be repercussions there.
Bottom line
Travel is a political act — whether that means traveling to a country to support its citizenry, or to encourage the spread of ideas, or just to support the principles of freedom of peaceful movement. All those who travel (or aspire to travel) should be horrified by the implementation of this ban, even if they for some reason agree with the merits of it. If you've ever traveled anywhere on the assumption that rules and regulations that were valid when you started your trip would apply at the end of it, you should be protesting this action.
People boarded flights yesterday with valid visas that were then suspended by the time they landed. Legal residents on business trips out of the U.S. won't be able to return. Customs and Border Patrol agents weren't given notice or clear direction, leading to even more confusion. No-notice actions are never acceptable — we complain when loyalty programs change something as petty as program terms with zero grace period, we should be livid when governments do the same.
To those immediately impacted by this order — I am so sorry. I know that doesn't help if you're stranded in transit or separated from your family, but I, and many others, are furious on your behalf.