Earlier this week Delta CEO Richard Anderson got some (undeserved) flak over on View From The Wing for declaring in front of leaders of the Detroit business community that Detroit Metropolitan Airport was the "world's best."
However, yesterday His Supreme and Mighty All-Powerful Leader and Best Basketball Player in the World, Kim Jong Un, unveiled a gleaming new two-story terminal at Pyongyang International Airport which is unquestionably the world's best, putting capitalist airport terminals to shame, and likely sending Akbar Al-Baker into tears.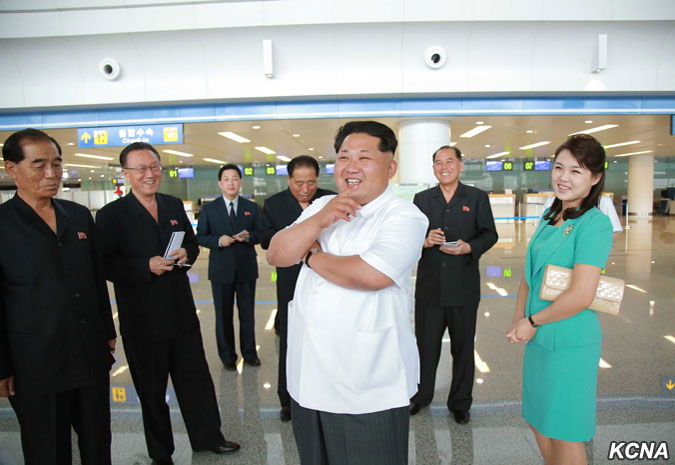 Kim Jong Un inspected the terminal himself. Per the Korean Central News Agency:
After getting down through an air bridge, he went round the newly-built terminal.

He was very satisfied to see the terminal well built as required by modern architectural beauty and national character.

He noted with pleasure that the gatepost of the airport was erected in such way as to sustain the national character and the front and back of the terminal look very nice.
Adds the Los Angeles Times:
[P]hotos show leader Kim Jong Un inspecting rather swanky amenities that include a jewelry store, a pharmacy and a coffee bar with — is that a chocolate fountain?…

Photos of the facility showed at least 12 check-in counters; an immigration desk featuring modern, automated, glass entry gates; a clothing shop; a gift shop; a duty-free store; and several restaurants. There also was a newsstand stocked with what looked like magazines and North Korean flags. Travelers will have use of luggage carts.
Pyongyang International, which is a hub for the world's most luxurious airline, Air Koryo, is sure to compete and win over travelers bound for Asia and connecting on to the rest of the world — and in particular, travelers who have found that Singapore Changi and Hong Kong International lack the chocolate fountains they have come to expect from world-class facilities.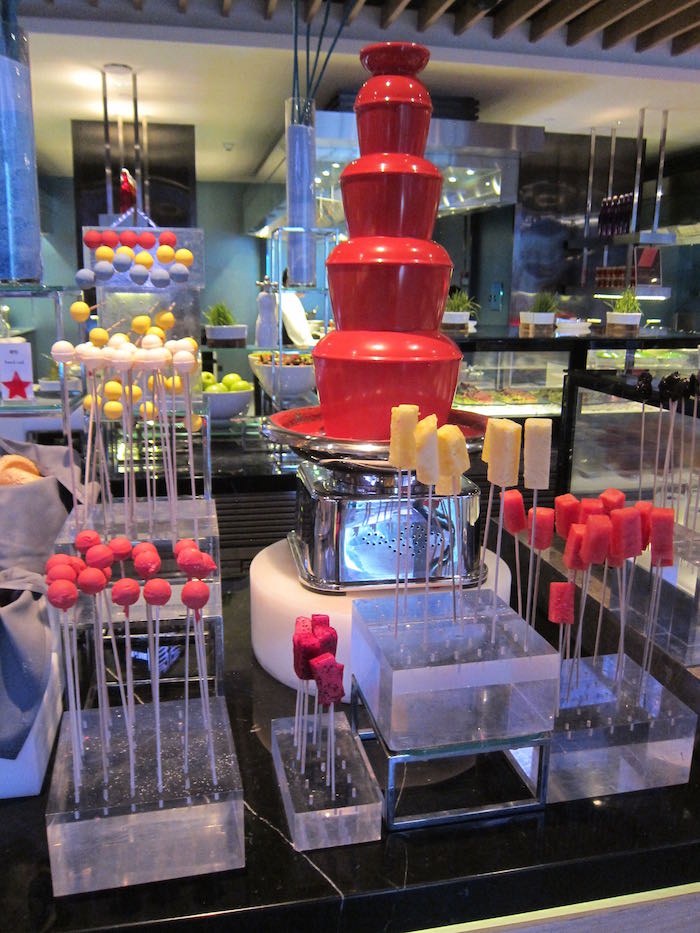 After all, where the indulgent, imperialist swine behind Korean Air punished an executive for berating a flight attendant serving nuts out of a bag, Air Koryo has a policy where such errant flight attendants are executed on the spot. Talk about efficient service!
Rumor has it Frontier Airlines is seriously interested in a Denver-Pyongyang nonstop, since Air Koryo and Frontier, unique among global airlines, share a commitment to customer service, top-notch in-flight catering, online booking and a world-renowned frequent flyer program. Of course, Frontier hasn't loaded their schedule yet…