In the miles & points world we love to put a value to our points redemptions. However, we don't all take the same approach in coming up with those valuations.
Some people like to claim that their points redemption is worth whatever that experience would have cost in cash. So if you have a lot of miles & points friends, chances are you've seen them post a picture of a first class seat on Facebook and say "my $26,000 first class seat, but I got it for free with points," or something.
That's technically not inaccurate, though also not how I approach points redemptions — I don't think that seat is worth $26,000, and I also don't think miles are "free." Travis wrote a post a while back about how he goes about valuing points, which I agree with:
The value of a point is between your acquisition cost and the redemption value you can get. And if you're like Travis and me, that "redemption value" isn't generally the retail cost of the experience we're redeeming for, but rather what we'd otherwise be willing to pay for it in cash.
All of that is simply to say that below I'm not making the claim that I redeemed Starpoints for a value of over nine cents each. Rather I just want to point out that I redeemed my Starpoints for the highest ever "cent per point" value compared to the retail cost.
I'm in South Florida at the moment, and just getting to the W South Beach for a short stay. I redeemed points to stay here a while back, and felt bad parting with 35,000 Starpoints (the equivalent of 105,000 Marriott points) per night to stay at any hotel. After all, I value Starpoints at ~2.2 cents each, so using my logic, that's like paying $770 for a hotel night (then again, my valuation of Starpoints also causes me to hoard them, so…).
How much would a paid stay at this hotel cost (and this is for a standard room, since there's points availability)? $2,612.
With tax, that's over $3,000 per night.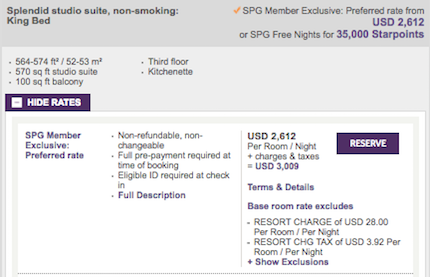 That's insane.
I've redeemed hotel points for a lot of hotel stays, though this is hands down the stay with the highest per night retail value of any redemption I've ever made. I don't think I've ever stayed at any hotel that retailed for over $2,500 per night for a standard room.
That certainly makes me feel better about redeeming 35,000 Starpoints per night for my stay here, at least. 😉
Admittedly that pricing is seasonal given the time of year we're staying, but still… oy…!