For those looking to maximize our points, one of the biggest questions leading up to Marriott's new program is how existing Travel Packages will be handled. I won't rehash everything I've already written, so I recommend checking out these posts first, if you haven't read them yet:
Marriott's new loyalty program launches August 18, so we have just over two weeks remaining to book these Travel Packages before they get devalued. I promised I'd share an update about my plan, so that's what this post is about (sort of).
What Marriott & Starwood have officially said
Whenever a question has officially been asked of Marriott regarding the conversion of Travel Packages, the consistent answer has been that they don't have any information to share, and that "members should make every effort to book and attach these certificates prior to our programs becoming one to maximize their usage."
My theory is that they're saying this to prevent any potential disappointment and confusion. Personally I believe they'll be generous with the way in which they convert these certificates, and that they're intentionally limiting this information so that there's not a huge influx of people booking these last minute.
On top of that, the official Marriott & Starwood representatives on FlyerTalk have been given conflicting info as far as these certificates go (at least based on my read of things). On one hand they've said:
Any outstanding awards for certificates with a pre-defined category (like Chase or MegaBonus promotional certificates) will be converted to a commensurate value with the new award schedule. Other floater certificates will be cancelled and converted to equivalent points, credited to the member's account for future redemption.
On the other hand they've said:
Starting in August, any outstanding Certificates will be updated from Category-based to points-based values in the new combined redemption chart and may be used for stays at Rewards or SPG hotels up to the points value displayed on your updated Certificate. For example, you will be able to apply a Marriott Rewards Free Night Certificate to an SPG stay, or an SPG Free Night Award to a Marriott Rewards stay. Ritz-Carlton Rewards Free Night Certificates can also be applied to Marriott Rewards and SPG hotels.
Personally I think the latter is what's going to happen here, that certificates will be converted from category-based to points-based, rather than them just depositing a certain number of points in an account.
Marriott Travel Package indecision
My goal with Travel Packages is twofold:
To get airline miles at a lucrative ratio; a Travel Package gets you airline miles cheaper than just converting Starpoints into airline miles, and that doesn't even account for the seven night hotel certificate you get with it
Ideally I'd love to book a higher category Travel Package that I could redeem for a seven night stay at the St. Regis Aspen, St. Regis Deer Valley, St. Regis Maldives, etc.
I should mention that I have a lot of Starpoints, so I could hedge my bets and book several of these. But I'm still not sure what the best strategy here is.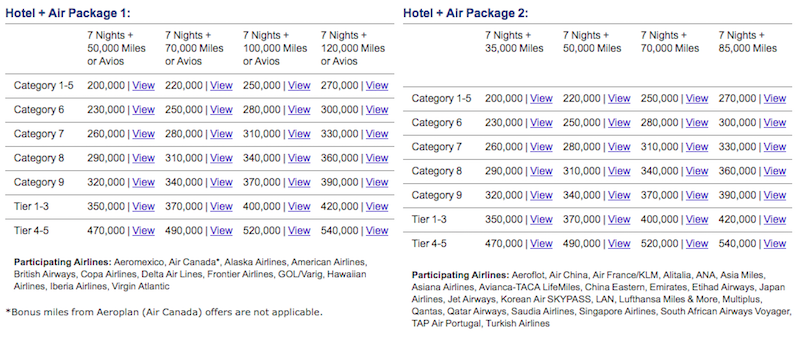 I value 120,000 airline miles at 288,000 Marriott points
With the new Marriott program, 60,000 Marriott points will convert into 25,000 airline miles in your choice of dozens of programs. Assuming that 2.4:1 ratio, that means that I should value 120,000 airline miles at 288,000 Marriott points. Since I generally consider converting Starpoints into airline miles to be a good value, let's assume that ratio going forward.
Strategy 1: Book the cheapest package possible
On one hand I feel like I should just redeem 270,000 Marriott points (90,000 Starpoints) for seven nights at a Category 1-5 hotel, plus 120,000 Alaska miles.
I value 120,000 Alaska miles at 288,000 Marriott points, so I'm already coming out ahead by 18,000 Marriott points, and on top of that I'm getting seven free nights at some category of hotel. You really can't go wrong with booking one of those packages, in my opinion.
Strategy 2: aiming for one of Marriott's better hotels
Maybe I'm just getting greedy, but ideally I'd like to redeem for 120,000 airline miles plus a seven night stay at a hotel I really want to stay at. Specifically, I'm talking about a hotel that's in Category 7 under the new chart, which for the remainder of 2018 will cost just 60,000 Marriott points per night, with the opportunity to get a fifth night free.
The question is, how expensive of a certificate do I need to book to get a night at a Category 7 hotel come August 18? Will a Category 7 certificate cut it? Do I need to book a Category 8 certificate? Category 9? Or do I need to book a Tier 4-5 certificate?
Here's how much each of these certificate costs, when you subtract the 288,000 Marriott points that I value the 120,000 Alaska miles at:
Category 7 package: 42,000 Marriott points, or 6,000 points per night
Category 8 package: 72,000 Marriott points, or 10,286 points per night
Category 9 package: 102,000 Marriott points, or 14,571 points per night
Tier 1-3 package: 132,000 Marriott points, or 18,857 points per night
Tier 4-5 package: 252,000 Marriott points, or 36,000 points per night
On one end of the spectrum, I could redeem for a Tier 4-5 Ritz-Carlton certificate, and I'd feel very confident I could redeem that at any Marriott property going forward. Paying 36,000 points per night (the equivalent of 12,000 Starpoints) for free nights at the St. Regis Aspen, St. Regis Deer Valley, etc., is a good deal.
At the same time, I could otherwise book a five night stay at these hotels for just 16,000 Starpoints per night, and I'm not sure I'd want to stay seven nights (rather than five nights) anyway. So it's a good deal, but not an amazing deal, given the general opportunities with the new program.
But then I ask myself, wouldn't a Tier 1-3 certificate also very likely get me a stay at a Category 7 hotel in the new program? I'd much rather redeem 18,857 points per night rather than 36,000.
The more I think about it, the more I assume that a Category 9 certificate would surely work at all hotels as well. Surely Marriott won't drop certificates by more than two categories with the new program being introduced, right? 14,571 Marriott points per night for top hotels would be crazy good.
I don't even think that's being too greedy, because I think a Category 7 or Category 8 certificate might be right on the cusp of what's honored, and that would be an even better deal.
Bottom line
I feel like I'm overanalyzing all of this to the point that I'm getting cranky. Maybe I'm just doing a poor job of reading the tea leaves. Clearly there has to be a reason they're refusing to communicate about this, and I feel like that reason must be that they're planning on being generous, and this is just such a ridiculously good deal. They've explained how everything else will convert, so there must be a reason they're not doing so here.
If they weren't planning on being generous they'd be telling us now, to avoid backlash and disappointment.
So I think deciding on the best Travel Package comes down to how much of a risk you want to take:
Booking a basic Category 1-5 package is worth it for the miles alone, and the seven free hotel nights are basically an added free bonus, though you can't redeem them at the best properties
On the other end of the spectrum, booking a Tier 4-5 package should get you seven free nights at any Marriott family hotel, and that still ends up being a good deal, assuming you want to stay for seven nights
But is it even really necessary to book a Tier 4-5 package, since I sort of feel like a Category 9 package is also likely to be honored at Category 7 hotels?
Like I said, I have a lot of Starpoints, so I'm leaning towards hedging my bets and booking one Category 1-5 package, and then maybe a couple of Category 9 packages. I feel like a Category 9 package is a happy middle ground. I can't imagine they wouldn't honor this at Category 7 hotels under the new program. It's possible, but seems highly unlikely.
I imagine there's also a chance a Category 8 certificate would be honored at Category 7 hotels, but I'm willing to pay a bit extra for added security there.
But I don't know, I'm truly still going back and forth on this. Even though I imagine hold times will get worse and worse with Marriott as the integration date approaches, I plan on holding off another week or two before making a final decision.
Where do you guys stand on Travel Packages?