Marriott's takeover of Starwood closed nearly two years ago, though Marriott has been taking their time with integrating Marriott Rewards and Starwood Preferred Guest. As a Starwood loyalist I'm happy to see this, since I like "my" Starwood to be independent for as long as possible. For now we have the best of both worlds, since the two programs offer points transfers and status matching, while still maintaining the attributes of the individual programs.
Then this April we learned that Marriott would be introducing a new loyalty program as of August 2018, which would be replacing Marriott Rewards, Ritz-Carlton Rewards, and Starwood Preferred Guest.
The catch is that up until now we haven't known when in August the programs will actually combine. We've even been getting some mixed signals. We know changes are coming to SPG Amex Cards as of August 1, and changes are coming to Marriott Chase Cards as of August 26, but we haven't known about the program itself… at least up until now.
Marriott's new loyalty program launches August 18, 2018
Marriott has just announced that they'll be forming a unified loyalty program as of Saturday, August 18, 2018. The Saturday transition makes sense, as it will minimize the impact it has on members.
As you might expect, migrating systems for a program with over 100 million members will be no small project. As they explained to me, this will be a technically challenging day, which is probably an understatement.
We can expect that starting in the morning on, August 18 Marriott websites will be down for several hours. Then we can expect that for most of the day the loyalty systems will be down, so it won't be possible to redeem points, attach numbers to reservations, etc. So they ask for everyone's patience, which is fair enough.
Phone agents won't be able to book awards during that period either, so don't expect to be able to redeem points at the new rates until late in the day on the 18th, at the earliest.
When this happens, members should see that all of their points automatically transfer from Starwood Preferred Guest to Marriott Rewards at a 1:3 ratio. Furthermore, those who haven't yet linked accounts or signed up for a Marriott account will receive a new nine digit account number. This account number should be emailed to members, and will also appear when trying to log into your account with your old member number.
Asking a few important questions
I had the chance to speak to David Flueck, the head of loyalty at Marriott, regarding this transition. While Marriott has answered a lot of questions, there are still some pressing questions that many of us have, given that the new program is just weeks away. Here's my takeaway (these aren't direct quotes):
Will members who redeem points for hotels prior to August 18 receive a points refund if the price drops?
No, and this matches what I was told in the past. If you book a hotel before August 18 that goes down in price you can cancel and rebook (assuming it's outside the cancelation period), but points won't automatically be refunded.
How will existing certificates issued for Marriott Travel Packages will be handled?
This is the million dollar question for those of us who are looking to maximize our points.
Frustratingly the answer to this is that they still don't have any information to share about how existing certificates will be handled, other than encouraging members to redeem them before the program changes.
So if you book a Travel Package and have a seven night certificate, we don't know at what categories of hotels those will be valid come August 18.
The question of whether or not it makes sense to redeem Travel Packages now is still looming. I wrote about this a few days ago, and will have another post about this shortly, though we still have over three weeks to book these. I'm sticking to my current theory, which is that I think they plan on being generous, but don't want to publicize that, because they don't want everyone redeeming their points this way, given what a spectacular value it is. That's the only logical conclusion I can come up with.
Will the St. Regis Maldives, St. Regis Bora Bora, etc., really be bookable for 60,000 Marriott points per night, come August 18?
Historically these hotels have cost an outrageous number of Starpoints. That's because these are technically all-suite properties, so they often cost 90,000+ points per night (the equivalent of 270,000 Marriott points). That's just crazy.
It was confirmed that these will indeed be bookable under the new standard award chart.
The catch is that award nights will be limited to "base rooms," and they haven't yet defined what those base rooms will be, as they could differ from what these hotels currently consider to be base rooms. So these hotels will be available, though it could be that a very limited number of rooms are designed as base rooms.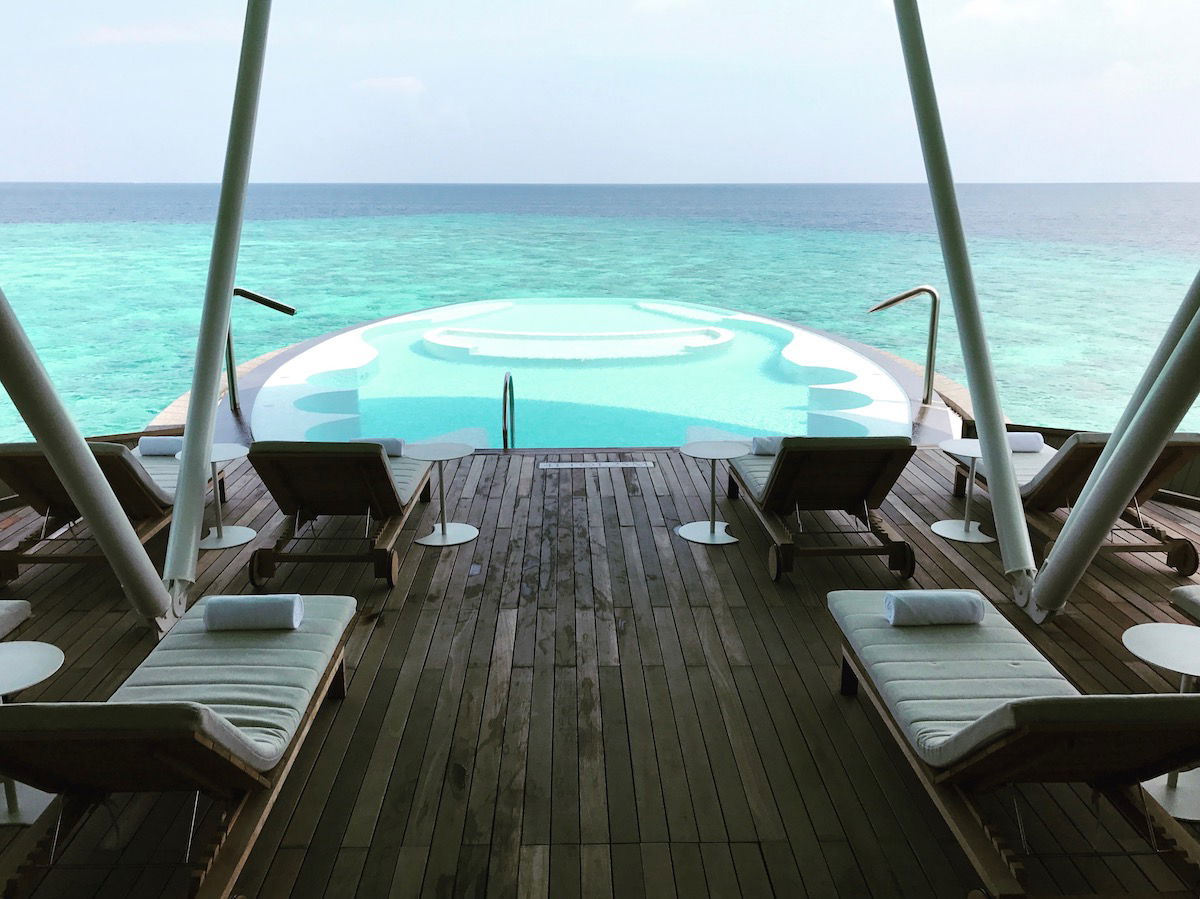 I have a feeling a lot of people will be redeeming at the St. Regis Maldives
Bottom line
We can expect Marriott's new loyalty program to kick in on August 18. However, don't expect that you'll be able to redeem your points starting at 12:01AM. This is a huge undertaking for Marriott, and it's likely to take hours for that to happen, assuming everything goes as planned. At that point it will be a free for all to take advantage of some of the best redemption values we've ever seen with the program.
Unfortunately there are still some important looming questions, especially as it relates to Travel Packages, and also just how many rooms will be made available for points at the properties that were otherwise prohibitively expensive.