Here's something interesting that I had never put much thought into, though I'm now realizing this may be a widespread issue.
Tracking hotel points can be complicated
Maybe I'm just been lazy, but historically I haven't generally "audited" my hotel stays to make sure I was earning the correct number of points.
For example, Marriott offers 10 "base" points per dollar spent, so after a stay I'll typically check to make sure they posted, but I haven't typically analyzed whether or not it's exactly right. In other words, I'd notice if the number of points awarded is zero, but if they short me 10-20% points, I probably wouldn't notice.
That's also partly because they don't all that clearly define what spend is qualifying, as I'll explain below.
What hotel charges are eligible for points?
For the purpose of this example I'm talking about Marriott. Marriott awards 10 base points per dollar spent at most of their brands (this is before any elite bonuses, etc.). So, what purchases qualify? Per the terms:
i. Charges incurred during a stay in a guest room at a Participating Property by a Member on his/her folio and up to two (2) additional guest rooms, including, without limitation, charges for:

A. Qualifying Rates for Stays;

B. Food and beverages (excluding alcoholic beverages where prohibited by law) and may exclude charges incurred at outlets that are not managed or operated by the Participating Property;

C. Direct-dialed in-room telephone and direct-dialed in-room fax;

D. In-room movies and video games;

provided the Member provides his/her Membership Number at the time of reservation or at check-in, stays in one of the reserved guest rooms, and pays for the charges
So as you can see, room rate and food and beverage outlets do qualify. Hotel spas generally don't qualify, and in some cases alcohol doesn't qualify. Furthermore, obviously taxes, service charges, fees, etc., wouldn't be eligible for points accrual.
The one grey area is with "outlets that are not managed or operated by the participating property." I'm not sure exactly how they define that for hotel restaurants. It can also be tough to go back and separate charges, like tips, taxes, etc.
How I'm noticing that Marriott is shorting me points
I'm a Starwood Ambassador member (I guess now a Marriott Ambassador member), and going forward that requires 100 elite nights per year plus $20,000 of qualifying spend. There's a handy tracker on the Marriott website that shows you your spend progress, assuming you're approaching Ambassador status (though the graphics are a bit off — as you can see, I need zero nights to Ambassador, but the "bar" doesn't show as being all the way there).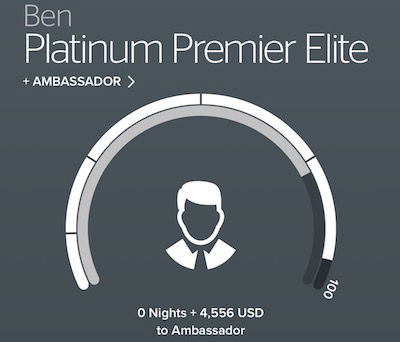 I recently completed a stay at the St. Regis Bora Bora and am slowly nearing the $20,000 spend requirement for the year, so perhaps I'm paying attention more closely than usual.
So I easily noticed when I didn't even earn close to as many points as I should have.
If you divide the "base points" you earned for a stay by 10, that should correspond to your qualifying spend. However, in this case that number didn't even account for my pre-tax room rate, let alone what I spent to upgrade to an overwater villa one night, as well as all the money I spent on food and beverages.
Now that I'm focused on this, I've gone back to a few other stays, and saw that I was also shorted points, but not to the same extent as here. I'd estimate that I should have earned at least 30% more points in this case (and correspondingly about 30% more qualifying spend towards Ambassador).
What's the best way to deal with this?
Like I said, I've never paid attention this closely before to the exact number of points I've earned, but I've now noticed this seems to be a "thing." I'm not sure whether this is something Marriott does systematically (I highly doubt it), but rather I think it's more likely that hotels are trying to "hide" certain charges as non-qualifying, because presumably they're having to pay for the points being issued for them.
I'm not exactly sure how to go about dealing with this. I don't think contacting the hotel directly will do much, while Marriott only has a form online for reporting missing stays, and not for reporting stays that posted incorrectly.
Fortunately I have an Ambassador who is awesome and I'm sure could help, but I'm curious more generally about the best way to go about this.
Bottom line
Maybe I'm just really unlucky, but it sure seems to me like some Marriott hotels are making a habit of shorting points for stays. I get that spa treatments and some outlets that are managed by third parties may not qualify, but this seems to go way beyond that.
I'm curious if anyone has faced this situation before, and if so, how you handled it? I wonder just how widespread this problem is, so if you have a few minutes, feel free to "audit" some of your previous stays, as I'd love some more data points.