Oh Marriott Bonvoy, why does this have to be the program where the most gamification nowadays is happening on the part of hotels, rather than members?
Marriott's Blackout Date Policy
With the introduction of the Marriott Bonvoy program, Marriott has a pretty lousy blackout date policy, at least in comparison to the old Starwood Preferred Guest program. Marriott advertises "no blackout dates," though the definition of that varies by brand:
Legacy Starwood hotels (those that used to have SPG as their loyalty program) are supposed to have no blackout dates, meaning that every single available standard room is bookable with points
Legacy Marriott hotels (those that used to have Marriott Rewards as their loyalty program) are supposed to have no blackout dates in the sense that they need to have some standard rooms available on points every night, but on a select number of dates they can just make a subset of standard rooms available with points (in other words, they could block half of standard rooms if they wanted, as long as they make some standard rooms available with points)
Luxury Collection is a former Starwood brand, meaning that every standard room at a Luxury Collection property should be bookable with points. Lots of hotels play games with inventory, though one particular hotel is playing games in a way I haven't ever seen before.
Las Alcobas & The Mysterious "Standard" Room
Las Alcobas in Napa Valley is a hotel that has been on my radar for quite a while, and which I've been trying to plan a getaway to using points. However, looking at availability over the next several weeks I see very little points availability, yet a vast majority of nights have availability for "1 King Bed, Room."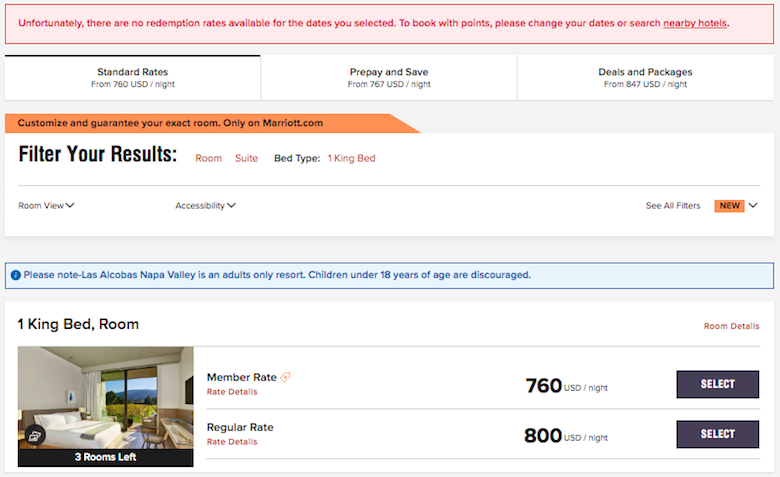 That's a standard room if I've ever heard of one, no? It doesn't get more standard than a room that is just described as the bed type.
So then I looked at the few dates in the next several weeks that actually have points availability, and I noticed something peculiar. It appears that one of two room types needs to be available in order to redeem points. You need a room that's described as one of the following:
Deluxe Estate View, Guest room, 1 King, Beringer Estate view, Garden view
Superior Guest Room, Guest room, 1 King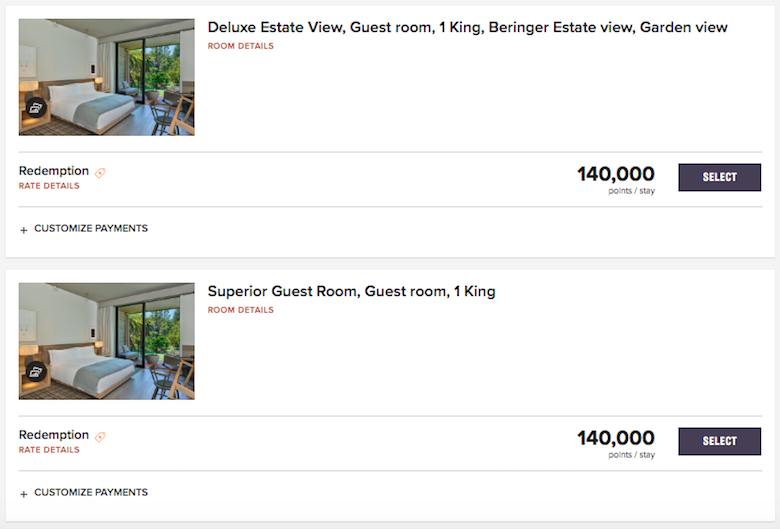 Sorry, ummm, what? Then I flipped back to cash rates for the same dates, and they showed six different room types for sale. But guess what? None of them matched the room types shown with points.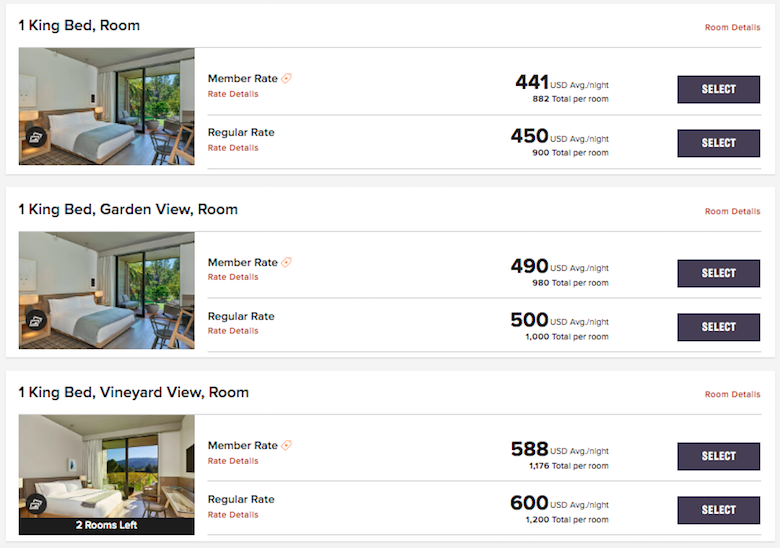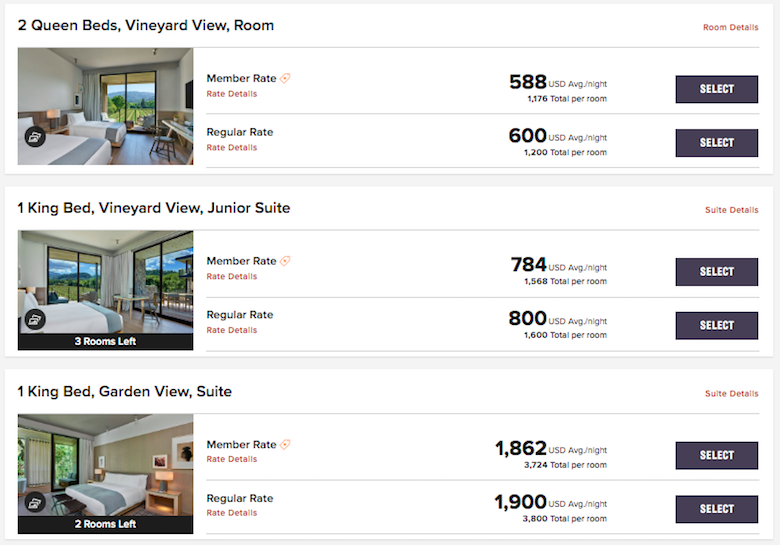 I figured this was a one-off, so looked up some other dates as well. Nope, this is consistently the case. The Las Alcobas room types that are bookable with points aren't actually bookable with cash, and vice versa.
Can a room really be considered "standard" if you can't pay cash for it?
What's Really Going On Here?
What's really going on here? Does Las Alcobas really have some rooms that are exclusively bookable with points, and not cash? When I looked at the listing of room types, I noticed that the two types of rooms bookable with points are in fact listed as room types, yet rather mysteriously the "1 King Bed Room" that they sell for cash isn't listed.

I wouldn't put too much weight on it, but when you look at the pictures of all three room types, the same picture is used. Also when you click on that room type for the "1 King Bed, Room," you'll see that it lists "Deluxe King Estate View" as the full name of the room type, which… exactly matches the award room type.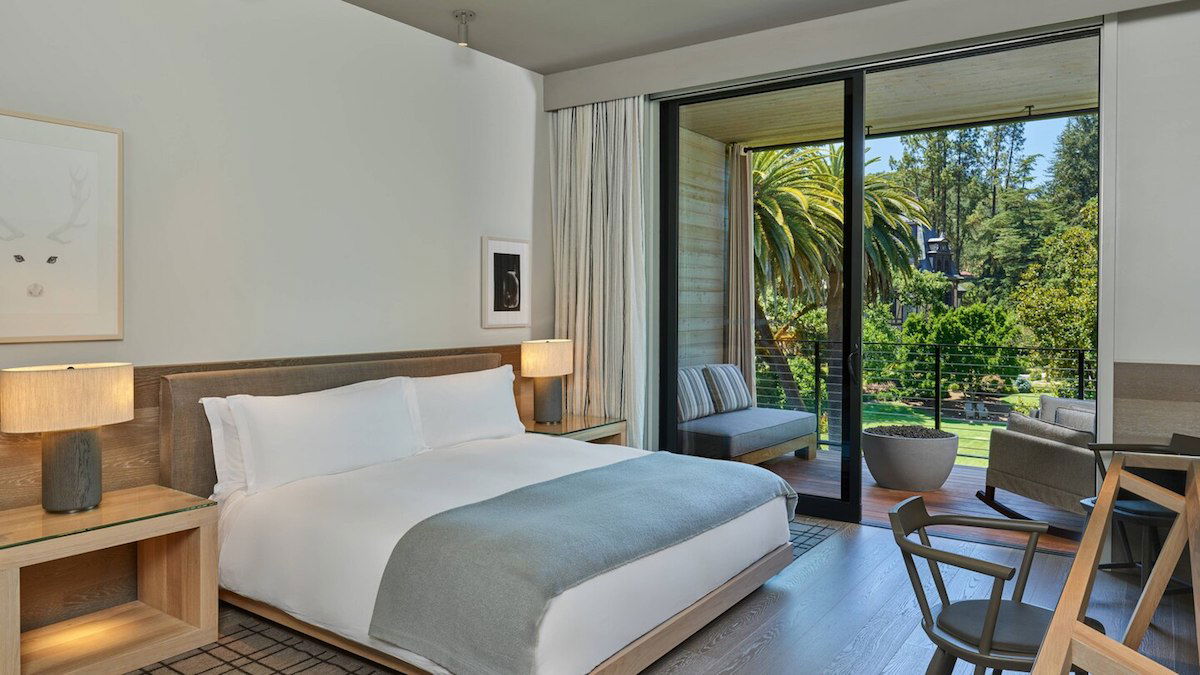 I called the hotel and asked them about the difference between the room types, and they didn't have a good explanation of what the "1 King Bed" room was, and just explained it could face the estate or garden.
Essentially what the hotel seems to be doing is selling their "general" type of standard room for cash, and then those redeeming points book the same room that's described differently. From the hotel's perspective this gives them full control over whether or not to open up awards.
Sure, they'll let you pay cash for a "Deluxe King Estate View." But you want to redeem points for a "Deluxe Estate View 1 King?" Sorry, we have no standard rooms available!
Bottom Line
It makes me sad how many games hotels are playing with the Marriott Bonvoy program. Marriott has some great properties globally, and they're huge, so it would be so easy just to be loyal with them. But it's also incredibly frustrating when hotels play games all too often, and nothing is done about it.
In the case of Las Alcobas they're only letting you redeem points for a room type that doesn't exist when paying cash. Can that really be considered a "standard" room by any definition?