I think many people are a bit confused by the actual business model of the major hotel chains. Most major hotel chains don't actually own a vast majority of the individual properties, but rather have contracts to manage the properties, and they get a fee for doing so.
As a result, the major hotel chains are really selling to investors, even more so than individual guests. That's one of the reasons we've seen so many hotel chains emerge over the years. When the Marriott and Starwood merger is complete, they'll have ~30 hotel chains. I can't even keep track of them anymore, and in some cases really wonder what the differences are.


But I'm also not surprised by the trend. A company might be willing to invest in the first Residence Inn in a given city, for example, rather than the fourth Marriott property.
With that in mind, over the years we've seen some properties marketed as multiple brands. For example, Dubai had a W and a St. Regis attached to one another, before both properties left SPG.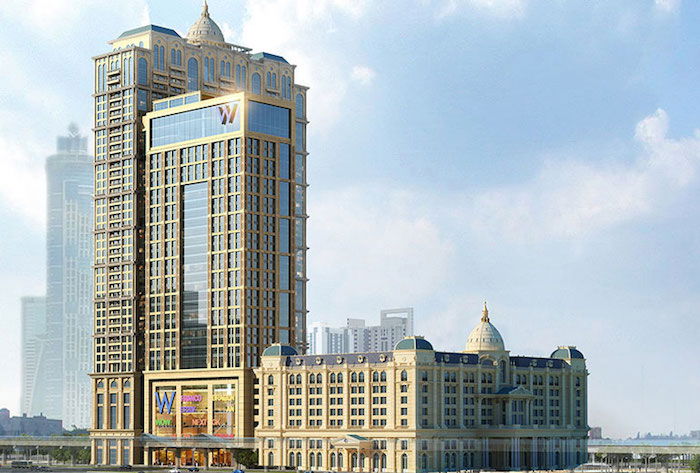 Meanwhile at Frankfurt Airport, there's a Hilton and Hilton Garden Inn attached to one another. From investors' perspectives, this allows them to capture more of a market than they'd be able to get with just one brand.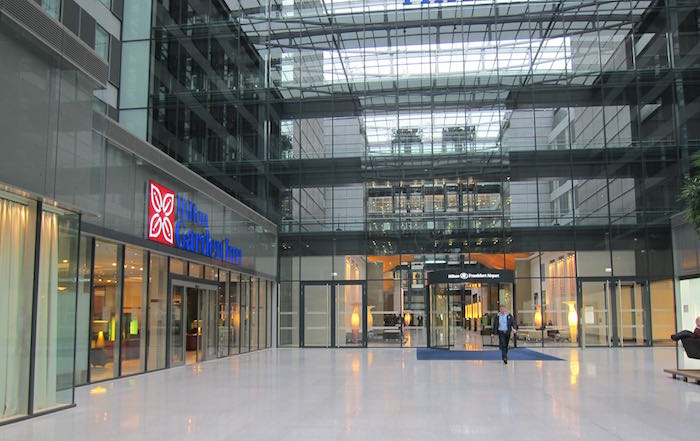 However, Marriott is taking this to the next level. In 2018, Marriott will open their first triple hotel in Nashville, Tennessee. Per Marriott's press release:
Marriott International, Inc. today celebrates the groundbreaking of its first-ever hotel to contain three of its brands in a single building – a concept that underscores the company's commitment to innovate in ways that benefit both consumers and the development community.

The landmark project will rise in Nashville's SoBro neighborhood, which over the last few years has been transforming into a bustling area filled with restaurants, shopping and entertainment. The 470-room, $137 million hotel is expected to open mid-year in 2018.

"Marriott continues to grow its multi-brand portfolio, as these projects offer a myriad of benefits to both our development partners and our guests. Developers can target multiple consumer segments while benefitting from significant construction and cost synergies. Hotel guests are offered a wider range of options to serve all of their travel needs," said Tony Capuano, Executive Vice President and Global Chief Development Officer at Marriott International.

The L-shaped, 21-story building being developed by Atlanta-based North Point Hospitality will contain an AC Hotels by Marriott® that will occupy 209 rooms in one wing and a combined SpringHill Suites by Marriott® and Residence Inn by Marriott® in the adjoining wing with 125 rooms and 136 rooms, respectively. Though customers will see three brand logos on the outside of the building and have three distinct hospitality experiences inside, the developer has planned to consolidate behind-the-scenes operations and spaces to reduce ongoing expenses.
Here's a rendering of the building: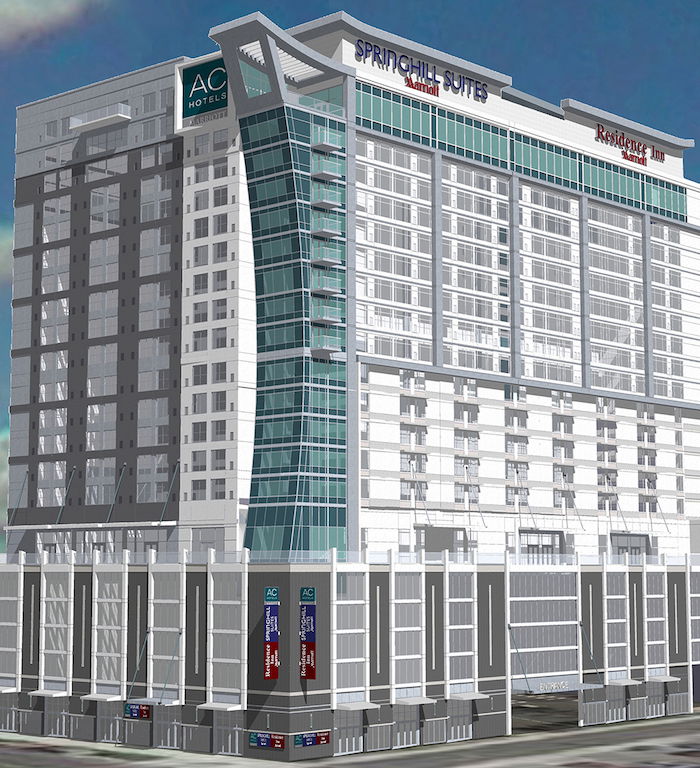 Marriott already has 52 dual-branded properties, though this is the first with three brands. This will obviously lead to synergies, and I imagine some amenities (perhaps the gym and/or a swimming pool) will be shared.
What's interesting here is that while they have their unique design elements, Residence Inn and Springhill Suites seem to me like they're going after the same general market, so I'm not really sure if they're marketing to totally different consumers with this. Meanwhile AC is a bit more European and upscale, so I can see the difference there.
Bottom line
We've seen investors take on projects with two brands in one building, though this is the first one I know of with three brands in a building.
At what point are these hotels cannibalizing one another, rather than actually going after different market segments, though?
What do you make of this triple-branded property opening in Nashville?