Skift has the story of some interesting comments made by Marriott CEO Arne Sorneson in favor of "hygiene theater," and I'm not sure I disagree with him.
Marriott CEO supports "hygiene theater"
For the travel industry to recover in any sort of a substantial way, more needs to be done to make travel safe across the board, and people also have to feel like traveling is safe. Along those lines, Marriott's CEO has commented on the use of temperature checks, and the general benefits of a "hygiene theater." As he explained:
"A temperature check is a very dubious tool for IDing those who have the virus. Nevertheless, that temperature check is hygiene theater, if you will. It's communicating to folks we care about what you feel and want you to stop and think about if you're having any symptoms, and we also want to communicate to you that you're now entering a place in which we've got protocols in place to protect you and others in the environment."
Sorenson compares this to Swiss cheese:
"Somebody explained this like Swiss cheese: If you've got one slice of Swiss cheese, you've got holes and can get through it. But if you've got four or five slices of Swiss cheese stacked next to each other. Put it all together, it makes a substantive difference in safety, a provably reduced risk of the spread of the virus, and collectively engaged in a theater that tells us or reminds us all to be careful. By being careful, we've further reduced the real risk associated with it."
When we think of "theater" in the context of travel, "security theater" at TSA checkpoints is probably the first thing that comes to mind:
It's imperative to safety that we take off our shoes and remove our laptops and liquids from our bags, unless we have TSA PreCheck?
We can't take more than 100ml of liquids in one container, but we can take two containers of the same thing with 100ml each?
This is what the TSA is focused on, while studies have shown that the TSA misses a vast majority of weapons brought through checkpoints?
The focus should be on actual hygiene…
It goes without saying that focusing on actual hygiene and best practices in a substantial way and living up to promises needs to be the top priority:
Hotel rooms and public areas need to be cleaned and disinfected better than ever before, in line with the practices that hotel groups are promising
If hotels require all staff to wear masks, then they need to make sure staff are not only wearing masks, but wearing them correctly, setting a good example for guests
If hotels require guests to wear masks, then they need to make sure this is being enforced as well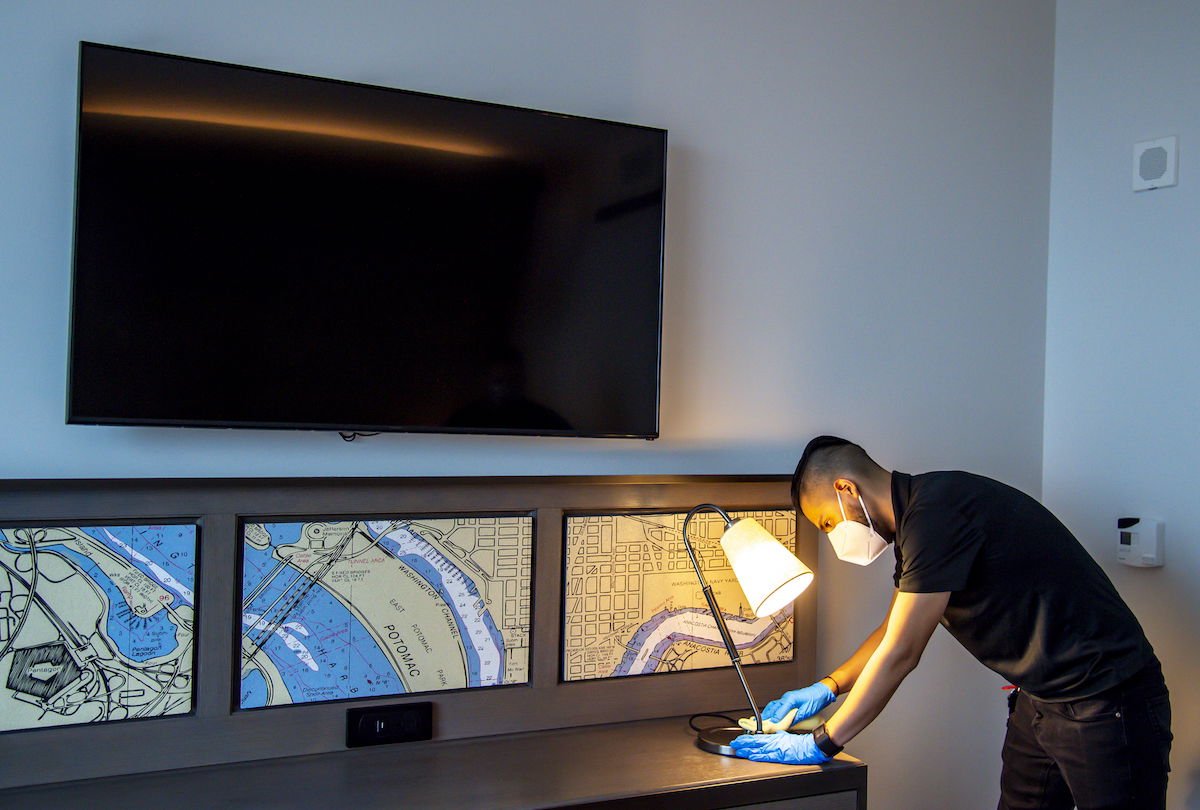 It doesn't matter whether you agree with any of these policies or not. The point is that consumers make decisions based on promises made by companies, so they need to follow through on them.
…but "hygiene theater" is also needed
Arguably a majority of good hygiene practices at hotels happen in the background. That keeps guests safe, but does it make guests feel safe? No, probably not. And this gets at why hygiene theater is (maybe unfortunately?) necessary.
It's always interesting to hear impressions from people who have traveled during the pandemic, and whether they felt safe or not. Everyone has an opinion, but what is it actually based on? Most of us aren't going into rooms with hygiene test kits or conducting undercover experiments, but rather we make assumptions based on what's visible to us.
To give a couple of examples:
Is it actually important for the front desk associate to wear a face mask if they're behind a plexiglass shield and six feet from a colleague? No, but it sets a good example, and if you see staff not wearing masks (or not wearing them correctly), you wonder where else corners are being cut.
Is it actually important for hotels to constantly remind us that our rooms have been sanitized? No, but if we're not reminded then we may forget that cleaning protocols have been enhanced.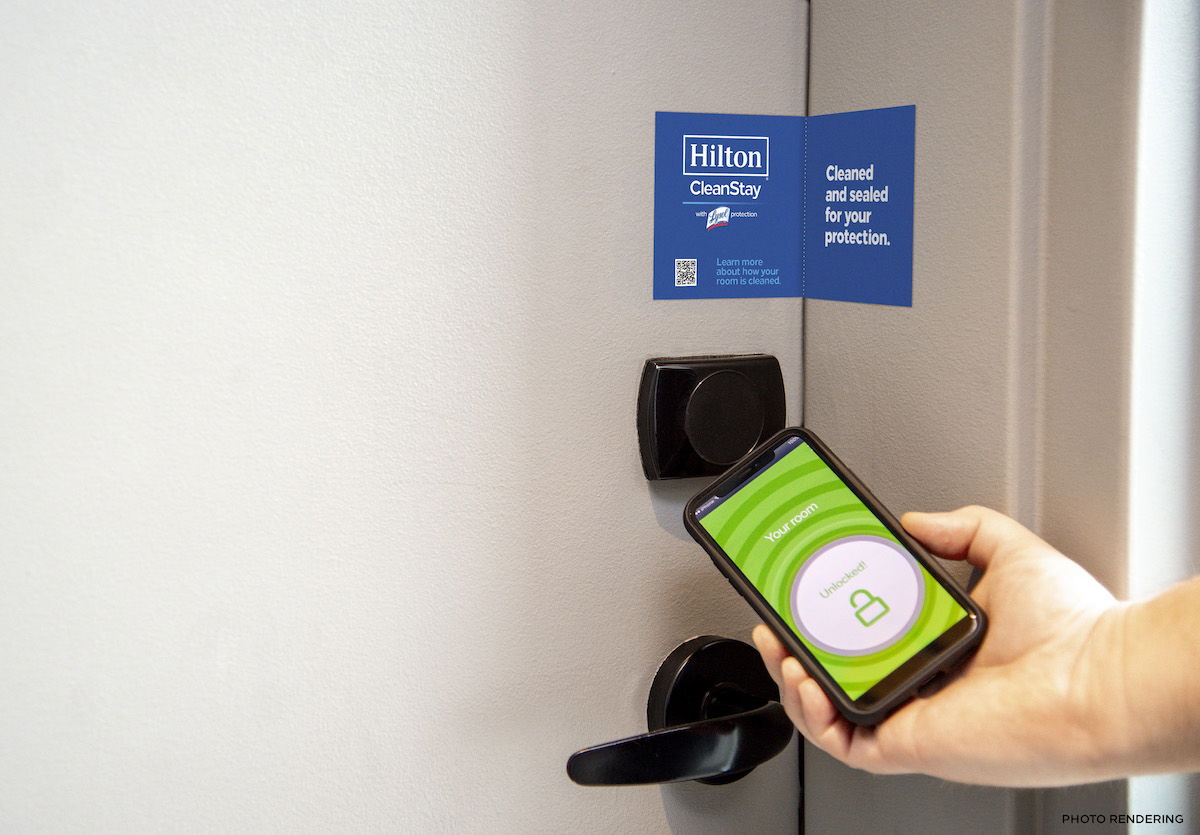 If I'm being perfectly honest, what makes me feel "safe" in a hotel is:
Seeing all employees wearing face masks, and wearing them correctly
Finding the room is visibly clean, and that there are no obvious oversights
Seeing cleaning actually happening in public spaces, like elevator buttons being sanitized, pens at reception being disinfected between uses, etc.
Policies in place that follow best practices; for example, if there's a gym and it's open, there should be a limit to how many people can use it, and there needs to be a mechanism in place to enforce that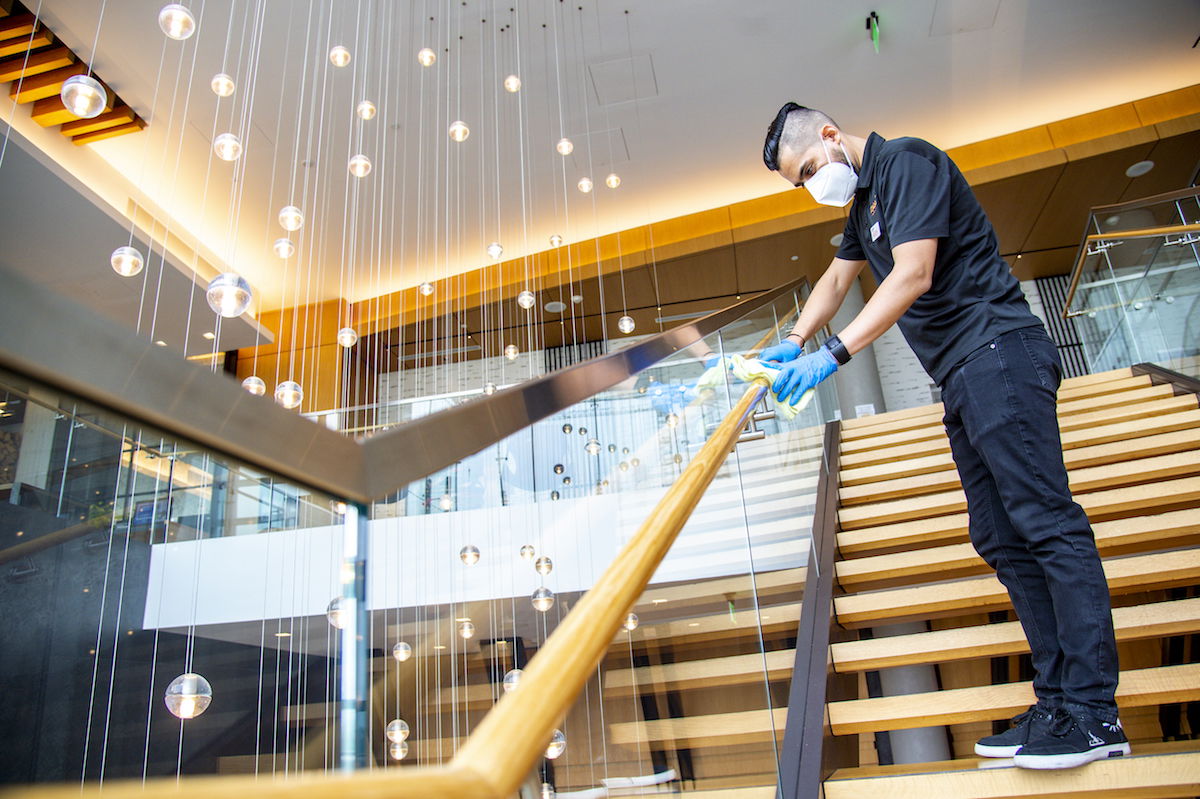 The above is largely theater, but the reality is that it's all we can go off. The key is that there needs to actually be good practices to support it. In other words, if I check into a room and the door is sealed with a special sticker saying the room has been "cleaned and sealed for my protection," and then I find the room isn't actually clean, the hotel has lost all credibility as far as I'm concerned.
Getting back to Sorenson's initial comments on temperature checks, that's a touchy subject for many:
Temperature checks are far from a foolproof way to detect coronavirus
At the same time, people knowing they have to undergo temperature checks may make them think twice about going somewhere if they think they're not feeling well
The "average" person probably feels like this is an appropriate precaution that shows effort on the part of a hotel
A big question is what actions are taken based on these checks — what happens if someone actually does have a high temperature?
Even if people don't have coronavirus, there's general value to knowing if people are sick, especially as we go into flu season; admittedly that opens a whole different can of worms
Personally I don't have as strong of an opinion on temperature checks as others. Do I mind them as a small part of an overall approach to mitigating risk? Nope. Do I think they're the solution to preventing people with coronavirus from traveling? Also nope.
Bottom line
The top priority for hotels needs to be actually keeping guests safe. But beyond that, how can hotels convince guests that traveling is safe? I do think it comes down to theater.
What makes this different than "security theater" at airports is that 9/11 happened over 19 years ago, and most people don't board a plane worried about a terrorist attack. Meanwhile most people do worry about safety related to coronavirus when traveling right now.
Again, the focus needs to be on actually good practices, but beyond that it's in the best interest of hotels to constantly remind us what they're doing at every turn, so that we feel safe as well.
If you've traveled during the pandemic, what have your deciding factors been as to whether or not you felt safe?