While we'll hopefully all return to traveling soon(ish), I think it's safe to say travel won't ever be the same. Even if there's such a thing as a post-COVID-19 era, I think many of us have a new appreciation for hygiene after all of this, and that's not necessarily a bad thing.
New Hilton CleanStay initiative
Today Hilton has unveiled the basics of "CleanStay," the term for their new elevated hygiene practices, from check-in to check-out. They're developing this with RB (the maker of Lysol) and Mayo Clinic, and this should be implemented globally by June 2020.
Hilton CleanStay builds on Hilton's existing housekeeping and hygiene practices, with upgraded protocols and hospital-grade cleaning products. As it's described, the goal of CleanStay is to provide guests with assurance and peace of mind when they stay at Hilton's 6,100+ hotels and 18 brands.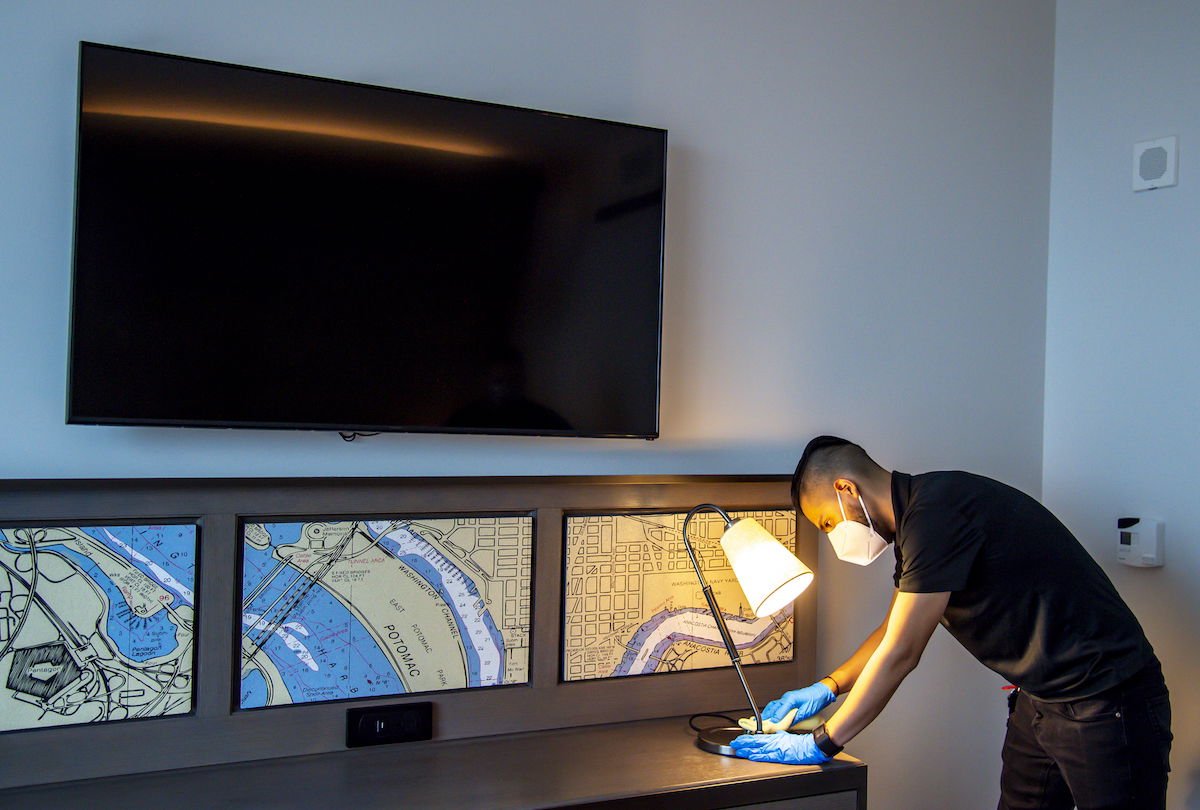 What will be changing at Hiltons?
The full details of the program are still in development, but hotel brand standards under consideration include:
Hilton CleanStay Room Seal: Add an extra measure of assurance by placing a room seal on doors to indicate to guests that their room has not been accessed since being thoroughly cleaned.
10 High-Touch, Deep Clean Areas: Extra disinfection of the most frequently touched guests room areas – light switches, door handles, TV remotes, thermostats and more.
De-clutter Paper Amenities: Remove pen, paper and guest directory; supplement with digital or available upon request.
Focus on Fitness Centers: Improved guidelines for disinfecting the hotel Fitness Center, possibly closing for cleaning multiple times daily and limiting the number of guests allowed in at one time.
Clean and Clean Again: Increase the frequency of cleaning public areas.
Guest-Accessible Disinfecting Wipes: Provide stations at primary entrances and key high traffic areas, for instance, a station to allow guests to wipe the elevator button before pressing.
Contactless Check-In: Hilton will double-down on its award-winning Digital Key technology for guests who desire to have a contactless arrival experience. Guests can check-in, choose their room, access their room with a digital room key and check-out using their mobile devices through the Hilton Honors mobile app at participating hotels. Hilton will continue to expand its Digital Key capabilities to common doors and access points throughout the hotels.
Innovative Disinfection Technologies: Hilton is exploring the addition of new technologies, like electrostatic sprayers – which use an electrostatically charged disinfecting mist – and ultraviolet light to sanitize surfaces and objects.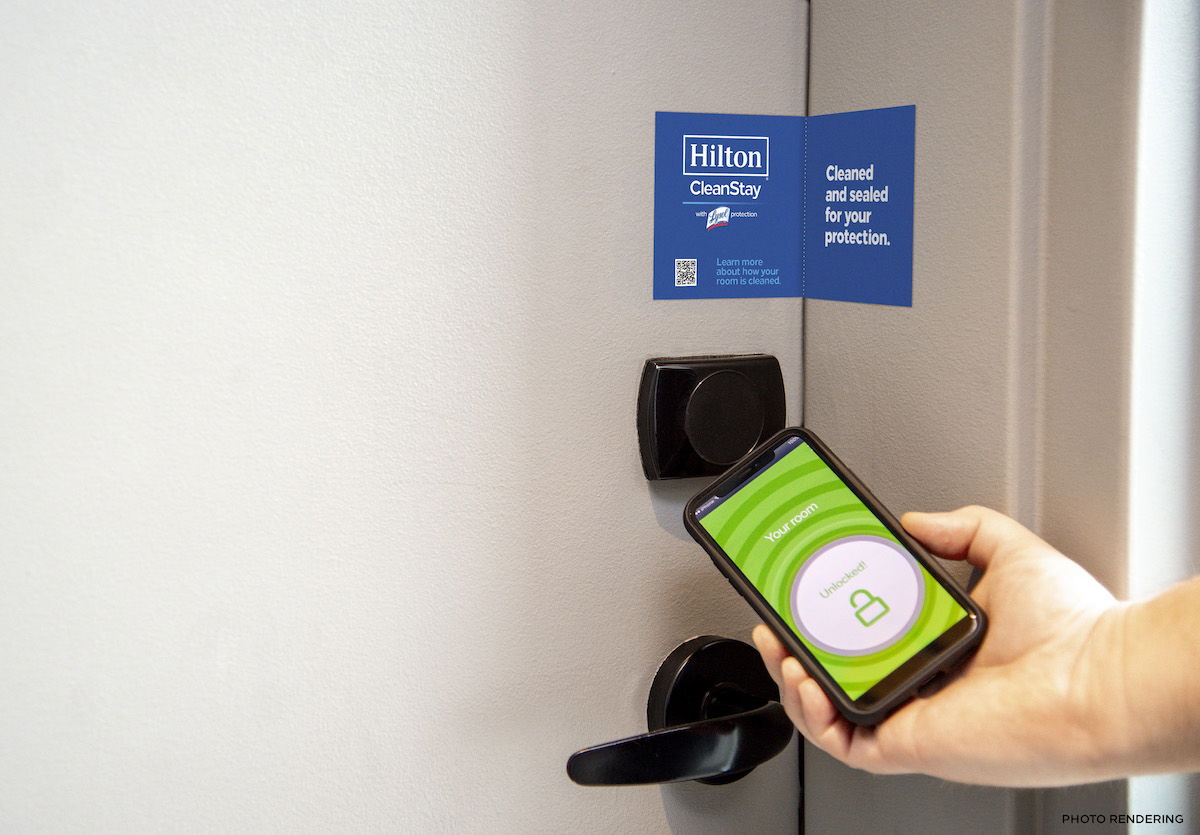 Here's an infographic from Hilton about the 10 high-touch areas in the room that will be deep cleaned: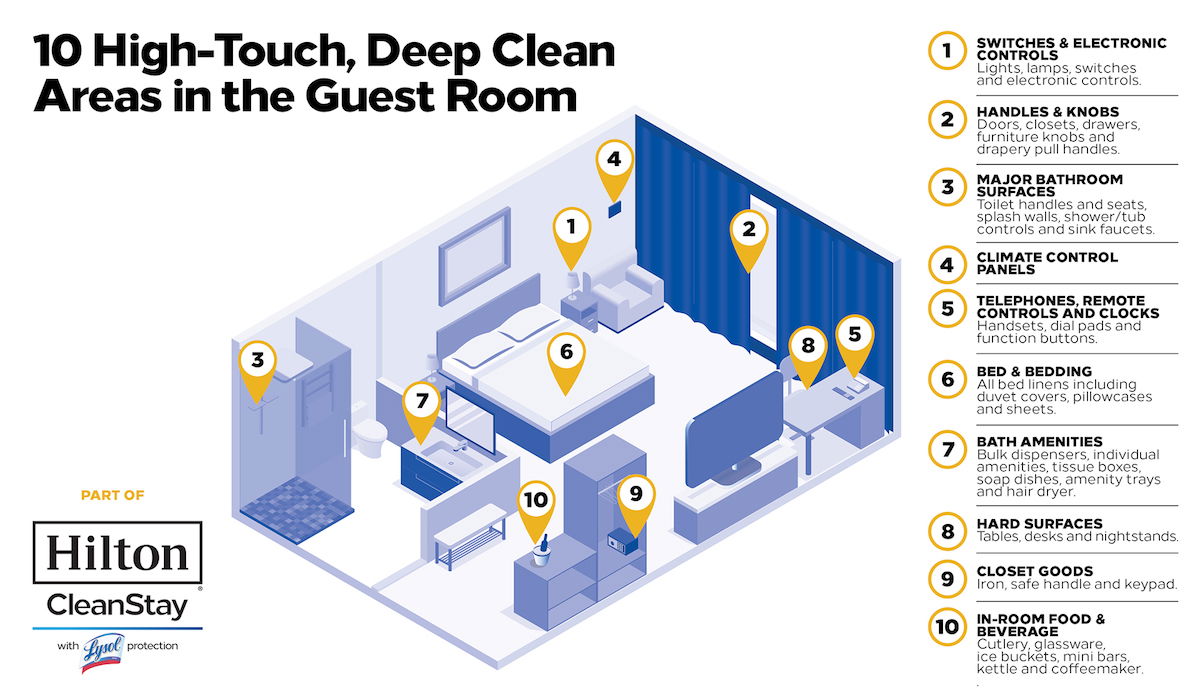 Bottom line
I expect all major hotel groups to change their cleaning protocols, and this will likely be permanent.
I'm a fan of most of these developments. For example, more frequent cleanings of gyms and other public areas seems long overdue. I also like having disinfecting wipes in public areas. Meanwhile some may miss that paper, pen, and guess directory you'll find in a room.
What updated hotel cleaning standards are most important to you when you get back to traveling?