My gosh, sometimes being a consumer is a really helpless experience. I first wrote about this story yesterday. However, there's now an update, as Marriott Bonvoy customer service has issued quite the hilarious and insulting response…
Marriott charges guest $1,050 without permission
Longtime reader Jingyi reached out regarding frustration with a Marriott reservation. She tried to book a two night stay at the Ritz-Carlton Tokyo with points. The stay would have cost 225,000 Bonvoy points, though the Bonvoy account only had just over 175,000 points in it (plus a free night award, which could have been used to cover part of the cost of the stay).
During the booking process, the option was provided to purchase 48,000 points for 600 JPY. Okay, that's only around $4, so presumably that was a glitch, but I can't blame anyone for trying to book that and seeing how it goes.
Interestingly this glitch still exists when doing a search on Marriott's website for a hotel in Japan priced in JPY, so this wasn't even a one-time thing. Jingyi figured that best case scenario it would be honored, while worst case scenario it would be possible to cancel the deal.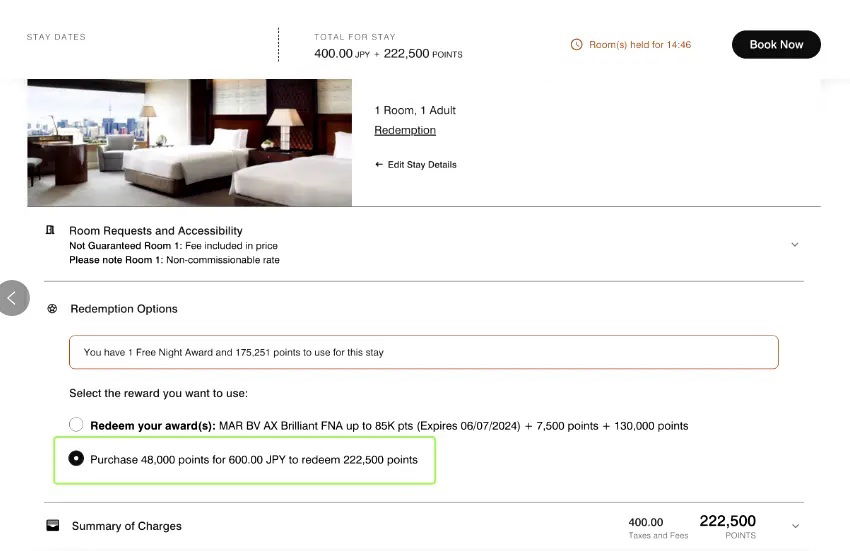 Apparently that was wishful thinking. Instead of charging ~$4, Marriott ended up charging $1,050 for the points, with one transaction for $450 and one transaction for $600. At no point in the booking process was there any mention of these amounts.
Marriott refuses to refund amount, locks account
Jingyi has tried to reach out to Marriott Bonvoy to get this incorrect charge refunded, but had no luck actually getting a resolution. Marriott representatives stated that the purchase of points was non-refundable, without seemingly comprehending that the incorrect amount was displayed all along. This is despite her sending along a video of the booking process to Marriott, showing the error.
So without any help from Marriott, Jingyi decided to file a dispute with American Express for the purchase, which seems fair enough. After all, this was an incorrect charge, and effort had been made to resolve this directly.
Marriott responded to this by locking her Bonvoy account. Unfortunately this is a method that some airlines and hotels use, since it's one area where they have quite a bit of leverage, and contractually can sort of do whatever they want.
Marriott now offers member 3,000 Bonvoy points
Jingyi has now received another response from Marriott Bonvoy customer service. This acknowledges that the currency displayed was incorrect (since she had sent a video), and apologizes that this caused "misunderstanding."
While Marriott won't reverse the transaction, the program is willing to offer her 3,000 Bonvoy points as compensation (worth ~$21, by my valuation). Here's part of the response:
"Thank you for your reply. All purchases of points will be settled in US dollars. I'm sorry that the settlement currency unit displayed on the page when you purchased caused you misunderstanding, and I deeply apologize. After review by the management, we will help you apply for 3,000 points as a gesture of goodwill. The points will be registered into your account with your consent. We hope this experience does not affect your support for Marriott."
Bottom line
A Marriott Bonvoy member was given the opportunity to buy points at a very attractive price while trying to book a Ritz-Carlton property in Japan. Marriott ended up just charging this guest a totally different amount, and claims that the purchase amount is non-refundable.
That would be fair if the guest agreed to pay that amount, but that wasn't the case. When a dispute was filed with American Express, Marriott reportedly locked the Bonvoy account.
In continued correspondence with Marriott, the program is now offering her 3,000 Bonvoy points as a gesture of goodwill, but won't actually reverse the transaction. Rather the program apologizes for her "misunderstanding."
Unfortunately this is one of those situations where customer service just fails. Frontline representatives aren't trained enough (apparently) to comprehend the situation, and just make inaccurate claims. Then when you try to resolve this by means of a credit card dispute, it leads to a Bonvoy account being locked.
I've reached out to a Marriott representative, in hopes of this getting resolved swiftly.
What do you make of this Marriott situation?