With the end of the year just over a month away, I know a lot of people are trying to finalize their elite status strategy for 2019. Does it make sense to do a last minute mileage or mattress run to earn status, or what?
Marriott Bonvoy Status Downgrade Emails
Marriott Bonvoy is sending out emails to some members who seem unlikely to requalify for their current elite tier next year. For example, I currently have Marriott's top tier Ambassador status, which requires 100 elite nights and $20,000 of spending per year.
Yesterday I received an email from Marriott with the subject line of "Ben, You're Not On Track to Renew Ambassador Elite Status." Here's what the email said:
TITANIUM ELITE STATUS AHEAD

It looks as if Marriott Bonvoy™ Ambassador Elite status is likely out of reach for 2020 — but as a token of appreciation for your loyalty, Marriott Bonvoy Titanium Elite status is yours for 2020.

Your ambassador is still here to help you make the most of your 2019 travel. Reach out to your personal ambassador directly or email [email protected] if we can help.

Also, remember to maximize our latest global promotion, Unlock More, to earn even more for your stays. In the meantime, explore Titanium Elite benefits and start planning your next trip now.
I haven't even qualified for Titanium status yet (which requires 75 elite nights), though it seems like they're only downgrading Ambassador members by one level. I'm not sure if this downgrade policy will apply at all levels, but that is noteworthy:
Historically Marriott Rewards only downgraded you one status tier if you didn't requalify, regardless of activity
While Starwood Preferred Guest also offered soft landings, that was only from Platinum to Gold, as 75 and 100 night tiers weren't formalized in the program in the same way
My Current Marriott Status Situation
Currently I'm about two thirds of the way to requalifying for Ambassador, both with spending and elite nights.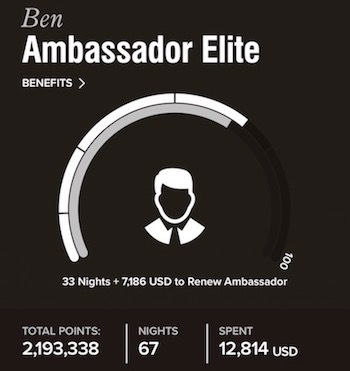 To be honest, I'm both happy and sad about not requalifying for Ambassador status.
I'm sad because I absolutely love my Ambassador, Mike, who is awesome. Not only is he incredibly competent, but he's a nice guy. I hear sometimes from other readers who have Ambassadors who aren't great, so I know I really lucked out in this regard.
At the same time, it simply isn't worth it for me to requalify. Not only is the 100 elite nights a stretch for me, but the revenue requirement creates a system whereby I avoid redeeming points, since obviously redeeming points wouldn't help you towards that spending requirement.
The further reality is that I'm not even sure I get that much incremental value out of Marriott Ambassador status nowadays, and that largely comes down to my stay patterns.
For example, I find that I pretty consistently get great upgrades on one night stays, but the value of that isn't all that huge.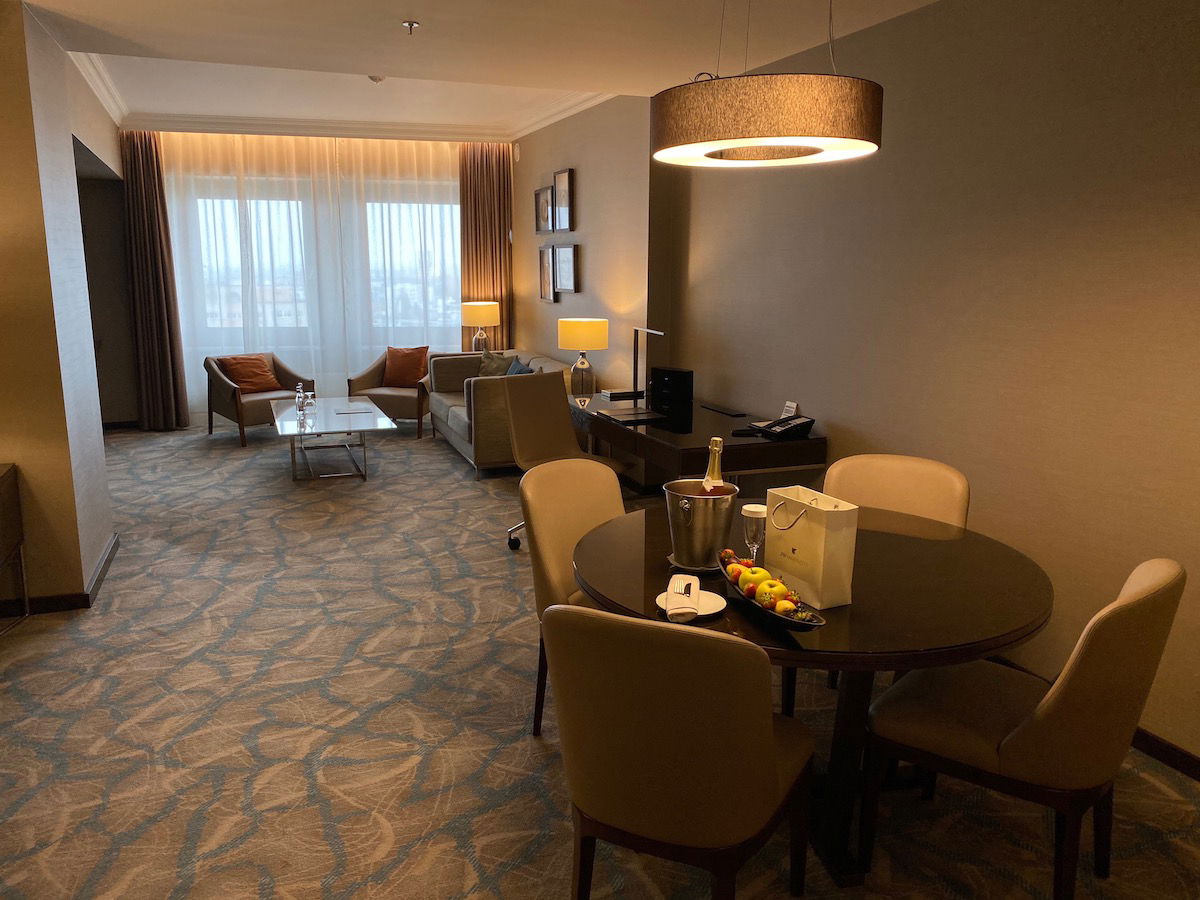 I got a great upgrade at the JW Marriott Bucharest
However, for the stays that matter most there often simply aren't upgrades available, since it's often in peak season when hotels are sold out.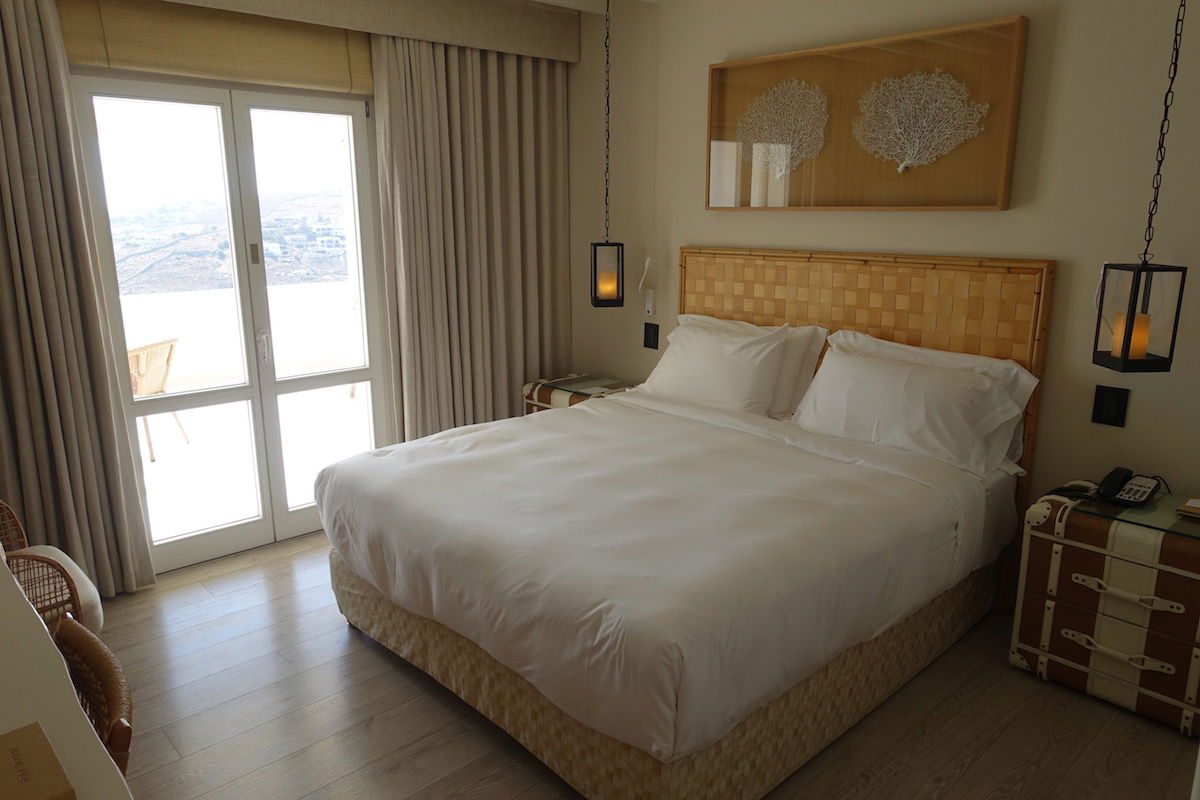 Understandably I didn't get a great upgrade at Santa Marina Mykonos in August
Bottom Line
Technically I could still requalify for Marriott Bonvoy Ambassador, as there are 44 nights left in the year, and I "only" need 33 nights. However, realistically there's no way I'm going to stay that many nights at Marriotts.
It's nice that they're at least offering a soft landing. I was going to go out of my way to get to 75 elite nights to earn Titanium, though it sounds like I don't even need to do that anymore. I might still do it if I'm close, though, because you don't get to choose the 75 night reward if you don't earn the sufficient elite nights.
My feeling about losing Ambassador status is still bittersweet — I'll miss my Ambassador, though I'm happy to be a little bit more off the Marriott Bonvoy status "hamster wheel." Titanium status should be plenty, and then I always have lifetime Platinum status with Marriott anyway.
Did you receive one of these status downgrade emails? If so, for what tier, and were you given a "soft landing?"