There's nothing here that's terribly surprising, but on some level I do find the evolution of the Malaysia Airlines A380 to be interesting and odd.
Malaysia Airlines has obviously had a very rough ride the past several years, following their loss of two 777s just weeks apart. The airline was already struggling before, and those accidents exacerbated their problems.
Since then we've seen the airline have an inconsistent strategy, to put it mildly, as they went through several CEOs, all with different philosophies.
The airline finally seems to have a bit more of a strategy at the moment, so that's great.
Over the past year Malaysia Airlines has taken delivery of six Airbus A350 aircraft. These were intended to replace their six Airbus A380 aircraft, which just offered too much capacity for the airline.
But it also seems like their A380 strategy changed even more often than their CEO appointments.
Initially Malaysia Airlines was hoping to sell their A380s, though due to the lack of interest they had to shelve plans for that. Then their plan was to use their six A380s to create a sister business, where they'd wet lease A380s to other carriers on a short term basis, and possibly also use A380s for some Hajj and Umrah charters.
Then as of late last year, Malaysia Airlines' plan was to keep all six A380s in their fleet, and use them to add seasonal capacity to various destinations. At the moment they're flying A380s to London, Sydney, and Tokyo.
I'm still not sure I get their strategy, given that they often seem to put A380s on routes with just several weeks notice. If the problem with the A380 is that it offers too much capacity, you'd think they'd want to plan it way in advance, so they could actually try to sell all the seats best they can.
After all, the A350 has 286 seats, which is a significant difference from the 494 seats they have on the A380s.
As noted by @airlineroute, Malaysia Airlines has just revealed their next A380 destination. Malaysia Airlines will begin flying the A380 daily between Kuala Lumpur and Jeddah as of October 28, 2018.
That ~4,300 mile flight will operate with the following schedule:
MH150 Kuala Lumpur to Jeddah departing 3:00PM arriving 7:00PM
MH151 Jeddah to Kuala Lumpur departing 10:00PM arriving 12:00PM (+1 day)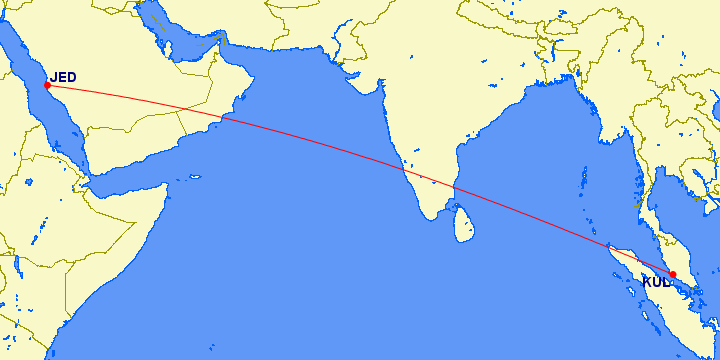 The route is typically flown by a 287 seat Airbus A330, so that represents a significant capacity increase. What makes this even more interesting is that Malaysia Airlines has operated occasional charters to Jeddah with the A380, but now they're just going to operate their daily service with the plane.
So yeah, I think Malaysia Airlines' A380 strategy has now come full circle — first they were going to sell the A380s, then they were going to use them to create a separate business for Hajj and Umrah flights, and now they'll just operate them to Saudi Arabia as part of their main airline, but presumably primarily with the motivation of transporting visitors on their pilgrimage.
I'll be curious to see what their A380 strategy looks like in a couple of years…