Historically Lufthansa only releases first class award space to partner airlines 15 days out, though over the past few months there have been a few exceptions where they released space much further out than that:
Anyway, it appears as if they're once again releasing some space more than 15 days. Not much further out, but certainly more than 15 days. For example, take a look at award availability between Frankfurt and New York through the end of May — there's availability almost every day:
Interestingly all the availability is from Frankfurt to New York — I'm not seeing anything from New York to Frankfurt.
One of the New York JFK and one of the Newark serves are operated by 747-400s, which should feature Lufthansa's new first class product, consisting of both a seat and a bed.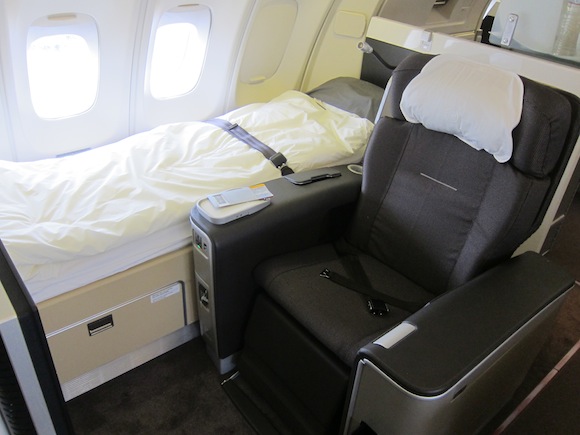 Lufthansa 747-400 first class
Of course nowadays there's almost no economical way to book these awards:
United MileagePlus devalued their award chart so that it costs 110,000 miles one-way for a first class redemption between the US and Europe
US Airways has left the Star Alliance (though they were blocking Lufthansa first class before leaving already)
Aeorplan has for a couple of years imposed fuel surcharges on Lufthansa redemptions
So that leaves Avianca LifeMiles as one of the few programs through which to economically book Lufthansa first class. Per their award chart, they charge 72,500 miles one-way for first class between the US and Europe. And since you can regularly purchase those miles for 1.5 cents each through promotions, I'd say that's a great deal given that they don't impose fuel surcharges.
Anyway, while I don't think it will be like the Toronto to Munich flight where we book 53% of the entire first class cabin through the end of the schedule, hopefully some people are able to take advantage of this.
(Tip of the hat to Sahib)