While the US legacy carriers have been doing as well as ever lately, the same can't be said about major carriers in some other regions. That's especially true in Europe and Australia, where some of the dominant carriers have unsustainable cost structures while being faced with competition from low cost carriers.
In a way, it's not that different than when Uber begins service in a new market. The taxi mafias haven't done anything to innovate in decades due to lack of competition, and then find themselves totally unprepared to compete when they no longer have a monopoly.
It's no secret that I love Lufthansa, though I can't help but feel like they're having a bit of an identity crisis. It's understandable that the major carriers in Europe sort of have to try to be all things to all people, at least to some degree:
They need to be able to compete with the low cost carriers on short-haul flying
They need to be able to compete with the Middle Eastern and Asian airlines on longhaul flying
They need to offer a competitive premium cabin product to still lure business travelers
But I can't help but feel like Lufthansa is going about it wrong.
Lufthansa is regressing with their new business class
As I wrote about yesterday, Lufthansa is continuing to cut first class capacity, even more so than they first announced at the beginning of last year.
As much as I'm personally not happy about that since I love their first class product so much, I get it. I actually think Qatar Airways' CEO is onto something when he says that first class is obsolete and that the way of the future is to create a "super business class." Back in the day business class seats were rarely fully flat, which made first class seats much more justifiable, since it was easier to get a good night of sleep in them. Now that most airlines have flat beds in business class, first class is getting harder and harder to justify.
But here's what I think Lufthansa is doing wrong. They're eliminating first class throughout their 747-400 fleet. You would think they would install the same business class product they have on their 747-8. The product is fine but not great… hardly cutting edge, and frankly a bit behind the times.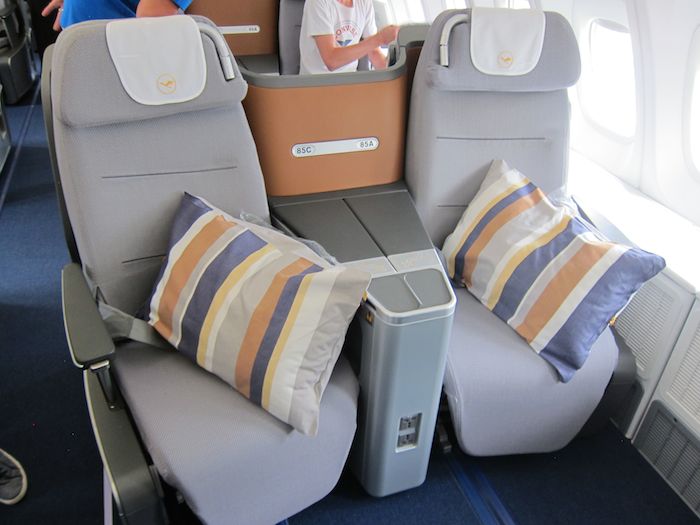 Lufthansa's new business class product
They're not exactly doing that, though. While they're installing the same general product, they're actually adding one more seat per row. So the new business class product they're installing will be in a 2-3-2 configuration, meaning there will be a middle seat. Here's the seatmap: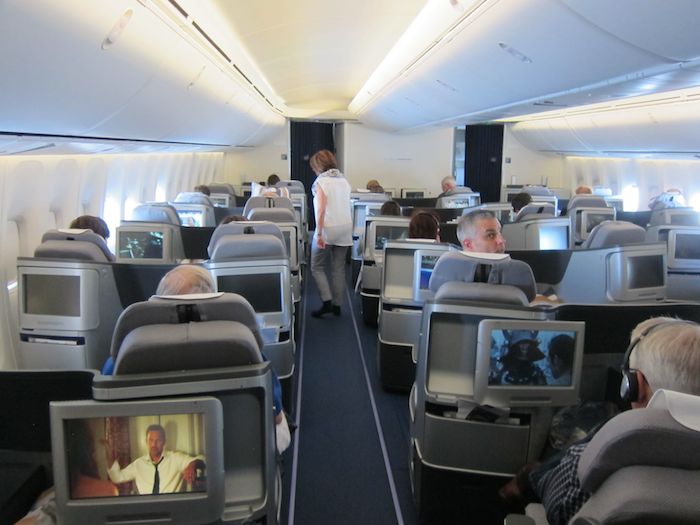 Lufthansa's new business class product
While most airlines nowadays are aiming for direct aisle access from all business class seats, Lufthansa can't even claim not to have middle seats in business class. It's just embarrassing.
I would get if Lufthansa installed a new business class product and claimed there was no longer a need for first class. But to get rid of first class and in 2014 install a business class product with a middle seat is just… puzzling.
Lufthansa's new low cost longhaul operation
Lufthansa will soon launch "Jump," which is what they're internally calling 14 of the 19 A340-300s that they'll be reconfiguring in a high density configuration without first class.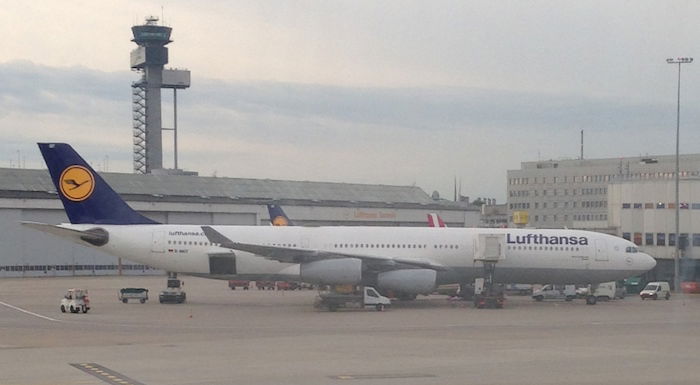 Lufthansa A340-300
These planes will be based primarily in Frankfurt, and will primarily be flown to leisure markets. They'll offer a small business class cabin, along with a premium economy and economy cabin.
Via Flightglobal:
Lower costs are key to Jump. Lufthansa has negotiated a roughly 20% reduction in costs compared to its core operation from airports, catering, labour and maintenance, says Bischof.

In addition, the decision to use older A340s eliminates any potential capital costs, he adds.

"If we want to participate in growth fields – different markets in the emerging markets but also some more solid markets – we have to add a new production platform at lower costs to make ourselves profitable and participate in those growth fields," says Bischof.

Some possible initial destinations for Jumpy include cities like Chennai, the Seychelles and Tampa.
I've always dreamed of Lufthansa flying to Tampa (not that I live there anymore, so it's a bit of a moot point now), and it looks like that might finally come true. Unfortunately it's not on my terms, though. 😉
In and of itself I don't think the low(er) cost operation is a bad idea. What's interesting, though, is that this is separate from the real low cost carrier that Lufthansa is hoping to launch in the coming years:
Jump is separate from Lufthansa's plans for a new long-haul low-cost subsidiary under its "Wings" plan. Bischof calls this a "second line of defence" against the likes of the Gulf carriers, Turkish Airlines and expanding European low-cost carriers.

While the intercontinental LCC plans are still in development, it will include a new brand, different ground and onboard product, and different staffing, he says. The operation will be based in Germany and operate from a base at either Cologne, Dusseldorf or Munich airports.

"We aren't doing tricks like hiring in Ireland, going through an employment company in, I don't know, the Caymans and trying to let them fly from Germany," says Bischof, in a reference to Norwegian's attempt to create a new long-haul LCC with such a complicated organisation structure.
Is Lufthansa trying to be all things to all people?
While I can appreciate the challenge of trying to operate in the current European aviation environment when you have to compete with airlines like Norwegian, Lufthansa's strategy leaves me a bit puzzled.
They recently bought Germanwings, which I can rationalize, as they can compete in the ultra-low cost European market without devaluing their own brand. Similarly, I can see the benefit of them launching configurations that are more adaptable for certain markets.
But what leaves me puzzled is that they seem to be destroying the high end of their product as well. To eliminate first class in roughly half of your fleet and actually regress on your "new" business class product by adding middle seats is puzzling. Lufthansa's new business class already isn't exactly competitive, so I'm not sure I get their play here.
Is it just me that thinks Lufthansa is having a bit of an identity crisis?