Hello from Munich! Last night I took the 6hr55min flight from Montreal to Munich in Lufthansa's A330 business class.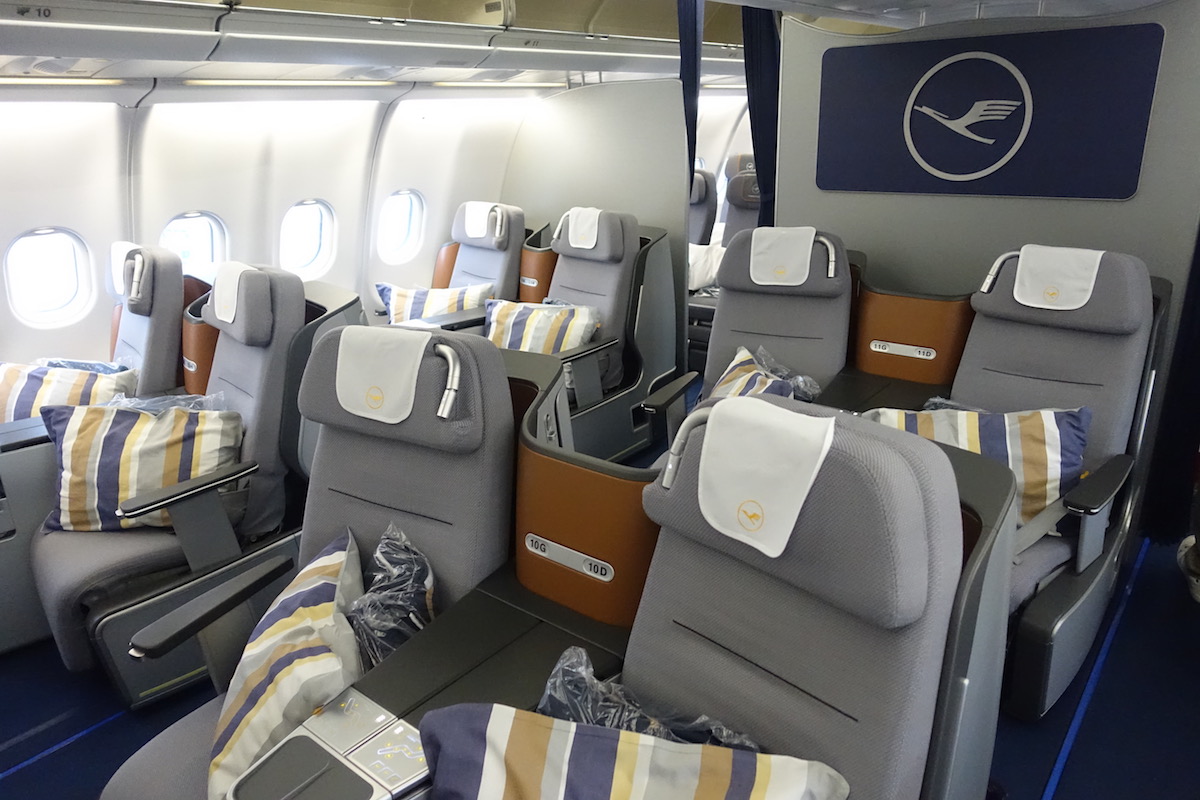 Y'all know I put on the pom-poms for Lufthansa first class, as I think it's one of the all around best first class products out there. However, I've never been impressed by any other aspect of Lufthansa, including their business class.
Several years back I reviewed their old A330 business class (which was still angled at the time), and a couple of years ago I reviewed their new 747-8 business class. My flight last night was operated by an A330 in a three cabin configuration, with business class, premium economy, and economy.
So, what did I make of Lufthansa business class this time around? Well, in many ways they give British Airways a run for their money in the "taking customers for granted" department. Let me explain.
Let's start with the hard product, which is my biggest complaint, really. Lufthansa's new business class product is in a 2-2-2 configuration, and the center seats are angled slightly towards one another. For the life of me I can't understand this design. There's zero — and I mean zero — privacy between seats.
You have a slight bit of separation in the seated position, but the area for your feet is right next to your seatmate's, and during the night my seatmate and I had our legs touch several times. Unfortunately this is the problem with British Airways and Lufthansa — they basically own their markets, so they don't have to offer a great product.
In terms of amenities, I appreciated that Lufthansa offers Bose headphones. American is the only other airline I know of to have these in business class, so kudos to Lufthansa on that.
Unfortunately the pillow and blanket weren't impressive, though. While the pillow was decent enough, the blanket was scratchy.
Then there was a pretty basic amenity kit.
On the plus side, probably my favorite thing about Lufthansa is their Wi-Fi. It's fast, and only 17EUR for the entire flight, which I consider to be the best value of any airline. That's ultimately not as useful on a quick redeye as it would be on a daytime flight, but I still used it.
The food service was simultaneously disappointing and good. This was a quick redeye, so service began with drinks and nuts.
That was followed by a salad and main course on a single tray. While I appreciate the single tray service to get everything out quickly, you'd think they could offer an appetizer. While I was initially disappointed by this, the salad was probably the best I've ever had on a plane, and my main course (seared scallops and shrimp with whipped potatoes, broccolini, and spinach) was quite good too, so I guess it was better than I expected. However, there was a single scallop, so suggesting that the dish had "scallops" seems like false advertising. 😉
For dessert they just had packaged ice cream or cheese, which was disappointing. At least have a real/fresh dessert, in my opinion.
Then 90 minutes before landing was a breakfast service with yogurt, fruit, cold cuts, and cheese.
What impressed me about this flight was the service. A while back Lufthansa changed their service procedure. They used to have an assembly line service approach, where they'd roll a cart down the aisle and the service would be slow and impersonal.
They changed this a while back so that they eliminated carts and instead have a single flight attendant responsible for each section. This worked really well. Service was personalized and quick, and you felt like you had interactions with an individual, rather than just being part of their assembly line that they're trying to rush through.
So all-in-all I find Lufthansa business class disappointing. The service procedure was significantly better than in the past, so there's that. I also appreciate the Wi-Fi and Bose headphones. And the salad and main course were excellent as well.
But other than that, Lufthansa takes their business class customers for granted, plain and simple.
If you've flown Lufthansa business class lately, what was your experience like?