American and US Airways made some huge changes to their respective mileage programs yesterday, including the following:
American has eliminated distance based oneworld Explorer awards
American has eliminated stopovers at the gateway city on AAdvantage awards
American has created multiple tiers of AAdvantage standard award levels
US Airways has created multiple tiers of Dividend Miles standard award levels
US Airways has raised the cost of Dividend Miles business class redemptions between the US and North Asia from 90,000 miles to 110,000 miles
While the changes were almost exclusively negative, as far as I'm concerned the biggest offense was the fact that they provided no advance notice. They raised award costs, eliminated an award type, and adjusted stopover rules all at once without notice. And beyond that even when they did announce the changes, they did so in a way that was disingenuous. They sent out an email to AAdvantage members supposedly highlighting the changes, though the only reference it made to the changes is that we can now "redeem for less," which just couldn't be further from the truth.
While I'm saddened by the changes and extremely frustrated by the way American handled this, I'll continue to stand by how I view miles and points.
As I said in response to a comment yesterday:
Changes like these alter my view of the value of loyalty to an airline, but certainly not my view of signing up for a credit card offering a 100,000 mile sign-up bonus and getting a business class ticket to Asia out of it.
Ultimately, earning miles to redeem for international premium travel is a "game." That's not to say we don't take it seriously, but airline miles aren't an investment, and hotel points shouldn't be a retirement hedge.
There are goals, and there are rules, and yes it absolutely sucks when the rules change, but the game fundamentally stays the same.
This game is about earning and burning. I've been preaching it for years, and if done properly it's how we come out ahead.
If you don't have that perspective, there are, quite honestly, probably less frustrating ways for you to be funding your travel.
So just some thoughts on my mind, in no particular order:
We can't change award chart devaluations
One thing I was told over and over yesterday was how I should be more outraged by the actual changes as opposed to directing most of my anger at how they were communicated and rolled out.
Maybe I'm jaded, but I think the simple fact is that we can't impact the actual changes airlines make, but going forward we can hopefully impact how they make them.
We especially can't impact the actual changes when other airlines already set the precedent, as both Delta and United did in this case.
It would be nice if airlines didn't devalue their award charts, much like it would be nice if there were world peace. But as long as miles have been around there have been devaluations, just as every type of currency deals with inflation and other market changes. That is always going to be the reality.
But more importantly for us, there have also consistently been more and more ways to earn miles. So we're not losing the game here, even with devaluations.
Lets compare how easy it is to earn miles now vs. eight or so years ago.
Back then there was no such thing as a 100,000 mile credit card sign-up bonus, and even a 50,000 mile bonus was exciting.
There weren't credit cards across the board that offered so many category spend bonuses that we can earn an average of more than two miles per dollar spent.
So while prices have gone up, so has our buying power. By a lot.
My memory and experiences don't go back as far as some, but it wasn't that long ago that the hands-down best way to earn miles was by flying ridiculously complicated domestic routings. At that point in the game, mileage running was lucrative, and I happily spent two or three days a week flying domestic transcons for most of high school and college.
Because that's how the game was played at the time, and those red-eye flights on crappy products between Orlando and Seattle made it possible for my family and I to fly Lufthansa first class to Europe in summer.
So that's what I did, and what many, many, others did.
You had to have a some fairly specific resources to do that though. Namely a great deal of time, or a job that required a ton of travel anyways.
Mileage running as a way to earn redeemable miles had (and still has) significant barriers to entry.
But you pretty much had to be loyal to a single program in order for the economics to make sense, which meant putting all your eggs in one basket. There wasn't a great way to hedge against inflation or mergers or devaluation by diversifying your miles, because the other opportunities to earn miles didn't really exist in a meaningful way.
So the best approach was to earn miles as quickly as possible, and redeem them as quickly as possible.
And that's still the best way to play this particular game.
But we can only stay ahead of award chart devaluations

"Blogs killed the US Airways 90,000 mile award to North Asia."
Okay.
I've highlighted the hell out of the great value which is US Airways 90K awards to Asia for at least five years now.
I know hundreds if not thousands of people that have booked that exact award using these "suggestions."
Yet the price remained the same for so long.
So I (and I assume other bloggers) will happily take the "blame" for that award going away, as the alternative would have been for many fewer people to take incredible trips that they wouldn't have otherwise been able to take.
This isn't a zero-sum game. We don't lose just because other players win.
Now it's time to find the next "sweet spot" redemption.
And you don't even have to look very far.
For example, US Airways still charges just 90,000 miles for business class between the Caribbean and Southeast Asia, which I've highlighted in the past. They didn't change that, so there's a new "sweet spot," and there are other awards that have improved in terms of relative value.
Award chart sweet spots work no differently than any other aspect of any business out there, it's a simple function of supply and demand (and the corresponding cost to provide the "service"). A lot of people were booking that award, which is a good thing (we were all winning), and they changed the price.
Now we get ahead of the next opportunity, take advantage of it, and continue the cycle. Real estate is no different.
The game changes. Smart players adjust their strategy.
Should we abandon miles all together?
"I'm done with miles, I'm going to start using cashback cards"
Okay.
Has the value of miles as such fundamentally changed with an announcement like this?
At the end of the day we're playing the airlines' game by the airlines' rules, and they can do with "our" miles what "they" want. Moving the goalposts overnight sucks, and I will continue to be unrelenting in my criticism of that approach, but it is, technically, allowed within the rules that we agreed to play by when we decided to play the game.
But if you've been in this hobby for any amount of time, you know the game changes.
And even if you're newer to the hobby and have only been playing the game for the past few years — and I'm referring specifically to earning miles through credit card sign-up bonuses, everyday spend, and strategically purchasing miles — can anyone tell me with a straight face they haven't come out ahead, all things considered?
Yes, American just eliminated oneworld explorer awards.
That sucks.
But I can still redeem 67,500 miles for Cathay Pacific first class to Asia.
Yes, US Airways just raised the cost of a business class award to Asia from 90,000 miles to 110,000 miles.
That's irritating, but not unexpected.
But I can still redeem 120,000 miles for round-trip first class tickets to Asia on Cathay Pacific or Japan Airlines.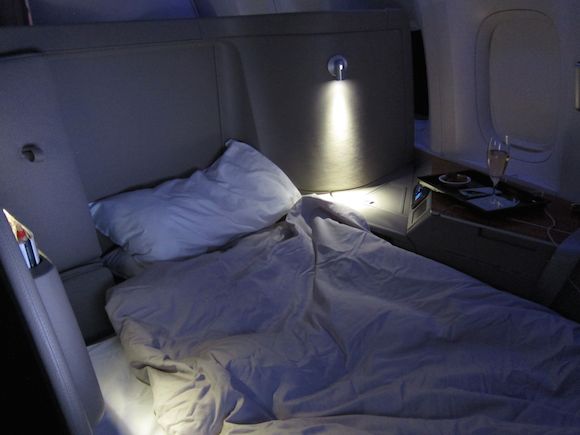 Cathay Pacific's new first class bed
Don't get me wrong, you should do the math and figure out if the numbers still work out in your favor.
If the numbers don't balance out, you should stop collecting miles.
If the math still works for you, you should continue collecting miles, and ideally have an "earn & burn" philosophy.
As we should all have had, all this time.
The overall value proposition of buying miles hasn't changed
One of the sleaziest aspects of American's changes this week is that concurrently:
So they're simultaneously claiming the "oh, we have to control our costs and therefore raise award costs" card, while simultaneously printing (what I assume are) hundreds of millions of miles. And I realize that many of these decisions come from different people in different departments across multiple companies, and so forth. But I think it still leaves a bad taste in our mouths.
But lets look more closely at US Airways' 100% bonus on shared miles. It's an opportunity to generate miles for ~1.1 cents each. That means generating 90,000 miles would cost ~$1,000, which is a hell of a deal for a business class ticket to Asia under the old rates.
So now that US Airways devalued that award, am I not going to take advantage of the 100% bonus anymore?
Hell-to-the-no.
It's still a great deal.
I can still redeem 120,000 miles for Cathay Pacific or Japan Airlines first class between the US and North Asia. ~$1,400 for an international first class ticket to Asia that would cost at least ten times as much if paying cash is still an absolute bargain.
Again, you have to crunch the numbers to make sure they work for you, but for me this is certainly still a great promotion.
Bottom line: loyalty might be overrated, miles themselves aren't
The lesson we should take away from this is very simple, and it's a great reminder for those who have already learned this aspect of the game.
You don't have to be loyal to any airline to accrue hundreds of thousands of miles, enough for tickets in international first and business class cabins.
And while I'm sure I'll get flamed for this, I think it's fantastic that the current landscape allows nearly anyone to be able to experience luxury travel for around the same cost as they'd be spending otherwise. Yes, there are downsides, and award space is of course more competitive, but the products are better, and available to different types of people, and no one has to spend their weekends flying uncomfortable products or hauling boxes of coins in order to be able to have some of these amazing experiences.
And I ultimately think having more people be able to play is a win.
The best we can hope for is that the companies do the right thing and give advance notice of changes.
But up until now we've come out ahead, on the whole, and those playing the game right, will continue to come out ahead.
The airlines have shown us that perhaps loyalty is overrated. Picking and choosing the best deals, however, is not.
On to the next great deal we go!