Delta is back with another promotion for buying gift cards…
Starbucks bonus gift card with Delta gift card purchase
Here's an easy promotion that could be worth taking advantage of. If you purchase a $250+ Delta gift card, you can receive a free $20 Starbucks gift:
The Delta gift card can be redeemed 72 hours after purchase, and has no expiration date
The offer is available between May 1 and May 15, 2023, or while supplies last (there are 1,100 Starbucks gift cards available), whichever comes first
Each person can take advantage of this promotion at most one time
The Starbucks gift card will be emailed separately from the Delta gift card
This offer is available to residents of the United States who are 18+ years old
Getting a $20 Starbucks gift card for a $250 purchase is potentially a great deal, as it's essentially the equivalent of an incremental 8% return.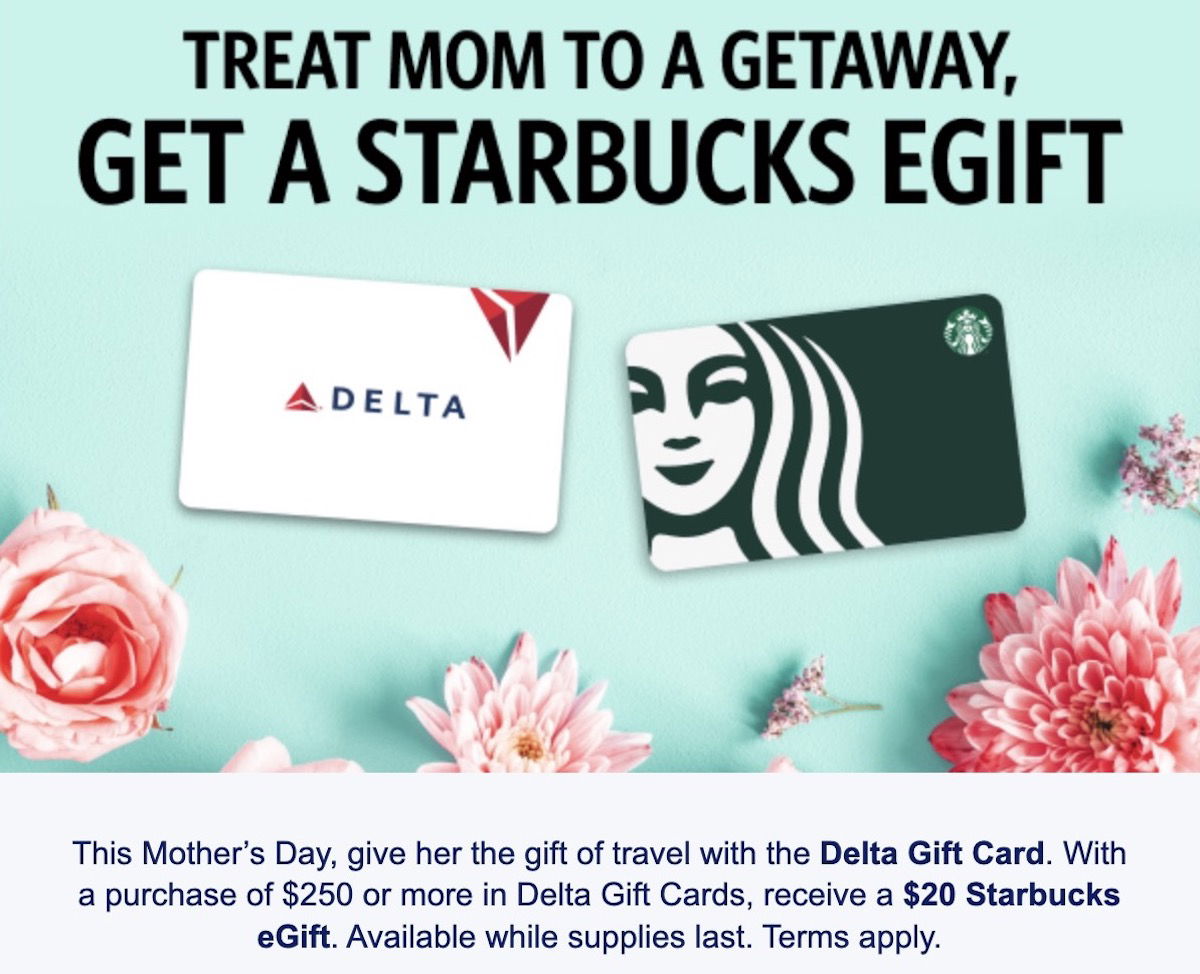 The catch with buying Delta gift cards
If you're a Delta frequent flyer, on the surface it's a no brainer to pick up a Delta gift card, so you can get an extra reward for money you'd spend anyway. Just to be clear, you'll still earn SkyMiles and Medallion Qualifying Miles for your flights as you usually would when you go to redeem your gift card for a flight.
There is just one catch to buying Delta gift cards — the Delta gift card purchase as such won't code as a Delta travel purchase for the purposes of your credit card spending, since the transaction is processed by a third party. What are the implications of that if you're maximizing rewards?
If it did code as a Delta airfare purchase (which it doesn't), you could earn credit card rewards as you usually would for airfare purchases, so there would be no opportunity cost to funding your Delta travel this way; you could earn up to 5x points on airfare purchases
Since it doesn't code as an airfare purchase, you'd be better off using a card that's lucrative for everyday spending, and there's quite an opportunity cost there
If you're anything like me, you'd ordinarily earn 5x points for an airfare purchase, while you're only earning 2x points for everyday spending. So the opportunity cost here is 3x points per dollar spent. Then again, I'd say that's still worth it for a $20 Starbucks gift card.
Bottom line
At the moment you can receive a $20 Starbucks gift card when you purchase a $250+ Delta gift card. While this isn't the highest value offer on earth, if you spend money with Delta regularly, then this offer could be worth it.
Do you plan on taking advantage of this Delta gift card promo?