Delta is back with another promotion for buying gift cards…
Buy $250+ Delta gift card, earn 4x SkyMiles
Here's an easy promotion that could be worth taking advantage of. If you purchase a $250+ Delta gift card, you can earn 4x Delta SkyMiles for the purchase:
The Delta gift card can be redeemed 72 hours after purchase, and has no expiration date
The offer is available between November 21 and November 28, 2022
Bonus miles will post to eligible SkyMiles accounts within 14 business days of the end of the promotion
You must purchase at least $250 worth of Delta gift cards to be eligible, and there's no limit to how many bonus miles you can earn with this
This offer is available to residents of the United States who are 18+ years old
Just to be totally clear, you still earn Delta SkyMiles as usual for your ticket when you pay with a Delta gift card. It's no different than if you paid by credit card or with a voucher.
With this promotion you're simply earning an incremental 4x SkyMiles on the actual gift card purchase. In other words, buying a $250 Delta gift card would earn you 1,000 bonus SkyMiles. I value SkyMiles at 1.1 cents each, so to me that's like an incremental 4.4% return on Delta spending.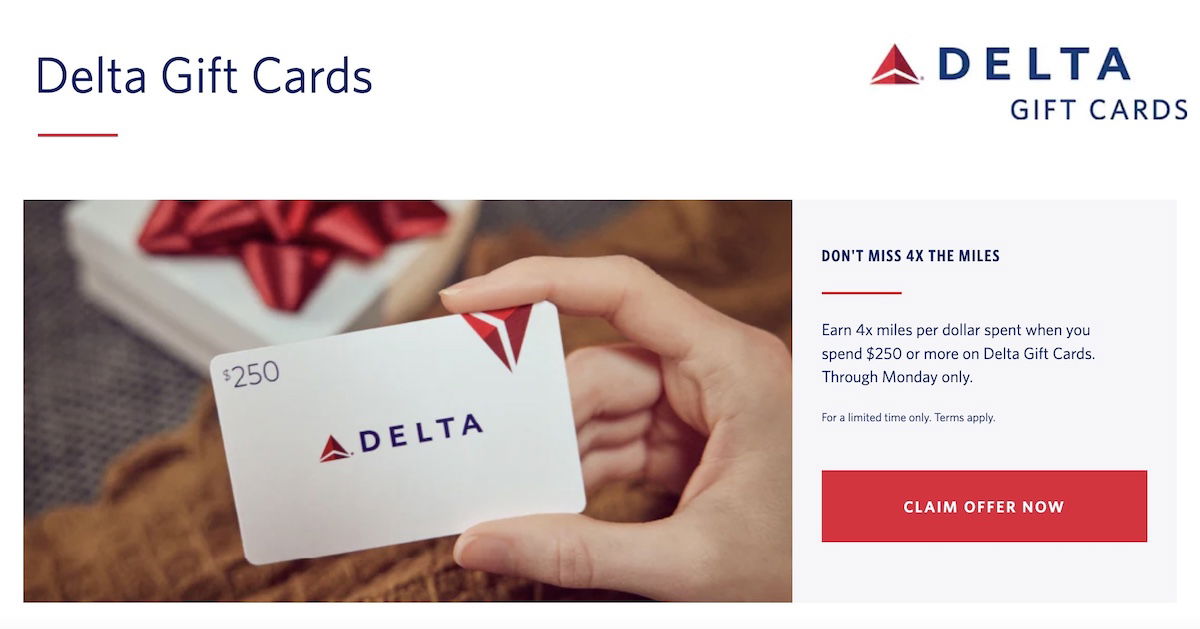 How do Delta gift card purchases code?
Here's something I don't know the answer to, but I'm sure an OMAAT reader will have a data point in no time. The big question here is whether a Delta gift card purchase codes as a Delta airfare purchase or not:
If it does code as a Delta airfare purchase, you can earn credit card rewards as you usually would for airfare purchases, so there would be no opportunity cost to funding your Delta travel this way; you can earn up to 5x points on airfare purchases
If it doesn't code as a Delta airfare purchase, then you'd be better off using a card that's lucrative for everyday spending, and there would potentially be quite a significant opportunity cost there; in that case the promotion probably isn't worth it
Can anyone clarify how these gift card purchases code, and I'll get the post updated?
Bottom line
At the moment you can receive 4x Delta SkyMiles on Delta gift card purchases. While this isn't the highest value offer on earth, if you spend money with Delta regularly, then this offer could be worth it.
Do you plan on taking advantage of this Delta gift card promo?