Reader Max posted a question on Ask Lucky last Saturday, wondering why he was getting a higher price for fuel surcharges than Ben had paid on his recent trip with his dad. I should probably have had a second cup of coffee, because when I looked at the fare breakdown I thought "Hmmm, that is higher, but Ben did have to change his tickets a few times, so maybe something got messed up along the way" and didn't hear what should have been obvious alarm bells.
Then Ben's friend Steven emailed him this afternoon with a "Lufthansa has lost their minds," and after researching a bit I have to agree.
In the past week or so, it looks like Lufthansa has raised their fuel surcharges on flights leaving the U.S. by nearly 90%.
Flights out of the U.S. have significantly higher surcharges
Let's look at Ben's flights to Tallinn as our first example. His ticket was issued in mid-August, and the fuel surcharges (coded as "YQ") were $447.40 Canadian:

Choosing the exact same flights, the current breakdown shows the fuel surcharge at $844.90 Canadian: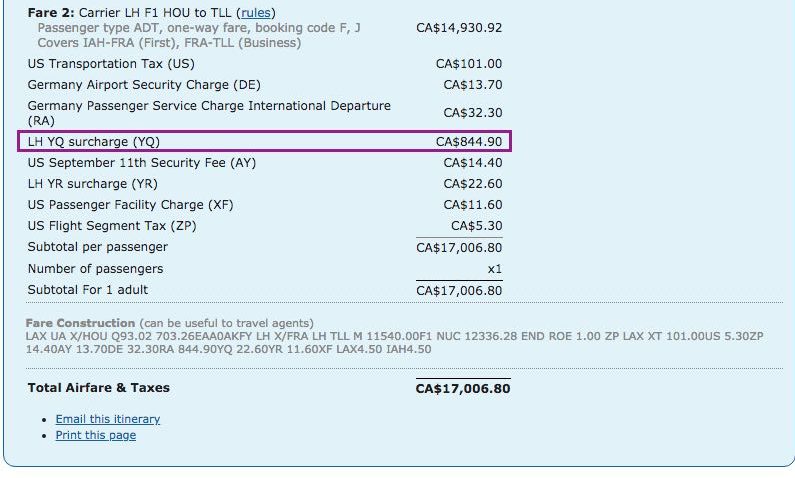 By my math that's a shocking 88.84% increase.
Switching to U.S. dollars, if you book a round-trip on Lufthansa departing from the U.S. (don't do this, more on why not below), you can anticipate ~$1300 in fuel surcharges alone: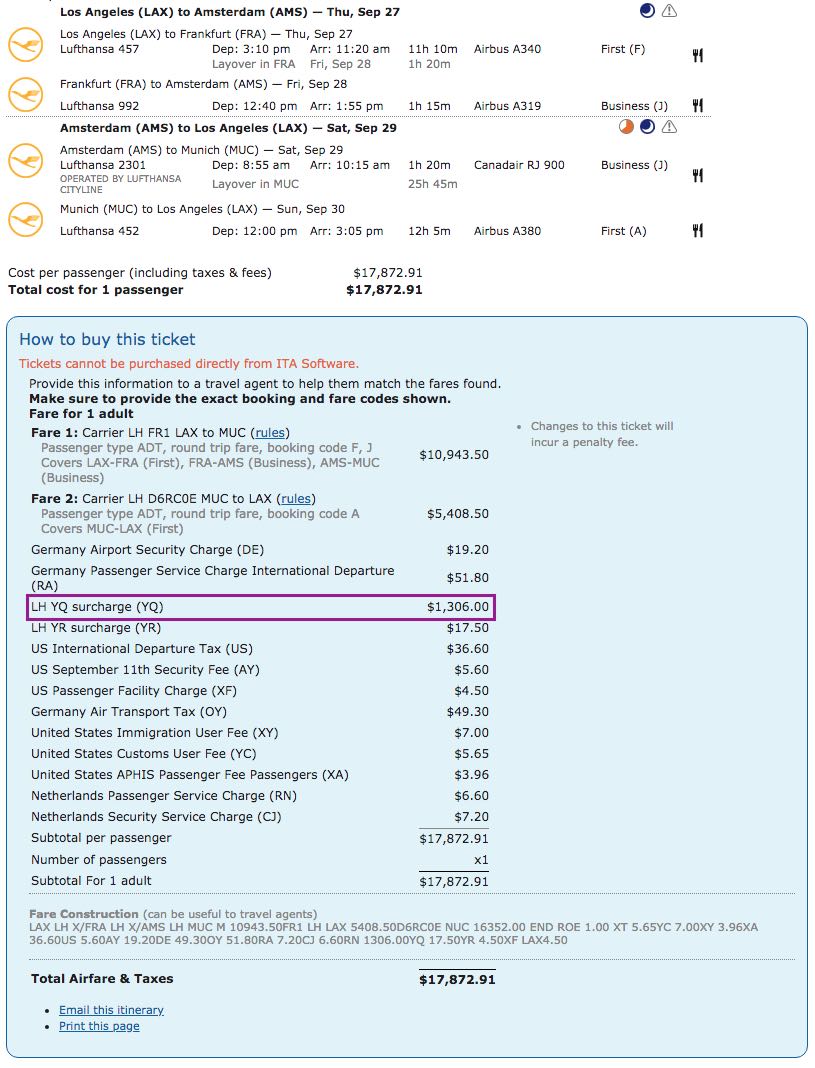 Previously round-trip fuel surcharges would have been ~$800 (USD), so this is a significant increase.
Booking two one-ways is still less expensive
Historically (and this is true with most carriers), Westbound transatlantic flights have lower fuel surcharges than Eastbound itineraries.
When I booked Lufthansa First back from Europe in June, for example, I flew from London to Frankfurt and then to Los Angeles:

Booked through Aeroplan, the fuel surcharges were $285.90 Canadian per person: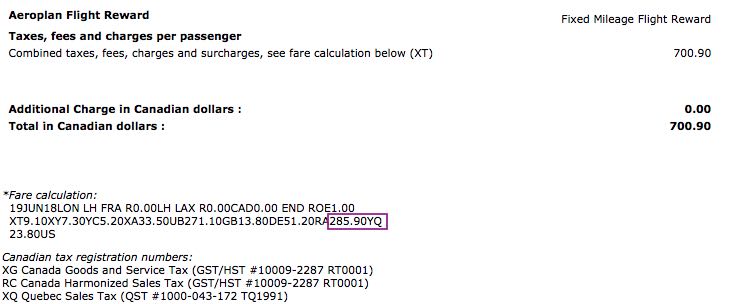 If I price those same flights today, I get $280.20 Canadian in fuel surcharges, which is close enough to be a currency fluctuation: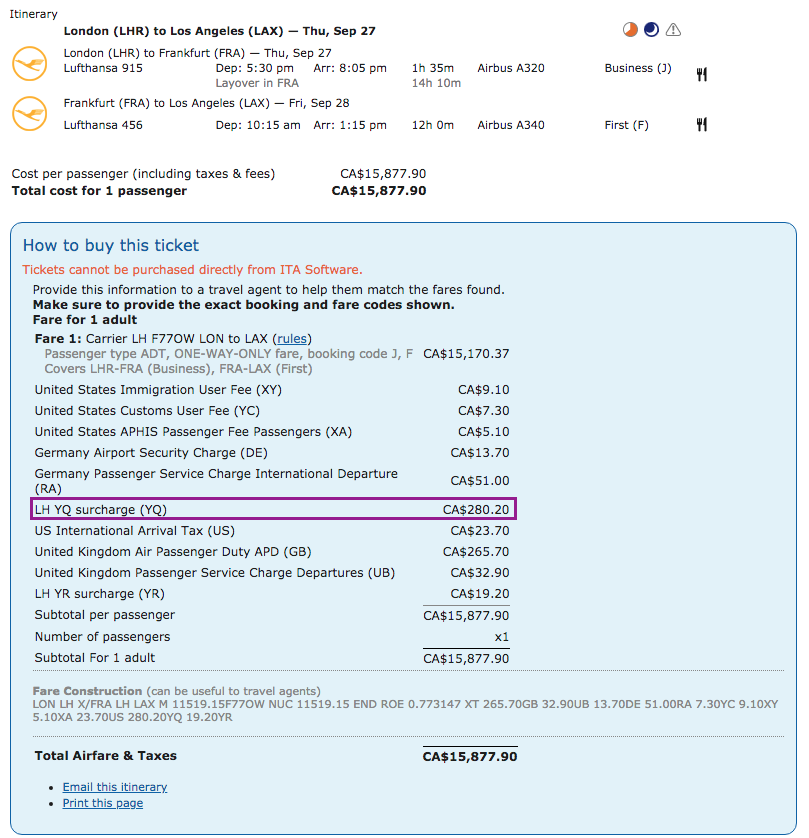 So in general, if you are considering booking Lufthansa and have to book through a program that levies fuel surcharges, you'll save ~$400 if you book as two one-ways versus a round-trip. If your round-trip would entitle you to a stopover or other perks, you'll have to do the math to see if it's a worthwhile trade-off.
Why is Lufthansa doing this?
Well, to be fair, the price of jet fuel has increased in the past month.
But, you may ask "Has it increased 88.84%?"
No, no it has not.
In North America, which is ostensibly the market necessitating this change, given that it is the Eastbound ex-US flights driving the increase, the average price of aviation jet fuel only shows a marginal increase from last month.
So, "fuel surcharges" continue to be a bit of a grift.
Taxes and corporate discounts are typically based off the base fare, and raising the YQ rate is an easy way to adjust fares in certain markets without having to adjust and refile everything else. These aren't specifically targeted towards those redeeming miles, it's just a general way to try and increase revenue for the airline (I do feel fuel surcharges seem like a particularly poor incentive towards loyalty).
Avoid fuel surcharges entirely
While there are situations where it can make sense to pay fuel surcharges, at these rates they're very hard to stomach.
To avoid the YQ when booking Lufthansa premium cabin awards, you can use United MileagePlus miles, Air Canada Aeroplan miles, or Avianca LifeMiles. Aeroplan stopped collecting fuel surcharges for award travel as of November, 2020.
The award rates might not be as lucrative as with partners like ANA, but for itineraries departing the U.S. it's likely worth the mileage premium to save the chunk of cash.
Bottom line
This is a massive, massive, increase.
For context, Lufthansa's fuel surcharges are now ~$150 higher than British Airways for a one-way Eastbound flight, and $300 higher for a round-trip departing the U.S. (one-way Westbound flights are equivalent).
There are fortunately ways to minimize the impact on award tickets, but overall this is more than a bit ridiculous. I also wouldn't be surprised to see more attention from European regulators on fuel surcharges if this trend continues.
Will this increase in surcharges change how you approach Lufthansa awards?