As I've said before, in general I don't think there's anything wrong with planning travel way in advance, given the deals that are available. However, if you're going to do so, go into it with the expectation that the trip may not materialize, as we don't know how the current situation will evolve.
I'll keep sharing especially good deals that I see, though make sure you approach all of them with caution. Personally I'd rather redeem miles right now than pay cash, though this deal is too good to not at least mention…
Premium cabin flights from the US to South Africa are often quite expensive, and award availability can be tough to come by. When most people consider flying to South Africa, they think of either flying direct, flying through another hub in Africa (Addis Ababa, Nairobi, etc.), or connecting in Europe.
LATAM has had great fares to South Africa via South America for quite a while, though they're even lower than before, and there's another thing that has greatly improved, which I'll talk more about below.
Amazing LATAM business class fares from Miami to Johannesburg
LATAM has roundtrip business class fares from Miami to Johannesburg for ~$1,800, which is incredibly low. Availability as of now is good through the end of 2020, though obviously not all dates will be available.
There are one stop routings available through Sao Paulo.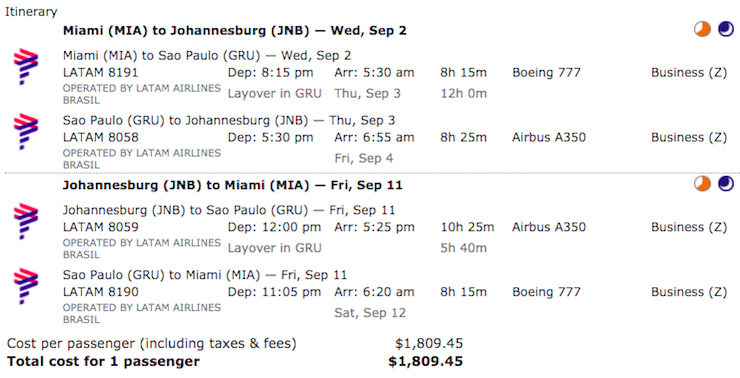 If you're looking to earn as many miles as possible, you can double connect in Santiago and Sao Paulo.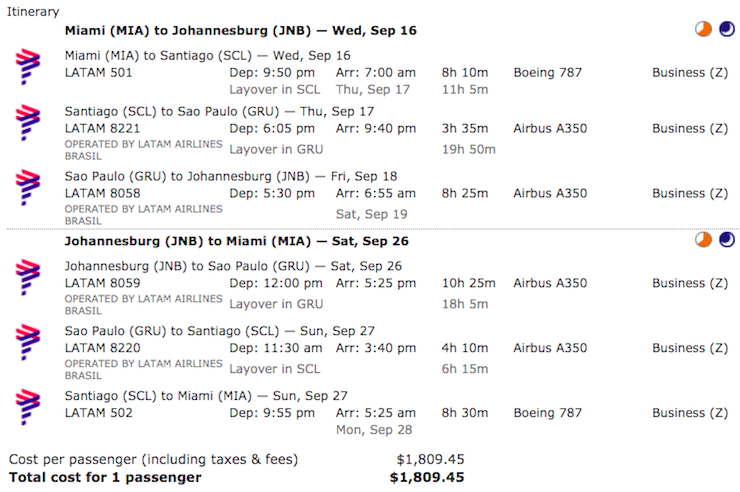 This increases your mileage flown from ~17,500 roundtrip to ~20,750 roundtrip.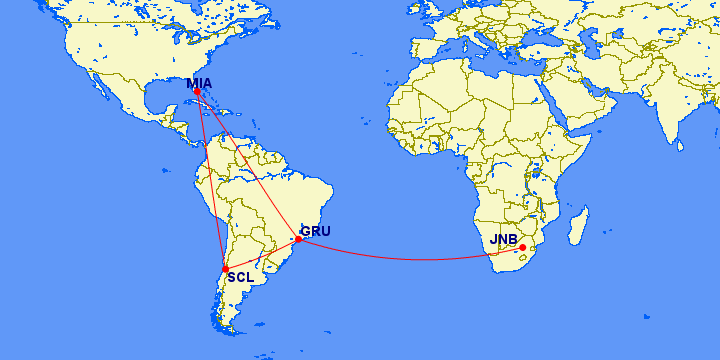 Lastly, note that if you just want to fly between Sao Paulo and Johannesburg, fares are great as well, as you can fly for ~$950 roundtrip.

To find these fares you can search on ITA Matrix or Google Flights.
LATAM's new upgraded business class
While low fares have long been available between Miami and Sao Paulo on LATAM, there are a couple of things that make this more tempting than in the past:
LATAM now flies the A350 between Sao Paulo and Johannesburg, while they used to fly the 767, so the passenger experience has been upgraded significantly at this point
LATAM flies 777s between Miami and Sao Paulo, and LATAM is almost done upgrading business class on these planes, as they're going from angled seats to seats with direct aisle access
On the 777s your odds are good of getting the new business class seats.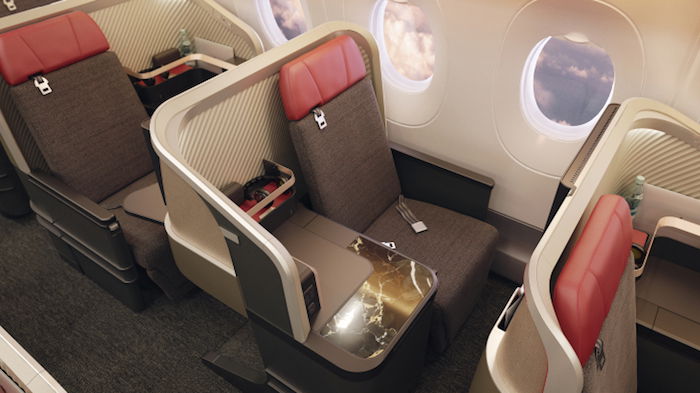 Meanwhile on the A350s you can expect LATAM's 2-2-2 business class, which is still quite nice.
Where can you credit miles for these flights?
LATAM is in the process of leaving oneworld as they're partnering with Delta now. You could credit these flights to Delta SkyMiles, for one. These business class fares book into the "Z" fare class, and you could earn the following with SkyMiles:
150% Medallion Qualifying Miles (MQMs)
30% Medallion Qualifying Dollars (MQDs) based on the distance flown
Elite mileage bonuses still apply
If you took the "simple" routing via Sao Paulo, you'd be flying 17,405 miles, which would earn you 26,107 MQMs and 5,222 MQDs.
You could also credit to Alaska Mileage Plan, in which case you'd earn:
100% Elite Qualifying Miles (EQMs)
200% redeemable miles
Elite mileage bonuses still apply
On top of that, while LATAM is in the process of leaving oneworld, they will continue to partner with some oneworld airlines, so there will still be opportunities to earn miles with at least some oneworld programs. Unfortunately American AAdvantage is excluded, though.
Bottom line
At the moment LATAM has among the lowest business class fares I ever recall seeing from Miami to Johannesburg. While cheap fares have been available in the market for a long time, this is several hundred dollars cheaper than this fare used to be.
On top of that, LATAM is upgrading their business class product, meaning this journey will be much more comfortable than in the past.
That being said, for most people this isn't a fare I'd be taking advantage of right now. With borders closed and so much uncertainty, I'd generally shy away from this. That being said, if stuff starts to normalize and borders start to open up and a trip to South Africa is on the horizon, definitely keep this fare in mind.
(Tip of the hat to hevernan)