Update: Read my full LATAM Business Class 787 Mexico City To Santiago review.
Hello from Santiago! Ford and I just took the 7hr20min flight on LATAM from Mexico City to Santiago, which was operated by a 787-8. This was my first time flying LATAM Chile on a "longhaul" flight (if you can call it that), as my only previous flight on them was from Madrid to Frankfurt.
LATAM's 787 business class is in a 2-2-2 configuration, with fully flat seats spread across five rows. LATAM is one of the airlines with the most "open" 787 layout, as the two business class cabins are sort of turned into one.
While I ultimately prefer a reverse herringbone seat, these seats are pretty awesome if you're traveling with someone, since you can actually sit next to them and talk to them.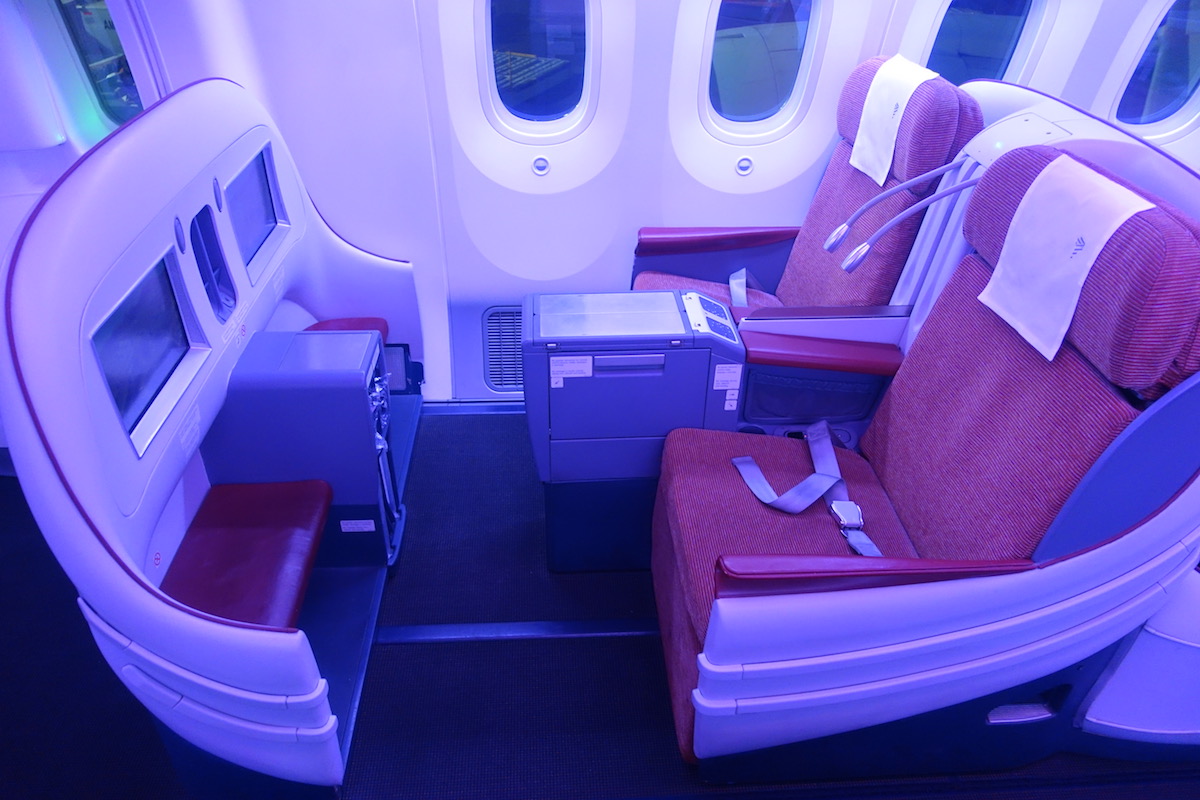 Since there's not all that much to say about the hard product, let's talk about the soft product briefly. For the most I was impressed. The "hostess" (as she referred to herself) taking care of us was Claudia, and she was incredibly sweet and professional. It's nice to have a single flight attendant taking care of your section who you get to know a bit, and that's something LATAM does well in terms of crewing.
The amenities onboard were excellent. After boarding we were offered one of the most well stocked amenity kits I've ever received in business class.
The pillow and blanket on LATAM are phenomenal as well. The blanket itself might be the best business class blanket there is.
It's the meal service I'm a bit conflicted on. Let me start by saying that it's really hard to get service right on a 7hr20min redeye. On the plus side, I appreciated the pre-departure champagne or pisco sour, both of which were served with nuts.
However, after that it was over two hours until we got our next drink. After takeoff dinner was served, which was a relatively straightforward meal, with a salad, main course, cheese, and dessert. I appreciate that everything (with the exception of dessert) was served on one tray, though I felt like the service was quite slow, as it was over 90 minutes into the flight before we had our meal. There were no pre-dinner drinks or anything (I had two salads because I chose the shrimp salad as my main).
Then 90 minutes before landing breakfast was served. While there were no menus for dinner, for breakfast they had cards you could fill out, so that breakfast would be served per your preferences as soon as you woke up. Really this is too short of a flight to enjoy two meals, and I only woke up for breakfast for the purpose of the review, but it was under four hours between the meals.
The food quality was quite good for both meals.
Overall LATAM impressed — our flight attendant was great, the amenity kit and blanket were top notch, the food quality was solid, and I loved the Chilean wine. However, I do wish that the service would have been a bit quicker. That's not at all our lovely flight attendant's fault, as she hustled, but rather it seems like that they don't staff the business class cabin with enough staff to perform a quick service.
If you've flown LATAM business class, what was your experience like?