Over the past week I've been doing something which is very uncharacteristic of me — planning travel in advance. Usually I plan travel day-by-day given that I'm on a never ending journey, but I'm trying to plan my actual destination-oriented trips more carefully.
I'm presently finalizing the details of a trip to Longyearbyen and Russia, and am simultaneously working on a trip to Peru. I wrote about planning my hotel stays in Peru in a previous post, which is the easy part, given Starwood's excellent Luxury Collection properties there.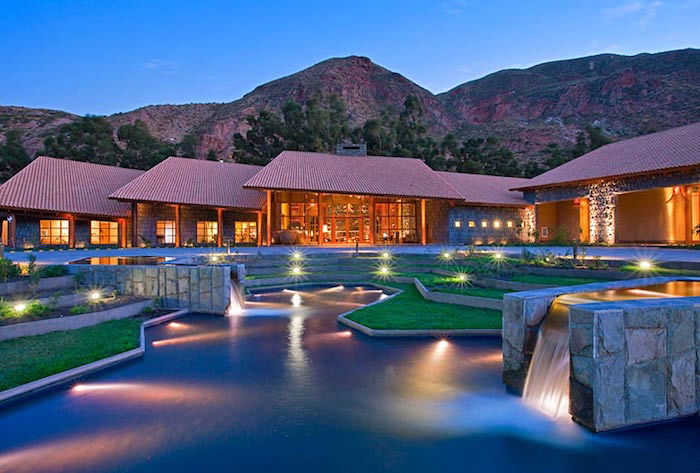 Tambo del Inka in Peru
Usually I find booking flights to be easy, while I get a bit annoyed with hotels. This experience is the opposite — booking hotels was super easy, while I can't decide what to do with flights.
I should note that I'm taking this trip with Ford. I'm an AAdvantage Executive Platinum member, while Ford is a Platinum member with about 75,000 elite qualifying miles. On one hand I don't want to fly coach if I can avoid it, but at the same time it would be nice to earn elite qualifying miles. He'd end up qualifying for Executive Platinum eventually regardless, but it would be nice to make it happen faster. 😉
Choices for flying to Peru
Don't get me wrong, the options aren't bad, but there's nothing which is jumping out at me as being especially exciting.
On one hand American has excellent economy fares, which I'd love to book. At the same time, there's no confirmable upgrade space to Peru. Furthermore, I'm not exactly thrilled about using systemwide upgrades on the flight to Peru on an American 757, which features uncomfortable angled seats. If I connect in Miami, the Miami to Lima flight is only about five hours, so it's also not a great use of systemwide upgrades.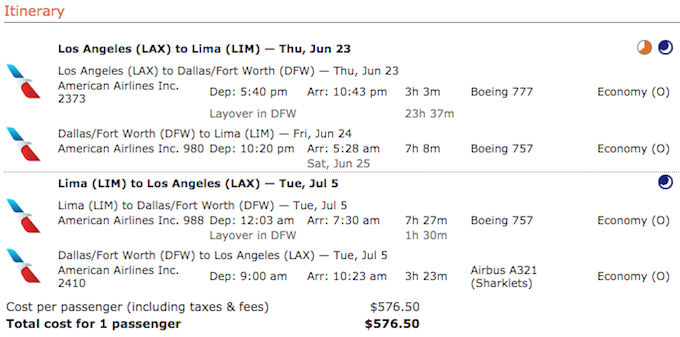 I have four systemwide upgrades remaining, and I feel like those could much better be used on something like American's new Los Angeles to Hong Kong flight later in the year.
American has not-too-unreasonable business class fares from San Francisco to Lima. When you consider we'd earn double elite qualifying miles and would save four systemwide upgrades, it's not a terrible option. After that trip Ford would be Executive Platinum. At the same time, I have millions of points across programs, so why would we pay ~$1,400 per person when we could get it on points (it's a never ending struggle in this hobby!)?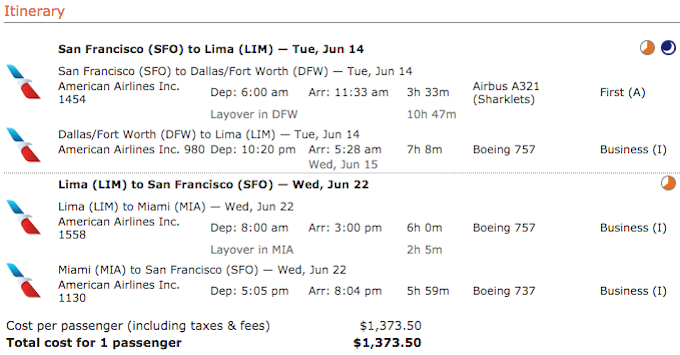 In terms of award availability, Copa has plenty of business class award availability. However, Copa exclusively flies 737s, which feature recliner seats which are more like domestic first class than international business class. So for 12-15 hours of flying, it's not exactly an aspirational redemption.
Furthermore, with Copa we're either stuck taking a redeye from Los Angeles to Panama City (which I'd rather avoid), or arriving in Panama so late at night that we'd have to wait five hours for our flight to Cuzco.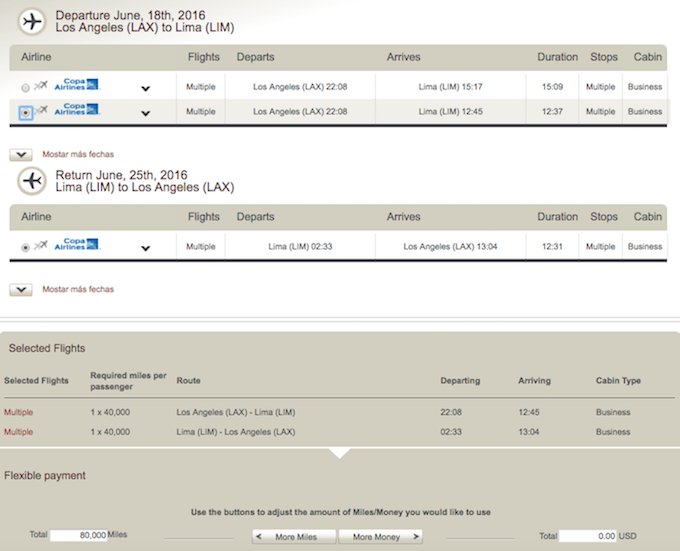 There are plenty of other options, though those are the most compelling options I saw (and as you can see, they're not actually that compelling).
Don't get me wrong, none of the above options are bad. But at the same time I'm all about maximizing comfort and value, so why settle?
Too bad LAN doesn't have business class awards… or do they?
I was extremely frustrated by the lack of business class award availability on LAN, given that they fly twice daily between Los Angeles and Lima (one of the flights connects to Santiago). I couldn't find a single date with two business class award seats, which isn't surprising, since they're generally quite stingy with award space. That would of course have been the ideal routing, especially since one of the daily flights is timed well for connections to/from Cuzco.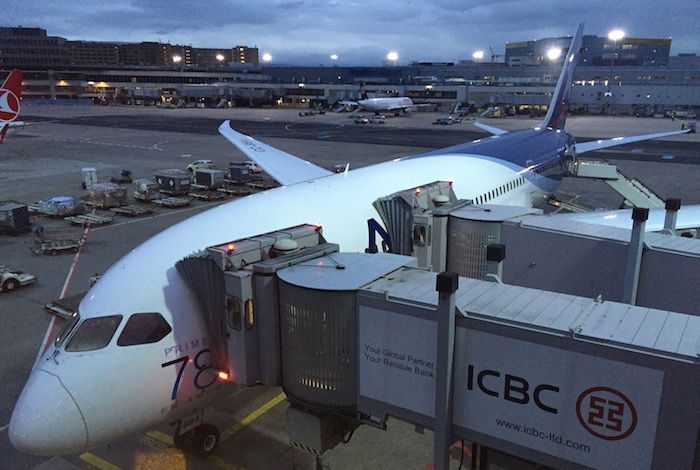 LAN 787 at Frankfurt Airport
I was starting to wonder whether the British Airways search tool was just glitching, or what. So I logged into my LANPass account to look at availability there. While availability isn't amazing, I see several dates with two business class award seats per flight.


I knew that LAN makes more award space available to members of their own program, though didn't realize the difference was so drastic.
LAN charges 100,000 kms per person for the roundtrip ticket in business class (you've gotta love that they use "kilometers" rather than "miles"). As you might expect, the only problem is that I don't have any LAN kms. However, LAN is a Starwood airline transfer partner, and points convert at a 1:1.5 ratio. If I needed 200,000kms, I'd have to transfer 109,000 Starpoints (factoring in the 1:1.5 transfer ratio, and also the 5,000 point bonus for every 20,000 points transferred).
So that's 54,500 Starpoints per person to fly roundtrip business class between Los Angeles and Lima. That seems like a good enough value, but for some reason I always struggle with redeeming Starpoints, given how versatile they are (but part of the reason they're so valuable is because of opportunities like this).
As a point of comparison, other airlines charge the following for roundtrip business class between the US and Peru:
Air Canada Aeroplan: 75,000 miles
American AAdvantage: 60,000 miles
Avianca LifeMiles: 80,000 miles
Bottom line
As much as I love hoarding Starpoints, I'm tempted to transfer 109,000 to LAN so I can redeem on their nonstop flights between Los Angeles and Lima.
Now that I'm seeing the value in their program, I wish I had purchased LAN kms when they were on sale last November.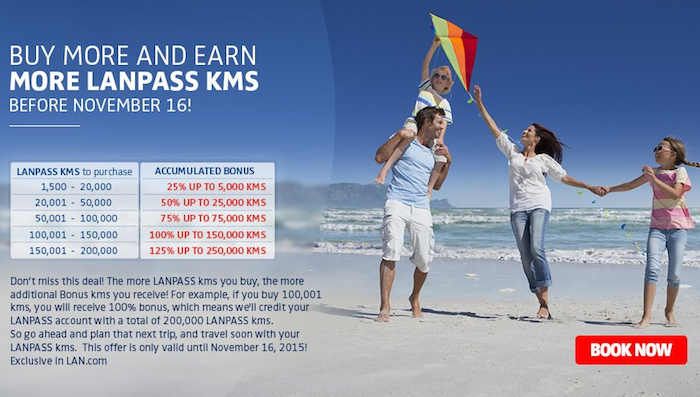 I'm trying to be more conscious about the routings I book for actual vacations. While I'm always happy to take a crazy trip for review purposes, I'm trying be logical about a routing I book for a more adventurous trip like this one, especially one which Ford is coming along on. It's great to hit the ground running, rather than taking a couple of days to recover.
Does anyone have experience with transferring Starpoints to LAN, and specifically how long it takes? Which option would you select for travel to Peru?