Last week I posted about Kuwait Airways' $1,000 business class fare between Colombo and New York, which lets you route via both Kuwait and London.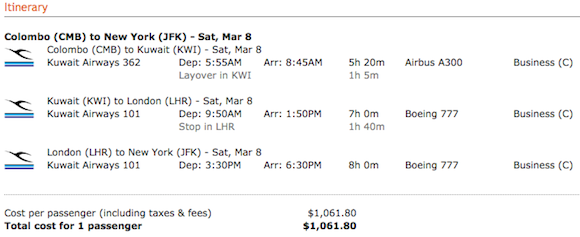 While that's an amazing business class fare, I posted it somewhat jokingly, since Kuwait Airways just looks very… unique. I (at the time jokingly) asked if I should take advantage of the fare, and I was surprised by how many of you said yes.
Kuwait Airways must be one of the least reviewed airlines out there. I mean, Kuwait Airways' website doesn't even make mention of their business class, so I guess I could be the world's top resource on the product. 😉
And they're certainly the lowest quality airline flying between London and New York. I've reviewed London to New York service on American, British Airways, Virgin Atlantic, etc., and surely flying Kuwait Airways would be at least as interesting of a review.
On one hand I'm kind of intimidated by flying Kuwait Airways since they have a fairly old fleet and I have the perception that safety is lacking, though they haven't had a major incident in over 25 years, and interestingly those incidents were hijackings. Best I can tell they've never actually had a fatal accident caused by pilot error or poor maintenance. So I do feel fairly safe flying with them, if nothing else.
So in all honesty, would you guys like to read a Kuwait Airways business class trip report? I'm ridiculously fortunate to be able to (in part) blog for a living, so y'all are basically my bosses. Is a Kuwait Airways business class trip report something that seems like it would be entertaining but I shouldn't do, seems entertaining and therefore I should do it, or just seems boring?
The cool thing about this fare is that it allows a stopover in Kuwait City, somewhere I'd probably otherwise never visit. If I book this fare I'd definitely take advantage of the stopover. Has anyone been to Kuwait City? Did you feel safe and was it interesting enough?
Anyway, would love to hear if you guys would actually like to read this trip report.
Please vote in the below poll, and leave your thoughts in the comments section. I'll do whatever you guys decide, with the caveat that my mom has final veto powers, because I don't want to raise her blood pressure.
[poll id="39″]
If I do this it'll probably be in the next couple of months, so the stronger the opinions are the quicker I'll potentially pull the trigger on this!