In the interest of full disclosure, OMAAT earns a referral bonus for anyone that's approved through some of the below links. These are the best publicly available offers (terms apply) that we have found for each product or service. Opinions expressed here are the author's alone, not those of the bank, credit card issuer, airline, hotel chain, or product manufacturer/service provider, and have not been reviewed, approved or otherwise endorsed by any of these entities. Please check out
our advertiser policy
for further details about our partners, and thanks for your support! The offer for the Barclaycard Arrival® Plus World Elite Mastercard® has expired.
Learn more about the current offers here
.
When it comes to SkyTeam awards, Korean Air SkyPass has been a go-to Ultimate Rewards partner thanks to solid availability on its own flights plus competitive partner award rates. Sure, you'll find exceptions and you'll be on the hook for surcharges with partners, but Korean SkyPass has been a great option for awards.
Korean Air also requires round-trip bookings for partner awards but you can include a stopover on these bookings. If your itinerary only includes flights on Korean Air, you can even include a stopover on a one-way award.
With Korean Air's partnership with Chase coming to an end, that meant deleting large chunks of my upcoming series on booking flights with Ultimate Rewards points by region.
As a last ditch effort to help you use your remaining SkyPass miles or decide if one last Ultimate Rewards transfer is worth it, I've compiled some useful info to help you in that decision.
Korean SkyPass awards to Asia
Korean SkyPass breaks up Asia into several regions but, practically speaking, we really have two regions based on award rates. I say this because Japan, Korea and China/Northeast Asia are each considered separate regions but have the same redemption rates on flights from the U.S. Here are the one-way award rates for these regions:
| | | |
| --- | --- | --- |
| Class of Service | Off-Peak | Peak |
| Economy | 35,000 miles | 52,500 miles |
| Business | 62,500 miles | 92,500 miles |
| First | 80,000 miles | 120,000 miles |
If you're booking a trip to Southeast Asia — this includes Guam — these are the one-way award rates:
| | | |
| --- | --- | --- |
| Class of Service | Off-Peak | Peak |
| Economy | 42,500 miles | 62,500 miles |
| Business | 75,000 miles | 112,500 miles |
| First | 95,000 miles | 142,500 miles |
The biggest thing to keep an eye out for is off-peak and peak seasons for itineraries that only include flights on Korean Air.
If you're booking a SkyTeam award — any award that includes a connection on a SkyTeam partner, your award will fall under a separate award chart. These are the round-trip rates:
| | | |
| --- | --- | --- |
| Class of Service | Asia 1 | Asia 2 |
| Economy | 80,000 miles | 90,000 miles |
| Business | 140,000 miles | 155,000 miles |
| First | 180,000 miles | 200,000 miles |
Keep an eye on the surcharges when booking partner awards as they can be quite steep — especially on China Eastern.
Korean SkyPass awards to Hawaii, Mexico, Puerto Rico (and other domestic flights)
Korean SkyPass has separate award charts for SkyTeam partners (Delta), Alaska Airlines and Hawaiian Airlines. As a result, you can only book awards on one partner for flights within the continental U.S. and to Hawaii. These are the round-trip redemption rates for each partner:
| | | | | |
| --- | --- | --- | --- | --- |
| Class of Service | Delta (domestic/Hawaii) | Hawaiian Airlines | Alaska (domestic) | Alaska (to Hawaii) |
| Economy | 25,000 miles | 30,000 miles | 20,000 miles | 30,000 miles |
| Business/First | 45,000 miles | 60,000 miles | 40,000 miles | 60,000 miles |
When you consider how popular Hawaii is, it will come as no surprise that finding premium cabin award space can be quite difficult. If you do find it and are thinking about taking a trip, snatch it up quickly!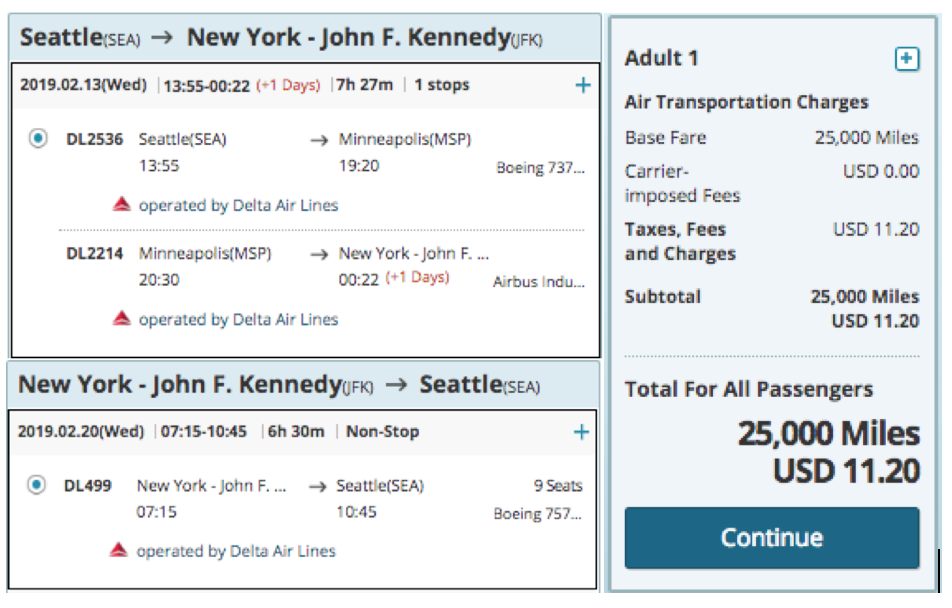 If you want to book a lie-flat business class seat, your options will be limited to Delta and Hawaiian Airlines. However, with award space so tough to find at times, a recliner in domestic first class might be the best you can do.
Korean SkyPass awards to Europe
In all honesty, Korean's round-trip economy redemption rate of 50,000 SkyPass miles to Europe on SkyTeam partners isn't that compelling when you factor in the surcharges. However, the business class rate of 80,000 miles deserves consideration.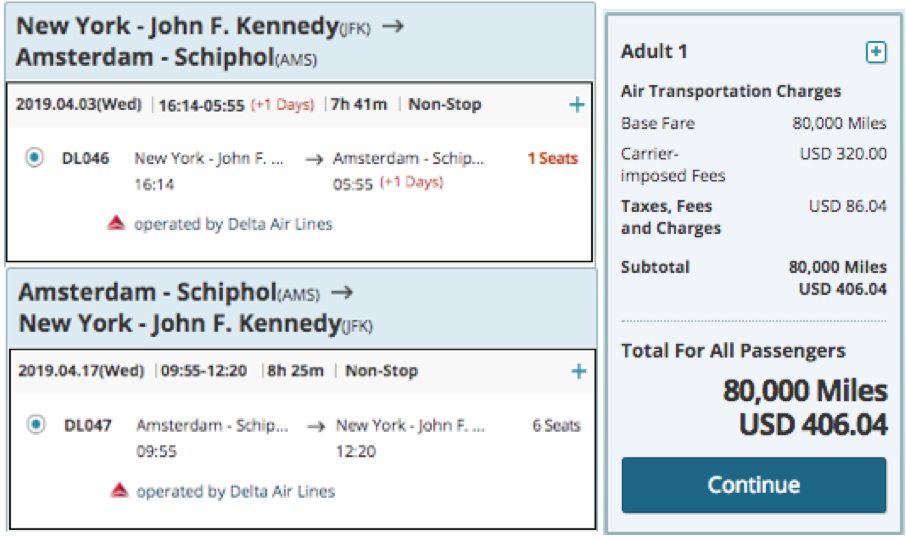 For just over $400 in taxes/fees, 80,000 miles for a business class trip to Europe just might be worth it.
Another option for using SkyPass miles to Europe is to book a flight on Emirates. If you want to fly business or first class on one of its fifth freedom routes — JFK to Milan (MXP) or Newark (EWR) to Athens (ATH), your award will be governed by a different award chart.
Business class awards require 125,000 miles round-trip while first class requires 170,000 miles but the real sticking point is the taxes/fees which come out to over $1,100. If you're going to pay such steep surcharges, you might consider transferring Membership Rewards to Emirates Skywards so you can get chauffeur service to/from the airport.
Korean SkyPass awards to Australia
The award rates you'll find with Korean SkyPass will be quite competitive relative to other SkyTeam members, especially when you consider the ability to include a stopover. Korean Air also operates aircraft with a first class cabin so you can get step up the luxury on your journey down under.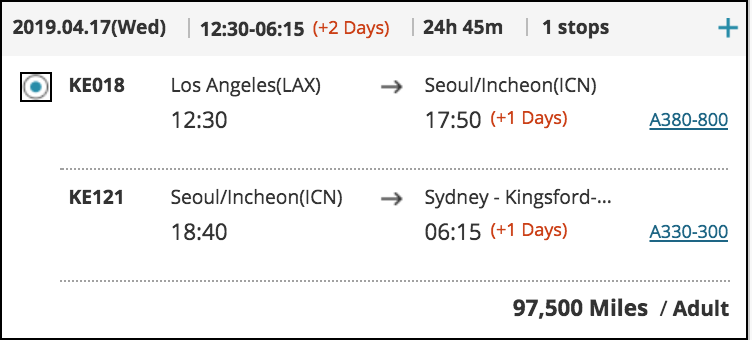 Here are the one-way award rates for itineraries that only include flights on Korean Air:
| | | |
| --- | --- | --- |
| Class of Service | Off-peak season | Peak season |
| Economy | 55,000 miles | 82,500 miles |
| Business | 97,500 miles | 145,000 miles |
| First | 120,000 miles | 180,000 miles |
If your award booking includes a connection on a SkyTeam partner such as Delta, you'll be looking at these round-trip award rates:
Economy: 110,000 miles
Business: 185,000 miles
First: 260,000 miles
When it comes to first class partner awards to Australia, your only option will be China Eastern as Korean SkyPass miles can longer be used to book China Southern first class. Because of the surcharges (and the experience), you'll be better off sticking with Korean Air first class. Besides, award space is better and the off-peak rates are great.
Korean SkyPass awards to the Middle East
If you're booking an award to the Middle East with Korean SkyPass, you need to decide whether you'll be booking a non-stop award on Emirates or Etihad or if you'll be booking a SkyTeam award. SkyTeam awards can include connections and a stopover at no extra cost so that's generally an easier and more useful option.
| | | |
| --- | --- | --- |
| Class of Service | SkyTeam | Emirates/Etihad |
| Economy | 80,000 miles | 70,000 miles |
| Business | 120,000 miles | 140,000 miles |
| First | 160,000 miles | 210,000 miles |
Regardless of which you choose, you can expect surcharges to increase the price of taxes/fees quite a bit. However, the surcharges on Emirates are particularly rough and can clear $1,000 on a business or first class award.

I can't imagine paying $600+ in taxes/fees on an economy award on SkyTeam partners when you can find cash flights for not much more. However, the taxes/fees on Emirates and Etihad might be worth a top-notch first class experience for some.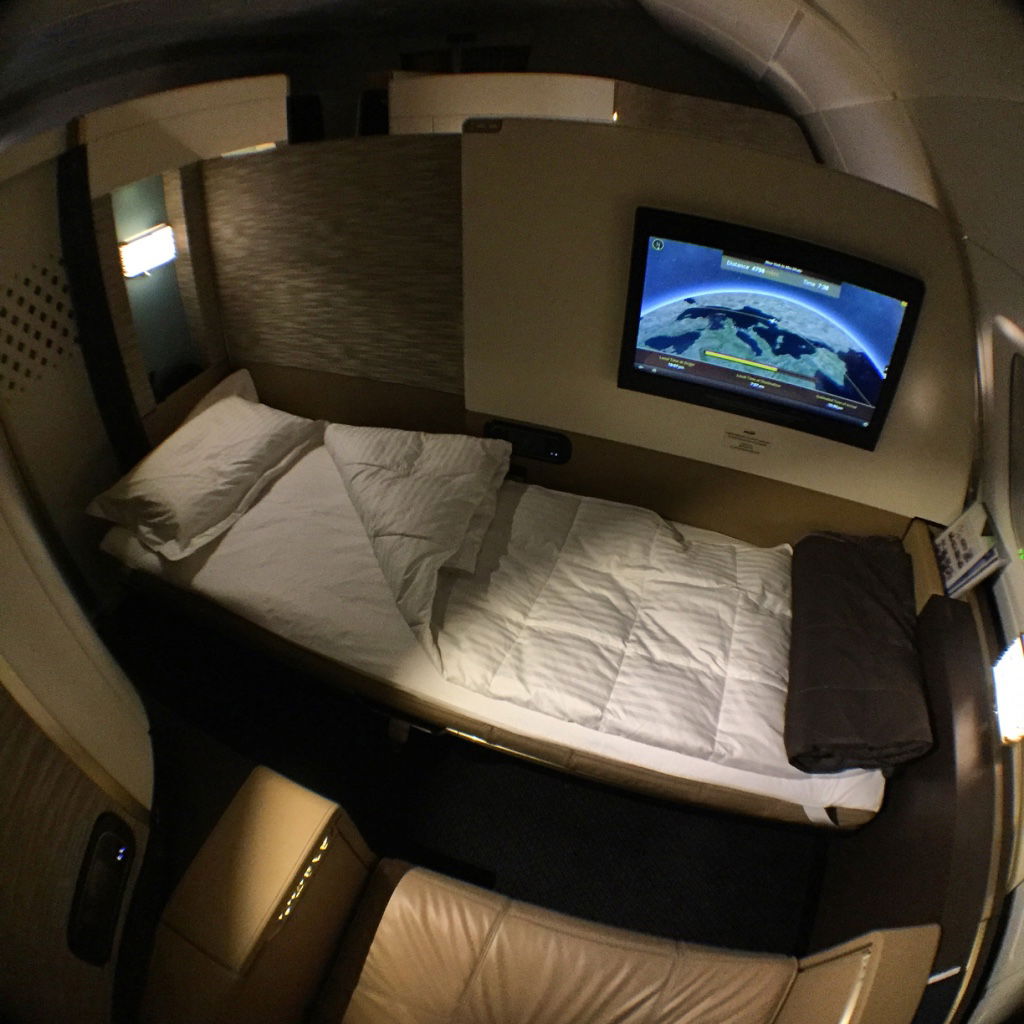 Korean SkyPass awards to Africa
Unlike other regions, Korean Air SkyPass won't always be the best way to book round-trip SkyTeam awards to Africa in economy. However, it still outshines Flying Blue if you're looking for a round-trip business class award.
| | |
| --- | --- |
| Class of Service | SkyTeam |
| Economy | 80,000 miles |
| Business | 120,000 miles |
| First | 160,000 miles |
Korean Air doesn't operate flights to any country in Africa at this time so you'll be looking at SkyTeam award rates if you want to use Korean miles to book.

How to book with Korean SkyPass miles
While it can be pretty easy to search and book awards online with Korean Air, there are few things you need to know up front.
While you can search for Korean Air awards online, you'll need to specify if you want to book a SkyTeam Award before you search. Simply select "SkyTeam Award" then run your search. Regardless of your award type, you can book online.
When you have the award space you want, you could transfer Chase Ultimate Rewards points to Korean SkyPass (1:1) right away, but I'd suggest calling (1-800-438-5000) to try and take advantage of Korean's generous hold policy. Agents weren't allowing holds for much of July, but recent reports have suggested it might be possible again, so it's worth a shot.
While transfers previously processed almost instantly, they have been taking 2 to 7 days to process recently. I hope this gets worked out soon but, for now, avoid the risk of award space disappearing while waiting for a transfer.
Perhaps the biggest hurdle with Korean SkyPass is its restriction on booking awards for other people. You can only book for immediate family and you should be ready to provide proof of the relationship with marriage and birth certificates.
Immediate family includes:
Spouse
Children
Parents
Siblings
Parents-in-law
Sons-in-law
Daughters-in-law
Grandparents
Grandchildren
You will not be able to book awards for significant others or friends which can be quite annoying for those looking to book a honeymoon.
3 awards I'd consider booking now
Off-peak first class to Northeast Asia with a stopover in Seoul
I've been fortunate to fly across the globe more than a few times, but I have never flown Korean Air. Perhaps, this is why I feel such a pull to try first class on Korean Air's A380 and 747-8i. I'm already figuring out a trip to Asia and, let's be honest, I don't really need much of an excuse to start booking straight away.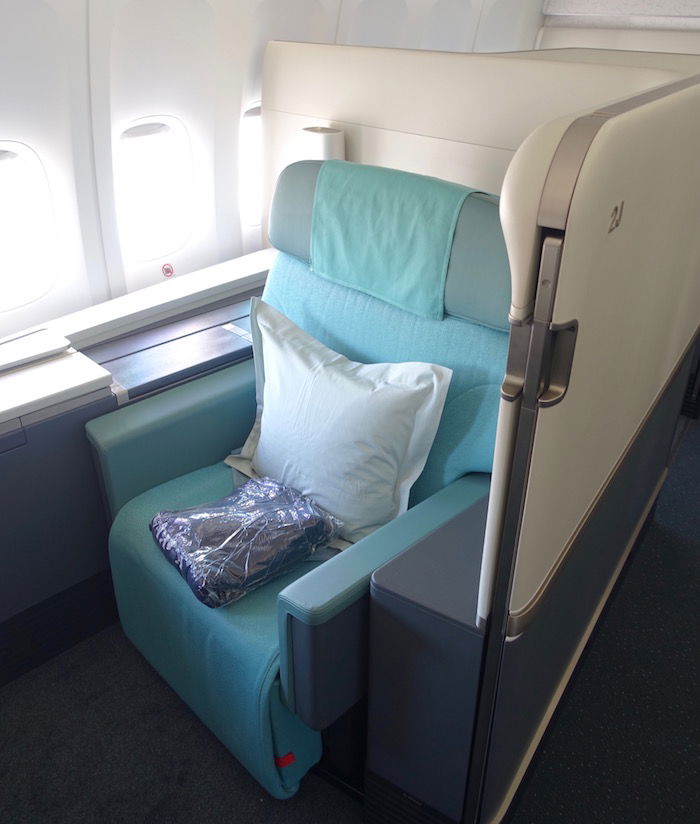 At only 160,000 miles for a round-trip adventure to Taipei or Hong Kong with a stopover in Seoul, it might actually be feasible for me to take advantage of a first and last transfer to Korean SkyPass. The taxes/fees on Korean's own flights are generally quite reasonable too — only ~$185 with a stopover in Seoul and a visit to Taipei.
This would definitely be my first choice and, if not this one, another off-peak award on Korean Air.
Emirates first class to Dubai
I know, I know. Surcharges suck. I get it.
For 210,000 miles round-trip, the $1,700 in taxes/fees isn't exactly exciting. Heck, you could get lucky and find a business class fare deal to Europe at that price. However, when you consider that a round-trip cash ticket from Washington Dulles (IAD) would cost $13,000 and one from Los Angeles (LAX) would clear $30,000, maybe that's not so bad?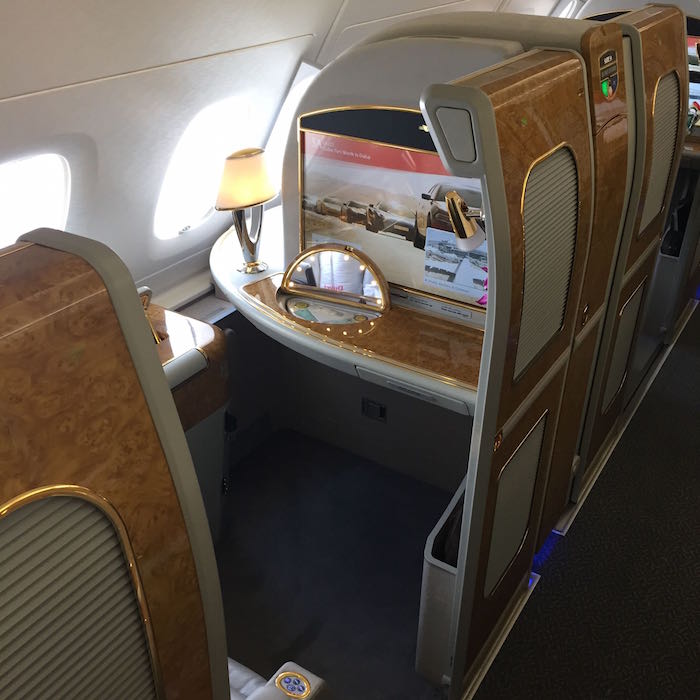 On top of that, with the recent devaluation in the SPG cards' earning structure, it's much more difficult to acquire the necessary Japan Airlines Mileage Bank miles to book Emirates first class. Sure, you could book with Emirates Skywards, but then you'd need even more Amex Membership Rewards points to transfer and you'd still get hit with high taxes/fees.
If you want to offset some of that cash cost, you could pay for the taxes/fees with either the Capital One Venture Rewards Credit Card or the Barclaycard Arrival® Plus World Elite Mastercard®. Either of these cards will allow you to redeem your miles for a statement credit to reduce the burden of the taxes/fees.
It's also worth noting that for those not committed to originating in North America, the fuel surcharges can be significantly lower with a different origin country. Starting your award in say, Brazil or Hong Kong, can save a ton.
If this is a bucket list flight for you, it might be a good time to give it a go. Just remember, connections will cost extra so stick with non-stop bookings.
SkyTeam business class to Europe
This is another Korean SkyPass option that's going to hit you with surcharges. As I showed in the Europe section above, a non-stop business class award can mean $400+ in taxes/fees. However, for only 80,000 miles, that just might be worth it. Remember, you'll have to book a round-trip award but, with SkyTeam awards, you'll be able to include a stopover for no extra miles.
With this one, it's kind of like paying for a cheap economy ticket to Europe and upgrading to business class with miles. It might make sense if you don't have access to other flexible points currencies.
And, once again, if you use a Venture card or Arrival Plus to pay the taxes/fees, you can again knock out the cash cost by redeeming miles for a statement credit.
Bottom line
The loss of Korean SkyPass as a Chase transfer partner is a huge blow to the Ultimate Rewards program. Award space on flights operated by Korean Air has much better than other airlines even if it has tightened up a bit recently.
I'm currently trying to decide if I want to transfer some Ultimate Rewards points to my SkyPass account to take advantage of an off-peak first class award to Asia. I know plenty of other people desperately trying to find Delta award space to Hawaii as well. The 2-7 day transfer window just makes it an even tougher decision.
There's no telling what will happen to award space or the award charts going forward and I don't want anyone to get stuck with miles they can't use. In the end, whether or not a transfer is worth it has to be evaluated on a case-by-case basis.
If you have a good idea of what you'll book, know risks and are maybe a bit more experienced, perhaps it's worth a shot. If you're a bit green when it comes to award booking, this might be one to sit out rather than add some stress to your life.
I'd love to hear what you plan to do!