When it comes to traveling with kids, there are three things that matter — space, space, and more space. That's true on the plane, in the hotel, and in the rental car. I don't much care about the service or the food (assuming there is some!), I just want more space. That lets the kids sprawl out, lie down, and be kids.
Reader Rhebon recently asked a question in the Ask Lucky forum about traveling with kids.
I have a very simple question and I think you never talked about that subject?!? What airline is best for traveling with kids on a longhaul flight? Is it OK to fly first class with younger kids (2&5)? Thanks!
I think it's great that you are traveling the world with your family. My wife and I travel a lot with our three kids, aged 5, 4, and 1. It takes a lot of effort, but for us, it's well worth it. And the more you do it, the easier it gets.
Due to my Premier 1K status, we tend to fly United a lot and sit in Economy Plus but I'm sure that the equivalent product on other carriers would be fine too. I should also mention that some airlines do have nice little perks for kids — I recall our kids getting some sort of cheap toy on Thai, SAS, Lufthansa, and ANA, to name a few — but honestly, I'll take the space instead. This isn't to say that United is a good airline for kids (or even adults!) but it works for us.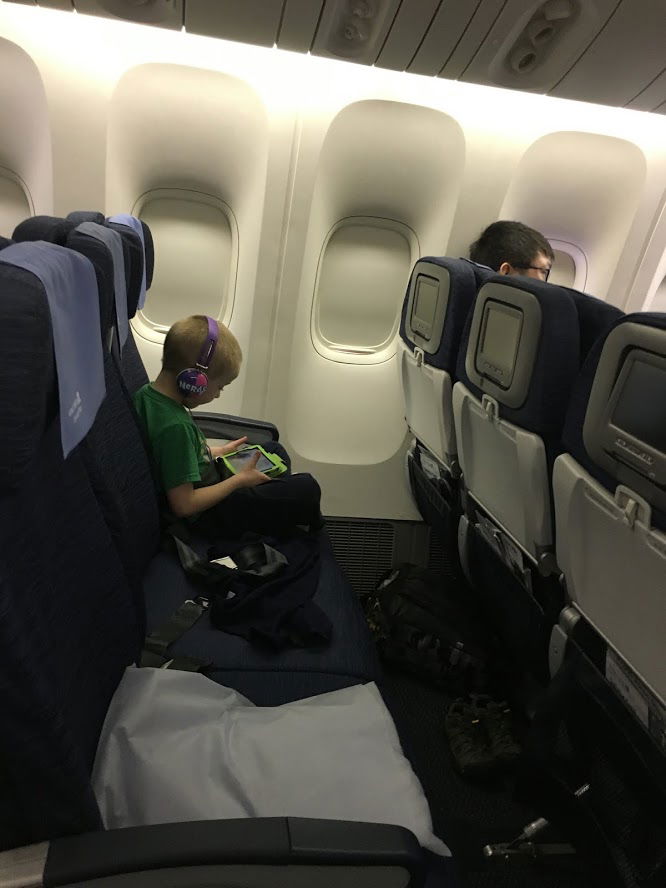 United Economy Plus has lots of extra space
Now let's get on to the main topic….
Can Young Kids Fly In First?
In general, it's fine for kids to fly in first class. (The exception would be Malaysia Airlines which bans kids in first class, but they don't operate many longhaul flights anyway so hopefully it's a moot point.) You just need to be willing to pay for a ticket, redeem miles, or if they are under 2, pay the lap infant fee which can be rather pricey.
I'm sort of guessing that your question isn't just about the policy issue though and is instead about whether you are going to get dirty looks, eye rolls, or general subtle harassment from other passengers who don't think kids belong in the pointy end of the plane. It tends to be a rather hot button topic.
All I can say is that we've flown real first with the kiddos on a few occasions and never experienced any of that. Then again, our kids are experienced travelers and we put a lot of effort into keeping the circus under control when we're out in public. They aren't angels by any stretch of the imagination, but they tend to get complimented on their behavior on the plane. If only we could somehow replicate that at home….
Overall, I've found that most people are pretty tolerant of kids and really only get bothered when the parents let the kids go wild or act like they don't care. If you are obviously putting in the effort to settle the little one down or scold them for running around like a crazy person, most people are going to be very sympathetic.
Should You Fly First With The Family?
Even though it's fine for kids to fly first, you should ask yourself if you really want to. The times that we've flown first as a family worked out fine but we always got off the plane wondering if we would have been better off in business.
Here's why.
First class seats tend to have a lot of privacy which is fantastic when you are traveling by yourself. But when you've got a 2-year old and a 5-year old to keep tabs on, it's a different story. Even at 5, kids still need some assistance operating the inflight entertainment, ordering and eating the meal, etc. Or at least mine does.
Even in the soon-to-be-extinct United First, it can be challenging to determine the best seating for a family. We chose the four center section seats so that we could reach across the divider.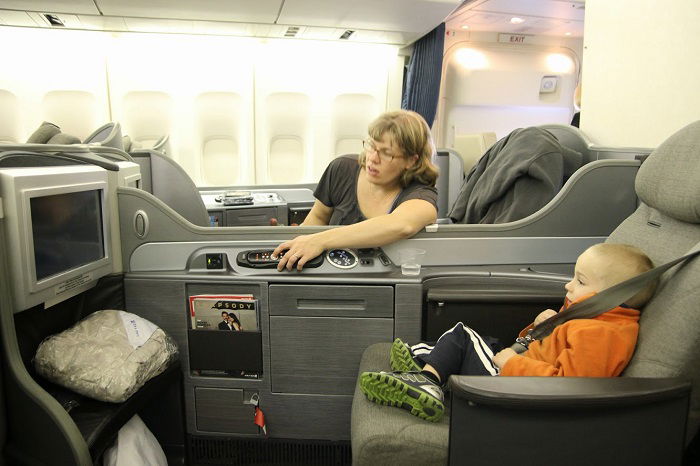 My wife reaching over the divider in United First on a 747
But if you're seated across the aisle, you're probably going to be getting out of your seat every few minutes to help them with something unless your arms are as long as Yao Ming's.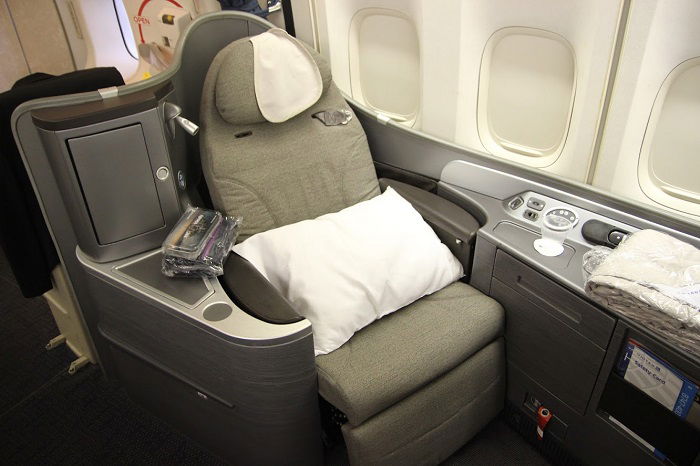 Window seat in United First on a 747
Now imagine that you are in Etihad's first apartment. Would you give your 2-year old their own hotel room?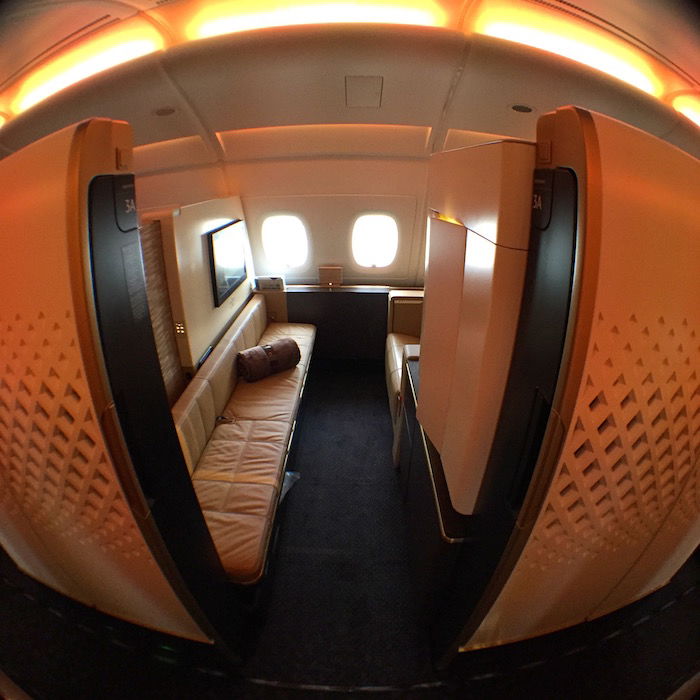 Etihad First Apartment has lot of privacy
Most business class configurations don't have this problem.
The typical business class cabin has two seats next to each other such that you can reach out and touch your seatmate. If that person is a stranger, keep your hands to yourself. But if it's your kiddo, it can be really nice to hand them toys, fasten their seatbelt, and whatever else without getting up.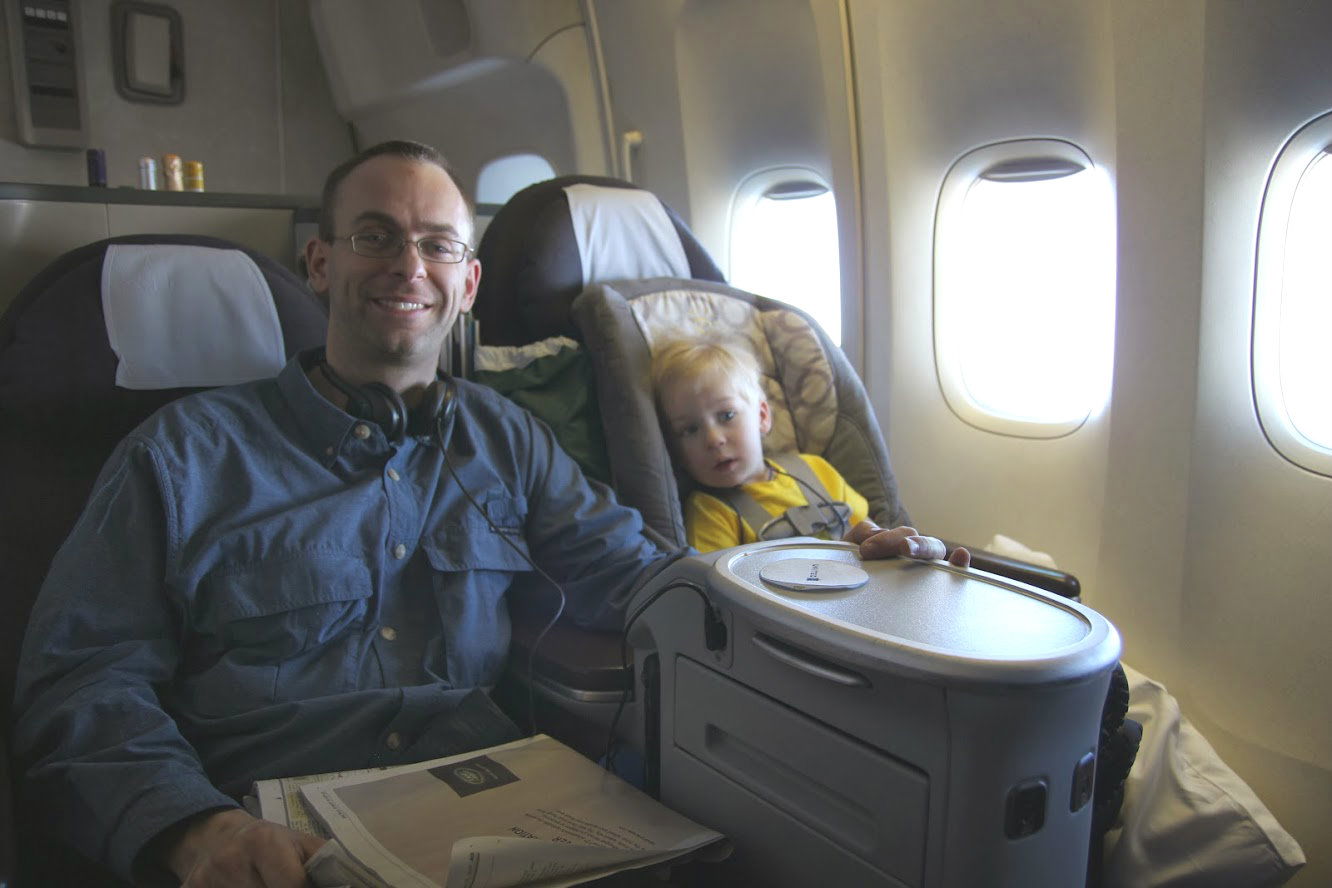 United Business Class on a 747 has almost no privacy, and that's a good thing for families
Even if it's a fancy all-aisle access business class cabin, you're still going to be closer to the adjacent seat such that you might be able to reach over the divider and help them.
To me, this can actually make business class preferable for families.
Bottom Line
If the cost to fly first or business is the same, by all means fly first. You'll probably be out of your seat a little bit more, but the inconvenience will be balanced out by even more space, better food, or whatever other reasons you had for wanting to fly first in the first place.
But if there is a price premium in miles or dollars — and there probably is — I would absolutely choose business over first for family travel.
What do you think about kids flying in first class?