On October 28, 2018, Kenya Airways is expected to launch daily nonstop flights between Nairobi and New York. This is a huge deal for the airline. The airline has been losing a ton of money and a couple of years back was on the brink of liquidation. Their financial performance has improved, but the airline is still losing money.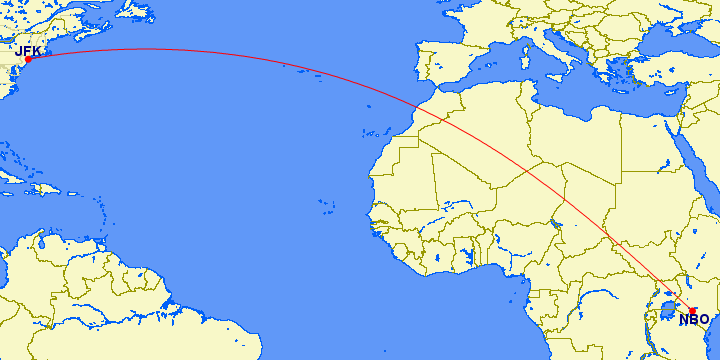 Flying nonstop to the US is a big deal for the airline, and that goes far beyond airline geeks. I remember being in the Seychelles earlier this year, and there was a Kenyan guy working at the hotel. When he found out we were from the US, he said "Kenya Airways will start flying to New York this year, we are very proud," with a big smile on his face.
I question if the airline will ever be able to make money on the route, but they sure are enthusiastic about it.
Well, it looks like the route's launch might be in jeopardy due to a labor dispute. Kenya Airways employees have threatened to strike unless a pay deal is agreed to by October 28, 2018. I think it's safe to say that it's no coincidence that this is the same date the airline is expected to launch service to the US.
Apparently union officials and management had a meeting on October 16, where Kenya Airways didn't offer any sort of a salary increase. According to Bloomberg:
"Management is proposing a pay cut, in total disregard to immense sacrifices that our members made in the recent past when the airline was in extreme distress," the Nairobi-based union said.

Kenya Airways asked the union to withdraw its strike notice by mid-morning Tuesday and said negotiations on a new collective-bargaining agreement would resume after the "successful" launch of its New York flight.

"This action is incomprehensible to management who will employ all legal and disciplinary means available to it in order to safeguard our national airline," the company said of the planned work stoppage in an emailed statement.
I'll be curious to see how this plays out. Obviously the union feels they have some leverage by trying to delay this much talked about new route to the US, and I can't see them backing down and waiting until after the launch of the route to negotiate. Conversely, I understand why management wants this to go smoothly.
I'm flying the New York to Nairobi route only shortly after it launches, so I'll be watching this carefully.
(Tip of the hat to Live and Let's Fly)