Kenya Airways launched a daily nonstop flight between New York and Nairobi in late October (I reviewed the inaugural flight from New York to Nairobi). This was an airline that was on the verge of liquidation just over a year ago, so this was certainly a point of pride for the airline.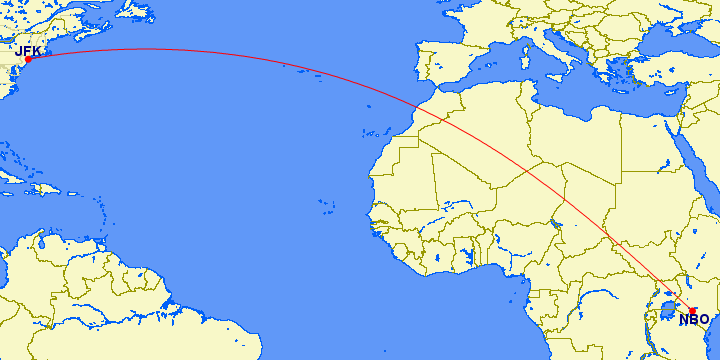 Inexplicably, the airline decided to immediately launch daily flights in the market. This is the first nonstop flight between New York and East Africa, so to launch that daily from day one makes no sense. They'd be much better off starting with a few flights per week, and then gradually increasing service as demand picks up.
But Kenya Airways management knew better, and decided to start daily. However, the airline has been canceling some flights that aren't "commercially viable" as they've gone along, which to me is bad form. They've in some cases been canceling flights with just a few weeks notice, which isn't the way to go about frequency reductions.
Well, now the airline has made these reductions permanent. Kenya Airways will be reducing service between Nairobi and New York from daily to 5x weekly between January 16 and June 19, 2019. It looks like the flight is canceled on Mondays and Wednesdays westbound, and on Tuesdays and Thursdays eastbound. While the flight is still scheduled for daily beyond that, the company's CEO says that may not stick.
Kenya Airways' CEO, Sebastian Mikosz, appeared on Kenyan TV a couple of days ago to talk about the route.
It's a fascinating interview. Not because there are many amazing insights into the logic behind the route, but rather because it sort of reinforces my thoughts on how poorly thought out this is.
He talks about the lessons they learned from this route:
"The first learning is that the real difficulty of opening a flight doesn't come with the day of the launch but it comes afterwards."
You don't say…
Then he talks about how everyone knows that November is the worst month for demand with air traffic:
"We decided to start when the winter season of IATA starts, 28th of October. But we all know that November is the worst month for demand with air traffic."
Alrighty, so why did they start with a daily flight then?
Just how poorly were some of the flights selling that they ended up canceling?
"There will be not even 20% of passengers onboard, let's cancel 10 flights. We will just not load flights on those dates."
I'm not sure how this is a conclusion they only came to after launching the route, rather than before:
"Why don't we introduce seasonality as we did with Paris and Amsterdam flights? So the decision we made is that starting from end of January we will go to five weekly and we will see how the market evolves to May or June, and then most likely shift back to daily."
As far as what their targets for the flight have been since it launched:
"The planes were never supposed to be full for the first six months, before we started we said that if we reached 65% load factor that is very good."
If the target for the first six months was only 65%, then why would you launch the flight daily?
Bottom line
I'm at least happy to see Kenya Airways announce these service cuts in advance, rather than what they previously did. A 5x weekly service seems more rational than a daily service, though it still seems like too much capacity.
I'll be curious to see how this route progresses over time. On one hand, I can see value in the route from the perspective of making Kenya more accessible and opening up more trade ties. In other words, the flight itself might not be profitable, but the flight might still make sense from the country's perspective, and be a net positive.
But this all also comes down to who is in charge, both at the airline and in the country, and how much losses the airline is willing to sustain.
We'll see what happens — I wonder if the flight will actually go daily in summer, if the flight will maintain 5x weekly frequencies in winter, or for how long the route will stick around at all.
Anyone care to make a prediction?