I'm mileage running this week, which means I have lots of opinions about everything even tangentially travel-related. Like feeling pretty strongly that you shouldn't be able to open the CandyCrush app unless the volume is disabled/headphones are connected, or that the Admirals Club is maybe not the best location for taking care of that delayed pedicure.
But that might just be me.
My current adventures have me routing through New York JFK approximately seven million times this week (more like seven, but each time has been epic, so I'm rounding up), and I've been stunned by how rarely PreCheck seems to be open at Terminal 8.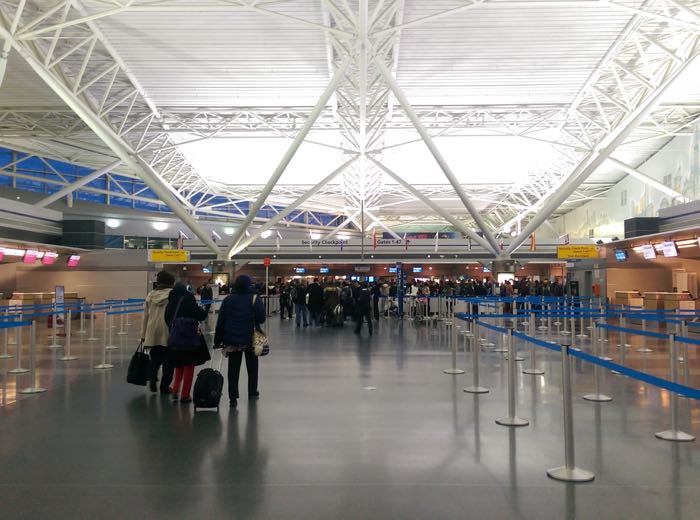 American Airlines and the Port Authority are doing their part — there are still lines for elites, PreCheck, and the general public — but after the ID check everyone gets funneled into one lane.
Which is pretty much a disaster.
TSA is still allowing PreCheck-qualified passengers (and who knows how they're determining eligibility nowadays) to keep their shoes and jackets on, which leads the average clueless traveler to think they can leave their shoes on, and of course the TSA agent manning the metal detectors and nude-o-scopes isn't going to allow that, so then you have people blocking the screening area while they take off their athletic shoes and then you have a bottleneck on the other end, because those same folks aren't taking their luggage off the belt because they're waiting for their shoes which are ten feet behind, and —
It's really ugly.
And it's not like TSA at JFK is a paradigm of efficiency to start with, given "average" wait times are up to 30 minutes:
After three 20+ minute wait times, I started to wonder if I was just extraordinarily unlucky (mileage runs do that to a girl). So I reached out to the TSA social media team to ask when the PreCheck lines were officially open:
@tebfunk TSA Precheck lanes hours are based on passenger volume and airport operations. Our apologies for the inconvenience.

— AskTSA (@AskTSA) February 9, 2016
Illuminating.
@tebfunk Sorry for the delay! TSA Precheck at JFK T8 is generally open 5 am-8 am & 1 pm-8 pm. Hours may vary based on the passenger volume

— AskTSA (@AskTSA) February 10, 2016
Ah. So there are only ten hours per day where PreCheck lanes are operational, and based on what I've seen the past two weeks, you really don't want to try and clear security at Terminal 8 outside of those windows.
Assuming most savvy travelers would be clearing security ~90 minutes prior to departure, this means there are about 25 American Airlines flights departing JFK Terminal 8 where PreCheck isn't available. This includes multiple frequencies to hub/focus cities, along with several other key destinations:
Bermuda
Boston
Charlotte x3
Cancun
Buenos Aires
Sao Paulo
Los Angeles x4
Miami x3
Phoenix x2
Raleigh x2
Washington DCA x2
That's not a huge number of flights, but some of those are transcons or international flights with a higher passenger complement. So you potentially have upwards of 3,000 people going through a single security lane between 8AM and 1PM.

Non-peak security line at JFK
And really, it's not PreCheck being closed that's the problem per se — rather it's the tremendous staff-down and use of a single lane that creates the bottleneck. So even if you wouldn't normally have PreCheck, your TSA experience will still take longer because of the chaos happening in the screening area. It's bad for everyone.
If TSA can't justify the staffing costs to keep PreCheck open all day (which seems odd, given they charge for the service, and it's JFK, but whatever), they either need to make everyone conform to the same screening standards to eliminate confusion, or separate the queue in some other way.
Which, at that point, you might as well just open the darn PreCheck lane.
Bottom line
I appreciate staffing to demand, but at some point TSA needs to realize they're scheduling security personnel at a huge airport, not baristas at a strip mall Starbucks. Even "non-peak" times are still high-volume at JFK, and the commingling of all passengers into a single queue seems unnecessarily spartan.
But in the meantime, I'll be arriving to the airport four hours early to enjoy a more civilized screening process. Thankfully the Flagship Lounge has good coffee.
Have you experienced similar PreCheck limitations? Are the other JFK terminals as bad?