Update: Read my full Japan Airlines First Class 777 Tokyo To Chicago review.
I just wrapped up a really fun review trip. I flew from San Francisco to Melbourne in Qantas' 787 business class, from Melbourne to Singapore in Singapore's 777 first class, from Singapore to Kuala Lumpur in Singapore's A350 business class, and then from Kuala Lumpur to Tokyo Narita in Malaysia's A350 Business Suite.
To finish off the trip I flew Japan Airlines 777 first class from Tokyo Narita to Chicago, which is a ticket I booked for 70,000 Alaska Mileage Plan miles. I've flown Japan Airlines first class several times before, though most recently in early 2015, so it has been a while. They've made some updates to their service, so I was curious how the product was holding up.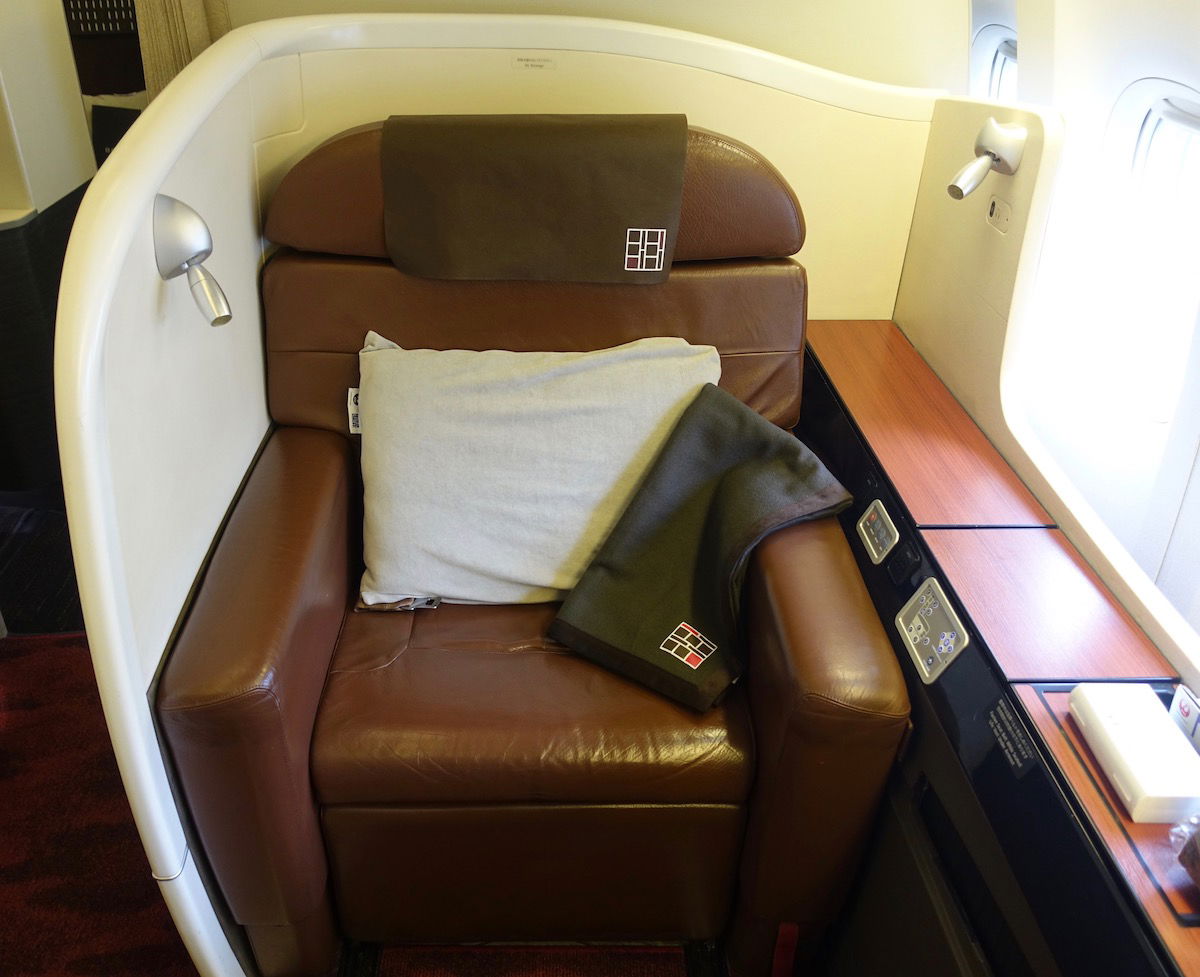 Here are my initial impressions of the experience, with a full trip report to follow:
Japan Airlines 777 first class cabin & seats
Japan Airlines' 777 first class cabin consists of a total of eight seats, spread across two rows in a 1-2-1 configuration. The seats are spacious though not as private as some other products out there (though they do have nice privacy partitions along the side). The cabin on this flight was half full, with the four window seats being occupied, and the four center seats being empty, which is pretty ideal.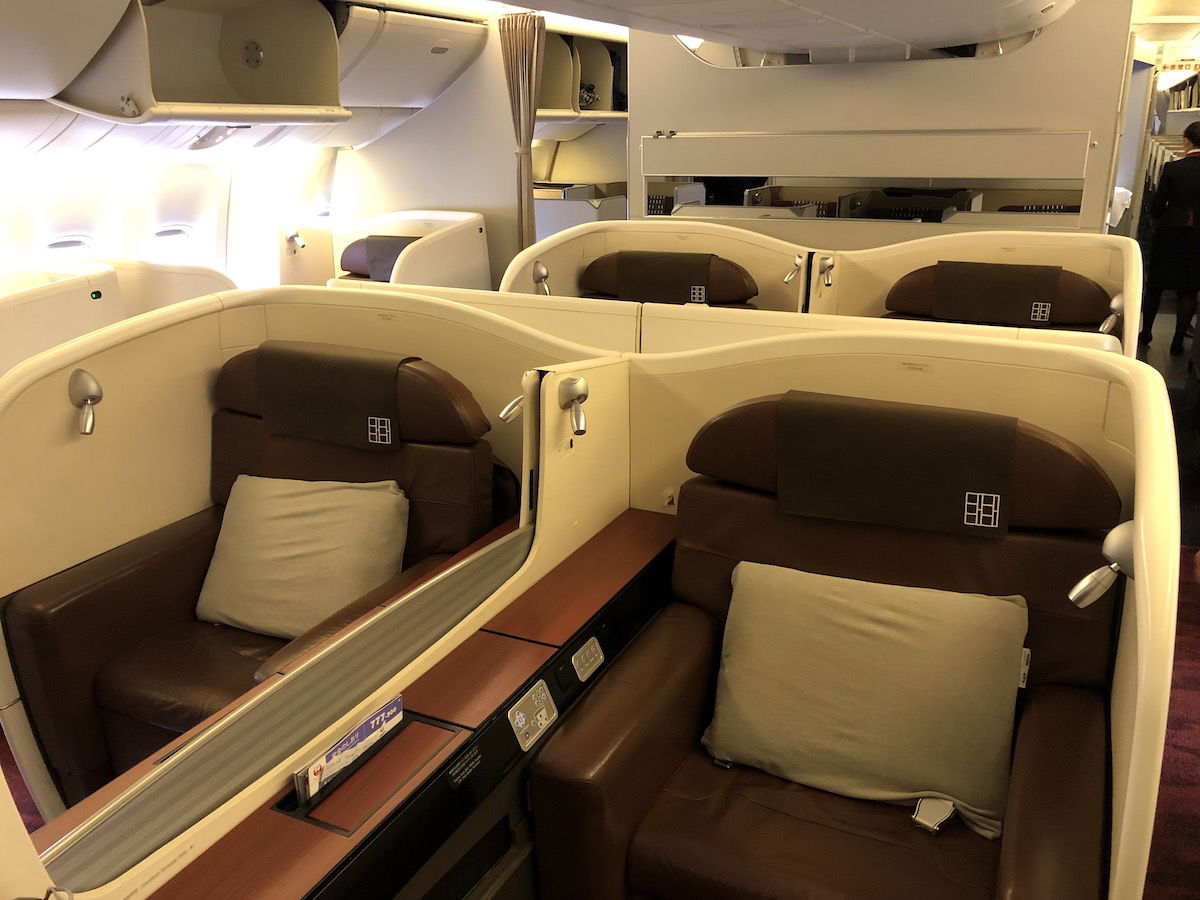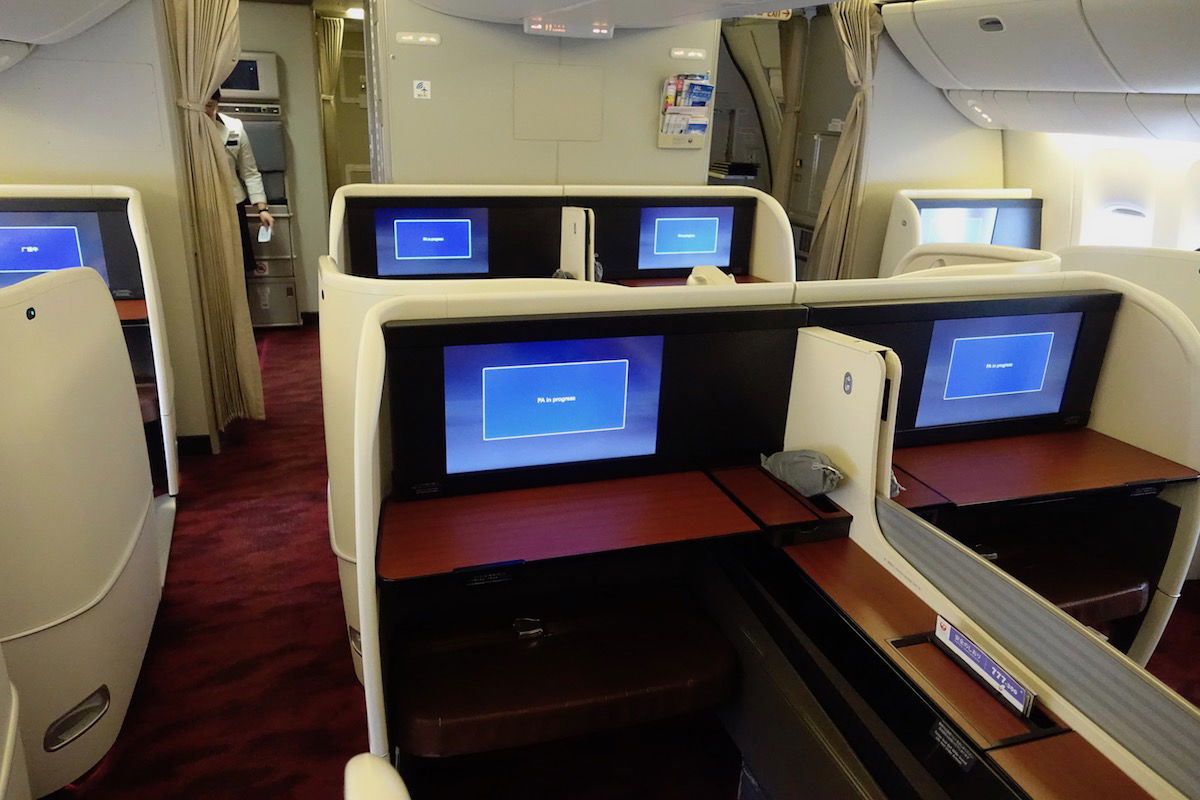 I'd say these are pretty average as far as first class seats go. While we're comparing the two big Japanese carriers, I will say that I prefer JAL's first class seats to ANA's. That's because ANA's seats are "boxed in" without being fully private, so even if you take the center seats and are seated next to someone, you can't actually see them without leaning way forward. Similarly, if you're in a window seat you can't look outside without leaning way forward.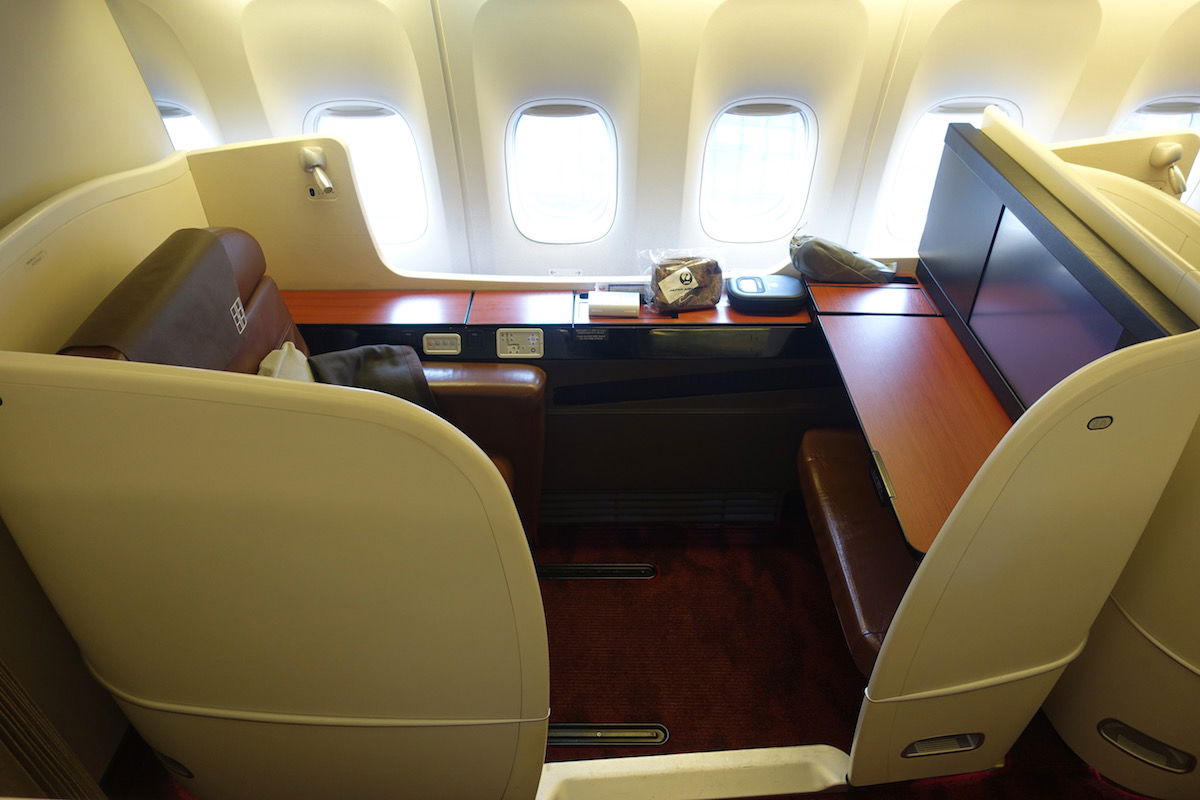 Japan Airlines 777 first class food
Japan Airlines' first class catering is spectacular. Lunch was served after takeoff.
It started with an amuse bouche.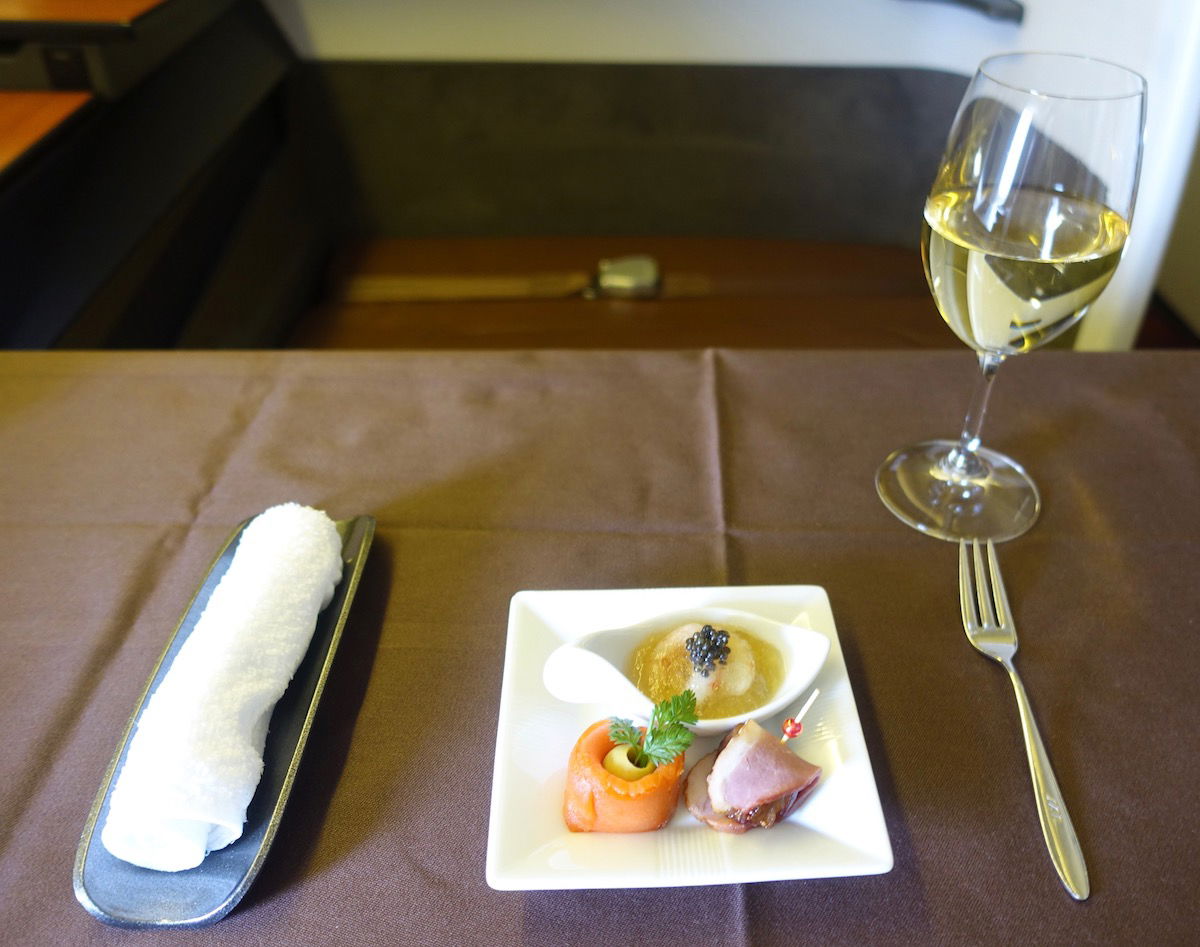 That was followed by a piquillo pepper stuffed with cod brandade.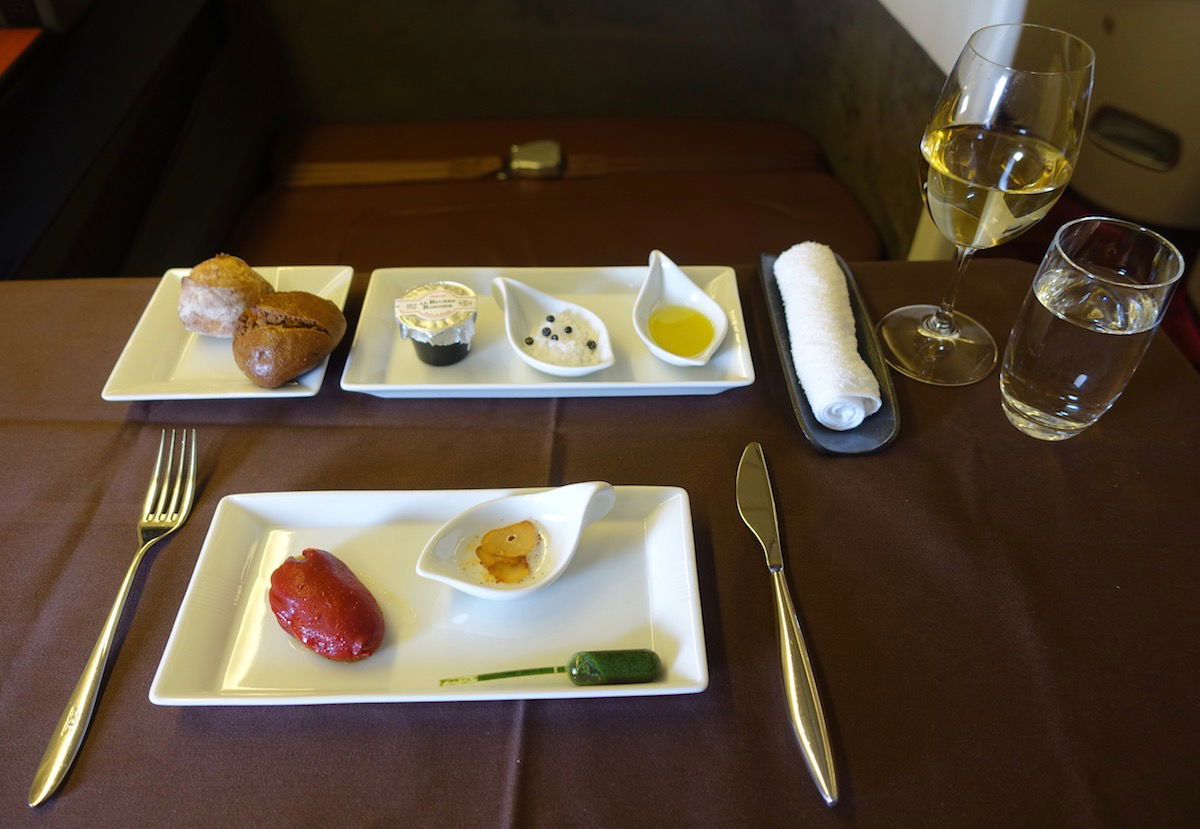 Next up was a serving of caviar.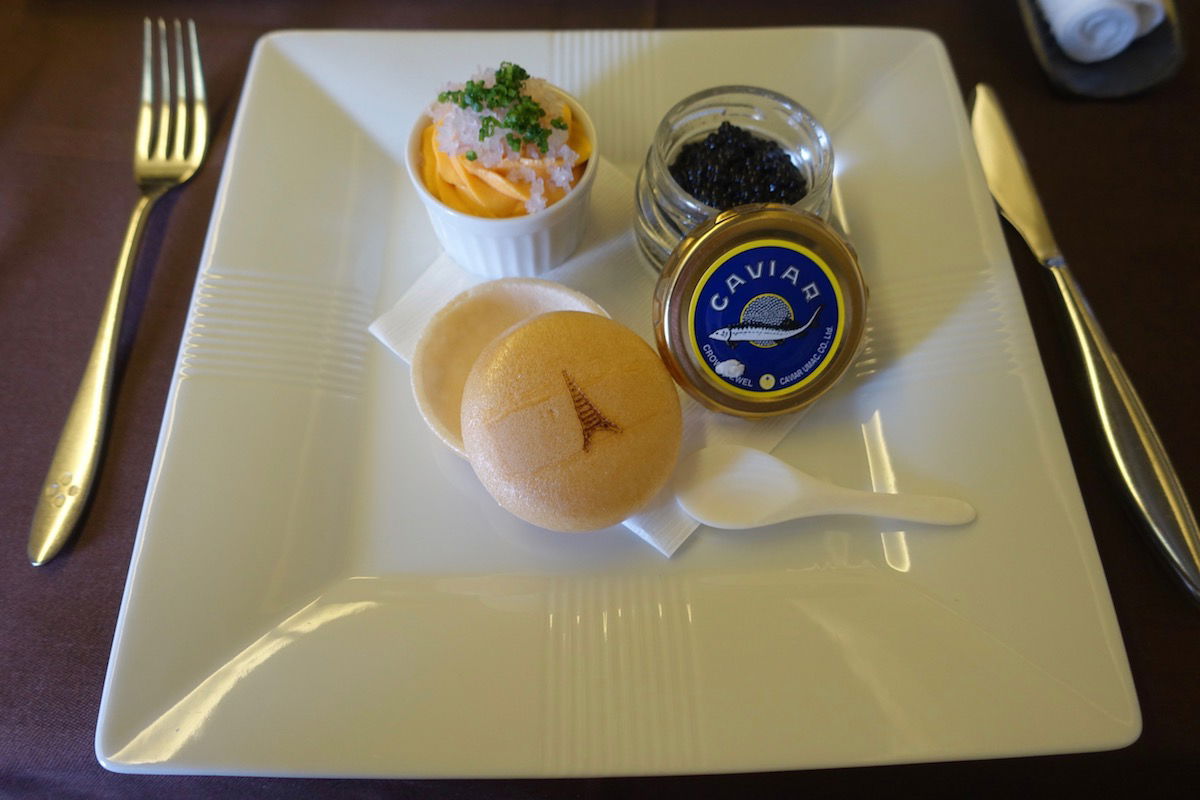 Next up was the warm red king crab and sweet tomato salad, which also had avocado and mozzarella. I have to say, this was the star of the show — I wasn't expecting it to be amazing, but it was one of the best dishes I've ever had on a plane.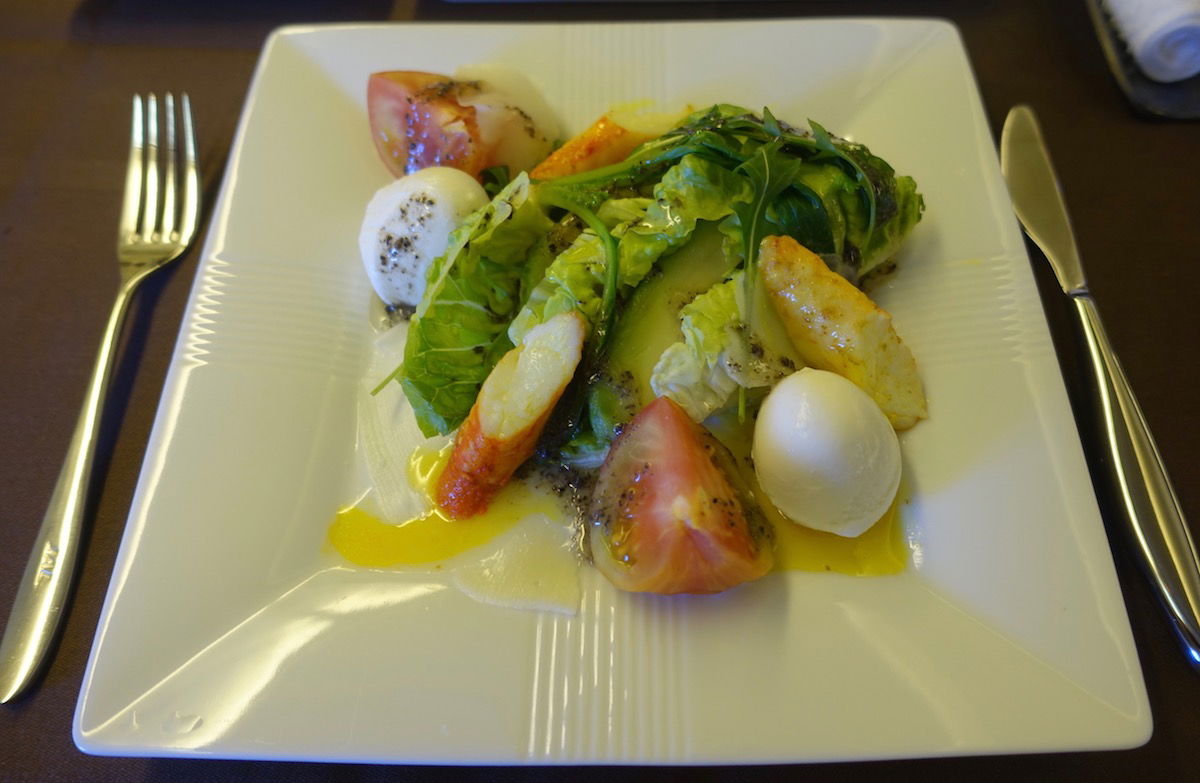 For the main course I had the grilled rosy seabass "saikyo miso" flavor, which tasted like something I'd expect at Nobu.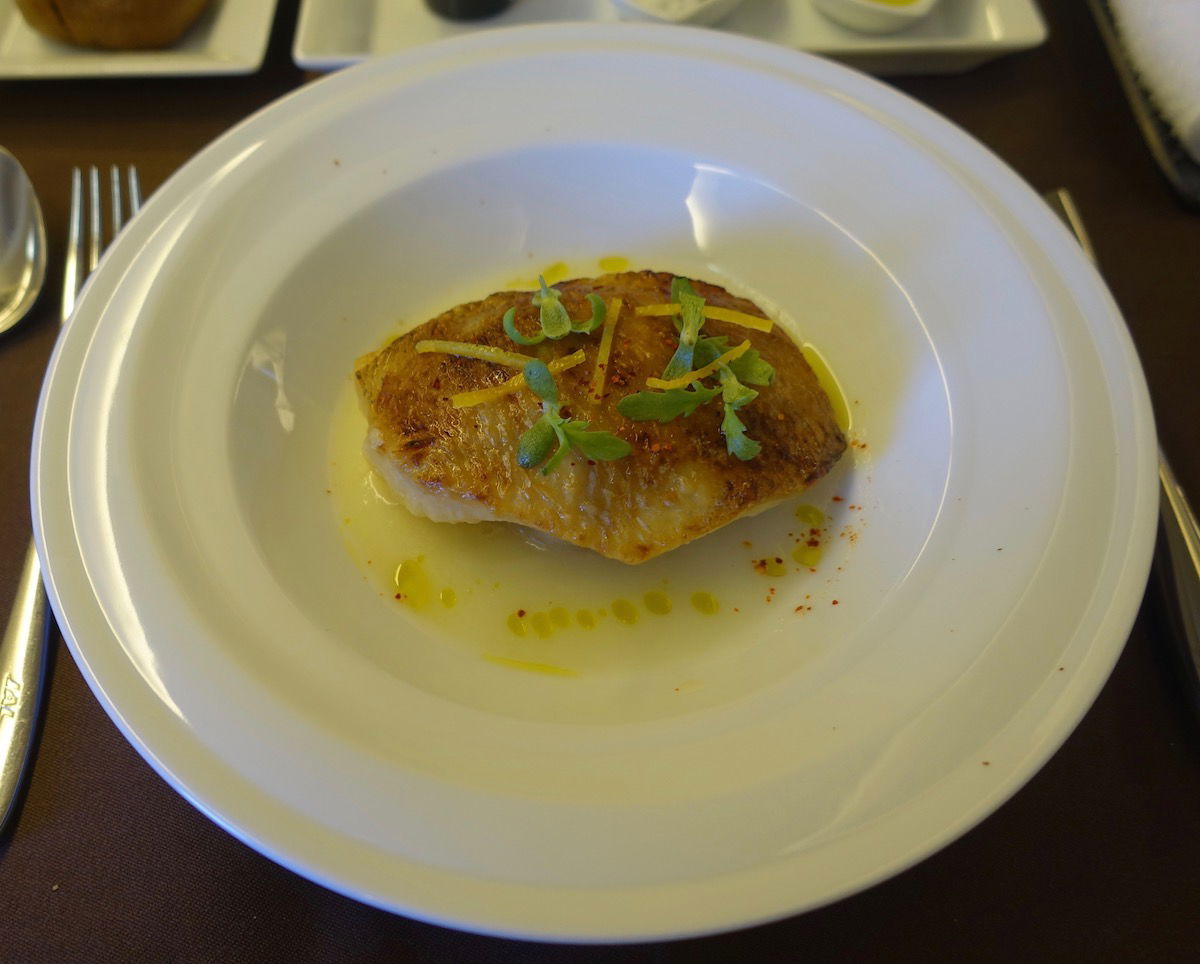 For dessert there was citrus fruit with herb sorbet, which was surprisingly tasty.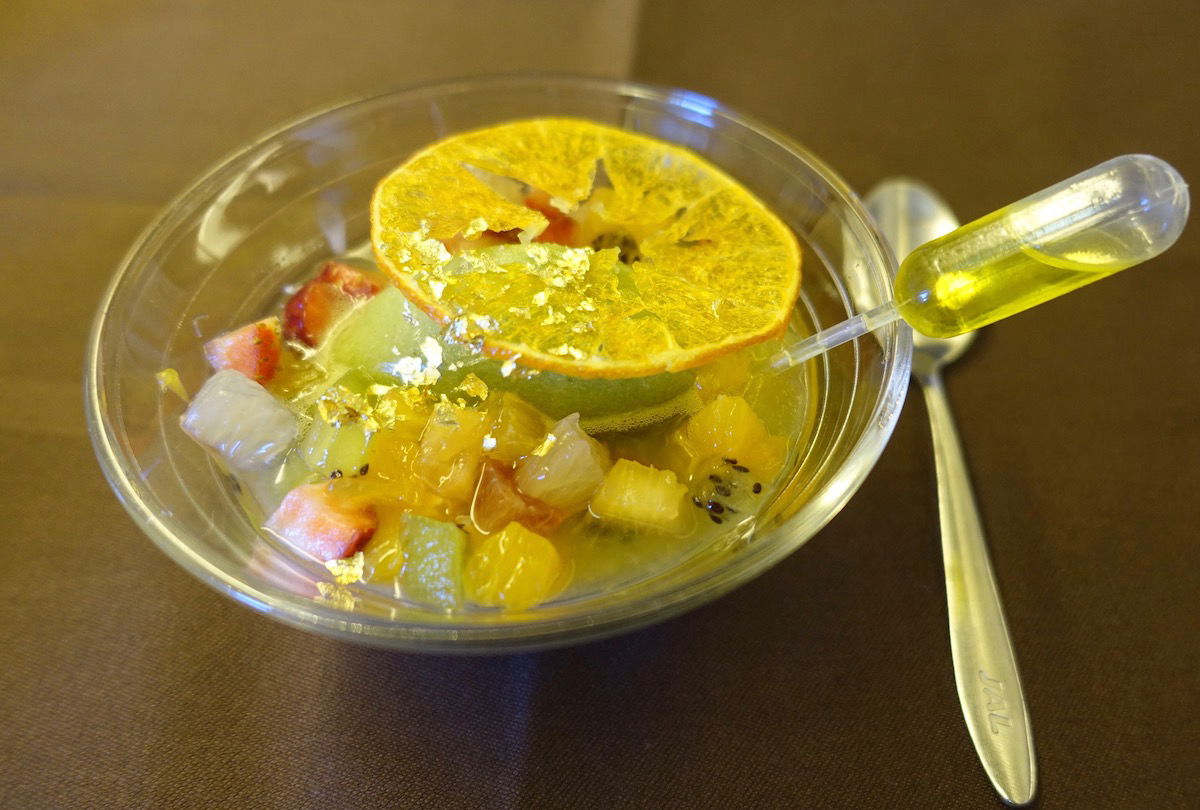 The food was just spectacular, and the drink selection wasn't bad either. 😉
Champagne choices included Cristal 2009 and Bollinger Rose 2006.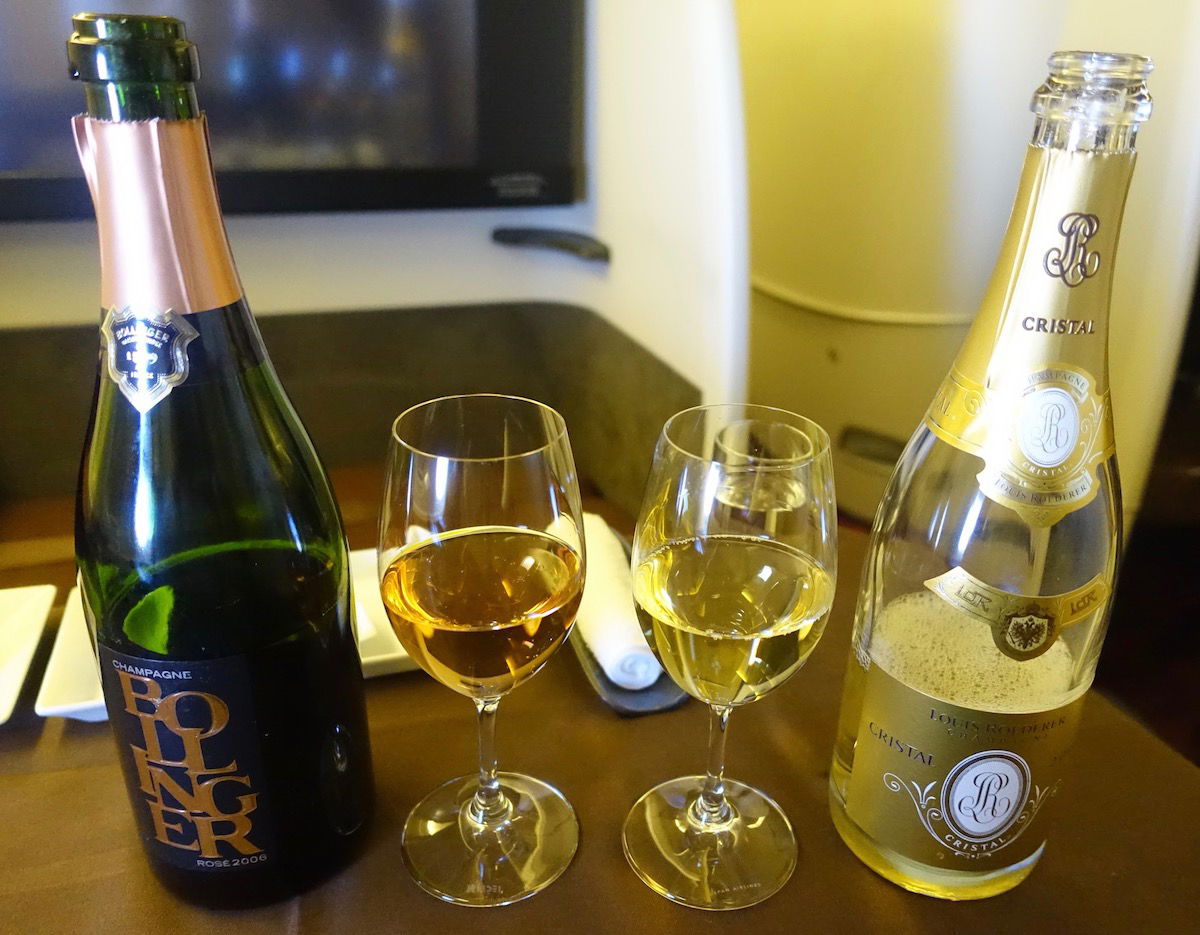 And while I'll talk about service below, I just have to point out in this context how good service was. I first drank Cristal and then later had the Bollinger. When the bottle of Bollinger arrived I asked if I could take a picture.
"Please wait a moment. It will be a nicer picture if I also get the bottle of Cristal, and you can place them next to one another."
Love it!
Japan Airlines 777 first class amenities
Japan Airlines has excellent amenities in first class. There was a nice amenity kit, which also came with a separate Shiseido skincare kit.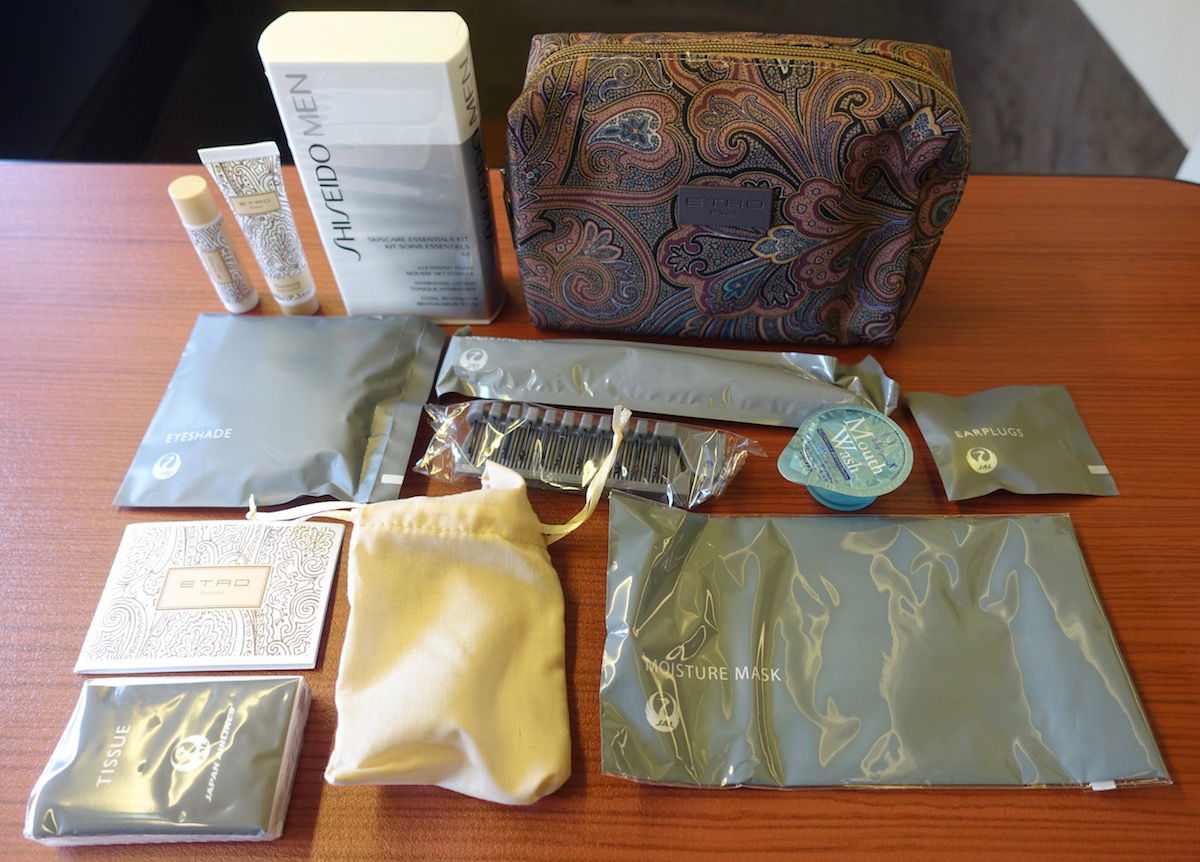 Then there were comfortable pajamas.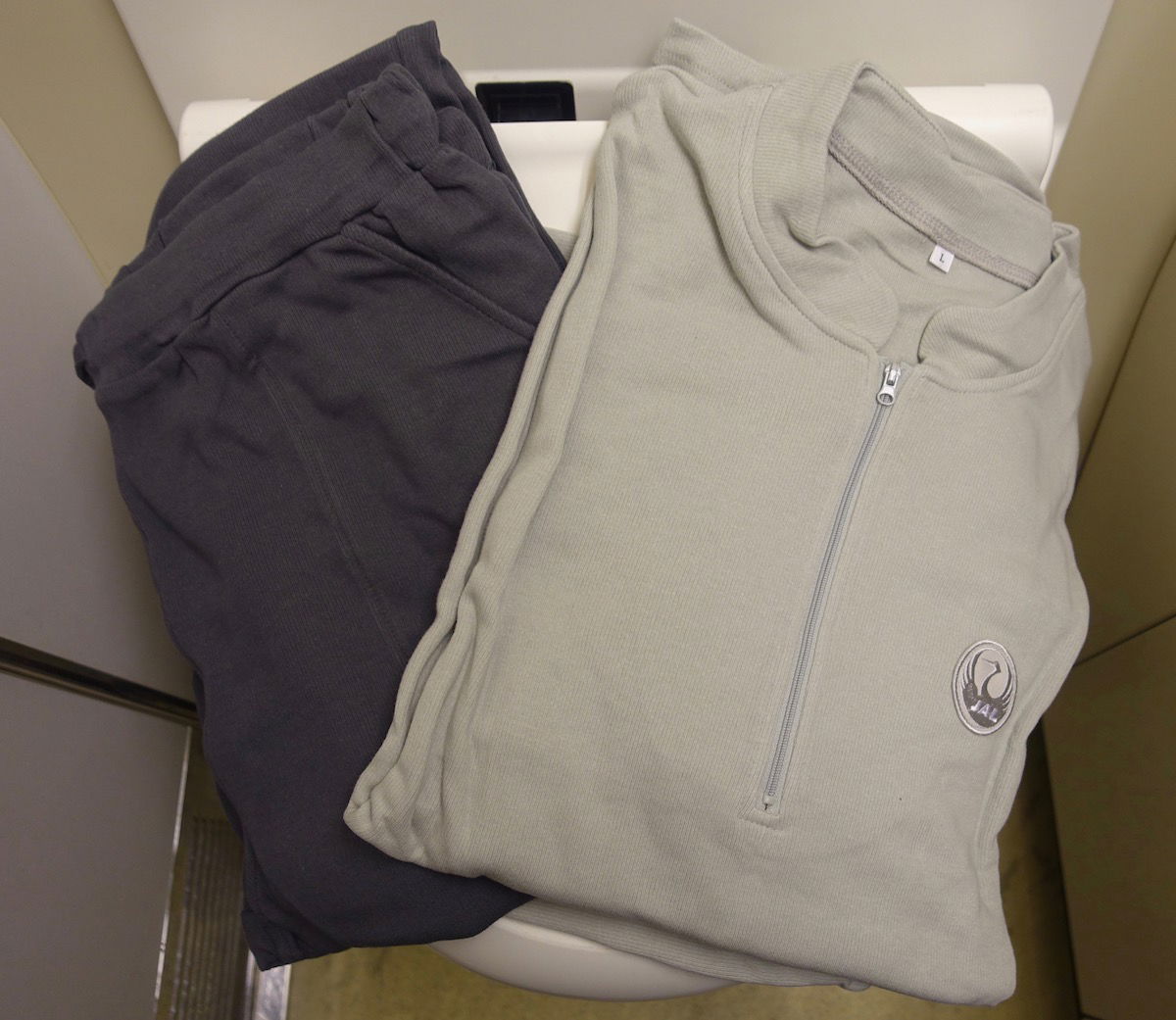 I'm also a fan of Japan Airlines' bedding. They have nice mattress pads and let you choose whether you prefer a firm or soft one.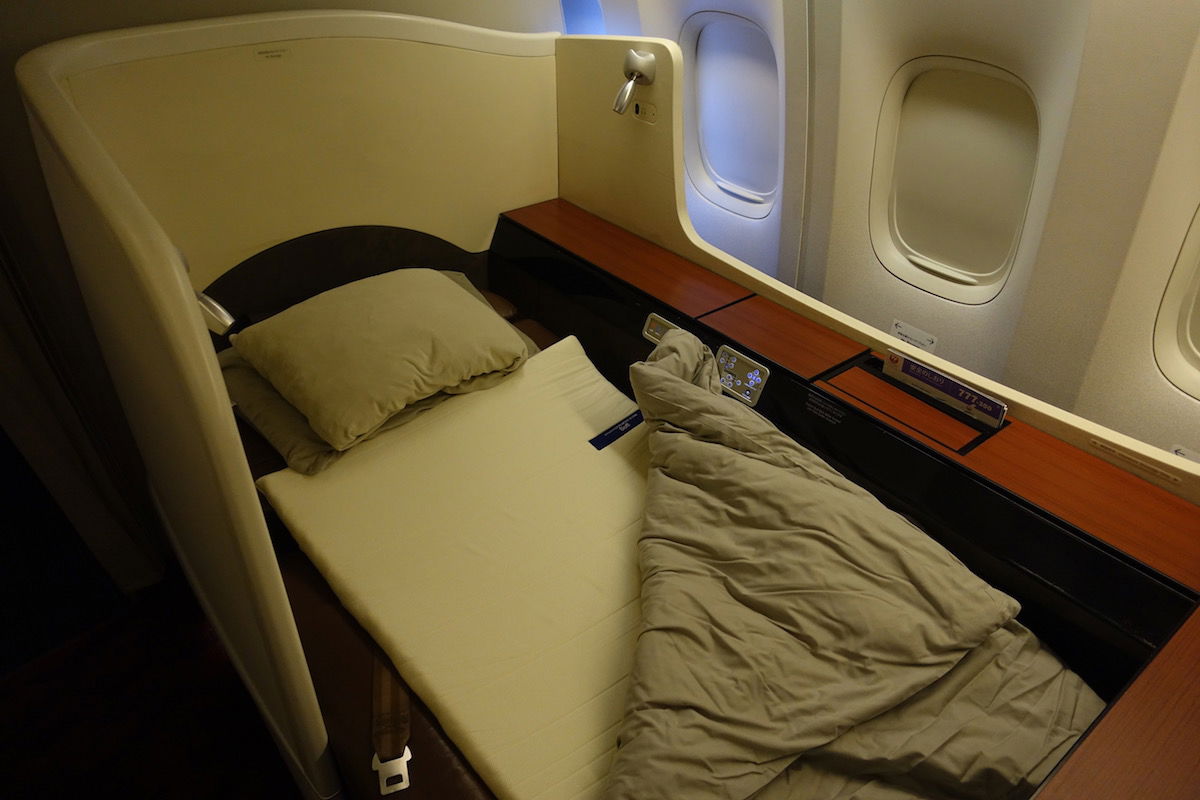 Japan Airlines 777 first class entertainment & Wi-Fi
Japan Airlines has reasonable Wi-Fi pricing to begin with (it's $20 for the entire flight with no data caps), but on top of that first class passengers receive complimentary Wi-Fi. I love this, and it makes Japan Airlines one of my two favorite airlines for international Wi-Fi, along with Lufthansa.
The inflight entertainment otherwise is pretty lackluster, as the selection of movies isn't huge.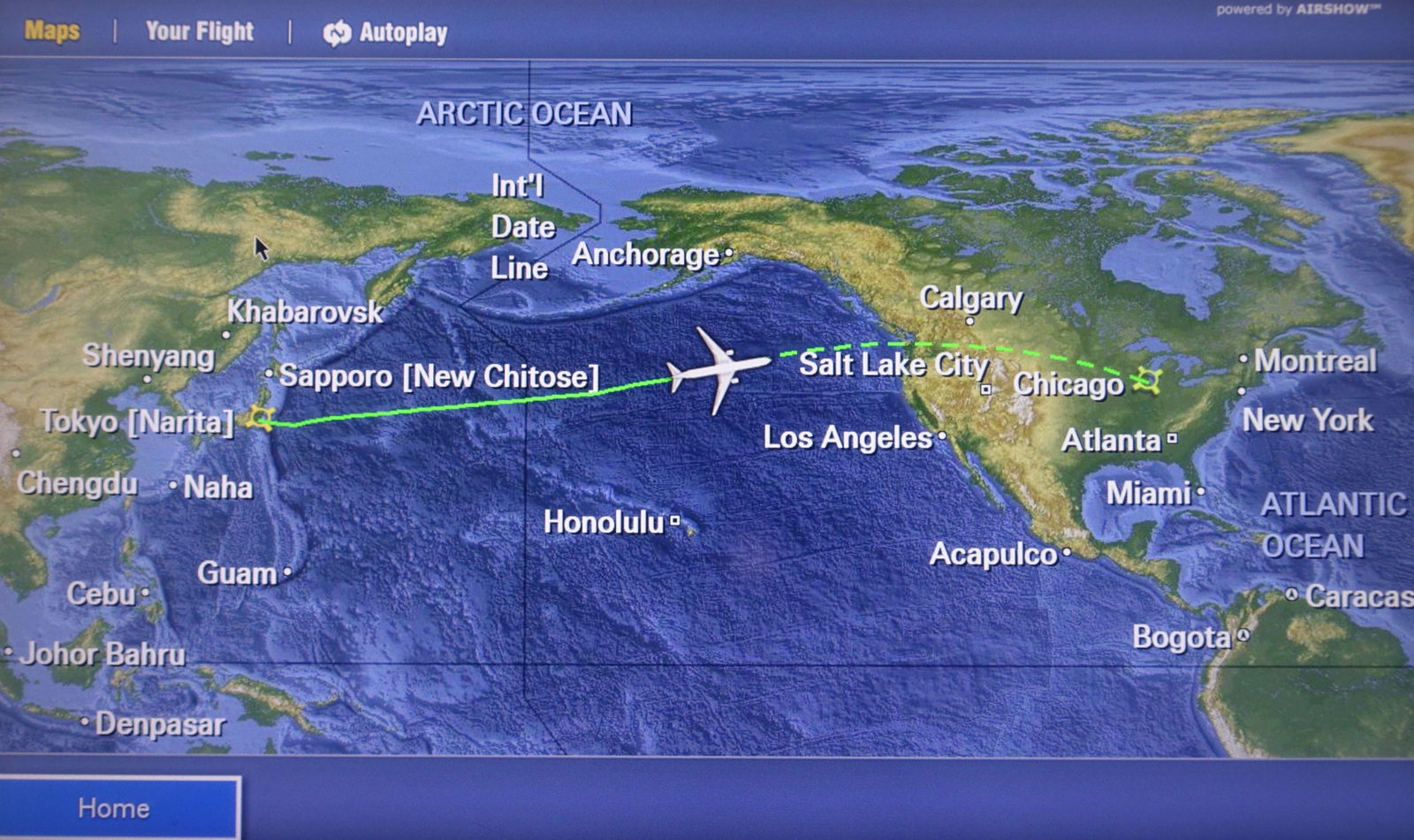 Japan Airlines 777 first class service
Service in Japan is already generally unlike anywhere else in the world. You get amazing service even at a fast food joint. So when you fly first class on a Japanese airline, it's that times a thousand.
This flight had especially good service. In addition to the inflight supervisor and a first class flight attendant, there was also a trainee first class flight attendant. And it was the cutest thing I've ever seen.
As much as service is usually so precise, gentle, and attentive, this trainee was clearly so nervous yet tried to keep her cool, so watching the pride and purpose with which she did everything was ridiculously adorable.
At the end of the flight the inflight service manager and trainee came by my seat to thank me for flying with JAL. I thanked them both, and in particular noted to the inflight service manager how good the trainee was, and it was cute to see how much she appreciated that.
I find service on Japanese carriers to generally be good, but this crew was exceptional.
Japan Airlines 777 first class bottom line
Japan Airlines doesn't have industry leading seats and their entertainment is pretty lackluster, but everything else about the experience they offer is spectacular. Incredible food. Incredible service. Fast, free Wi-Fi. Awesome amenities. Japan Airlines really has it (almost) all.
I actually think Japan Airlines has my favorite oneworld first class product (yes, even above Cathay Pacific and Qatar Airways).
If you've flown JAL first class, what was your experience like?