Hello from Los Angeles! I've just wrapped up an amazing trip to Japan, and flew Japan Airlines' Boeing 787-9 business class on the short 9hr20min flight from Osaka to Los Angeles. I booked this for just 60,000 American AAdvantage miles, which is quite a deal.
When I've flown Japan Airlines' Boeing 787 business class in the past, I enjoyed the carrier's Apex Suites business class. I rank this one of the world's best business class seats, and the overall experience as one of the best business class products in the world.
Well, this flight was a bit different. You see, some long haul Japan Airlines Boeing 787s and Boeing 777s don't have Apex Suites, but rather have reverse herringbone seats. Unfortunately these left with a different impression.
In this post I wanted to share my initial thoughts on the experience, and then soon you can expect a detailed trip report on the flight.
Japan Airlines' uncomfortable reverse herringbone seat
My flight was operated by a 787-9 with Japan Airlines' Sky Suite III business class seats, as they're called. I've seen a lot of people online complaining about these specific seats, noting how uncomfortable they are. I figured they were exaggerating, or something, since I'm usually a fan of reverse herringbone seats.
Well, now I know what everyone is talking about. These have to be the least comfortable reverse herringbone seats in service nowadays.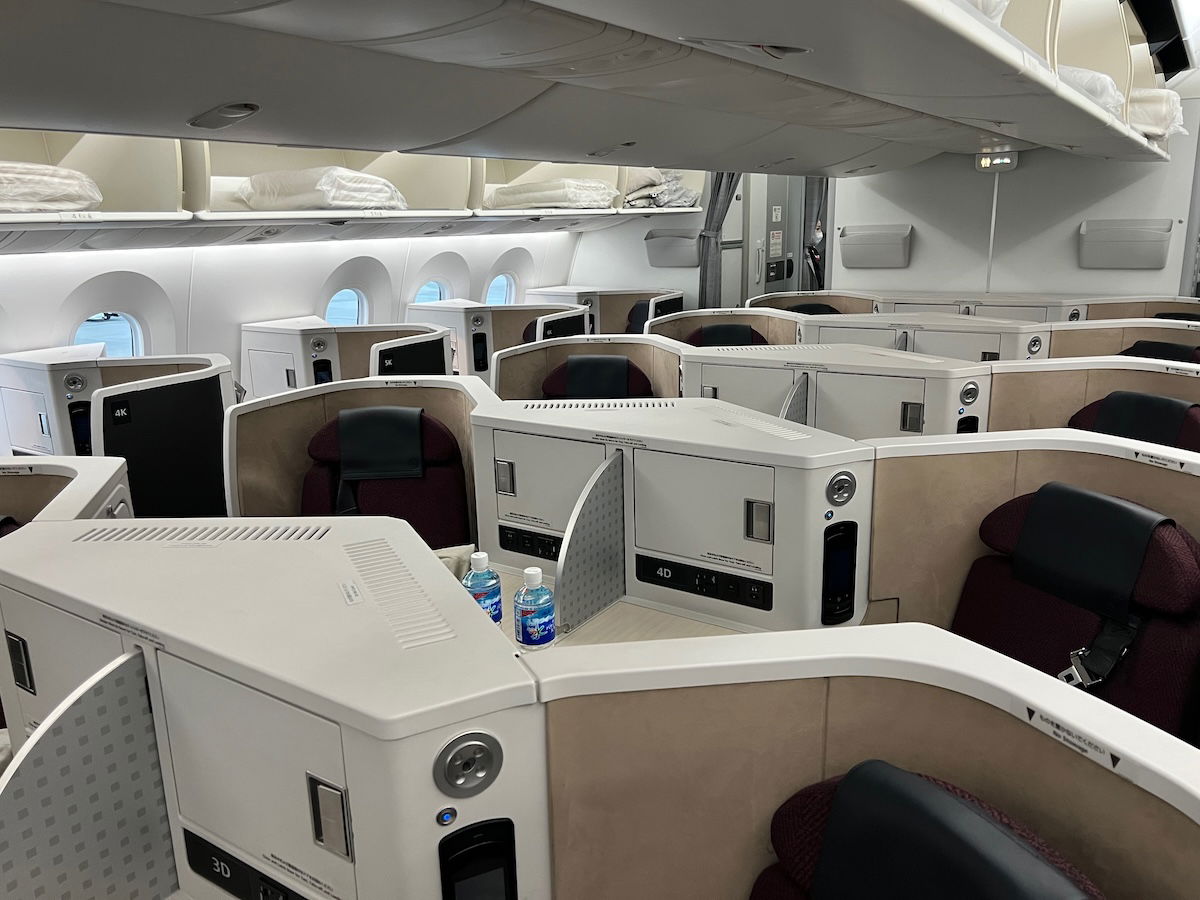 When you look at the seat, it probably looks like a pretty average reverse herringbone product, and you wouldn't assume it's particularly uncomfortable.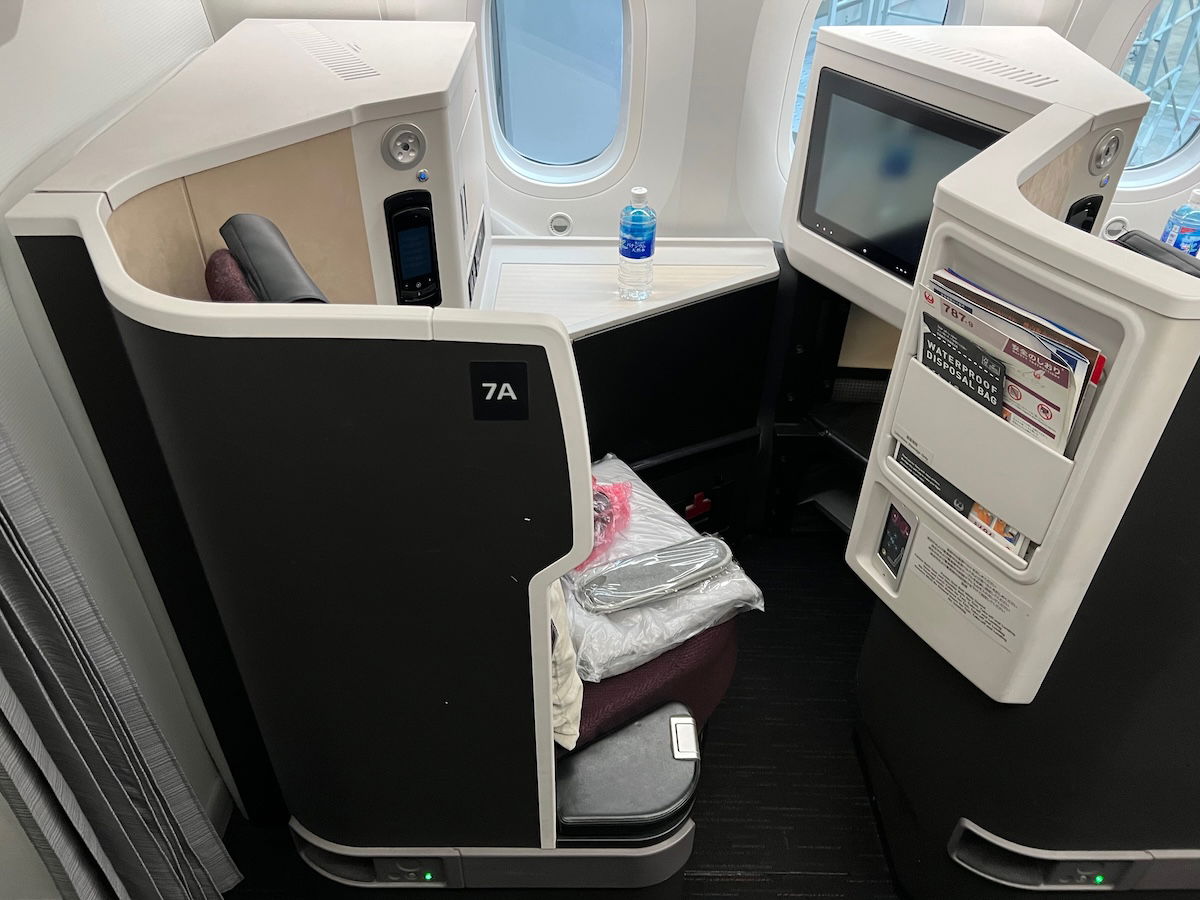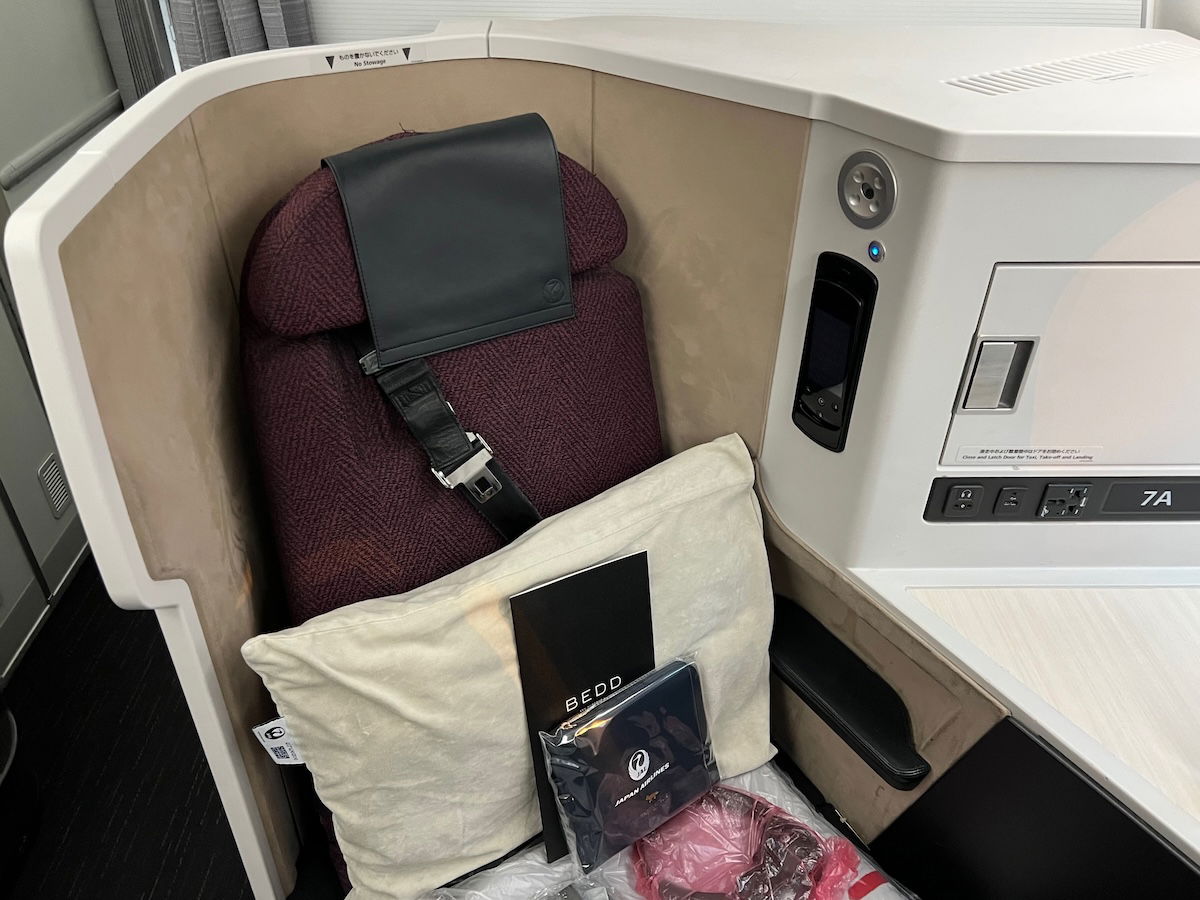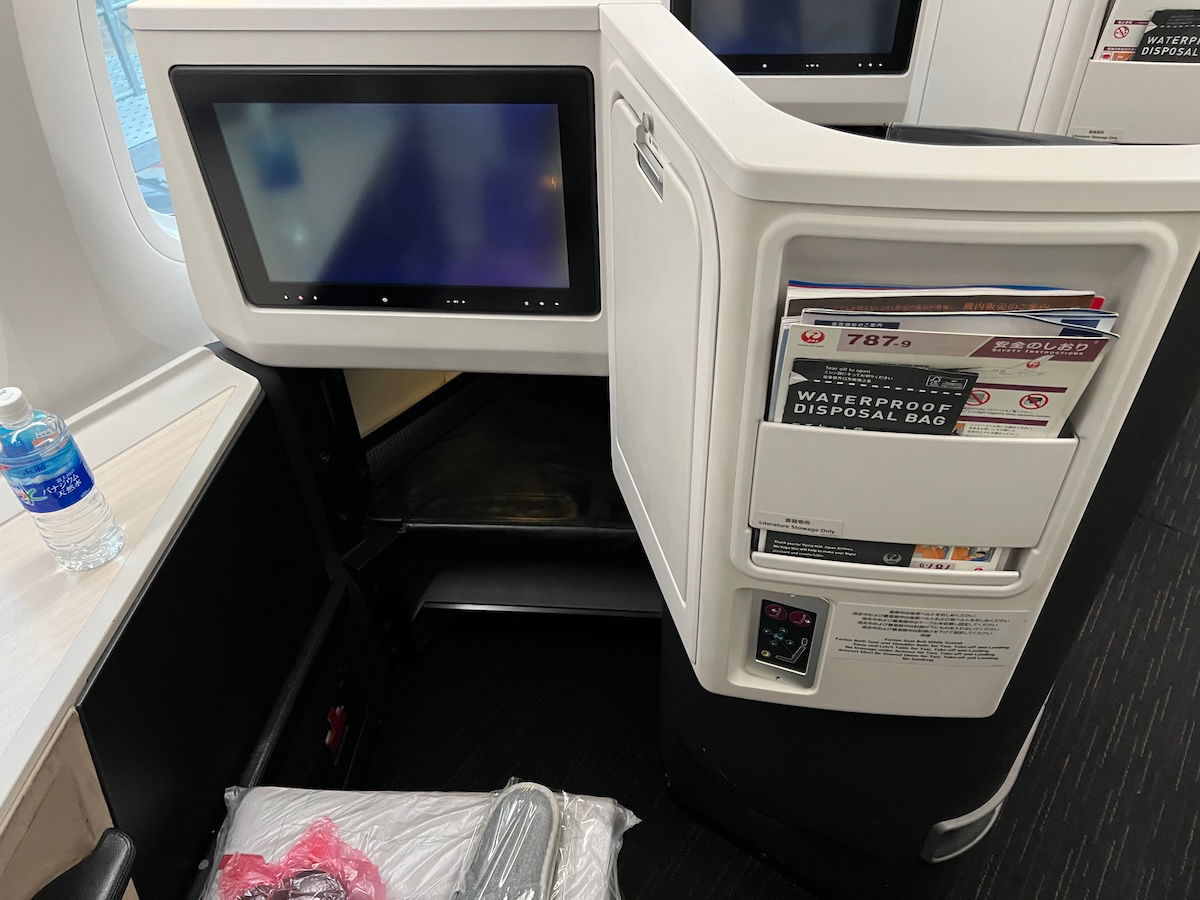 However, when you recline, I can promise you that it feels really, really narrow and tight. Reverse herringbone seats have evolved quite a bit over the years, to provide more space when in the reclined position (just look at Starlux Airlines' new A350 business class). When in bed mode, this seat felt super narrow.
As a side sleeper, I simply couldn't get comfortable in this seat, as my knees were constantly hitting the side of the seat. While Japan Airlines offers an excellent mattress pad, what didn't help with getting comfortable was the pillow that was about as thick as a pancake.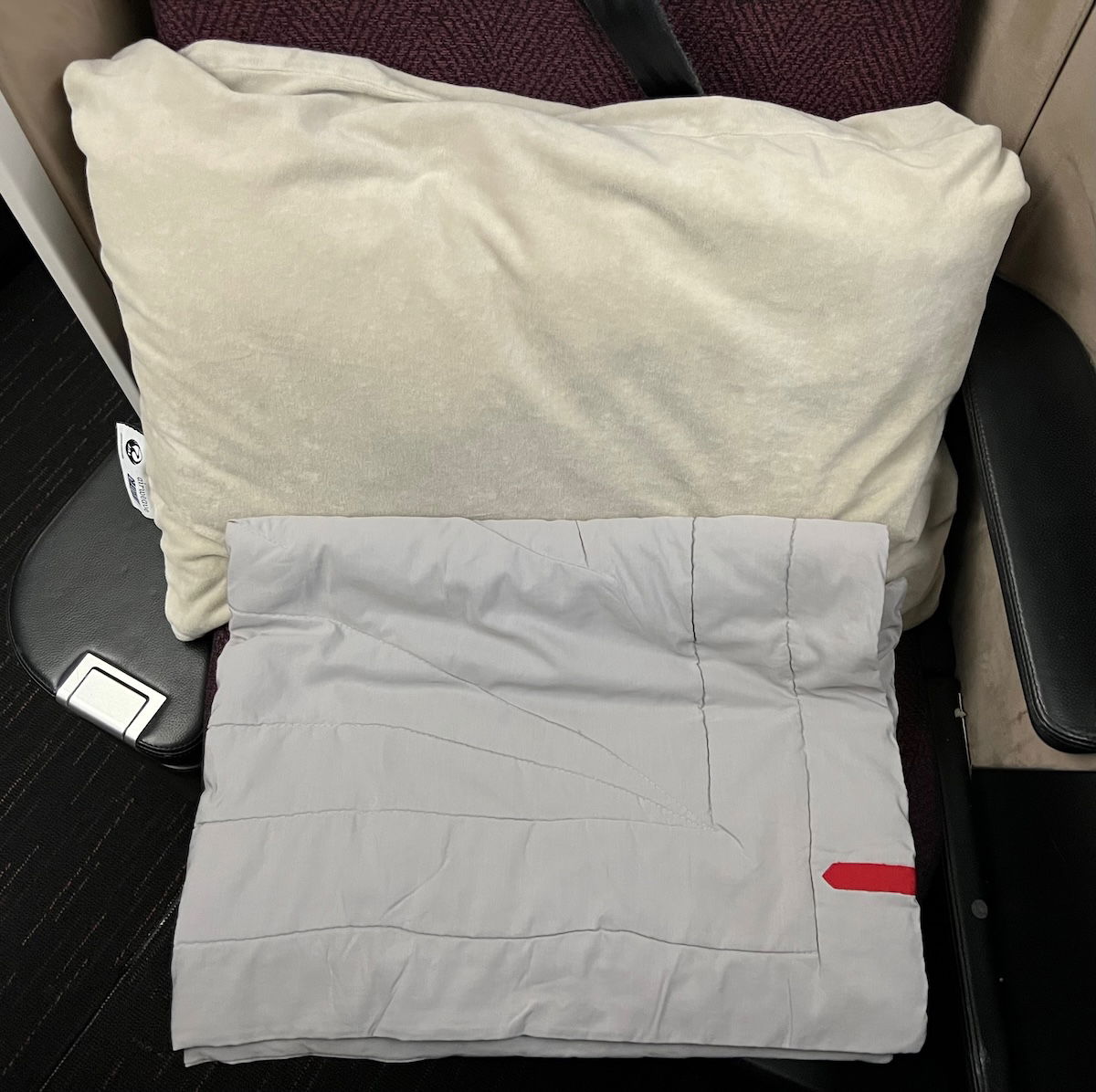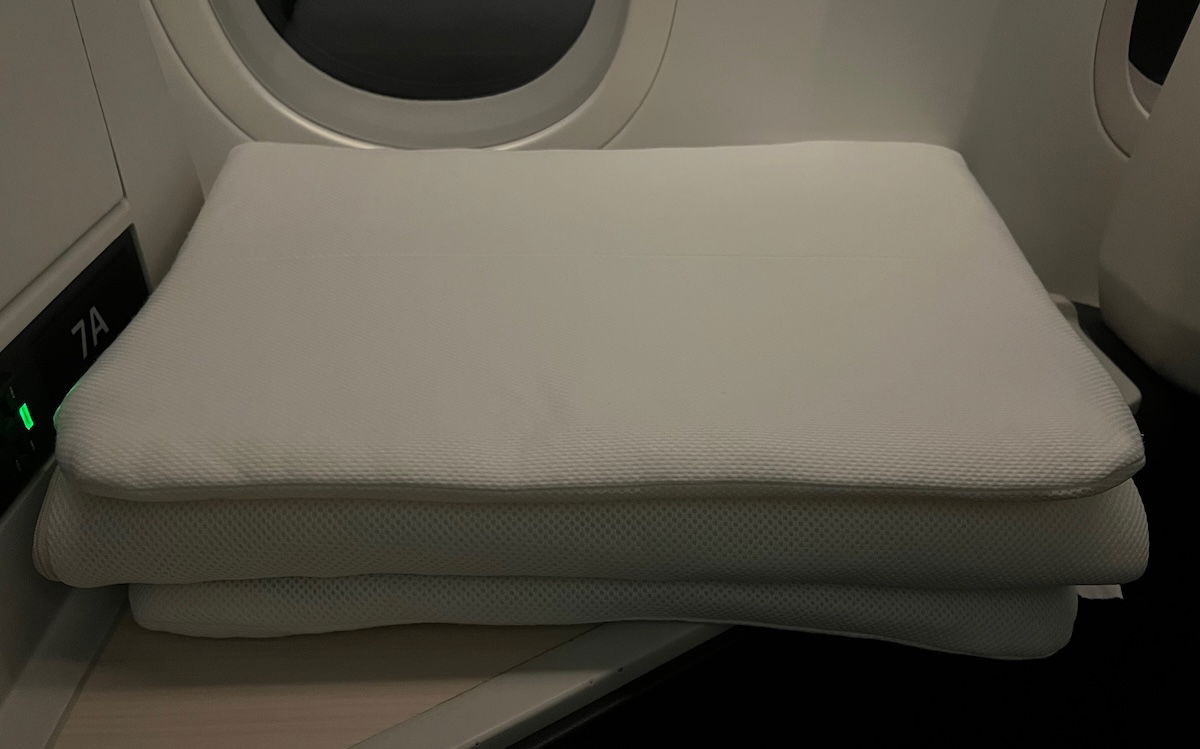 Maybe I just had bad luck, but I woke up in pain after sleeping. My back hurt, my arm hurt, and my hands hurt, in a way I haven't had in quite some time. I'm just grateful that the cabin was kept pretty cool, which often isn't the case on Japan Airlines, and that can become a problem given the lack of individual air nozzles.
The puzzling thing is that these seats are still fairly new to Japan Airlines. Why did the airline select this product, over the other superior reverse herringbone seats out there? It's strange…
Japan Airlines' good Wi-Fi, bad entertainment
When it comes to entertainment on Japan Airlines' Boeing 787s, there's good news and bad news. The good news is that the airline offers Panasonic Wi-Fi, and you can buy a pass for the entire flight for $18.80. That's tough to beat, especially given the lack of data caps.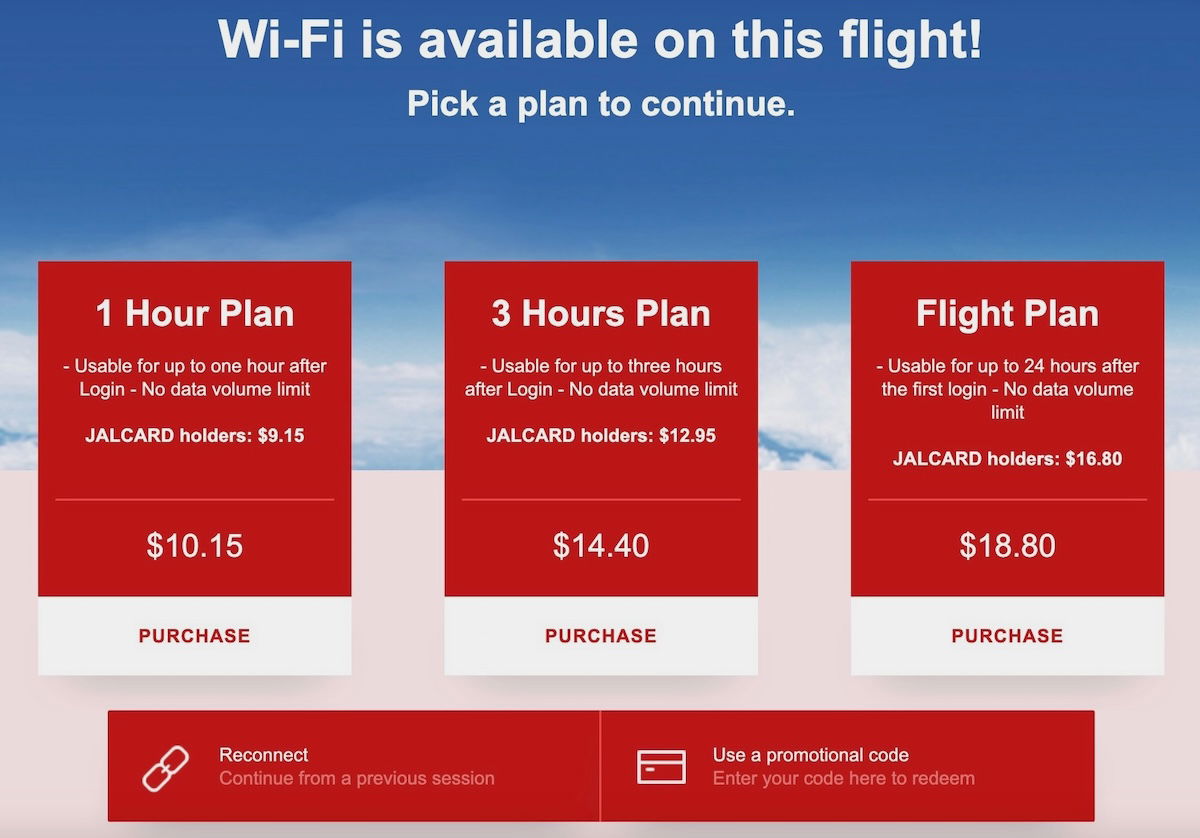 I'm happy that the Wi-Fi is a good option, because Japan Airlines' entertainment selection is very bad, at least for those of us looking for entertainment in English. There's not even a solid selection of Hollywood sitcoms, as you find on a vast majority of airlines.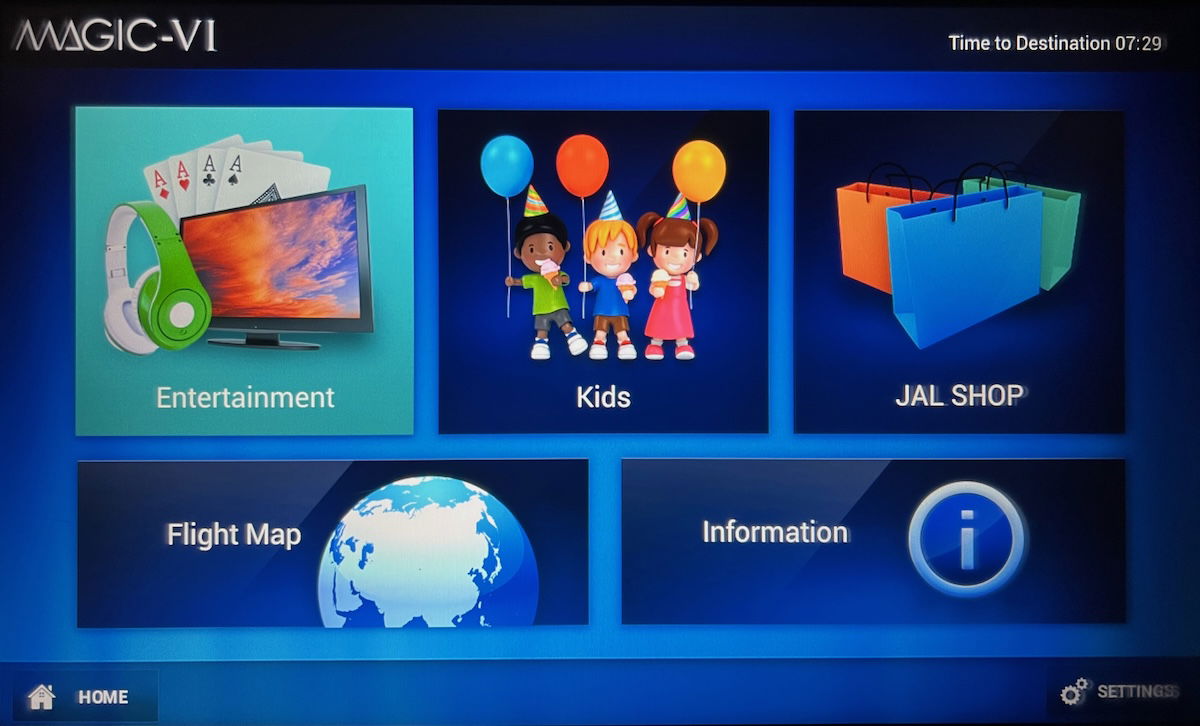 Japan Airlines' food & service are very good
While the hard product and entertainment left a bit to be desired, Japan Airlines' soft product was great. As you'd expect from a Japanese airline, service was courteous and friendly. It's always tough to go back to a domestic US flight after flying with a Japanese airline, given the very different service culture.
While Japan Airlines' western meals are only okay, the airline does a great job with Japanese meals. On this flight I decided to have the Japanese meals for both the dinner and breakfast, and they didn't disappoint. For the main service, the meal began with drinks, as well as mixed nuts and olives. I had a glass of champagne (Duval-Leroy) and the peach and grape SKY TIME drink (one of my favorite non-alcoholic airplane drinks).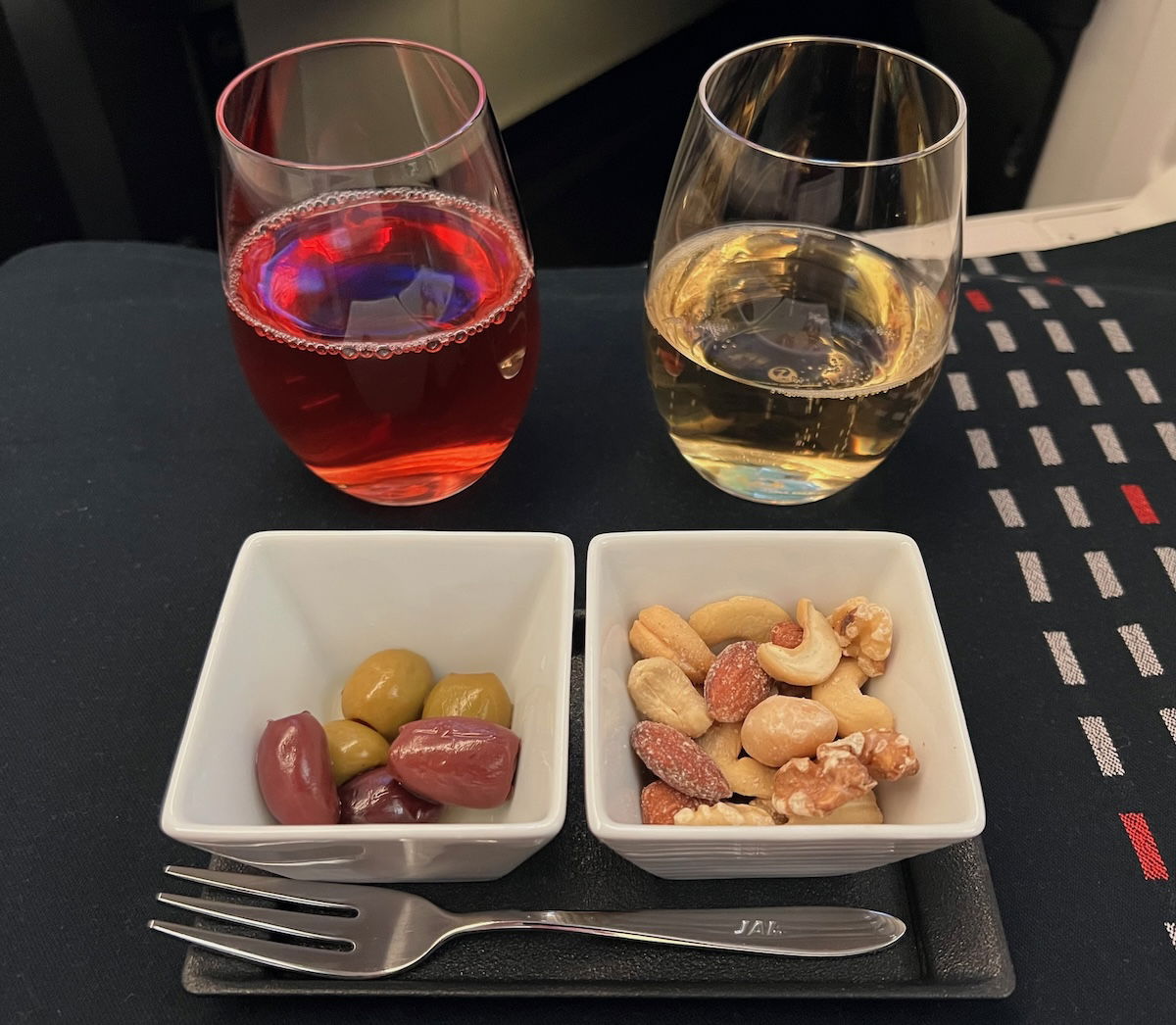 The appetizer consisted of a handful of dishes, including scallops, tofu, lobster, mackerel, and pike conger, beef, and chicken.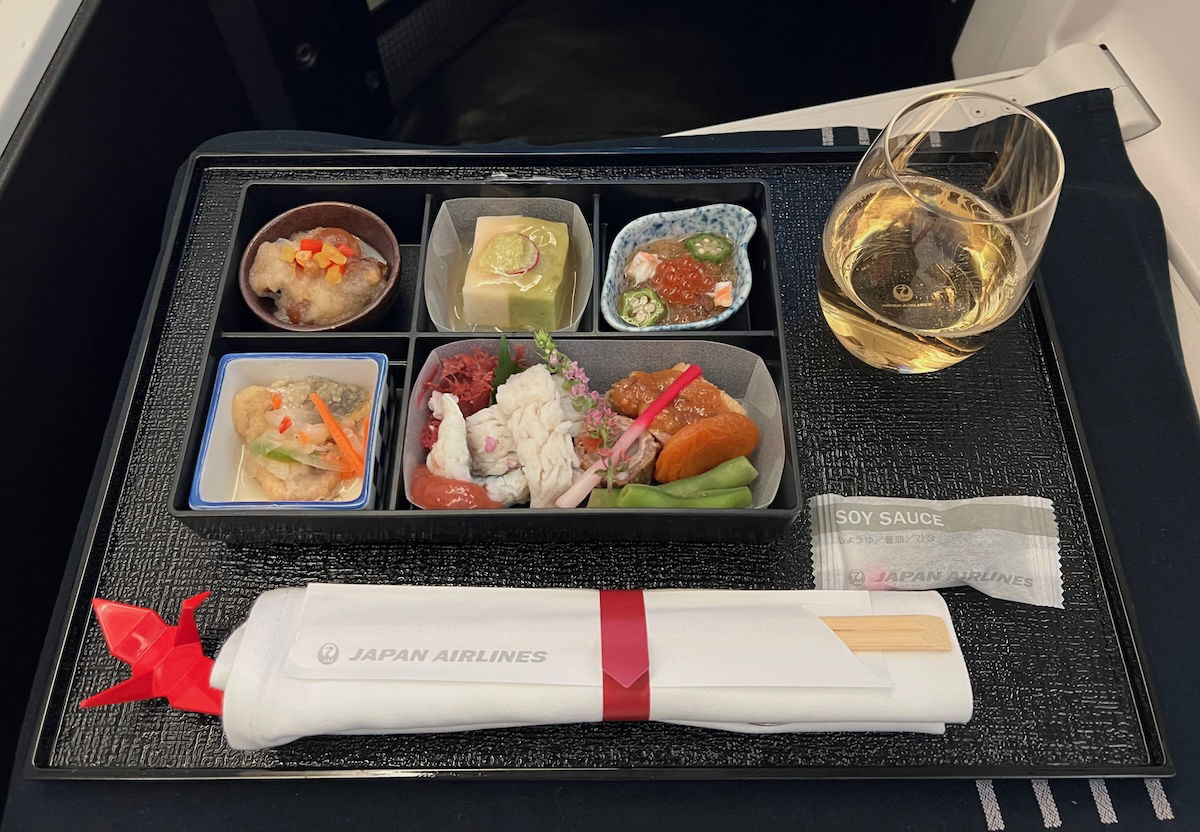 The main course consisted of chicken and eel, rice, and a miso soup.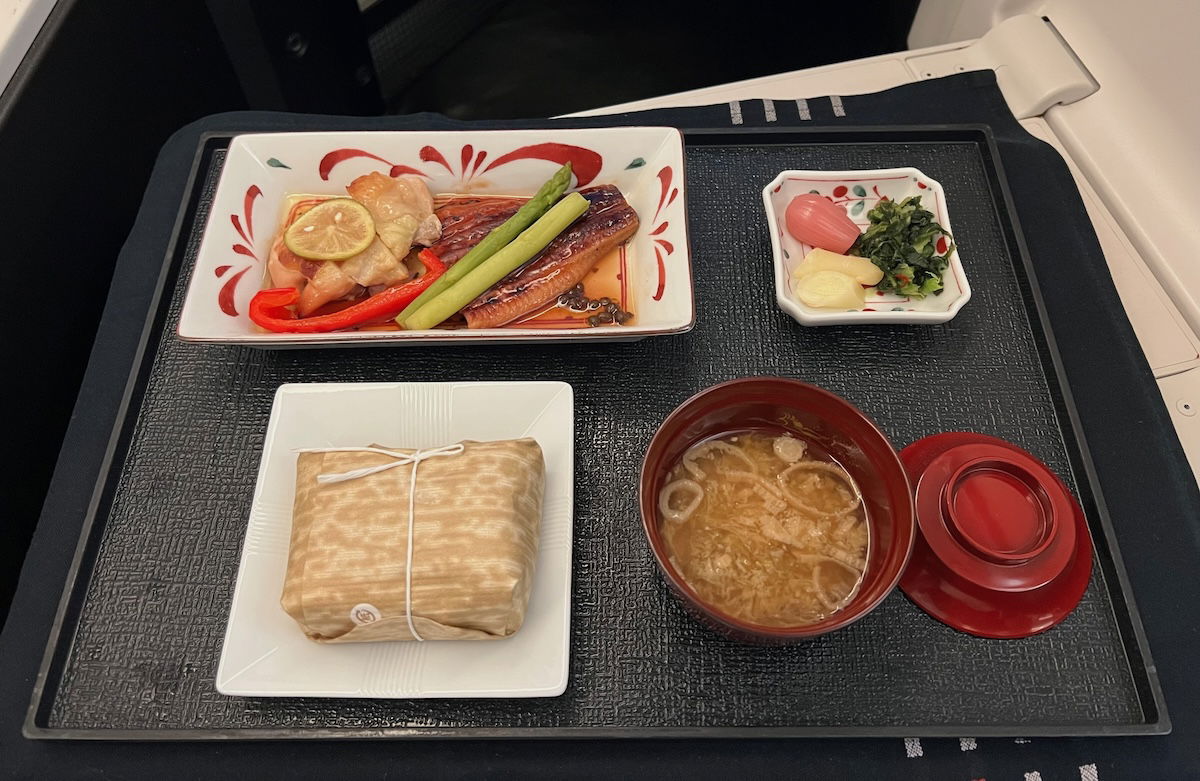 Then for dessert there was an apple mango cake and green tea.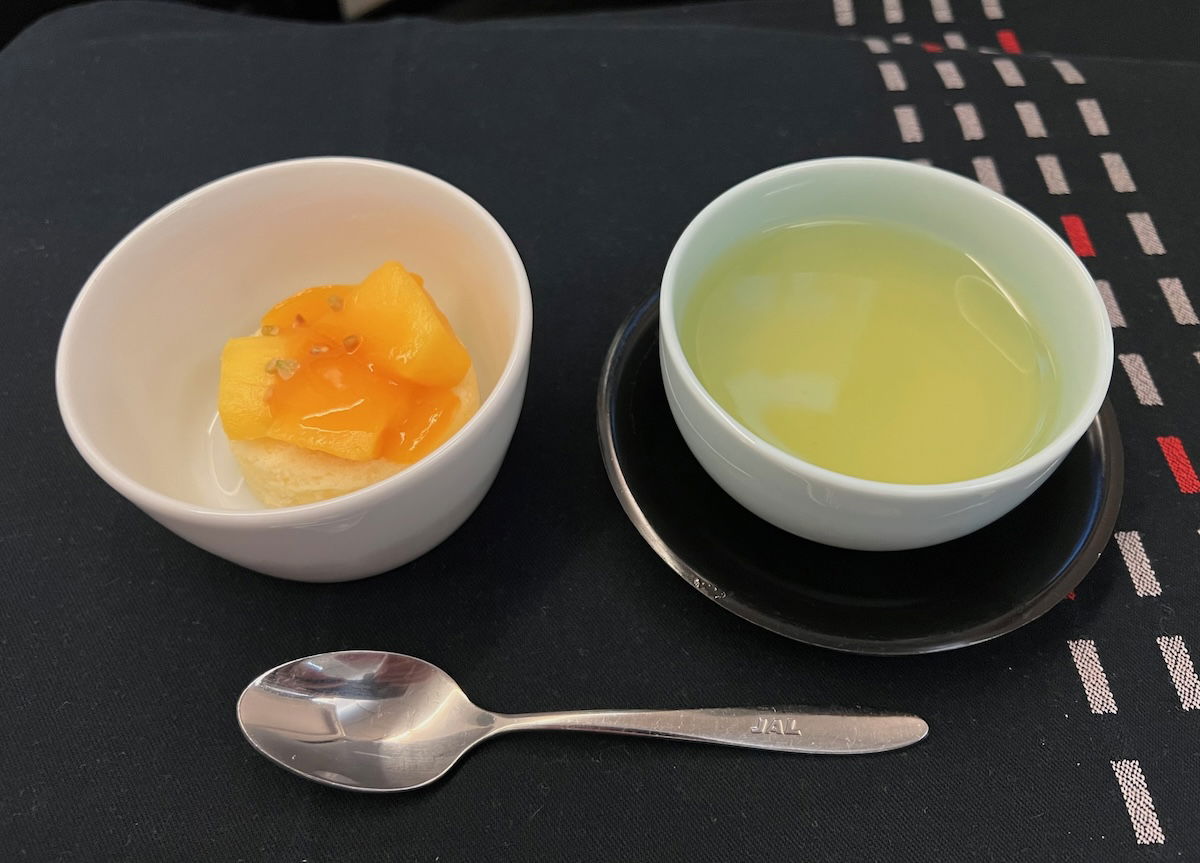 For the pre-landing meal, I had halibut with a Japanese omelet, rice, and miso soup.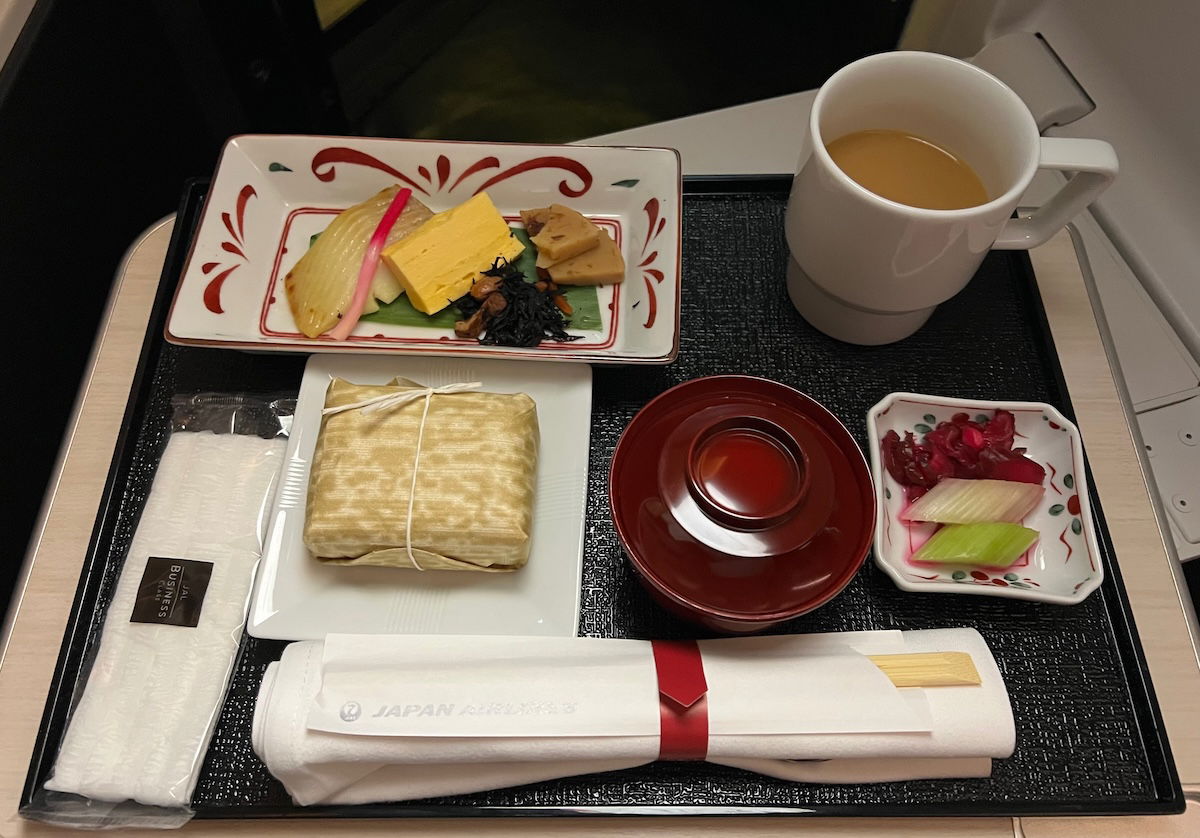 Suffice it to say that this was a bit more intricate than your typical domestic first class meal in the United States, and frankly, a much better choice than the western options.
Bottom line
While I'm a big fan of Japan Airlines' Apex Suites business class, the carrier's reverse herringbone product (known as Sky Suite III), isn't nearly as comfortable. This has to be one of the tightest reverse herringbone seats out there, especially in bed mode. When you add in the very thin pillow, it didn't make for great rest.
Fortunately most other aspects of the experience were great, including the service, food, and drinks.
Personally I'd probably avoid this product on a long haul flight in the future, unless it's the most direct option available. For example, Japan Airlines is the only airline to fly between Osaka and Los Angeles, so there's something to be said for the convenience of that over connecting, assuming you're traveling between the two cities.
If you've flown Japan Airlines' reverse herringbone business class, what was your experience like?