In late August I wrote about how Japan Airlines will be launching 4x weekly nonstop flights between Dallas and Tokyo Narita as of November 30, 2015. The flight will be operated by a Boeing 787-8, featuring business class, premium economy, and economy.
American and JAL have a transpacific joint venture, so this complements American's existing 2x daily flights between Dallas and Tokyo Narita.
Anyway, this new flight has been bookable for a couple of weeks now, though I haven't been seeing any award space on it based on searching the British Airways award search tool. However, dantheman pointed out in the "Ask Lucky" forum that award space is actually wide open on this flight… it just doesn't show on the British Airways website.
Japan Airlines has two business class award seats available virtually every day between Dallas and Tokyo between November 30, 2015, and the end of the schedule. If you do want to search space just to verify, you'll want to use the Japan Airlines award search tool, which I've written a primer about in the past.
When you search for space, click the "Award Reservation Calendar" button so that you can see a week of award availability at a time.
As you'll see, there's availability virtually every day the flight operates (which is Mondays, Wednesdays, Fridays, and Sundays in both directions).
Perhaps the most exciting news is that the flight is scheduled to be operated by the "SS8" configuration of the 787, which features JAL's newest business class product.
It's fully flat, so along with Japan Airlines' excellent onboard service, is a great way to get to Asia.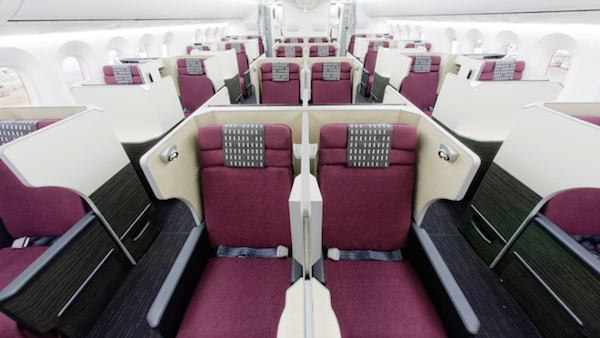 American charges just 50,000 AAdvantage miles for one-way business class between the US and "Asia 1" (which includes Japan and Korea), or if you want to connect to "Asia 2" (which includes most of the rest of Asia), that's a total of 55,000 miles one-way. There are no fuel surcharges for travel on JAL, and you shouldn't have to pay a phone ticketing fee, given that this award can't be booked online.
Bottom line
I love JAL's onboard product, so I'm excited to see them expand their service to the US even further. Business class award space is wide open and American's award rates to Japan and beyond are exceptionally good, so this is a fantastic option for redeeming miles. And that's especially true since this route is operated by one of JAL's reconfigured 787s, featuring their super-private new business class product.
Will you be redeeming miles on JAL between Dallas and Tokyo Narita?