Skipping ahead on my current mini-trip report series, I wanted to share my thoughts on the new Istanbul airport, which just opened over the weekend.
I spent last night at the airport, as I landed at around 11PM and departed around 7AM. I was curious to check out the new Istanbul Airport, given how often I had used the old Ataturk Airport. In this post wanted to review the airport as such, and in the next post I'll review the Turkish Airlines Lounge.
Let me note that I'm exclusively reviewing the transit experience at the new Istanbul Airport. I didn't clear immigration, so I can't speak as to what the arrivals or check-in experience are like.
That being said, boy do I have a lot to say about the new terminal, because I'm confused.
The basics of the new Istanbul Airport
The new Istanbul Airport technically began operations in October 2018, though Turkish Airlines only moved over a limited number of flights at the time. There were a variety of factors that caused a delay to the full transition.
The "great move," as it has been called, took place this past weekend, on April 5, 2019. With this, all major airlines switched their operations from Ataturk Airport to the new Istanbul Airport.
While the main terminal of the airport is now open, there's still some other construction going on.
Currently the airport can handle about 90 million passengers per year, and that's using a single terminal. This happens to be the world's largest terminal, and is about 15.5 million square feet.
When the airport is complete (about a decade from now), it will have the capacity to handle about 200 million passengers per year, making it the biggest in the world (though obviously a lot can change between now and then).
Layout of the new Istanbul Airport
First let me share an overview of the terminal with an aerial rendering: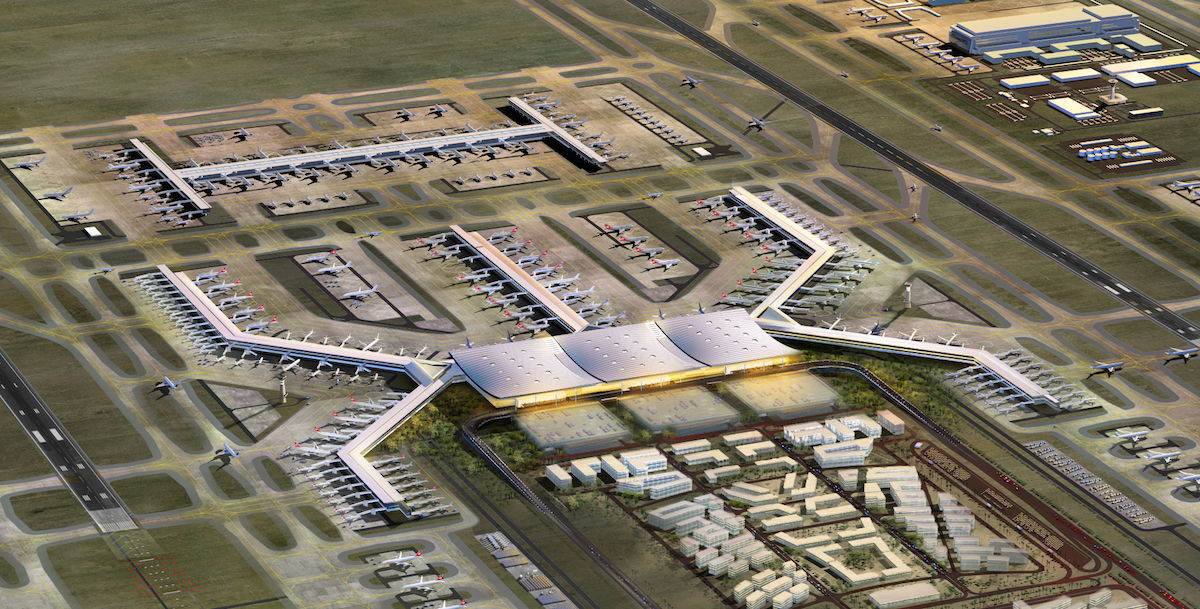 Ignore that stretched out "H" shape building at the top, as that's not yet operational.
Instead just focus on the massive, spider-looking building at the bottom. That big rectangle in the bottom center of it is both the check-in hall and the main hall that connects the various piers of the terminal.
As you can see, there are five piers — A, B, D, F, and G.
A, B, D, and F, are all international gates, while G is the domestic gates. The way you connect between all the piers is using that center rectangular area.
Here's a terminal map showing that: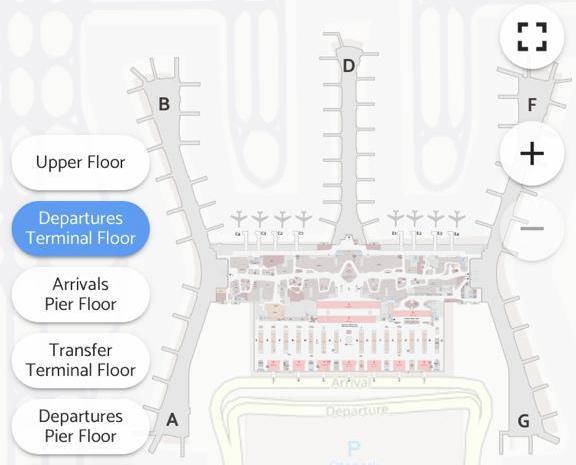 The new Istanbul Airport terminal is gorgeous
Make no mistake about it, the new terminal is beautiful, as you'd expect. The airport has really high ceilings and breathtaking design.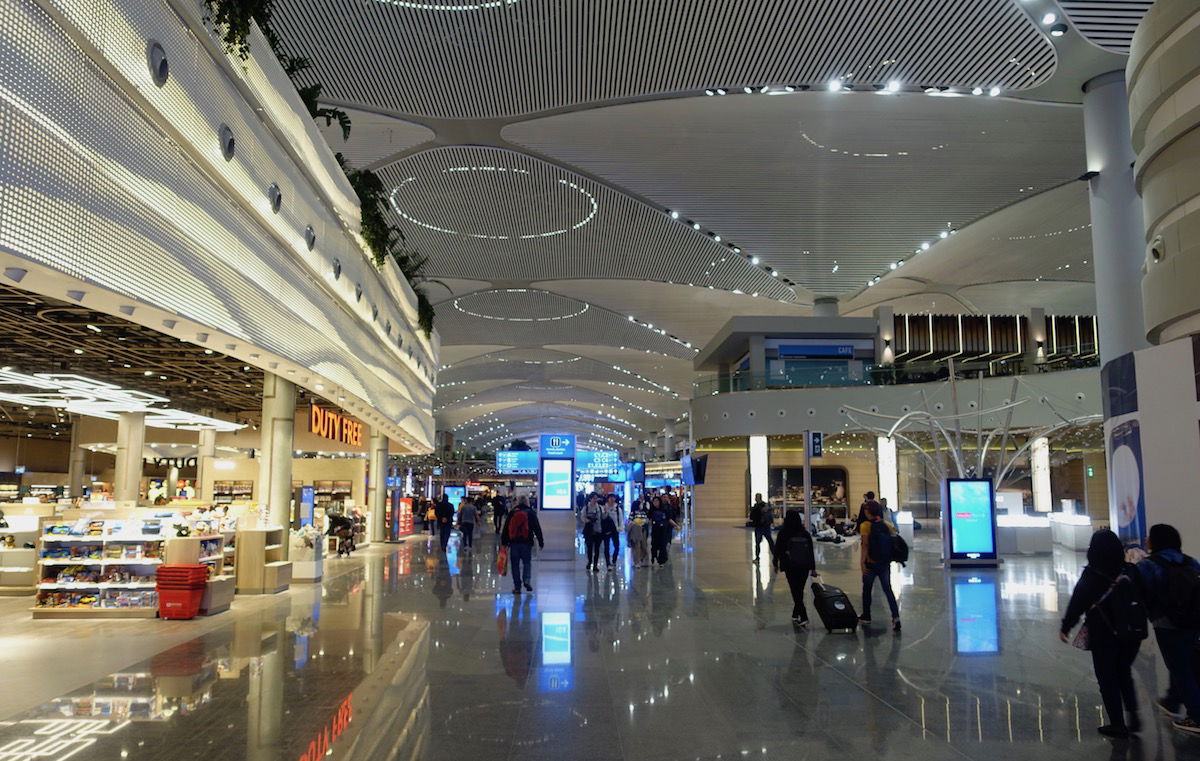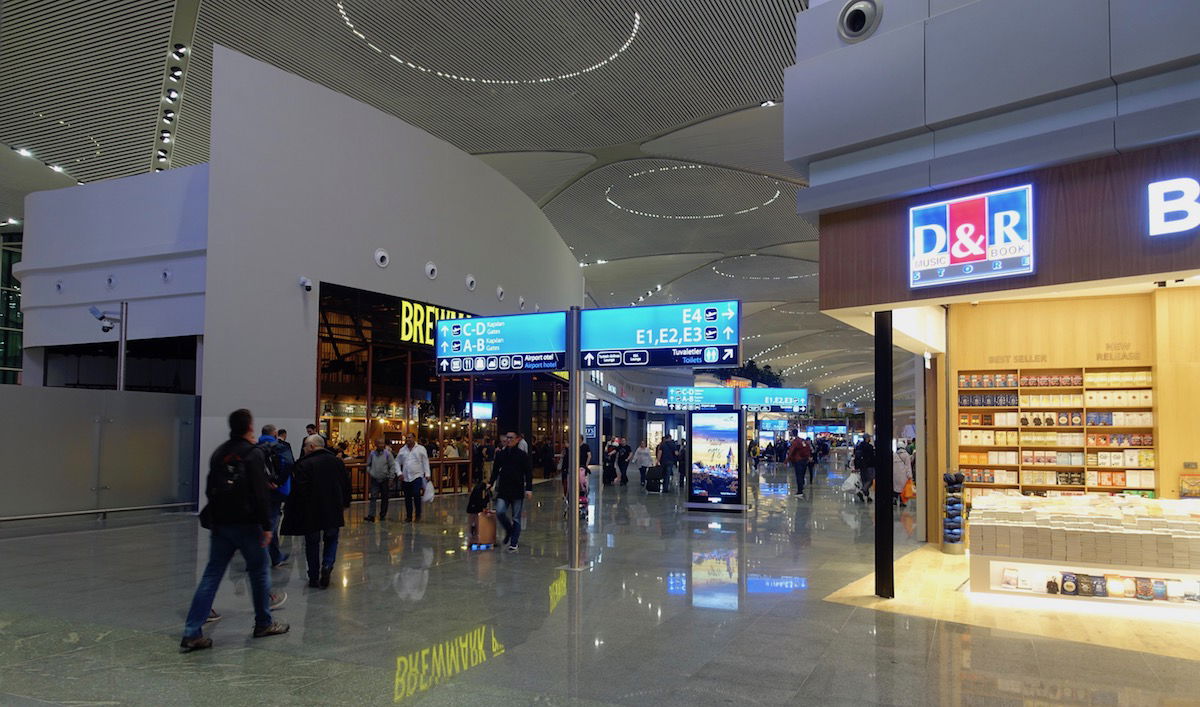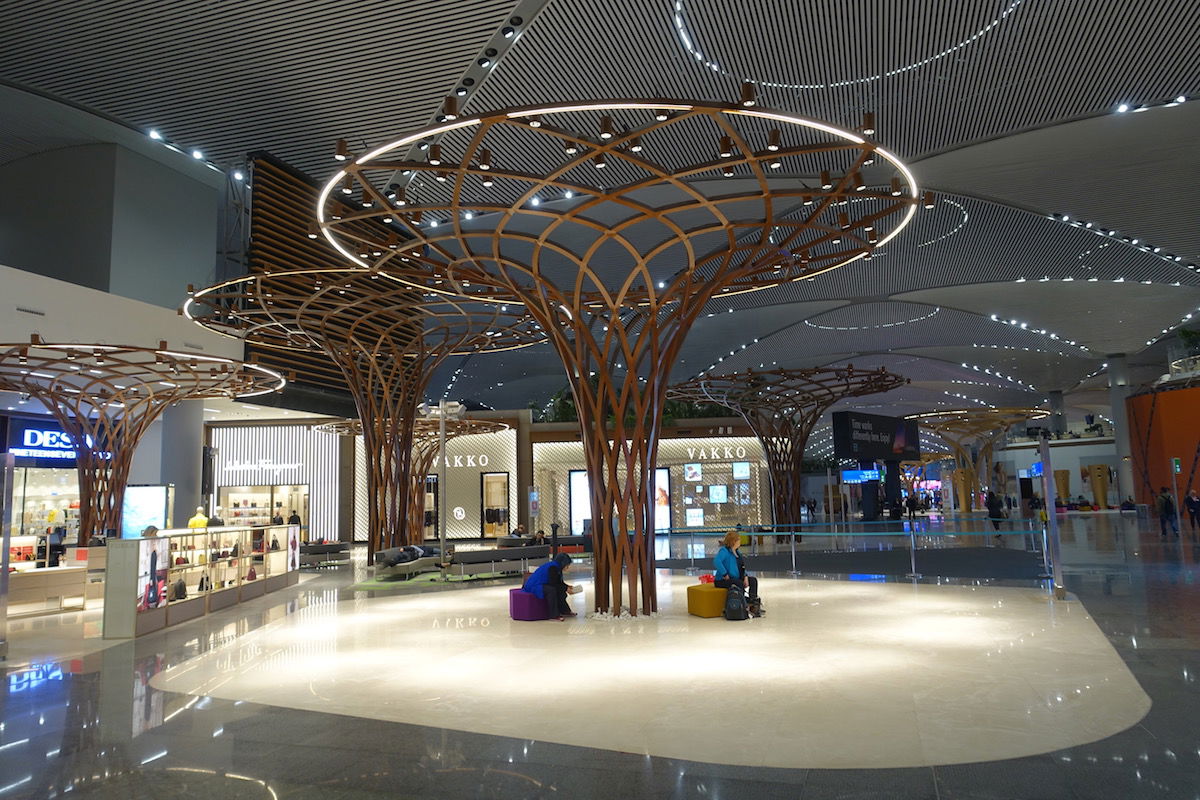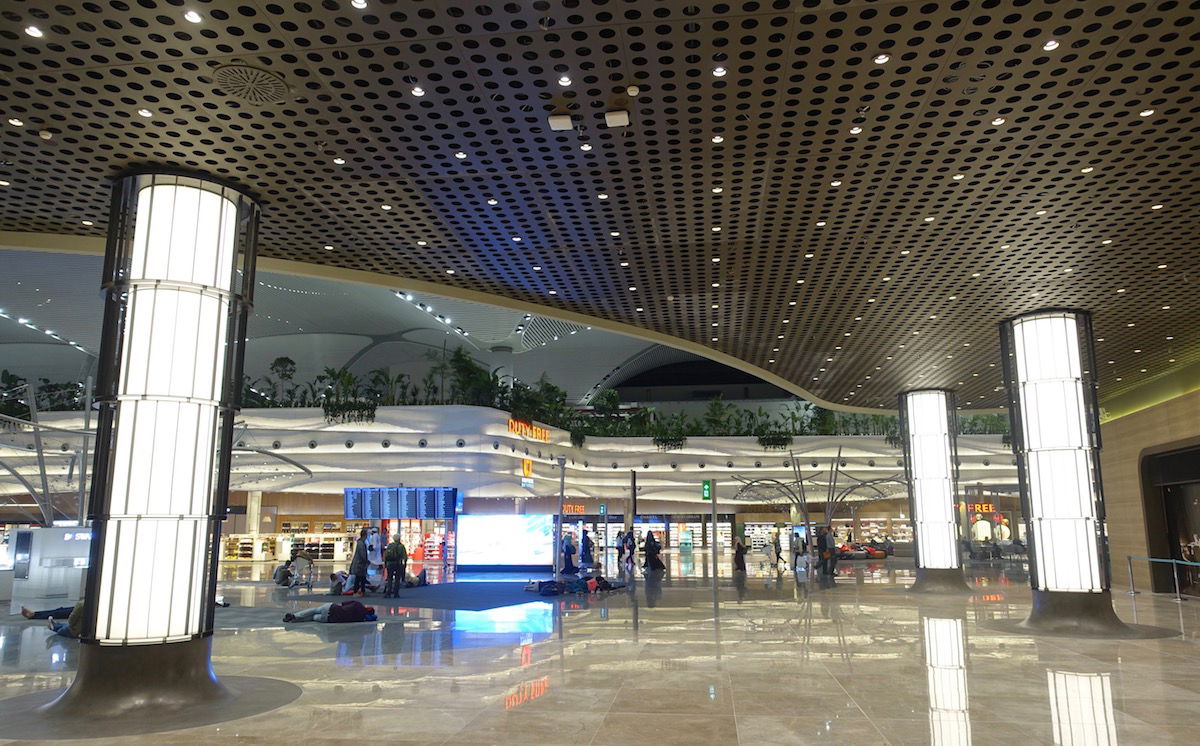 Design-wise I'd say the closest comparison is Incheon Airport's Terminal 2. I will say that in some way the furnishings and finishes don't feel quite as high end as some of the other top terminals out there.
For example, some of the furniture looks to me like it belongs in a play area for kids, rather than a brand new, world-class airport.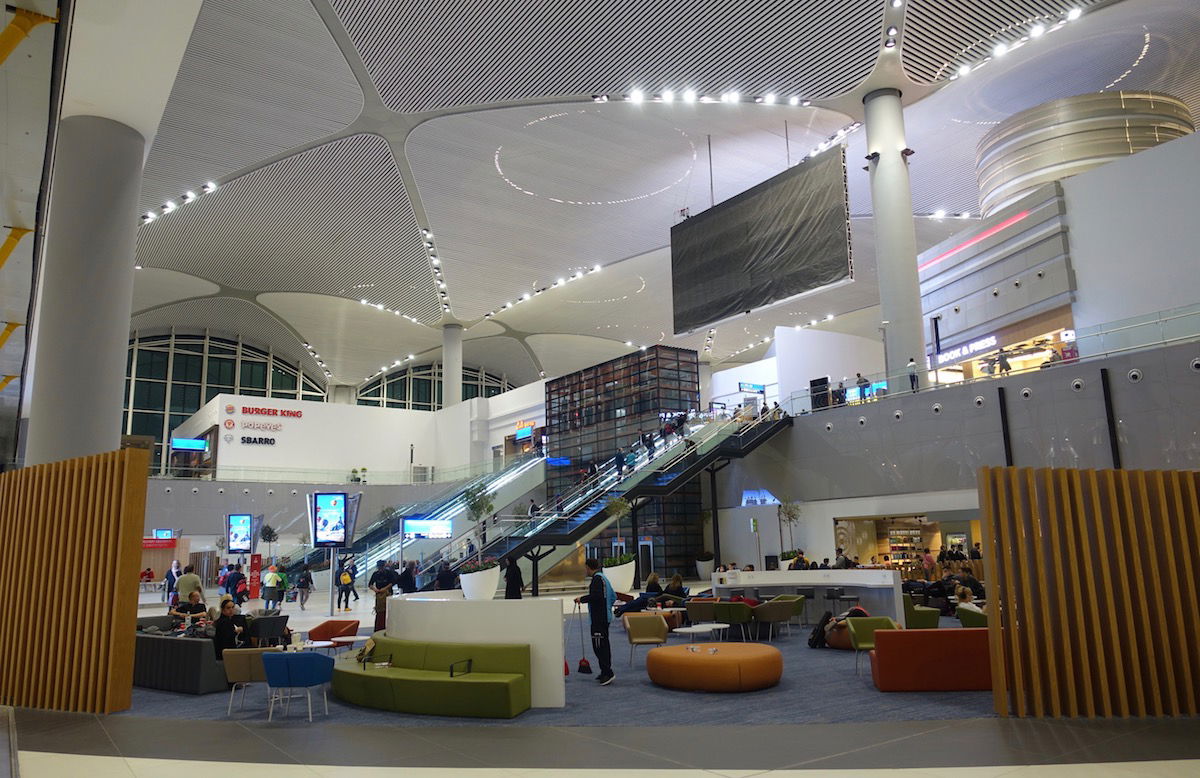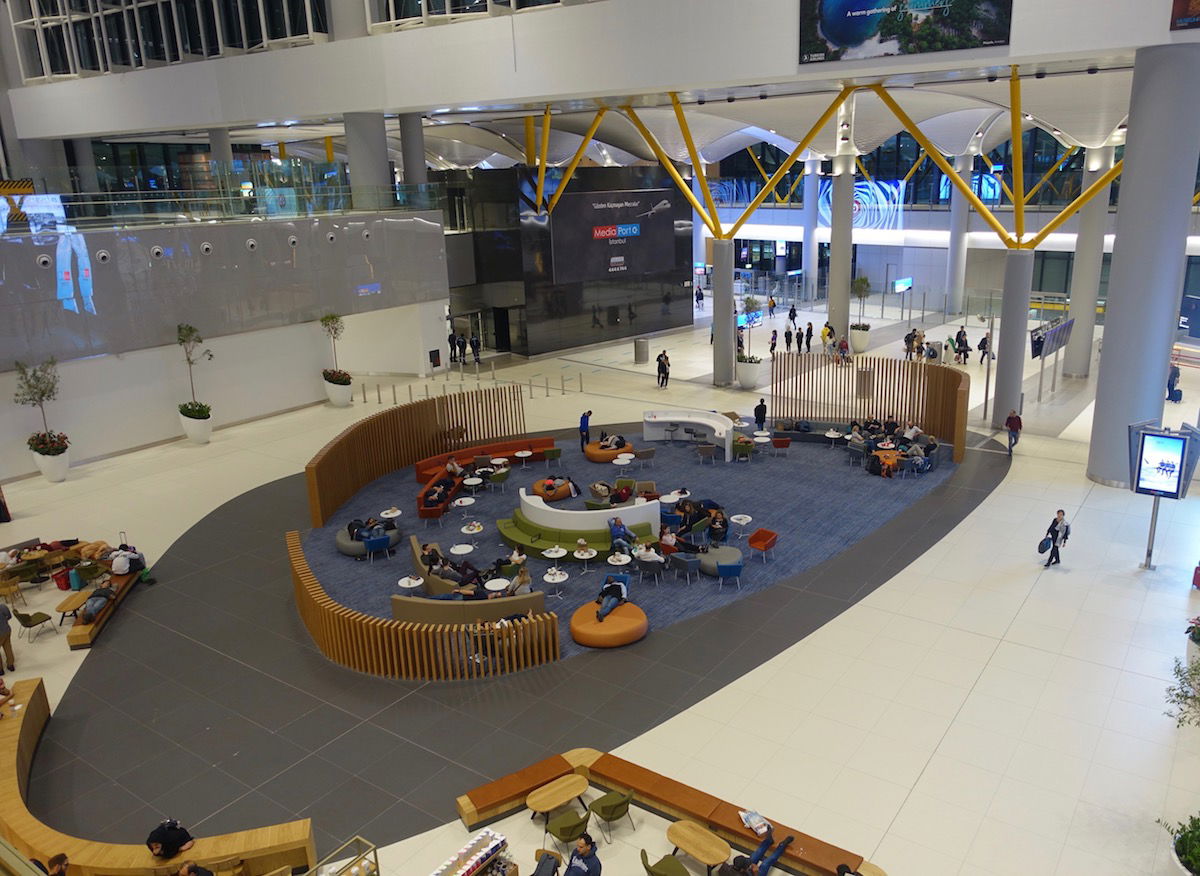 Taste is obviously subjective, so those are just my two cents…
The new Istanbul Airport terminal is too big
I've read the thoughts a few people have shared about the new airport, and I'm genuinely confused about whether or not I visited the same airport they did. Yes, the airport is beautiful, but I can't wrap my head around the design.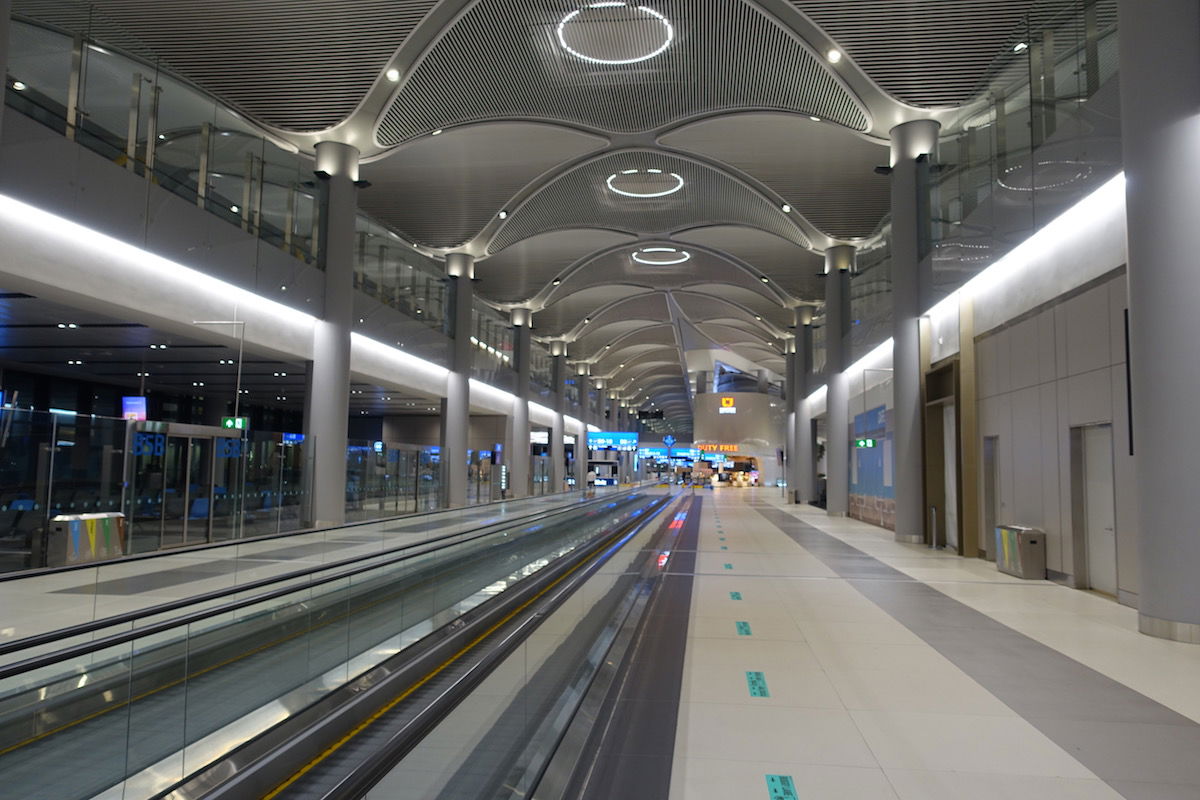 This is the world's biggest terminal, and there's not a train system connecting any of the gates. You have to navigate all 15.5 million square feet by foot, or using the moving sidewalks, of which there aren't even enough.
Just to compare, Dubai International has the same capacity as this terminal, except Dubai has three terminals connected by trains, which makes it much more manageable for passengers.
The above maps and renderings really don't do justice to just how huge this terminal is. This terminal makes Beijing Capital Airport look like Ithaca Airport by comparison (okay that's a bit of a stretch, but you get the point…).
I find it surprising they chose to build a single massive terminal with multiple piers. I feel like multiple terminals connected by trains would have made more sense, but fair enough.
But they make it so difficult to get between piers, and I honestly feel like I must be missing something:
Best I could tell there's no train connecting the piers
There are no moving sidewalks in the main part of the terminal, and I'd estimate it's probably nearly a mile from one end of the main part of the terminal to the other (that doesn't include the piers, just from one side of the rectangle to the other)
I decided to time myself, and walked from the end of the B gates to the end of the F gates. I used all available moving sidewalks, and I walk really fast. It took me over 25 minutes.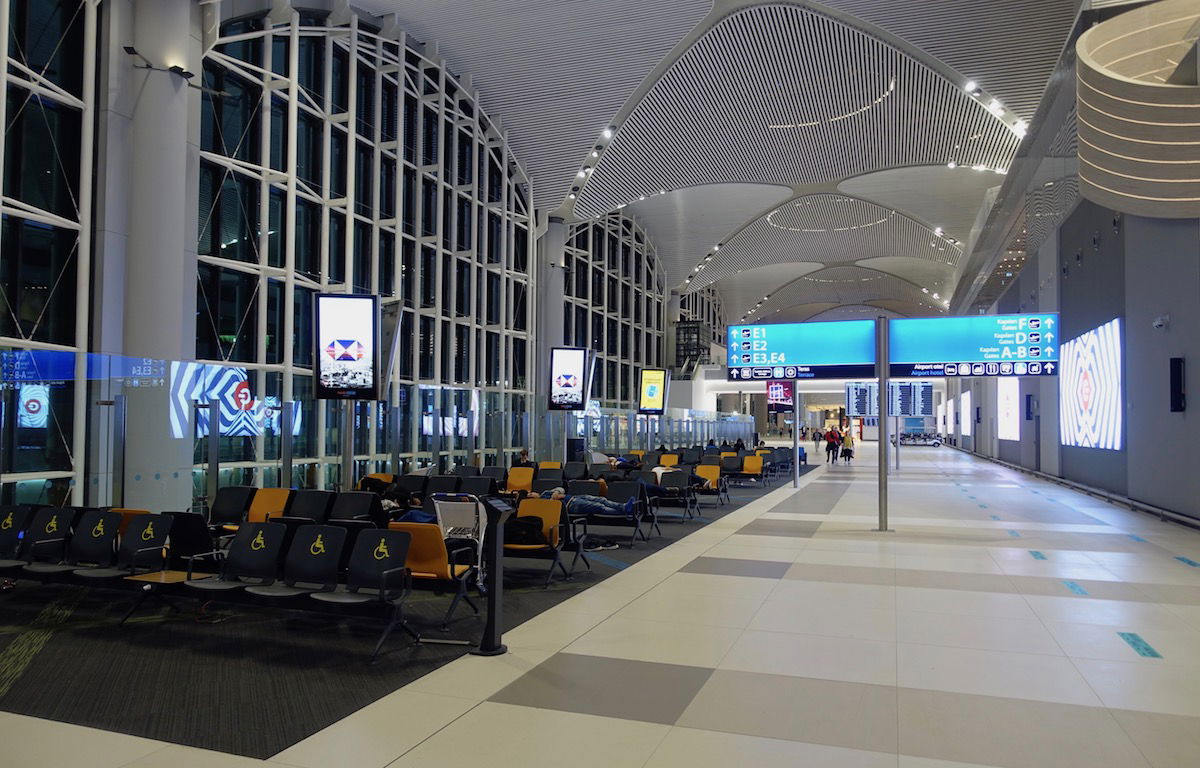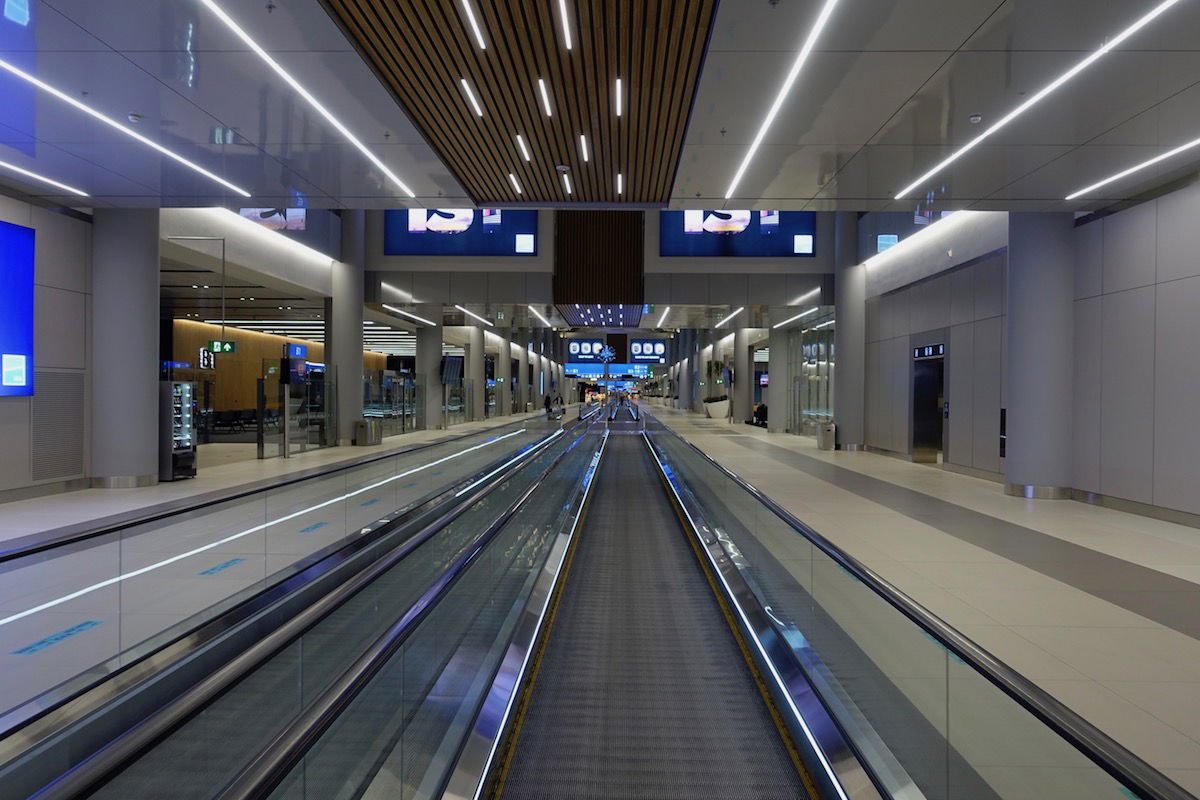 And I'm a guy without a family or anyone elderly in tow. With family or a parent of mine, I imagine the walk might have taken twice as long.
I. Just. Don't. Get. It.
Obviously it depends on the gates you depart from, but who thought this design was a good idea without more moving sidewalks throughout the terminals, trains, etc.?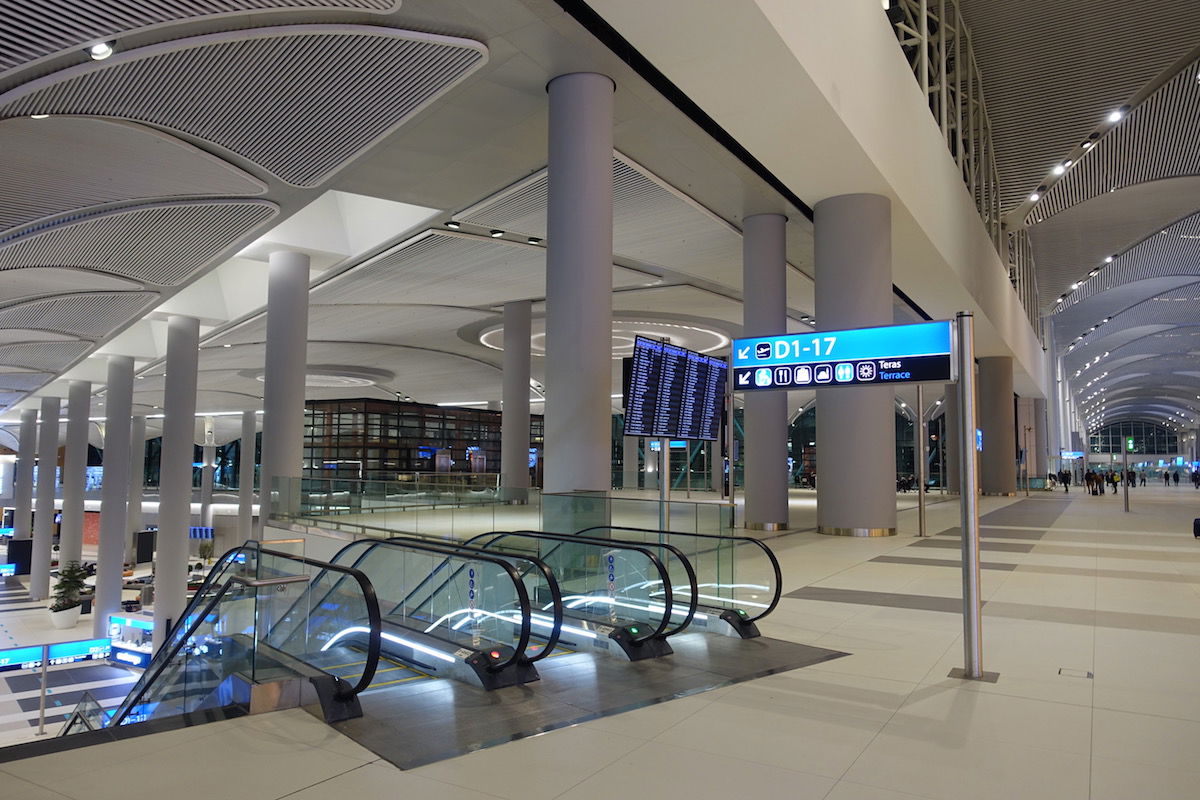 Missed opportunities with the new Istanbul Airport
A couple of random notes about the new terminal:
The airport is supposed to have free Wi-Fi, which requires getting a verification code sent to your phone; I couldn't get this to work, as the text never arrived, even when I tried multiple times with multiple variations of my phone number
This airport just opened, and I was disappointed by just how few outlets there were in gate areas; you'd think a global hub like this could have USB and/or international outlets at just about every seat at gates, but rather I found a fairly limited number of them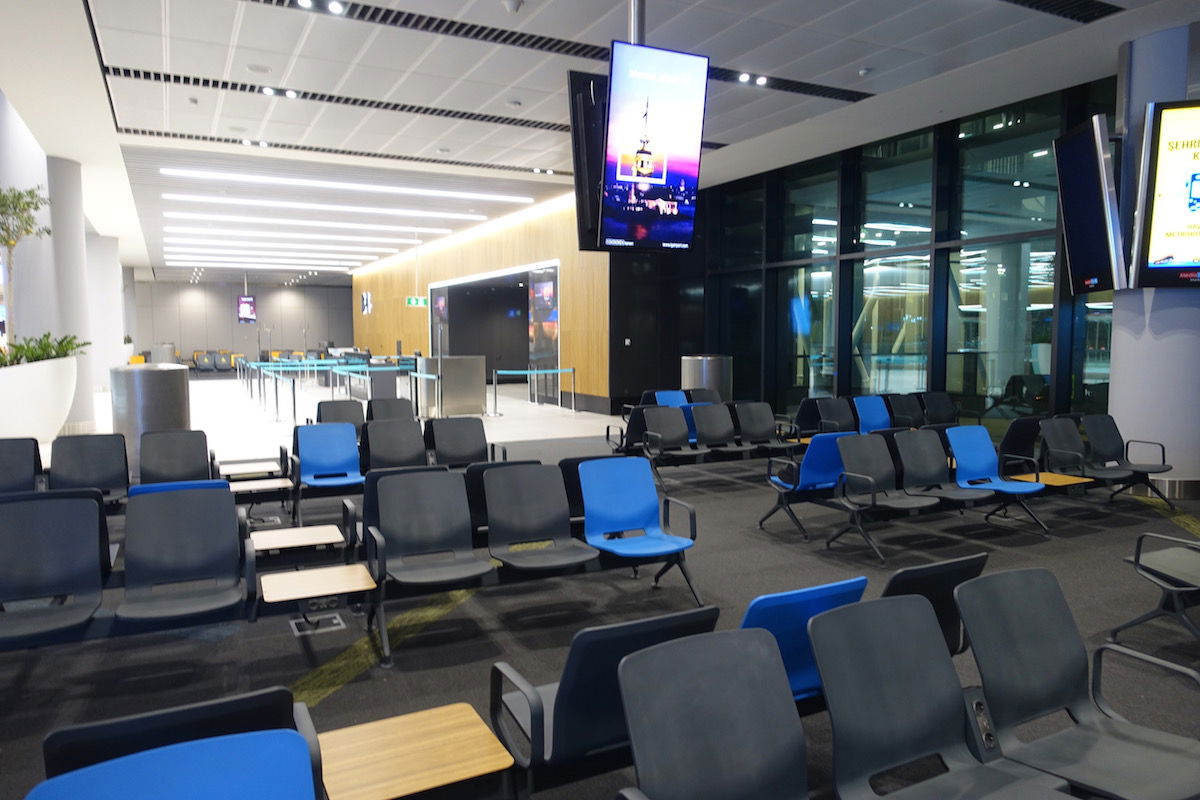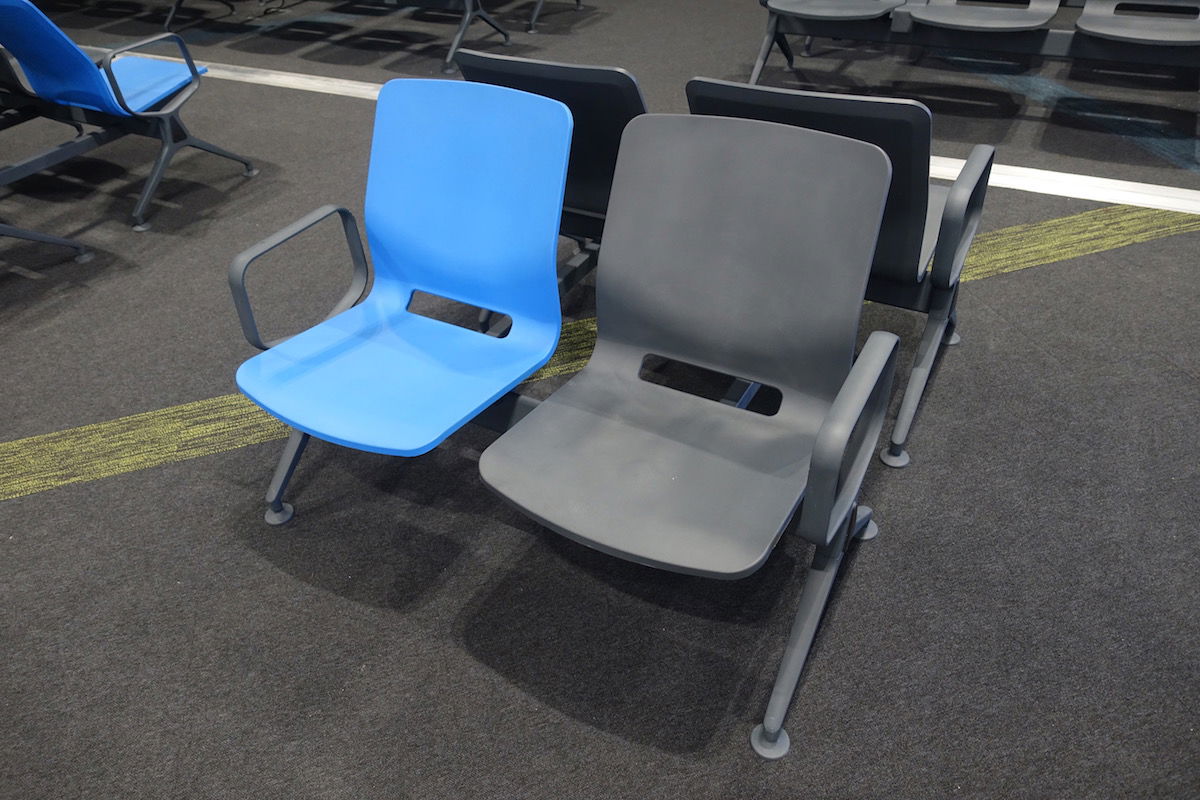 The new Istanbul Airport is still using remote stands
This isn't really surprising, but there is some irony in my first flight to the world's new biggest airport arriving at a remote stand. So much for the days of remote stands at Ataturk Airport being over!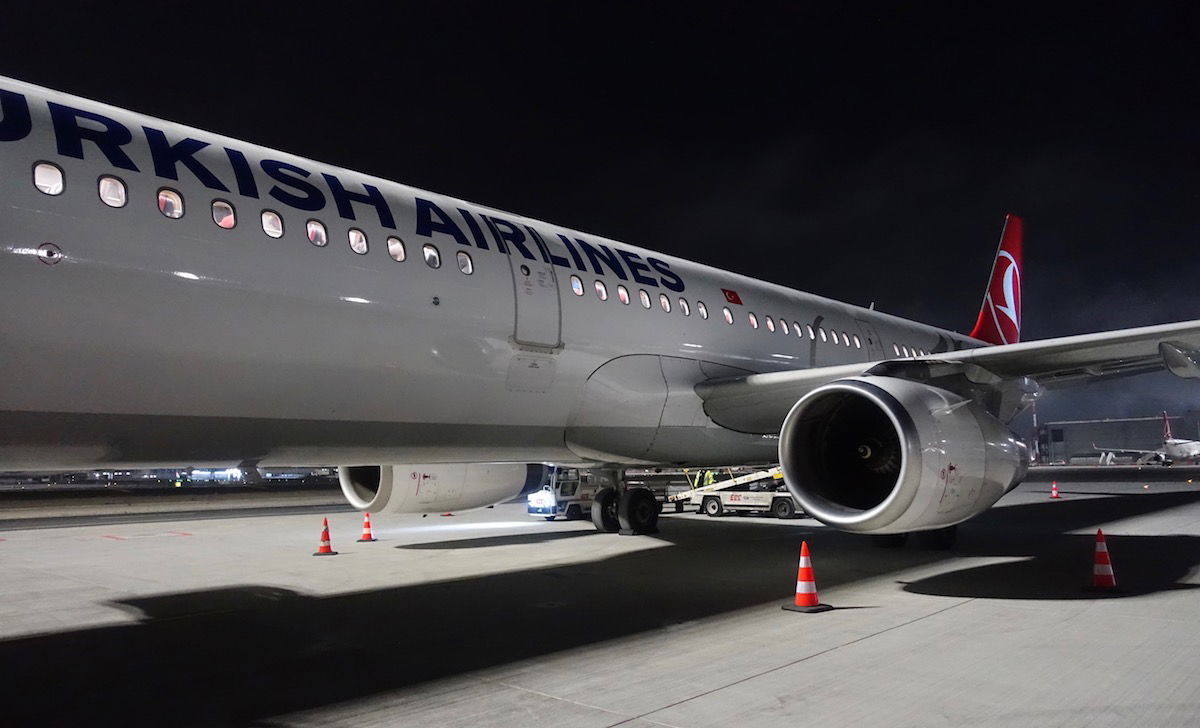 Even worse, this airport is so massive, and I couldn't believe how long our taxi took. It took about 30 minutes from the time we touched down until we arrived at our remote stand. That time was spent consistently taxiing — it wasn't 10 minutes of taxiing and 20 minutes of waiting, or anything.
I'm not convinced we didn't land at Ataturk Airport and taxi to the new airport from there.
Obviously there's still a learning curve, because we then got on a bus to the terminal, only for the driver to get lost and have to ask for directions.
The transition from Ataturk Airport to the new Istanbul Airport went more smoothly than I expected
Up until recently there were big questions about whether the airport transition would be pushed back yet again. Given that I visited just a couple of days after the main transition, I do have to give the airport and Turkish Airlines credit for the job they did.
Just about everything was functioning, almost all of the stores and restaurants were open, most employees had a good sense of what was going on, and there just generally wasn't a state of panic.
I feel like things could have gone a lot worse, so some credit it deserved there.
However, there's most definitely still a lot of work to be done. A lot of things are still being built, and there are hundreds of construction workers in the terminal measuring, assembling, staring blankly, etc.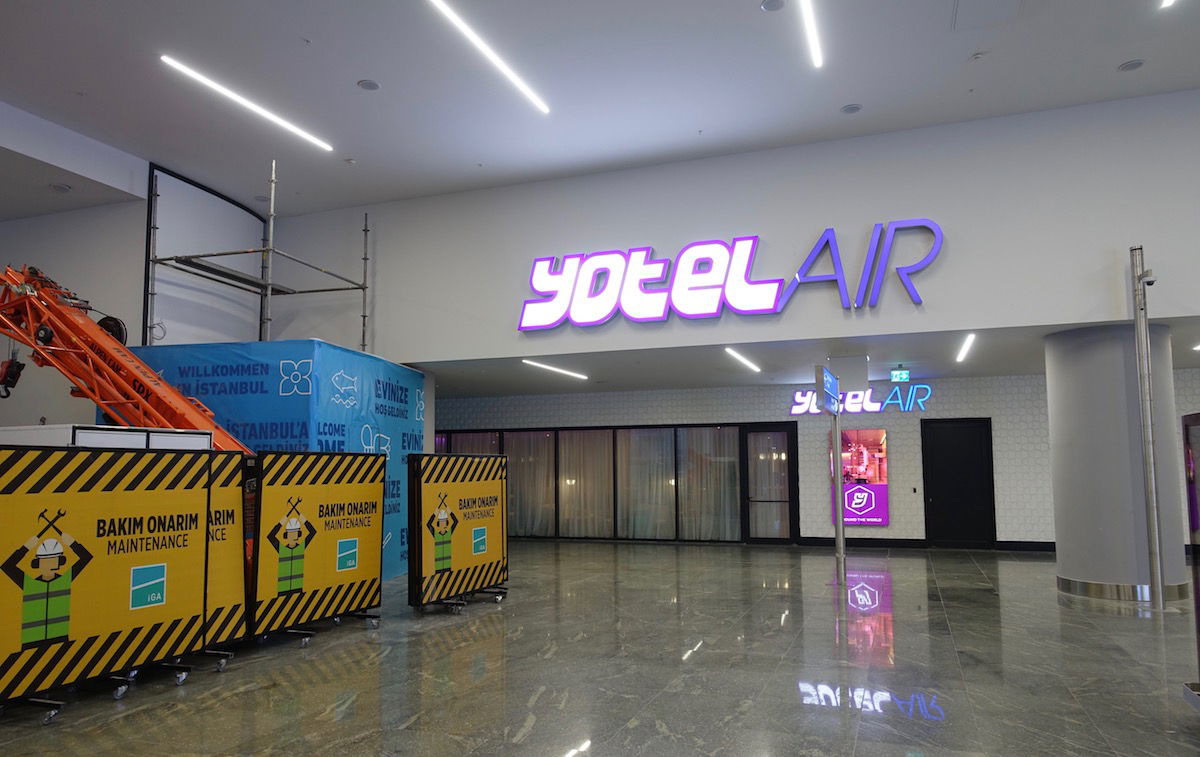 But all things considered, everything went more smoothly than I expected.
New Istanbul Airport bottom line
Istanbul's new airport will be the largest in the world when complete, so this is a big deal for Turkish Airlines, and also for the country on the whole.
In terms of design, this is a striking airport that represents a huge upgrade over Ataturk. Turkish Airlines flies to more countries than any other airline in the world, and the old airport simply didn't have the capacity to handle that amount of demand.
All that being said, I don't think building the world's largest terminal was a good idea, especially without any easy way for people to get around the terminal.
I'm confused by the lack of trains and lack of moving sidewalks in some areas. Between the 30 minute delay we incurred due to a long taxi at the airport, and the huge amount of time it can take to walk between gates here, I wouldn't want to have a short connection.
If you're connecting between nearby gates or are originating in Istanbul this isn't a huge issue (since those originating in Istanbul are let out in the middle of the terminal), but if you're connecting from one end of the terminal to the other, this is one of the most poorly designed airports I've ever seen.
If anyone else has visited the new Istanbul Airport, I'm curious to hear what you think!