This sure is an interesting new route.
Mahan Air, which is Iran's largest and oldest private airline, has just launched a new direct route between Tehran, Iran, and Caracas, Venezuela. I'm not sure how exactly to describe the route, really.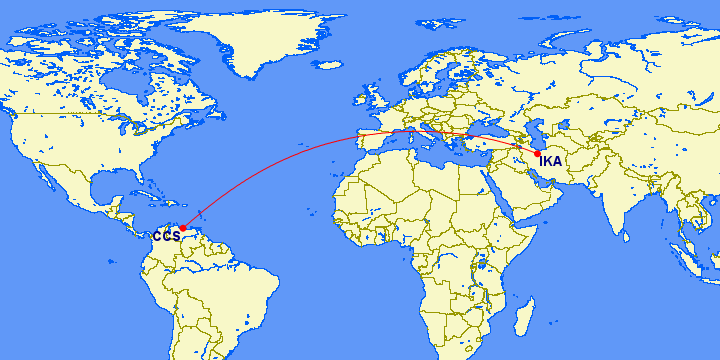 This was more than a charter, but as of now the frequency of the new route isn't yet known. They're doing this to support Venezuela against the US backed opposition.
Mahan Air has in the past been accused of transporting military equipment to war zones.
As reported by Reuters:
Mehr news agency quoted the spokesman of Iran's Civil Aviation Organization Reza Jafarzadeh as saying that the route was launched in the early hours of Monday, and the plane will carry foreign ministry officials to Caracas.

Jafarzadeh said a delegation from Mahan Air was also traveling to Caracas to discuss maintaining regular flights between the two countries.
The flight has already landed in Caracas, and was operated by an A340-600 that took 15hr12min to complete the 7,315 mile flight. Here's the Flightradar24 page for the flight.
I can't even imagine what all was transported on that flight, and what it must have been like on board. This obviously wasn't a standard flight, in the sense that no tickets went on sale in advance.
The carrier's A340-600s used to fly for Virgin Atlantic and Lufthansa, and they never converted their interiors. Due to sanctions, Mahan Air hasn't been able to buy new planes, so all of their planes used to operate for other airlines.
I'll be curious to see how long the plane sits on the ground, and going forward, how often this route will operate. I can't figure out whether they were sending over some kind of special "shipment" of some sort, if this was simply intended as a slap in the face to the US, or what.
I'm so curious how many people were on this flight…
Update: At a later point, Venezuela's flag carrier, Conviasa, launched nonstop flights between Caracas and Damascus, Syria.
(Tip of the hat to Giuseppe, image courtesy of Papas Dos)